Lemon Meringue Pie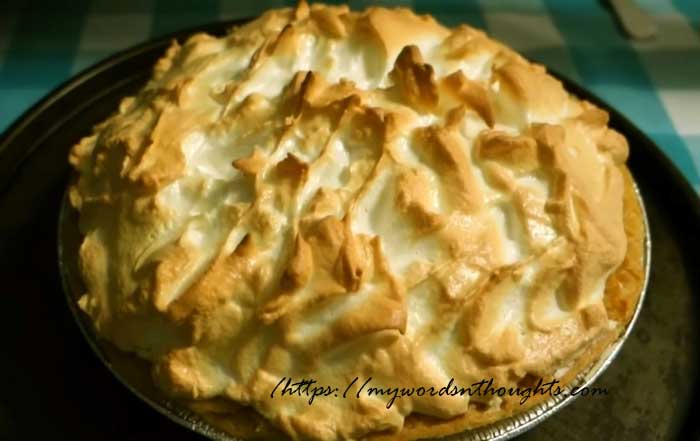 Ingredients for Lemon Meringue Pie:
1. Biscuit – 200 gm
2. Butter – 100 gm
3. Condensed milk – 1 tin
Lemon juice – Extracted from 6 lemons
Lemon skin peeled – From 1 lemon
Yellow yolk – 3, beaten slowly
4. White yolk – 3
Sugar powdered – ½ cup
How to prepare Lemon Meringue Pie?
1. Crush biscuit and add butter, mix well.
2. Take an 8-inch pie dish, and press the biscuit-butter mixture as a layer and also its edges.
3. Place it in refrigerator and allow to set.
4. Pre-heat oven 160 degree Celsius.
5. Mix ingredients no: 3 in a bowl and pour it on the top of biscuit-butter mixture.
6. Beat egg white in a bowl and when it strengthens, add sugar powder little by little and beat well.
7. Using a spoon, pour this Meringue on the top of condensed milk as a layer.
8. Bake your Lemon Meringue Pie in the pre-heated oven for 15-20 minutes.
9. Bake it till Meringue turns golden brown.
10. You can serve either hot or cold.
Courtesy: Vanitha Magazine, April 29 – May 12, 2023
Also read a few more cake and pie recipes. Visit my page.