Lemon Dream Punch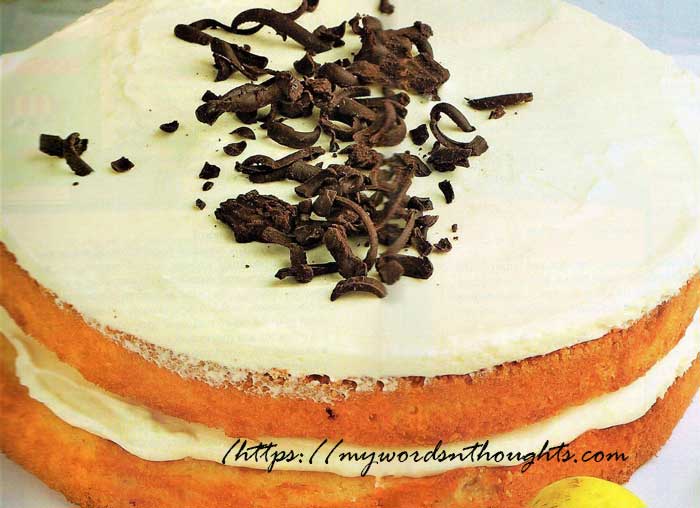 Ingredients for Lemon Dream Punch:
1. Egg – 3
Sugar powdered – 75 gm
2. Maida blended – 75 gm
Lemon skin scratched – From 1 lemon
For filling:
3. Cream cheese – 113 gm
4. Icing sugar – 25 gm, blended
Lemon skin scratched – 1 small spoon
Lemon juice – 1 small spoon
5. Whipping cream – ½ cup
6. Lemon juice – From 1 lemon
Water – 1 big spoon
7. Grated chocolate – To garnish
How to prepare Lemon Dream Punch?
1. Pre-heat oven in 200 degree Celsius.
2. Take egg and sugar in a bowl, place above hot water and beat well.
3. When the consistency is sufficient to pour, take the bowl from hot water, and continue beating till it almost cools off.
4. When it completely cools off, add maida and lemon skin. Mix slowly.
5. Pour this batter into 2 7-inch size tins and bake in pre-heated oven for 15-20 minutes until it turns golden colour.
6. Take it from oven and keep it in tin itself for 5 more minutes.
7. Transfer it to wire rack and allow it to cool. Using a fork, make marks here and there.
8. To prepare filling, transfer cream cheese into a bowl, and using a wooden spoon make it soft.
9. Add blended icing sugar, lemon juice and lemon skin, and mix well.
10. Slowly mix cream and refrigerate for 1 hour. This is the filling.
11. Mix lemon juice and water and sprinkle on the top of both cakes.
12. Apply half of the cream cheese filling as a layer on the top of first cake.
13. Place the second cake on the top of it and spread the remaining filling on its top uniformly.
14. Decorate with grated chocolate and refrigerate for some more time.
15. Serve chilled.
Courtesy: Vanitha Magazine, April 29 – May 12, 2023
Also read a few more cake recipes. Visit my page.