Dhwani Rajesh – Nidhi of 'Pachuvum Athbutha Vilakkum' fame
Dhwani Rajesh is a child artist who shot to fame playing 15-year old Nidhi in Malayalam blockbuster, Pachuvum Athbutha Vilakkum (2023). She marked her screen debut in a supporting role with Bollywood critically acclaimed film, Beyond the Clouds (2017) co-starring debutantes Ishaan Khatter and Malavika Mohanan. The movie was directed by Majid Majidi.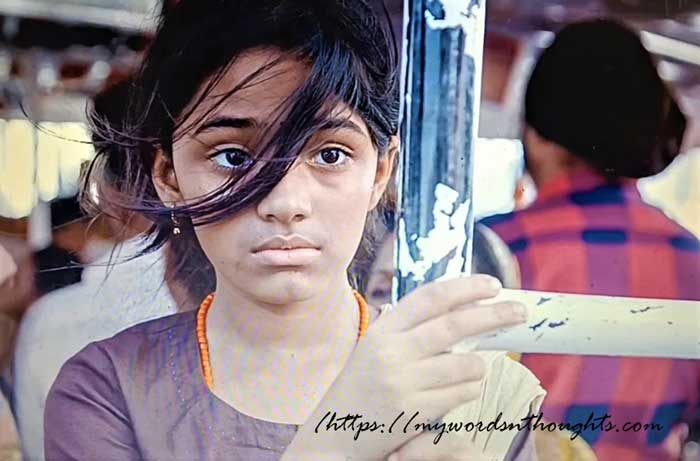 Dhwani Rajesh was born into a family with film background
Dhwani, who hails from Karnataka, is the daughter of well-known artiste, Rajesh Nataranga. She was only 11 years old when she marked her screen debut with Beyond the Clouds in 2017. She was in 6th standard when she received the film offer.
Acting was never in her mind. In fact Dhwani Rajesh wanted to become a fashion designer. But when her father asked her if she would be interested in doing a film role, she nodded 'yes'. It was actor Sundarshree, who mentioned Rajesh about the role. She played a slum girl in her debut flick, Beyond the Clouds.
Pachuvum Athbutha Vilakkum made her popular among Malayali audiences
One of the highlights of the directorial debut of Akhil Sathyan was the casting of the female leads. He chose three debutantes for the film, where Fahadh Fasil played the male lead. While Dhwani Rajesh and Anjana Jayaprakash had worked in other language films, Viji Venkatesh, a well-known social worker associated with cancer related NGOs, marked her screen debut with the film. All the three female actresses had meaty roles in the film, and received warm welcome from audience also. Dhwani was handpicked by the director Akhil Sathyan after watching her debut flick.
In the movie, she played the role of a poor but brilliant girl of Goan background, who had to discontinue her studies because of family situations. How she is brought back to Viji Venkatesh so that she can continue the studies, forms the crux of the story. Her role as Nidhi was widely accepted by audience.