Vegetable Packet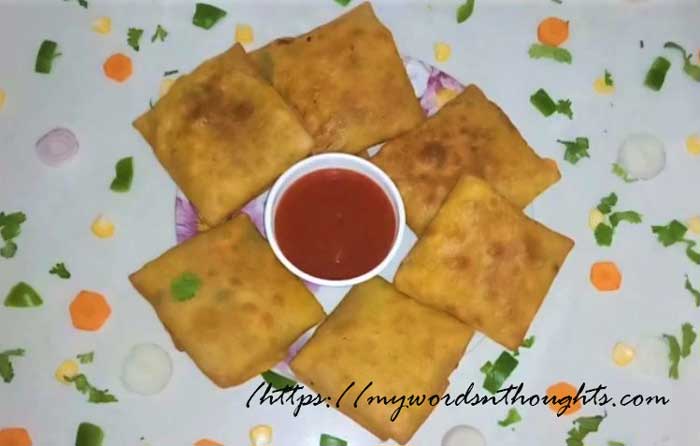 Ingredients for Vegetable Packet:
1. Maida – 100 gm
2. Ginger-garlic paste – ¼ tsp
Pepper powder – A pinch
Salt – For taste
3. Carrot – 20 gm
Beans, cabbage, onions – 10 gm each
4. Oil – As required
How to prepare Vegetable Packet?
1. Add water to maida and prepare loose batter.
2. Mix ingredients no: 2 together in a bowl.
3. Chop vegetables and onion into small pieces.
4. Heat oil in a pan and sauté chopped vegetables along with ginger-garlic paste.
5. Add salt and pepper.
6. Heat a tawa and pour a little batter.
7. Spread it like a thin pan roll and place a little filling in the middle.
8. Fold from four sides to form a rectangle or square shape.
9. Flip both sides, and cook till it's well fried.
Courtesy: Vanitha Magazine May 1-14, 2005
Also read a few more pancake and panroll recipes. Click on the images in the gallery to read.
(Visited 17 times, 1 visits today)