A list of 10+ Bollywood heroes who died young
With a heavy heart I am writing this post. After the shocking death of my favourite hero Irrfan Khan, I wrote a hearty tribute the legend. After that I thought of listing top Bollywood heroes who died young. Before I could start writing, next blow came in the form of another shocking death. Our beloved hero Rishi Kapoor also gave up to cancer, just like Irrfan Khan, a few hours later. How can a Bollywood fan accept this bit of news? I doubt if such an incident has occurred earlier, when Bollywood fans lost two great active actors so unexpectedly, within a few hours gaps. It has not been even 24 hours when Irrfan's news came out.
Rishi has entertained audience of three generations and a veteran, fondly known for his romantic roles, while Irrfan stole everyone's hearts through his brilliant and natural acting skills. Earlier I posted an article on top Bollywood actresses who died young, when I was deeply hurt with the unexpected death of my all-time favourite Sridevi. But I never thought I shall prepare a list of Bollywood heroes who died young, in such a situation.
I listed top 10 heroes in this list, who died before they reached 60, and at the bottom of the list have also listed a few popular character artists who lost their lives earlier. In most these cases, the actors faced massive heart attack or cardiac arrest resulting in an unexpected death, at a comparatively young age, mostly in 40s or 50s. Also read: The list of Bollywood celebrities who died in the decade of 2010s.
Irrfan Khan (1967 – 2020) died aged 53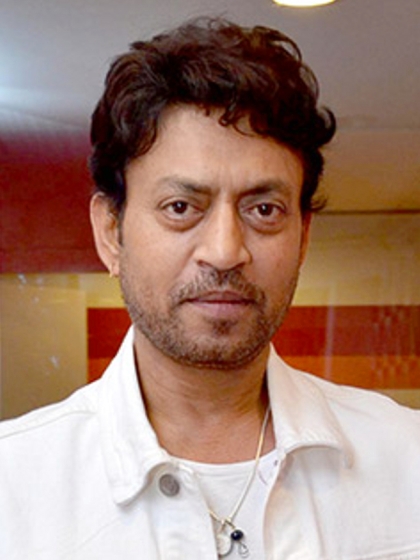 Definitely among all successful heroes who died young, Irrfan's name comes to my mind first. He was at his career peak post the success of his highest grossing film, Hindi Medium, when he was diagnosed with a rare form of cancer. He had so much to give to Bollywood and international cinema, when he had to halt for a while. Though his fans believed that this strong fighter who inspired youngsters would return, it never happened. Perhaps after Smita Patel, he is that one actor who lost his life at his career peak, when he had so much to give to Indian cinema. Only a few artists have enjoyed such a celebrated status & stardom along with immense talent and versatility.
It took more than 15 years of struggle to earn the fame of a successful film actor, and he went on to deliver highly acclaimed performances in Paan Singh Tomar, Lunch Box, Talvaar, Hindi Medium etc. When he reached his career peak after nearly 25 years, he was forced to return which many promising roles kept aside. Read more about this iconic actor and a few interesting facts, which I published yesterday. Sadly Irrfan Khan is the only celebrity in this list of 10 actors who passed away in this millennium, if we overlook Kunal Singh, who had just 1 release in Hindi. Needless to say, most of the actors of this list represented previous generation of actors and Bollywood cinema, and he is the only hero to represent present generation.
Sushant Rajput Singh 1986 – 2020) aged 34
With a heavy heart, I am updating this post a few hours after the sad news of popular actor came out. Never, never have I imagined such a shocking news will feature in this list, when I wrote this post soon after Irrfan's death, just one-and-a-half month ago. From a small town in Bihar, career growth of Singh from a TV actor and background dancer to a huge star is indeed inspiring to many generations to come. A self-made actor and a philanthropist with great interest in astrophysics, he was one among the top young actors of new generation Bollywood with a very huge fan following crowd, and a great career ahead. Just two flops in his entire career, he owns huge hits to his credit including Shuddh Desi Romance, Kai Po Chi, Detective Byomkesh Bakshy, M.S. Dhoni: The Untold Story, Chhichhore and Kedarnath. Read his biography and interesting facts here.
He was found hanging in his residence in Mumbai on 14th June, 2020, allegedly committed suicide. He was just 34 and was at his career peak when he left the world. His ex-manager Disha Salian committed suicide just 5 days ago, and it's said that he was deeply depressed by this death, when first news came out. Ironically his character in his last release Chhichhore advises his son how to overcome depression and suicide feel. The movie gives a social message for youngsters who are prone to committing suicide. His last work, Dil Bechara is yet to hit theatre screen. (While updating this post a few weeks later, there are many theories surfacing on media, which says, it was not a suicide and a planned murder. There are debates on nepotism as well, and how he got sidelined in the industry and how his roles were snatched. Investigation is still on. I shall keep updating the post, and as a fan I really feel, he should get justice if those facts are true). Let us celebrate his work for a lifetime, and keep him forever in our hearts as a good soul.
Guru Dutt (1925 – 1964) died aged 39
One of the great filmmakers and actors of the golden era of 1950s, Guru Dutt made and acted in several landmark movies like Kaagaz Ke Phool, Sahib Bibi Aur Ghulam, Pyaasa etc. He had a stressed relationship with his singer wife Geeta Dutt towards the end of his life, had been estranged from her and children, and spent most of the time in heavy drinking and smoking. He was found dead in his apartment and is believed to commit suicide. His death is still a mystery. Geeta Dutt too surrendered herself to alcohol and had an early death at the age of 41.
Kishore Kumar (1929 – 1987) died aged 58
In my opinion he was one of the most underrated actors of Hindi cinema. Jack of all trades, he was a complete package of entertainment. As an actor he was best known for his comic roles. Yet he has exhibited his talents as a romantic hero as well as several serious roles. Till late 1960s, he concentrated most of acting, and rendered his voice for only his films and Dev Anand. Post Aradhana's immense popularity, he fully switched to playback singing, and remained as the top Bollywood singer for next 15 years.
His death came so unexpected, while he was going through a rough phase of his career. On 13 October 1987 exactly on his brother Ashok Kumar's 76th birthday, he had a massive heart attack in the evening and he passed away. After that Ashok Kumar who lived till 2001, never celebrated his birthday. Though he is best known as a singer, his acting roles in movies like Padosan, Chalti Ka Naam Gaadi, Half Ticket, Pyar Kiya Jaa, Ghumroo, Mr. X in Mumbai, Dilli Ka Thug etc can never be underestimated. He always remains as one of my favourite actors of classic era.
Let me add one more interesting but unpleasant fact here. Bollywood lost three of its greatest male playback singers – Mukesh, Mohammed Rafi and Kishore Kumar in quick succession, and all of them were in their mid-50s. All the three faced the same fate of heart attack while they were fully busy in their respective careers, what an irony! Please visit my Kishore Kumar page.
Sanjeev Kumar (1938 – 1985) died aged 47
He was one of the top actors of late 1960s and 1970s, and has accepted both lead and supporting roles. Sholay, Dastak, Seeta Aur Geeta, Mausam, Angoor, Naya Din Nai Raat, Khilona, Manchali, Koshish etc are among his most memorable roles on screen. During his lifetime he proposed his co-star Hema Malini, which she rejected. He remained a bachelor throughout his life. He was born with a congenital heart condition, and many of his family members have not crossed 50. He suffered his first heart attack in 1976 and died in 1985 following a massive heart attack.
Vinod Mehra (1945 – 1990) aged 45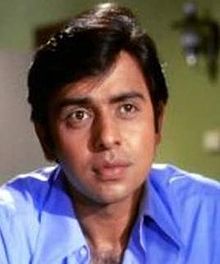 Vinod Mehra started his film journey as a child artist in 1958 playing Kishore Kumar's younger version on screen and he graduated to adult roles in 1971. He stayed away from action films, and appeared mostly in family dramas and romantic movies, where he mostly portrayed a perfect gentleman and silent hero. Ghar, Amar Prem, Lal Pathar, Saajan Bina Suhagan, Jurmana, Ek Hi Raasta, Nagin, Jaani Dushman, Anurodh etc are some of his major works. He was only 45 when he died of heart attack in 1990. His children – Rohan Mehra and Soniya Mehra have worked in Bollywood films.
Amjad Khan (1940 – 1992) aged 51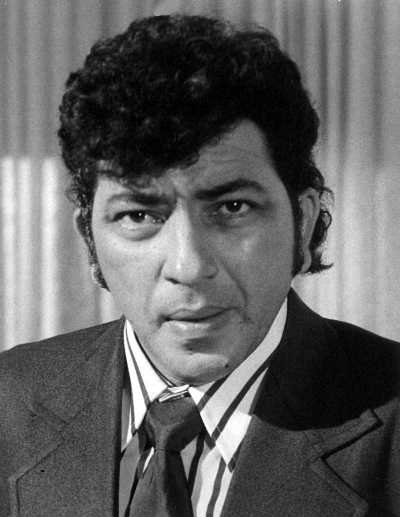 The only villain featured in this list, his celebrity status is nothing short of a Bollywood hero of 1970s and 1980s. Best known for playing antagonist roles in many of Amitabh Bachchan's blockbusters including Sholay, Muqaddar Ka Sikandar, The Great Gambler and Kaalia, he has also done positive roles in Big B starrer Yaraana, Laawaris etc. Gabbar Singh of Bollywood was only 51 when he died of heart failure. In 1976 he met with a serious accident while he was going for the shooting of The Great Gambler and almost slipped into a coma. The drug administered during his operation caused him to gain a lot of weight, which gave rise to many health issues, which finally resulted in his death at a comparatively young age.
Balraj Sahni (1913 – 1973) aged 59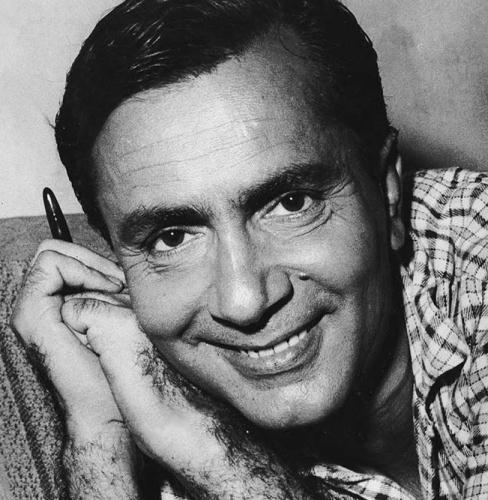 He is best known as one of the finest character artists of Bollywood cinema in the 1960s, though he has portrayed numerous lead roles in the 1950s. Known to be a natural actor, he played the lead role in landmark movie, Do Bigha Zameen (1953). Waqt, Garam Hawa and Kabuliwala are other memorable works. Brother of famous writer Bhisham Sahni, he also dabbed into writings very often. He had a massive heart attack on massive cardiac arrest, just 2 weeks before his 60th birthday. His memorable work in a lead role, Garam Hawa, directed by M. S. Sathyu was released same year.
Uttam Kumar (1926 – 1980) aged 53
Matinee idol of Bengali cinema, he has also done a very few movies in Hindi. In Bollywood he is best known for Amanush (1975), directed by Shakti Samanta, with the hit song – Dil Aisa Kise Ne Mera Thoda. Samanta repeated Uttam Kumar – Sharmila Tagore pair in Bengali-Hindi bilingual, Anand Ashram in 1977. The pair was repeated by Bhimsain Khurana in Dooriyaan released in 1979. They are also worked in Amitabh Bachchan starrer Desh Premee, though not as pair, one among his last works released posthumously. He also acted in Gulzar's Kitab in 1977. Plot No. 5 and delayed release – Mera Karam Mera Dharam are other works of Uttam Kumar in Bollywood.
A workaholic who loved to die in film sets, Kumar suffered a stroke while shooting for the movie, Ogo Bodhu Shundori and got admitted. But he died on 24 July 1980 at the age of 53. Exactly after 7 days, on next Thursday Indian film industry received next big blow with the sudden demise of celebrated and gifted playback singer Mohammed Rafi. He passed away on 31 July 1980 following a heart attack – Indeed a terrible July.
Shyam (1920 – 1951) aged 31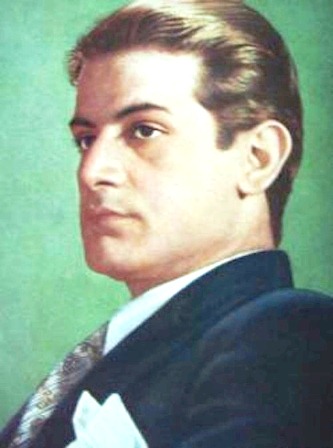 Sundar Shyam Chadda, professionally known as Shyam was one of the early stars of Bollywood in his brief career in the 1940s till early 1950s, till he was active in the industry. He is often compared to triumvirate – Raj Kapoor, Dev Anand and Dilip Kumar, who completely dominated the golden era for more than two decades. A close friend of celebrated writer Saadat Hasan Manto who inspired him in many movies, Bazaar (1949), Man ki jeet (1944), Majboor (1948), Dillagi (1949), Patanga (1949), Chandni Raat (1949), Meena Bazaar (1950) and Samadhi (1950) are some of his noted works. He fell from a horse in the film sets while shooting for the movie, Shabistan in 1951 and succumbed to head injuries. Later the movie was completed with a body double.
Kunal Singh (Special mention) (1977 – 2008) aged 31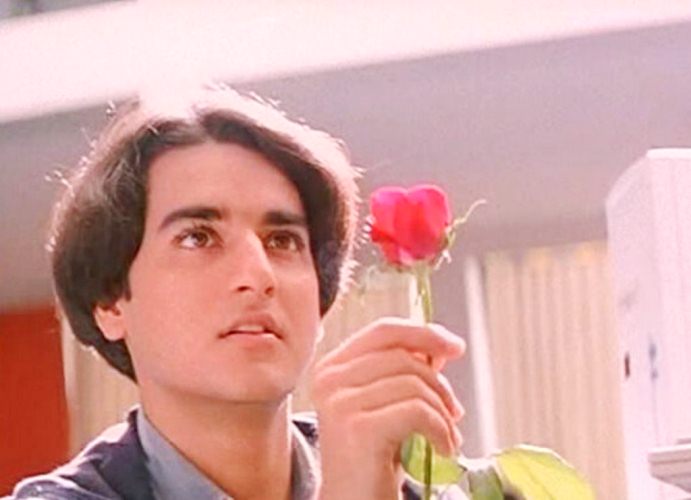 And last, but not the least, I would like to take the privilege of adding one more actor to complete the list. Kunal Singh is best known for his debut flick – Kadhalar Dhinam in Tamil released in 1999. The movie was later released in Hindi titled Dil Hi Dil Mein, shooting a few more scenes in Hindi. After making an impressive debut and earning a huge fan following crowd, he faded from film industry very soon. He later decided to mark a comeback through a Hindi film titled Yogi. However he was found hanging in his apartment in Mumbai. Though it's speculated to be a homicide, the reason is still unknown. The actor was just 31 when he took this drastic step. Read more about Kunal.
Character artists of Bollywood cinema who died before 60
There are many more gifted artists of Indian cinema, who had a great career in Bollywood, and passed away before they reached 60. Though they mostly played character roles on screen, they gained immense popularity among the masses. They have also worked in different languages, including Marathi and Punjabi. We lost many of gifted character artists in year 2000, and following few years. Most of them were fully active in the decade of 1990s. Before I conclude, let me give a special mention for a few of them.
Jaspal Bhatti – Died in 2012 following a car accident at the age of 57. He is best known for 'Flop Series' on Doordarshan. He acted in Aa Ab Laut Chalen, the only movie directed by late actor Rishi Kapoor. Fanaa and Koi Mere Dil Se Poochhe are other noted works in Bollywood.
Abir Goswami – Mostly associated with television shows, he has also done memorable performances in Bollywood movies like Khakee, The Legend of Bhagat Singh and Lakshya. He was only 38 when died due to cardiac arrest on a treadmill in 2013. Read more.
Dilip Dhawan – He acted in over 50 films and a few TV shows. His supporting roles in Albert Pinto Ko Gussa Kyon Ata Hai, Heena, Virasat, Hum Saath-Saath Hain etc are popular. He died in February 2000, aged 44 or 45, following a heart attack.
Laxmikant Berde – He is a celebrity in Marathi film industry and is best known for his comic work in Saajan, Maine Pyar Kiya, Hum Aapke Hain Kaun, Beta etc in Bollywood. He died on 16 December 2004 due to a kidney ailment, aged 50.
Jatin Kanakia – "Prince of Comedy", he was mostly associated with Hindi sitcoms of 1990s. He was only 46 when he passed away in 1999. He died of pancreatic cancer. Khoobsurat, Vishwavidhaata and Hum Saath-Saath Hain are some of his works in Bollywood.
Inder Kumar – He played supporting roles in many of Salman Khan starrer movies like Wanted, Tumko Na Bhool Paayenge, Kahin Pyaar Na Ho Jaaye etc, and was also featured in the popular remix video, Sajna Hai Mujhe. He died after a cardiac arrest at his residence in Mumbai in 2017. He was 43. Also read about Bollywood celebrities who lost their lives in the decade of 2010s.
Nirmal Pandey – He mostly played negative and character roles on screen and is best known for playing a transvestite in Amol Palekar's Daayra and Vikram Mallah in Shekhar Kapur's Bandit Queen. He was only 47 when he passed away in 2010. He suffered from a massive heart attack.
Vivek Shauq – Actor-comedian Vivek was only 47 when he died in Mumbai in 2011, following a heart attack. He was seen in Bollywood films – 36 China Town, Aitraaz, Hum Ko Deewana Kar Gaye etc.
Gavin Packard – He mostly played henchman on screen, and his performances for Mohra, Tadipaar and Chamatkar are memorable. Though he owned a good physique and did action sequences for movies, he died at a comparatively young age of 47 in 2012, following respiratory disorder. Though his career spanned to 15 years with nearly 60 films in Hindi and Malayalam to his credit, none of the artists from film industry attended his funeral. His last release was Jaani Dushman in 2002.
Jack Gaud – Another henchman of Bollywood cinema, most notably in the decade of 1990s, he died in year 2000, aged only 42. He died of a heart attack. His roles as Shamsher Singh in Karan Arjun and as Fracture Bandya in Vaastav are memorable.
Mahavir Shah – Mostly played negative roles on screen, Shah's career best roles are Kachche Dhaage, Bade Miyan Chote Miyan, Phir Bhi Dil Hai Hindustani, Yes Boss, Judwaa, Sapoot, Coolie No: 1 etc. He died in Chicago in year 2000. He met with a car accident. Read more.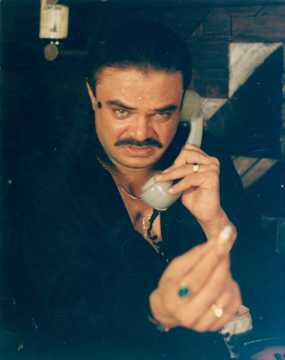 Neeraj Vora – He was a film director and screenwriter, and a character artist of Hindi cinema, mostly playing comic roles. Company, Bol Bachchan, Dhadkan, Welcome Back, Har Dil Jo Pyar Karega etc are some of his noted roles as an actor. He scripted and directed Phir Hera Pheri and many more movies. He was working on the sequel of Phir Hera Pheri before he went into coma and died in 2017, aged 54.
Om Shivpuri – Extremely talented film and theatre artist, he is best known for his antagonist roles on screen. He has also portrayed positive roles. He died in 1990 of a heart attack aged 52 or 53. Sholay, Don, Naukri, Khushboo, Aandhi, Achaanak, Insaaf Ka Tarazu, Sargam, Kudrat, Naseeb, Pati Patni Aur Woh etc are some of his noted works.
Raghuvaran – He is best known for his works in south Indian cinema, and has done a very few Hindi films. Bollywood viewers are familiar with his full-length negative role in in Suniel Shetty – Karishma Kapoor starrer Rakshak released in 1996. His negative role in Prabhudeva starrer Hum Se Hain Muqabla (dubbed version of Kaathalan) is also memorable. Shiva and Izzatdaar are other Bollywood works. He died due to lower sugar levels in year 2008 while he was working in full swing in movies. He was just 49 then, and his unfinished works in movies like Kanthaswamy got replaced by other actors.
Rami Reddy – He predominantly worked in Bollywood and Telugu cinema, portraying negative goon roles. He was only 52 when he died in Hyderabad on 14 April 2011. He was suffering from liver and kidney ailments for a long time. Waqt Hamara Hai, Elaan, Dilwale, Jaanwar, Khuddar, Haqeeqat etc are some of his noted negative roles in the 1990s.
Ajit Vachani – His character roles in Mr. India, Hum Saath Saath Hain, Maine Pyar Kiya, Kabhi Haan Kabhi Naa and Hum Aapke Hain Koun are memorable, and he was a permanent fixture in Sooraj R. Barjatya films. He died in Mumbai in 2003 after a prolonged illness at the age of 51 or 52. Aankhen (2002) was his last release.
Roopesh Kumar – He is best remembered for the negative shaded comic roles he played on screen in the 1970s and 1980s. Cousin of actress Mumtaz, his popular roles include Seeta Aur Geeta, Andaaz and The Great Gambler released in the 1970s. He was only 48 when he passed away in 1995.
Kushal Punjabi – Best known as a television actor, he did supporting roles in Kaal, Crazy Cukkad Family, Andaaz, Dhan Dhana Dhan Goal, Salaam-e-Ishq, A Gentleman, Ssshhhh…Phir Koi Hai etc. He was found hanging in his residence at Mumbai on 26 December 2019, aged only 42. The actor was suffering from depression. I really wish such incidents never happen again. Read his bio.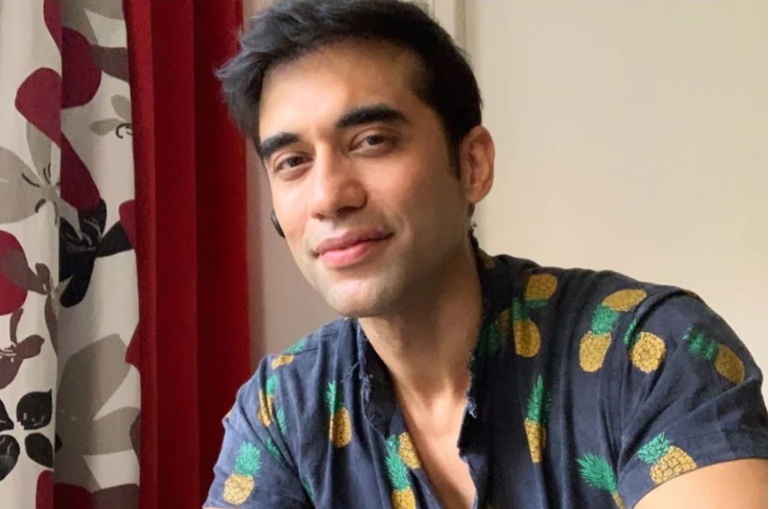 Samir Sharma – Best known as a television actor, he did supporting roles in Hasee Toh Phasee and Ittefaq, both produced by Karan Johar. Interestingly both movies starred Sidharth Malhotra in lead role. He was found hanging in his apartment at Mumbai on 5 August 2020, and has allegedly committed suicide. Thus he joins the long list of well-established Hindi TV actors who allegedly committed suicide in the past few months, mostly by hanging. He was 44.
(Visited 723 times, 1 visits today)