My hearty tribute to Rishi Kapoor – The original lover boy of Bollywood cinema
Rishi Kapoor (1952 – 2020) was one of the most loved Bollywood actors, best known for playing romantic roles on screen. Known for his good looks and appeal, he is the son of showman Raj Kapoor and grandson of Prithviraj Kapoor. He had exactly 5 decades long career in Bollywood since early 1970s with his debut flick in a supporting role, "Mere Naam Joker" in 1970, and entertained audience for three different generations till 2020. He acted in more than 100 movies during his lifetime. Read the list of top 50 songs of Rishi Kapoor.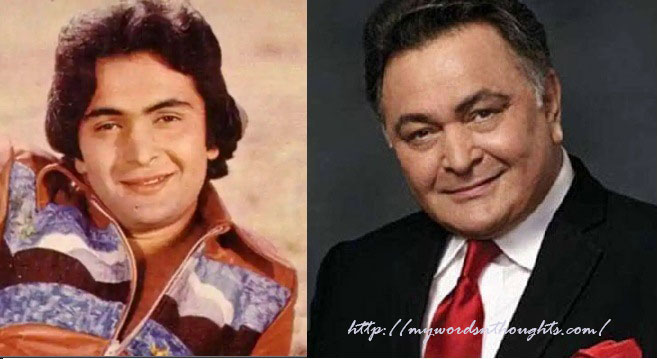 Third generation member of illustrious Kapoor filmy family, he followed the legacy of his family, and went on to become one of the most popular heroes of Bollywood. He is the most successful actor among third generation members of his family. His wife Neetu Singh, son Ranbir Kapoor, nieces Karishma Kapoor and Kareena Kapoor, brothers – Randhir Kapoor and Rajiv Kapoor, and paternal uncles – Shashi Kapoor and Shammi Kapoor earned fame as popular actors, spanning to different generations.
In both lead and parallel roles, Bobby, Mera Naam Joker, Sagar, Chandni, Karz, Amar Akbar Antony, Kabhi Kabhi, Nagina, Coolie, Hum Kise Se Kum Nahin, Laila Majnu, Sargam, Rafoo Chakkar, Yeh Waada Raha, Henna, Prem Rog, Khel Khel Mein, Damini, Bol Radha Bol, Deewana, Henna etc are among his list of major works in Hindi. He passed away on 30th April, 2020 when the nation was in lockdown following the outbreak of Corona epidemic. He was undergoing treatment of leukaemia for the last couple of years and was admitted in hospital following breathing difficulty.
Rishi born in Kapoor Bollywood dynasty followed the family legacy
Born into a family with rich legacy in Bollywood predominantly in acting, Rishi too followed the same suit. He was born on 4 September 1952 in Mumbai as the younger son of Raj Kapoor and Krishna Kapoor. His grandfather Prithviraj Kapoor of 'Mughal-E-Azam' fame, his father Raj Kapoor and his uncles – Shammi Kapoor and Shashi Kapoor are popular actors. Keeping family traditions Rishi Kapoor too joined Bollywood very soon. He spent his childhood days in Chembur.
He was barely three when he appeared on screen for the first time
He was below three years old when he made his first cameo appearance on screen. He, along with his elder siblings – Randhir Kapoor and Ritu Nanda appeared as kids wearing raincoat in the iconic romantic rain song, Pyar Hua Iqraar Hua from the movie, Shree 420 starring their father and Nargis. The movie was also directed and produced by Raj Kapoor. Later he was successfully launched in Bollywood by his father as a teenager as well as a lead actor, who later produced and directed many of his hit films as well.
After his brief appearance in Shree 420, he made a debut in Raj Kapoor's film Mera Naam Joker in year 1970. He played the younger version of his father, and the audience were astonished with his uncanny similarity with his father. Not only that, he proved himself to be a born talent and won National award for best child artist for portraying young Raju onscreen. One of the lengthiest Indian films, Raj Kapoor faced huge financial losses with the movie. But the movie earned cult classic status years later, and Rishi's role as a teenager student played a magnificent role.
He was launched as hero through Bobby by his father in 1973
After Mera Naam Joker in 1970, he debuted in the lead role through romantic film, Bobby. He was paired with newcomer Dimple Kapadia, and the movie was a huge blockbuster and the highest grosser of the year. Songs composed by Laxmikant-Pyarelal also played an immense role in fixing Rishi Kapoor as the new lover boy of Bollywood, an image he retained for more than two decades in the industry. Both Dimple and Rishi Kapoor bagged Filmfare award for best lead actor for their respective roles in the movie. Raj Kapoor recovered much of loss he procured through Mera Naam Joker, after the release of Bobby.
A string of musical hits after Bobby, which established him as a popular actor
Known for his handsome looks and dancing skills, it took only a short time for Rishi to become one of the top actors of the second half of 1970s. He was also known for his chocolate image during his early days. He tasted success as solo lead as well as ensemble cast, and he shared screen space with Amitabh Bachchan in many hit films of 1970s and 1980s. His songs mostly composed by R. D. Burman and Laxmikant-Pyarelal also turned huge chartbusters.
After the huge success of Bobby, his next theatre release was Zehreela Insaan, co-starring Moushumi Chatterjee and Neetu Singh. The movie was a flop, but the song O Hansini attained popularity. The movie marked successful association of R. D. Burman and Rishi Kapoor. Later Pancham da composed music for Khel Khel Mein, Hum Kisise Kum Naheen, Zamaane Ko Dikhana Hai, Yeh Vaada Raha, Bade Dilwala, Saagar etc which were huge commercial hits, and remembered for best music too.
After Bobby, Laxmikant-Pyarelal composed music for some of the finest movies of Rishi's career. Karz always lists first, followed by Naseeb, Amar Akbar Anthony, Sargam, Deedar-E-Yaar, Prem Rog, Coolie, Nagina etc. Shiv-Hari, Kalyanji Anandji, Madan Mohan, Ravi etc are a few more composers who composed music for hit films of Rishi Kapoor. Chandini, Rafu Chakkar, Tawaif, Heer Ranjha etc are among those works which were box office hits too.
His popular female co-stars
Among all female stars, his pairing with Neetu Singh was appreciated most. They worked together in 12 movies. He also did hit romantic movies with Padmini Kolhapure, Tina Munim, Sridevi, Moushumi Chatterjee, Reena Roy, Jayaprada, Poonam Dhillon, Farah Naaz etc. He has worked with almost every lead actress of Bollywood cinema of 1970s and 1980s, and has shared screen space with Hema Malini, Zeenat Aman etc.
In the 1990s he worked with top top actresses – Juhi Chawla and Madhuri Dixit in many movies. He acted in a string of flop movies aside Madhuri Dixit while registered success opposite Juhi Chawla in Bol Radha Bol. His movies – Deewana opposite Divya Bharati and Damini opposite Meenakshi Sheshadri were huge hits. He was paired with new actress like Ashwini Bhave, Urmila and Madhoo too.
His career deteriorated in the mid-1990s with the supremacy of young Khans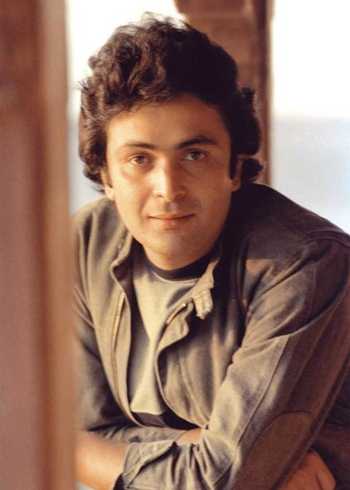 He remained at his career peak till early 1990s. Deewana and Bol Radha Bol released in 1992 were among his last major hits. Though he worked in a series of movies throughout 1990s, and worked with almost every lead actress, his movies flopped one after another. His growing age and the supremacy of young Khans gradually put an end to a long innings of romantic hero.
After Kaun Sachcha Kaun Jhootha opposite Sridevi (inspired from Sanjeev Kumar starrer Anhonee) sank without traces, he started accepting lead roles, and moved to direction. He directed a single movie, Aa Ab Laut Chalein (1999) starring Rajesh Khanna, Akshaye Khanna, and Aishwarya Rai, which tanked at box office. It was the last production of R. K. Films, started by his father. After that he returned to acting, mostly playing character roles.
His role as an adorable father in 2000 release – Raju Chacha got noticed, though the movie gave hug financial loss to Ajay Devgan who produced the film. Later he started accepting similar kind of roles. He played father to Kajol in Kuch Khatti Kuch Meethi and Fanaa, Salman Khan in Yeh Hai Jalwa, Saif Ali Khan in Hum Tum, Katrina Kaif in Namastey London etc, and was adored for his screen presence. His role as a professor in Kucch To Hai and older Saif Ali Khan in Love Aaj Kal were well received. In 2010, he shared screen space with his wife after almost three decades for the movie, Do Dooni Chaar. The movie is widely regarded as one of the finest works of his career, and he bagged Filmfare Critics Award for Best Actor.
In the next year, his negative role in Agneepath earned him a nomination for Filmfare Award for Best Supporting Actor. His performance in D-Day, Aurangzeb, Chashme Buddoor, Student of the Year etc were also well received. Rishi, Neetu Singh and their son Ranbir starred together for 2013 release, Besharam which was a commercial flop. Patiala House, Jab Tak Hai Jaan, Housefull 2, Shuddh Desi Romance, All Is Well etc are some of his noted works in the first half of 2010s.
He played some of his finest roles during his last years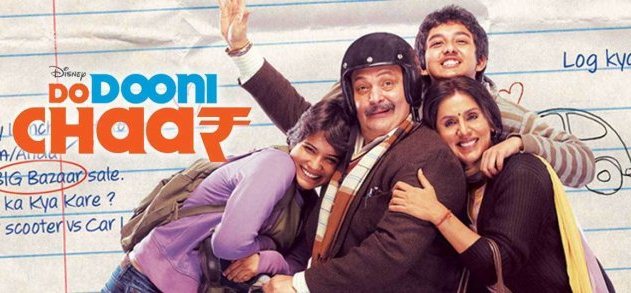 He was fully active in the industry for the last two decades, and played some of his memorable roles in the last few years. He played the titular role of Kapoor in Kapoor & Sons in 2016, which included an ensemble cast and the movie was a box office hit. He received Filmfare Award for Best Supporting Actor for his memorable performance of a 90-year-old grandfather in the movie. He repeated a similar kind of role in 102 Not Out (2018), where he played Amitabh Bachchan's son. It was his last commercial hit.
Same year he gave yet another power packed performance in Mulk, which opened to high positive reviews. His role of a father who tries to reclaim the lost honour of a family after his son was shot dead as a terrorist is one of the most powerful roles he portrayed on screen till now. During his last few years he was quite active in online platforms, especially twitter, and was known as Chintuji. He used to freely interact with his followers. An outspoken person with his opinion on different subjects, he often invited controversies.
Yes, it is very disturbing and terribly shocking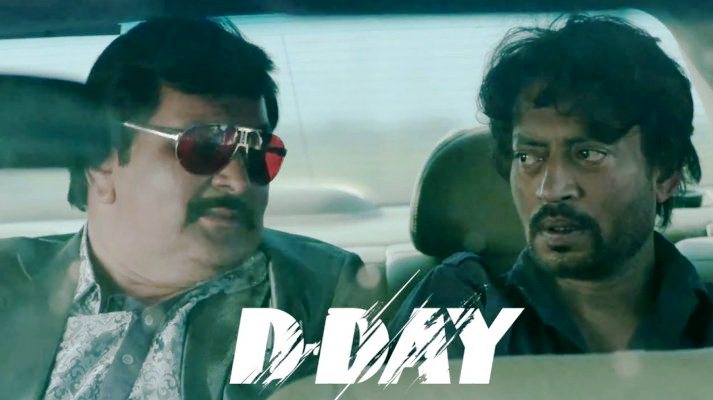 Kapoor was diagnosed with leukemia in 2018, and he took a break from acting for his treatment in US. He returned back and also worked in a few movies like The Body – his last theatre release. He suddenly fell ill at late hours of 30th April, the same day when Indian film industry lost a gem Irrfan Khan in his fight to cancer, and got admitted in hospital. Next day morning he was declared death. I still can't figure out why death takes away talented artists so unexpectedly when they are contributing some of the finest performances in their innings-long career! Irrfan Khan or Rishi Kapoor – if we look into their career charts, they have been giving some outstanding performances in the last few years. But the deadly disease of cancer ruined everything.
Bollywood movie buffs lost yet another shining star within 24 hours of Irrfan Khan's demise – Rishi Kapoor. It's a very rare phenomenon of Bollywood to loss two big stars within a short time span. The stars have many similarities in the last phase of life too. Both were diagnosed with cancer almost at the same time, and both have been bravely fighting for the last two years. Highly professional, they did a few movies while undergoing treatment, and returned to motherland after treatment in US almost at the same time. They made us believe that all is well, but shocked everyone with their sudden demise during lock down. There is an interesting mathematical conundrum in the date of deaths too. Irrfan Khan born in year 1967 passed away aged 53 and Rishi Kapoor born in 1952 passed away aged 67! (Just a miss!) They shared screen space for a single movie, D-Day, which was critically appreciated.
"April is the cruellest month, breeding lilacs out of the dead land, mixing memory and desire, stirring dull roots with spring rain." – Quoted by T.S. Eliot in the book – The Waste Land.
Rishi Kapoor – Some interesting facts related to Kapoor film dynasty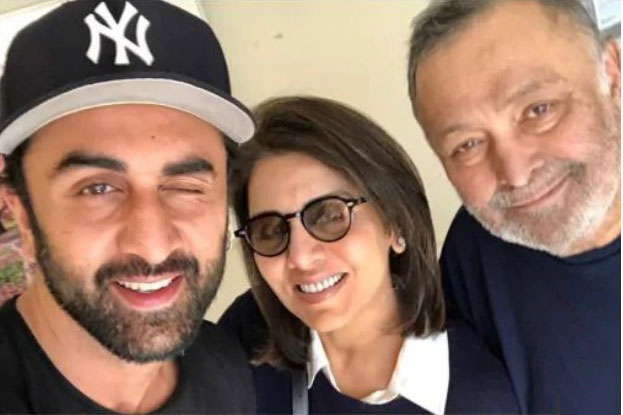 –> His paternal granduncle Trilok Kapoor has also appeared in a few movies.
–> His aunt, Jennifer Kendal, wife of Shashi Kapoor and Geeta Bali, wife of Shammi Kapoor were actors. Geeta Bali was one of the top Bollywood heroines of 1950s.
–> Like his parents and other family members, his maternal uncles – Premnath, Rajendranath, and Narendra Nath, as well as Prem Chopra are well-known Bollywood actors.
–> Actor Prem Chopra was married to his maternal aunt Uma (Krishna Kapoor's sister) and that's how he is related to Chopra family. Thus Rishi Kapoor is related to Prem's son-in-laws – Sharman Joshi and Vikas Bhalla, popular actors.
–> Actress Babita is his sister-in-law, who is married to his elder brother Randhir. Babita is the daughter of Bollywood character artist Hari Shivdasani and first cousin of iconic actress Sadhana Shivdasani.
–> His first cousins – Aditya Raj Kapoor, Kunal Kapoor, Karan Kapoor and Sanjana Kapoor are well-known names in Bollywood or theatre, and many of them were associated with Prithvi theatre, built by Shashi Kapoor and his wife Jennifer Kapoor in memory of Prithviraj Kapoor.
–> His sister Ritu Nanda is an insurance agent and businessman Nikhil Nanda, Chairman & Managing Director of Escorts Limited is his nephew. Nikhil is the grandson of the industrialist Har Prasad Nanda.
–> His nephew Nikhil Nanda is married to TV anchor and journalist, Shweta Bachchan Nanda, daughter of Amitabh Bachchan. Thus he is closely related to Bachchan family, other members of the family being deceased writer Harivansh Rai Bachchan, and Bollywood actors – Jaya Bachchan, Abhishek Bachchan and Aishwarya Rai Bachchan.
–> Actor Kunal Kapoor (not his first cousin), who is married to Amitabh Bachchan's niece is also a distant relative of Rishi Kapoor.
–> Filmmaker Surinder Kapoor was the cousin of his paternal grandfather Prithviraj Kapoor. Thus he is related to the second Kapoor family of Bollywood comprising of Boney Kapoor, Anil Kapoor, Sanjay Kapoor, Arjun Kapoor, Sonam Kapoor, Janhvi Kapoor, Harshvardhan Kapoor, Sridevi and many more. Of course, his popular co-star Sridevi is his distant relative.
–> Apart from his son Ranbir Kapoor – a well-established actor, fourth generation of actor members from his family include – Karishma Kapoor, Kareena Kapoor, Armaan Jain and Aadar Jain.
–> His cousin Kunal Kapoor, an actor was married to filmmaker Ramesh Sippy's daughter Sheena. They are now separated.
–> He is related to Pataudi royal family after his niece Kareena Kapoor married Sharmila Tagore's son Saif Ali Khan. Apart from Sharmila Tagore and her cricketer husband Mansoor Ali Khan Pataudi, actors – Soha Ali Khan, Sara Ali Khan, Kunal Khemu and Amrita Singh (separated) are also a part of the family.
–> His family is related to Pakistani singer-actress Salma Agha and her daughter Sasha Agha, an actress. Salma Agha of 'Nikaah' fame is his distant cousin.
–> He is related to director Basu Chatterjee's family too (thus related to ace director Bimal Roy's family as Basu was formerly married to Roy's daughter Rinki Bhattacharya and had one son Aditya Bhattacharya, a noted director, who married Sanjana Kapoor, Shashi Kapoor's daughter and Rishi Kapoor's cousin). But Sanjana got divorced later.
–> He belongs to the third generation of actor members from his family, and sadly the first one to go. His mother and uncle Shashi Kapoor passed away just two years ago.
Rishi Kapoor – Some interesting and less-known facts related to his personal and professional life
–> He is the most successful among third generation actors of his family, and unfortunately the first one to go!
–> He won his first and only Filmfare award in best actor category for his debut flick in a lead role, Bobby (1973). It was for the first time an actor received the honour for his debut film. Read more. Later he admitted that he bought the award for 30,000 rupees then, which was a huge amount in the 1970s. Amitabh Bachchan for Zanjeer and Rajesh Khanna for Daag were top contenders for this award. He had a cold war with Big B for a short period following this incident.
–> Though he worked in an array of films sharing screen space with Amitabh, the actor felt that writer-directors were partial towards the megastar. He also felt that Amitabh never given due credit to the actors who have worked with him.
–> Initially he rejected his supporting role in Kabhi Kabhie, as he felt that his co-star Neetu Singh had a prominent role. Also many people warned him not to work in an Amitabh movie. He accepted the role only after his uncle Shashi Kapoor intervened, who played a pivot role in the movie.
–> In his words, he never forced Neetu Singh to stop acting after marriage. However she completed all signed projects before tying note with him in year 1980. He never convinced her to keep working either. He feels that it's a chauvinist in him who doesn't want his wife to go out for work and he wanted Neetu to finish all her commitments before marriage.
–> His marriage with Neetu Singh was a grand fat wedding and the most celebrated one in Bollywood till then.
–> He feels that he was responsible for Rajesh Khanna not getting the lead role in Satyam Shivam Sundaram. He influenced his father not to give him the role, and finally it was done by his uncle Shashi Kapoor. But years later, Rajesh Khanna worked in Rishi's single movie as a director, Aa Ab Laut Chalein.
–> He received one Filmfare award for best actor from 4 nominations for Bobby, Sargam, Prem Rog and Chandni, and one Filmfare award for best supporting actor from three nominations. He received Filmfare Life Achievement award and also one award for best actor (critics' choice).
–> Right from his debut film in a lead role – Bobby, he launched more than 25 heroines in Bollywood, which is highest than any other actor in the industry.
–> Shah Rukh Khan shared screen space with Rishi Kapoor in his first theatre release, Deewana in 1992. Years later Rishi appeared in a cameo role in SRK's Om Shanti Om, whose title was coined from Kapoor's popular song from Karz.
–> In reality Raj Kapoor did the movie Bobby not to launch his son, but because he didn't have sufficient funds to cast Rajesh Khanna in a teenage romantic film as he wished. Kapoor made Bobby to pay the huge debts of Mera Naam Joker and he succeeded in this experiment.
–> Before the release of his debut film, Bobby, there were rumours about his love with co-star Dimple Kapadia. However she married superstar Rajesh Khanna at the age of 16 before the theatre release of Bobby, and took a break from films. She returned to silver screen after long 12 years through the movie, Saagar (1985), where she was paired with Rishi once again, and the movie was a super hit. Years later Rishi told that he was never in love with Dimple or even infatuated with her. But Neetu has admitted she felt insecure while Rishi worked with Dimple in the 1980s.
–> Shailendra Singh who started his career as an actor turned a playback singer with Bobby. After the huge success of Bobby's music, he became the ghost voice of Rishi Kapoor. It benefitted his musical career, and adversely affected his career too, as musical composers rarely approached him to record songs of other heroes.
–> Most of his film songs were sung by Kishore Kumar and Shailendra Singh. Mohammed Rafi also owns a few of hit Rishi songs to his credit. When he moved to new era of 1990s, Kumar Sanu became his ghost voice.
–> In 1977 March, soon after Emergency was over, a rally was announced by released opposition leaders at Ramleela Maidan in Delhi. To prevent people going to attend the public rally, then PM Indira Gandhi decided to telecast Bobby on Doordarshan. Though the movie was aired on television, it couldn't break the flow of people to Ramleela Maidan.
–> His elder sister Ritu Nanda died in January 2020, just three months before the demise of Rishi. Both were battling with cancer. They, along with their elder brother Randhir appeared on screen for the first and last time together in the iconic song, Pyar Hua Iqraar Hua, as child artists for a few seconds.
–> Nargis bribed him with chocolates to shoot for the song, Pyar Hua Iqraar Hua. As it was a rainy day, it was difficult for the crew to prepare him for the shoot.
–> His 1976 release, Barood was a flop in India. But it went on to become an overseas blockbuster in the Soviet Union. Popular film and television actress Shoma Anand marked her screen debut opposite Rishi Kapoor in this movie, and Lata's popular song composed by S. D. Burman, "Dil Kaanton Mein Uljhaya" was filmed on both.
–> Rishi personally never liked his songs, though most of his songs are foot tappers or chartbusters. He is known for his brilliance in lip-syncing.
–> When he heard some of his popular songs like Om Shanti Om and Dafliwale for the first time soon after recording, he didn't like them and felt bored. He openly expressed his disagreement as well. However both these songs turned to be huge hits, and Rishi stopped giving opinion about his songs after that.
–> The song, 'Mere Kismat Mein Tu Shayad' from Prem Rog was very close to his heart. While the shooting of the song was going on at a film set in Mysore at late night, he received a trunk call from Mumbai, which gave him the happy news that his wife is pregnant. It was one of the happiest moments of his life. The child was Ranbir, who later became a huge star within a short span in Bollywood.
–> Married Neetu Singh on 22 January 1980, his first child Riddhima Kapoor Sahani was born on 15 September 1980.
–> In the 1990s Neetu filed a domestic violence complaint against Rishi Kapoor, when Rishi turned alcoholic and his movies flopped one after another. After a lot of rifts, their bond grew stronger.
–> His first serious girlfriend was a Parsi girl, Yasmin Mehta, whom he dated much before Bobby was released. When Stardust magazine published budding romance between Rishi Kapoor and his co-star Dimple who was already married to Khanna, it broke Yasmin's heart and she broke the relationship.
–> Rishi Kapoor played a cameo role in the dance song, "Kya Naam Hai Tera" for the movie, Naukar Biwi Ka. It's one of the rare occasions in Bollywood music, where a song has been written for an actor, which uses the real name of the actor. Bebo song of Kambaqt Ishq and Urmila song of Kunwara are a few more.
–> Shashi Kapoor and Rishi Kapoor played siblings in 'Duniya Meri Jeb Mein' (1979). Neetu Singh played Rishi Kapoor's heroine, and the movie was a flop.
–> On his 57th birthday in 2009 a movie was released titled, Chintu Ji and Rishi Kapoor played titular role in this film.
–> Three big stars of yesterdays, whose names start with Raj died of cancer – Rajesh Khanna, Rajendra Kumar & Raaj Kumar. Shocking fact is all of them were 69, just falling short of 70. Also Rishi Kapoor's full name is Rishi Raj Kapoor who died of cancer aged 67.
All the three stars of Chandni lost their lives within a span of 3 years much unexpected
Author's end note: One of the biggest movies of three great stars of 1980s – Chandni, starring Rishi Kapoor, Vinod Khanna and Sridevi. Vinod Khanna was the first to go on 27 April 2017 so unexpected. It was more shocking when Sridevi passed away on 24 February 2018, before the first anniversary of Khanna. I don't know why a fear caught my mind, when Chandni became the main topic of discussion on all social platforms and media. I started feeling insecure for Rishi Kapoor, I don't know why.
While he was debating on why his female co-star is being called 'body' soon after her death, I was silently praying for him. I had a strong inner feeling that something is to happen to the third 'Chandni' star, who was very much good in health. But I couldn't control my worries. It turned more shocking to me when he went to treatment to New York a few months later same year. My worries increased manifold. His cancer news came out, though it was kept under wraps for some time. However I became extremely happy when he returned after successfully completing the treatment, and also worked in one or two movies. I felt comfortable, and thought worries have gone. He has survived and no issue at all! But it was short lived! Definitely he was too early to go.
I still can't figure out why, why such thoughts came in my mind. I still don't know why just like a destiny, why we lost all the three stars of Chandni, within short span of three years? Irony is that Vinod Khanna passed away towards the end of April 2017 and within the next three April seasons, two remaining stars too have gone! More shocking is death of all these celebrities were so unexpected, and they were in good health till the bad luck struck them in 2017, almost three decades after the theatre release of the movie. Extremely sorry if I hurt any of you, especially if you are a 'Chintu' fan. But it's the truth.
I watched the movie years back on Doordarshan in the 1990s. Following Sridevi's death, I searched it online, but couldn't get a free version. It may be my fate to watch the movie once again, after the three actors have gone!
(Visited 641 times, 1 visits today)