My Tribute to Shashi Kapoor – The most charming personality of Kapoor dynasty
When the charming Shashi Kapoor sang 'Khilte Hain Gul Yahan' for Rakhi Gulzar in Sharmilee, the whole ladies across the nation were smitten by his smile with dimpled cheeks in the early 1970s. Just a few years later, in the role of a sincere inspector, when he uttered the emotional words for Deewar, 'Mere Paas Maa Hai', this iconic dialogue became the most celebrated one on Bollywood silver screen ever and still counted so, after 40 years of film's release.
As a romantic hero in Sharmilee and as an angry young man in Deewar, and numerous roles he played in the 1980s in parallel cinema, Shashi Kapoor has dabbed into different modes of acting, and he can never be tagged exclusively under 'Romantic' or 'Action' hero. He was not verse in natural acting and extremely versatile as his elder brother Raj Kapoor, yet he created a niche of his own, and also earned fans from 'romantic' and 'action' film worlds with ease. That's our charming and youngest Kapoor – Shashi Kapoor. Also read: Top 15 songs of Shashi Kapoor.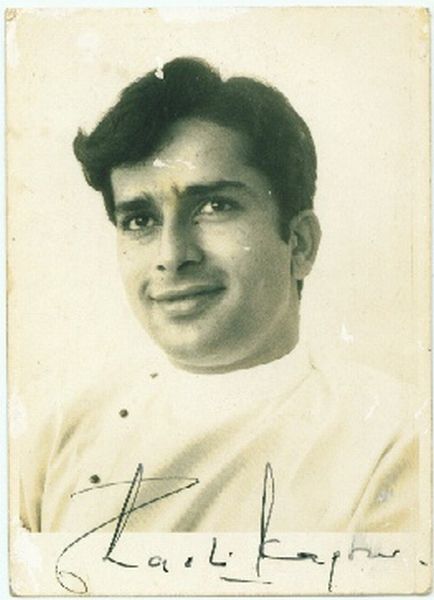 His acting style was entirely different from the iconic performances of his father Prithviraj Kapoor and elder brother Raj Kapoor. His style was new and fresh, almost in lines with the romantic image of his second brother Shammi Kapoor and the audience accepted him with open heart. Later when he moved towards action roles in the 1970s, as time demanded, his new avatar too was equally appreciated.
Shashi Kapoor – Charming screen presence on celluloid during its golden era
From a village boy to a rich businessman, Shashi Kapoor has handled several complex roles with ease, giving a distinct 'Shashi' touch. Even while going with the flow of glamorous commercial cinema and masala entertainers, he followed a parallel path, and owned great fame in the field in Indian theater and parallel cinema. That's how he is different from other Kapoor members of his family.
When you think about Shashi Kapoor, the first thoughts flashing through the mind could be the iconic dialogue from Deewar, Mere Paas Maa Hai. In the film situation, though his brother (played by Amitabh Bachchan) tries to attract him towards the lust of money and fame, he stands firm as a sincere police officer who is not at all willing to give up the traditional values he carries in his mind, for whatever reason it may be. This Yash Chopra film released in 1975 during Emergency period was one of the highest grossers of the year, and it also began the successful association of Shashi with Amitabh Bachchan for a series of multi-starrer action films.
While 1950s were exclusively reserved for dramas and 1960s for melodramas and romantic films, with 1970s Bollywood changed its flow towards action films and angry young man heroic roles. With the emergence of Rajesh Khanna as the new superstar of Bollywood, almost all romantic heroes of 1950s faded from screen, and only those who carried forward the legacy were those who accepted action roles, and Shashi Kapoor was one among those rare breed of actors who achieved success with this transformation. His decision to accept multi-starrer movies, playing parallel lead (mostly to Amitabh Bachchan) also cemented his position in Bollywood for the next one decade or so. When Amitabh Bachchan represented the face of Bollywood cinema of 1970s, Shashi Kapoor was his mirror image.
Shashi Kapoor started off his film journey as a child artist in his elder brother's films
Shashi was born as Balbir Prithviraj Kapoor on 18 March 1938 in Calcutta of Bengal Presidency during British rule in India. Born as the son of the legendary actor Prithviraj Kapoor, he flourished as an actor through several roles he did for plays as a stage actor for Prithvi Theatre. Later he marked him film debut as a child artist in the 1940s. He mostly portrayed Raj Kapoor's childhood roles in these films, Awara (1951), Aag (1948), Sangram (1950) etc to name a few. He also worked as an assistant director to his elder brother before moving to adult roles on silver screen. Even while he started off his acting journey, he worked as an assistant to his elder brother till he cemented his position in Bollywood.
Acharya of commercial films of Bollywood, Yash Chopra gave him the first break to big screen as a lead actor through 1961 film – Dharmaputra. Chaar Diwali, Prem Patra etc are some of his early releases in a lead role. In 1963 he appeared in Hollywood film, The Household. The movie was produced Ismail Merchant and directed by James Ivory, who casted him in their next Hollywood production, Shakespeare Walla (1965) also. The legendary Satyajit Ray was the music composer of this film.
Years later he married theater/film personality Jennifer Kendal, with whom he frequently associated for plays and Hollywood productions, and in the 1970s the couple established the famous Prithvi Theatre in Mumbai. His association with theatre deeply influenced his acting skills and in the 1980s, many of his movies showed those shades.
He created a niche of his own through the different shades he played onscreen
Quite active in Bollywood since early 1960s, he stayed there till 1980s, and through his talent he created a niche of his own, quite different from other members of his family. That makes Shashi so unique as an actor. Even while he did roles similar to his contemporaries, he tried to do those roles in his own style, which indeed made him successful. As a romantic hero or a tragic person or as an action hero, Shashi Kapoor has always diversified his acting skills, and he was equally loved in all these images by his fans.
Nanda, Rakhee, Sharmila Tagore, Rekha, Hema Malini, Mumtaz, Babita, Parveen Babi, Moushumi Chatterjee – he was paired with leading ladies of 1960s, 70s and 80s and also earned a place among the lead heroes/anti-heroes of the time – Rajesh Khanna, Amitabh Bachchan, Sanjeev Kumar, Pran etc. His chemistry with his co-stars, either male or female was quite contradictory to the norms and formulae on which Bollywood films ran those days. He shared screen space with Amitabh Bachchan for 12 movies, which fully dominated the film screen in the 1970s and early 1980s. Most of them were huge commercial success at box office; Deewar, Kabhi Kabhi, Trisul, Kala Pathar, Shaan, Silsila, Namak Halaal etc to name a few.
His pairing with Nanda established him as an actor
Though he held a 'Kapoor' tag with his name, none of the lead heroines who were highly career oriented were willing to work with Shashi Kapoor in the early 1960s, a time when he had a chocolate boy image. But actress Nanda was an exception. She worked with him in many of the movies since his early days and also recommended his name to other film personalities.
In 1966, when Jab Jab Phool Khile was released, the movie was a huge blockbuster along with the chartbuster songs composed by Kalyanji Anandji, and the movie raised Shashi's level as a romantic hero of Bollywood. The movie cemented his position in Bollywood, and there was no turning back after that. Apart Jab Jab Phool Khile, the duo also worked together in love stories – Raja Saab, Roota Na Karo, Neend Hamari Khwab Tumhari etc. They worked in 8 movies together.
With the 1970s, Shashi Kapoor reached the peak of his career and stayed there for a long time. Though he predominantly worked in multi-starrers during this time period, he also tasted success through a few family dramas and romantic films as a solo hero. It's not surprising that, among all Kapoor actors of his family, he played maximum lead roles for Hindi films, and has done more than 100 films in total. In 61 films, he played solo hero. Also read: Some interesting facts of Shashi Kapoor.
A hero who became a part of Bollywood film history
Deewar, Aa Gale Lag Jaa, Sathyam Sivam Sundaram, Heeralal Pannalal, Kabhi Kabhi, Imaan Dharam, Pyar Ka Mausam, Suhaag, Kala Pathar, Silsila, Namak Halaal, Shaan, The Burning Train, Trishul, Fakir etc – He has been a part of several iconic movies of 1970s and 1980s which brought modernization to Hindi cinema. He worked with filmmakers – Manoj Kumar, Romesh Sharma, Shyam Benegal, Yash Chopra, Govind Nihalani and Gireesh Karnad for their movies, Roti Kapada Aur Makaan, New Delhi Times (for which he earned national award for best actor), Kalyug & Junoon, Trishul & Deewar, Vijeta and Utsav respectively. In the 1980s, he exclusively worked in parallel cinema, and most of his roles were picked from social themes, for which he received universal critical acclaim.
Shashi's association with foreign language films
The Householder, Shakespeare Walla, Bombay Talkie, Heat & Dust and Siddharta – were some of his noted Hollywood films. Only a few Indian heroes have been able to reach this achievement. Under his film banner, Filmwala started in 1978, he produced several art films such as Junoon, Utsav, 36 Chowrangee Lane, Kalyug, Vijeta, and commercial failure, Ajooba. He concentrated on to films quite different from main stream commercial masala. Junoon bagged National Award for best regional film (in Hindi) in 1979. Kalyug received Filmfare award.
Though he was associated with several commercial entertainers in the early 1980s, he showed his yet another face of acting skills through New Delhi Times, for which he bagged National award for best actor. He played the role of a journalist and his fights against corruption, and is widely regarded as his best role up-to-date. He earned Special Jury Award for his performance in 'In Custody'.
He is one among those rare actors who showed his screen presence in Hollywood and British movies. Bombay Talkie, Heat & Dust and the controversial Siddharta – there is a long list of his foreign ventures. Gehri Chot – filmed in Urdu, Hindi and Bengali is an Indo-Canadian and Bangladeshi co-production film released in 1983, where Shashi played lead role.
He got associated with the theatre traditions of Kolkata city, which later resulted in several Shakespeare dramas in association with Kendal family which were staged across India and abroad, somewhat reviving the theater art and earned him fame internationally. Even while he was associated with theatre, he was fully active in mainstream cinema handling different types of roles. Through his luminance he brightened the people surrounding him as well.
The star who draw his own path to travel through
The most handsome among all Kapoors – That's how this dashing hero got addressed by film critics, media and his fans. He never bind himself to a particular language films. In fact he worked in Hollywood, and also dabbed into the world of theatre and film production. He has also directed one Russian film and co-directed fantasy film Ajooba, his last association with Amitabh Bachchan.
In 2015 he was awarded with the most prestigious award of Indian cinema, Dada Saheb Phalke Award for his outstanding contributions to Indian cinema. Earlier in 2001, he was given Padma Bhushan as well. On December 4, 2017 he passed away at the age of 79. Though he was suffering from age related ailments for past few years, he was admitted to hospital just one day before his death. For the same reason, his death news came as a surprising news to many.
He has been a victim of death hoax several times before. So when the news broke out in the yesterday evening, like many Shashi Kapoor fans, I wished the news to be a hoax. But unfortunately it was not so. Shashi might have left this world, but his charm blossomed in every movie of his, will remain intact in the minds of all of us forever. Once again, a true salute to a legend who was associated with several landmark reformations of Hindi cinema since the era of talkies in 1940s.
Before I wind up, I would like to sing two lines from one of the finest tunes composed by R. D. Burman featuring Shashi Kapoor and Asha Parekh from the film, Pyar Ka Mausam…….
Na Jaa O Mere Humdum….
Na Jaa O Mere Humdum….
Suno Wafa Ki Pukar…..
Chodke Mera Pyar……
Please come back, Shashi…….
Go through the gallery below and click on the images to read some of the topics of this legendary actor
(Visited 680 times, 1 visits today)