Shammi Kapoor – The one and only Rockstar of Hindi cinema
Shammi Kapoor (1931 – 2011) was one of the leading stars of Bollywood cinema in the 1960s, with several blockbusters to his credit. He is unofficially known as 'India's first rockstar on celluloid'. Shammi Kapoor redefined Bollywood screen heroes through his romantic style and eccentric dance moves, which gave him the title of Rockstar. He directed two films – Manoranjan and Bundal Baaz in the 1970s.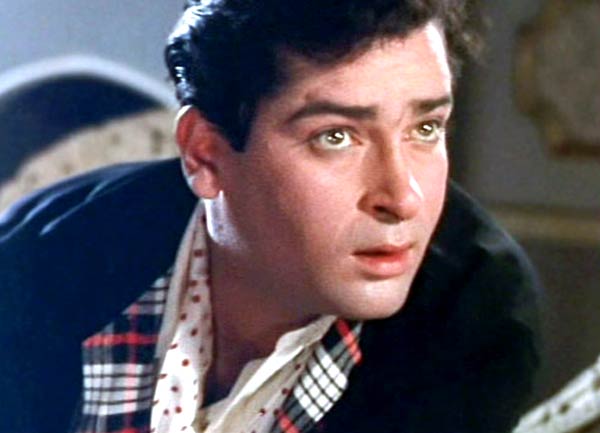 He also owns countless hit songs filmed on him in the 1960s, sung by Mohammed Rafi and mostly composed by Shankar Jaikishen. Also known as 'Yahoo star', Junglee in 1961 was the major breakthrough role of his career, followed by a series of hits such as Dil Tera Diwana, Professor, Janwar, Teesri Manzil, Kashmir Ki Kali, Brahmachari, China Town, Bluff Master, Sachai, Rajkumar, An Evening in Paris, Andaaz etc. He is hailed to be one of the most entertaining actors ever of Bollywood cinema. As a lead actor he starred in 50+ movies only in 2 decades, apart from 20+ character roles in 4 decades. Yet the magic he created through his wonderful roles was never seen before or after him. The era of 1960s truly belong to him, though he worked in only a few movies in the decade.
Second among the three Kapoor brothers belonging to the second generation of established actors of illustrious Kapoor family
Shammi Kapoor was born into the illustrious Kapoor filmy family which played a prominent role in shaping Bollywood cinema over many decades. His birth name is Shamsher Raj Kapoor, and he was born as the son of Bollywood actor Prithviraj Kapoor and Ramsharni Kapoor. His elder brother Raj Kapoor and younger brother Shashi Kapoor are well established actors of Bollywood, while Raj Kapoor was a hit filmmaker.
Shammi Kapoor married his co-star Geeta Bali against his family's wish in 1955. Bali was one year older to Shammi, and she has worked with Raj Kapoor earlier, and that was the reason for disapproval from his family. The following year they had a son, Aditya Raj Kapoor, who also had a career in Bollywood. The couple had a daughter Kanchan born in 1961. Geeta Bali died from smallpox in 1965, and her death deeply depressed him. Four years later he married Neila Devi, a member of Royal family of Bhavnagar on the condition that they won't have kids, and Neila kept up the promise and brought up Shammi's kids.
Shammi Kapoor's debut film was Jeewan Jyoti in 1953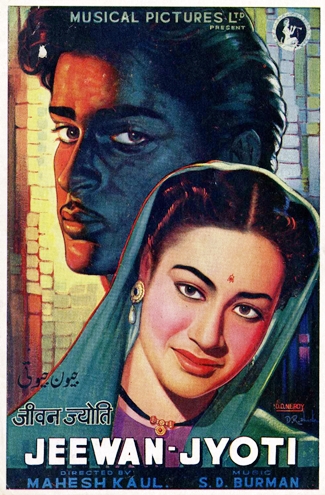 He joined film industry in 1948 as a junior artist at a monthly salary of 50 rupees and worked with Prithviraj theatres for the next four years till his big screen debut. After marking his debut with flop film Jeewan Jyoti in 1953, he appeared in a series of black and white movies throughout 1950s. All the movies flopped at box office. In most cases, he became a part of woman-centric films co-starring establishing female artists, which didn't help him too much. During those days his elder brother Raj Kapoor was the ruling star of box office hits.
As an actor his first break was given by Nasir Hussain through his directorial venture, Tumsa Nahin Dekha (1957) opposite Ameeta. After the film's success, the director casted him in his second venture as well – Dil Deke Dekho (1959) which marked screen debut of Asha Parekh in a lead role. After the success of this movie, he started getting more film offers, and with the success of Junglee in 1961, a star was born.
Shammi Kapoor turned a star in his early 30s and remained so for exactly one decade
He went on to deliver hits after hits and became one of the biggest stars of 1960s. He was so successful that he could give his opinion about the choice of stars and crew to work with him. He mostly wanted SJ to compose his tunes, and Rafi to sing his songs. He remained the only dancing star of 1960s. While most of his contemporaries tried with family dramas and serious themes, he mostly chose entertaining subjects and light hearted rom-coms which helped him a lot. Though he started gaining weight in the second half of 1960s, he remained the most entertaining actor of the era.
With the release of Aradhana towards the end of the decade, India's first superstar was born. Many romantic heroes got affected by the hysteria of Rajesh Khanna, and Shammi Kapoor also faced a major blow. Andaz in 1971 became his last solo hit, and Khanna made a cameo appearance too. Shammi Ji also started gaining weight though he was only 40 years old. After he started receiving setbacks, he reduced his work and moved to character roles. Though as a seasonal actor, he did many memorable roles as a character artist till he passed away in 2011, a few days before his 80th birthday.
He received Filmfare award for best actor for his memorable role in Brahmachari, and a nomination for Professor. In his opinion, Professor was the most difficult role of his career, where he had to woo his senior actor Lalita Pawar. He also earned Filmfare award for best supporting actor for Vidhata and a Lifetime achievement award in 1995. Among all his co-stars, his chemistry with Asha Parekh was appreciated most. He also made lovely screen pairing with Sharmila Tagore, Rajashree and Sadhana. He also tasted success pairing Mala Sinha, Saira Banu, Kalpana, Padmini, Nutan, Madhubala, Hema Malini etc.
Shammi Kapoor – 50+ Interesting and less-known facts
–> The dashing hero with blue eyes, he is also known as the Elvis Presley of India.
–> Though he was drawn towards acting and theatre since young, he studied science at Ruia College, Mumbai hoping to become an Aeronautical Engineer. He also applied for a job at a tea estate in Assam. However he dropped studies and decided to follow the steps of his father and elder brother.
–> During his old days at Prithvi theatre, he didn't own privilege like his brothers. They travelled in second class compartments, had ordinary lodgings and eat same food as the backstage workers had. They even slept on floor for their travels.
–> He was not launched by his father in Bollywood. He didn't get much help from his elder brother too, who was already a big star. He struggled for more than a decade throughout his 20s in the entertainment industry to make a name of his own, and made his own way to create a niche of his own entirely different from others. He was already 30 years old when he established as a star through Junglee.
–> He had a decent singing voice, which he used for the plays staged at Prithvi theatre, where he appeared on stage. One of his performances in negative role impressed the filmmakers of Tumsa Nahin Dekha, which gave him the major break, and the play was Ramanand Sagar's Kalakar.
–> Mohammed Rafi rendered his voice for the first time for Shammi Kapoor in his second film, Rail Ka Dabba released in 1953. Later the singer's voice played a magnificent role in building Kapoor as a huge star, and their combo songs still have huge fan following crowd.
–> Apart from his brothers – Raj Kapoor and Shashi Kapoor, his nephews – Randhir Kapoor, Rishi Kapoor, Rajiv Kapoor, Kunal Kapoor, Karan Kapoor and niece Sanjana Kapoor are well-known names in Bollywood or theatre, and many of them were associated with Prithvi theatre, built by Shashi Kapoor and his wife Jennifer Kapoor in memory of Prithviraj Kapoor.
–> His son Aditya Raj Kapoor had a brief career in Bollywood.
–> His paternal uncle Trilok Kapoor has also appeared in a few movies.
–> He is the great-uncle to established Bollywood actors – Karishma Kapoor, Kareena Kapoor and Ranbir Kapoor. Armaan Jain and Aadar Jain are other Bollywood celebrities of present generation related to him.
–> His niece Ritu Nanda (Raj Kapoor's daughter) is an insurance agent who married businessman Nikhil Nanda, Chairman & Managing Director of Escorts Limited. Nikhil is the grandson of the industrialist Har Prasad Nanda.
–> Through his grandnephew Nikhil Nanda he is related to Amitabh Bachchan's family. Nikhil married Big B's daughter Swetha Bachchan.
–> His nephew actor Randhir Kapoor married actress Babita, Shammi Kapoor's co-star of the hit movie, Tumse Accha Kaun Hai (1969).
–> He shared screen space with Neetu Singh, his nephew actor Rishi Kapoor's wife for a single movie, Parvarish in 1977, where Shammi played supporting role.
–> Singer actress Salma Agha is a niece to Kapoor brothers. This Bollywood actress and singer Sasha Agha is his grand-niece.
–> Filmmaker Surinder Kapoor was the cousin of his father. Thus he is related to the second Kapoor family of Bollywood comprising of Boney Kapoor, Anil Kapoor, Sanjay Kapoor, Arjun Kapoor, Sonam Kapoor, Janhvi Kapoor, Harshvardhan Kapoor, Sridevi and many more.
–> His nephew Kunal Kapoor married filmmaker Ramesh Sippy's daughter, Sheena. Later they got legally separated.
–> He is related to Pataudi royal family after his grandniece Kareena Kapoor married Sharmila Tagore's son Saif Ali Khan. Apart from his popular co-star and her cricketer husband Mansoor Ali Khan Pataudi, actors – Soha Ali Khan, Sara Ali Khan, Kunal Khemu and Amrita Singh (separated) are also a part of the family.
–> He is related to director Basu Chatterjee's family too (thus related to director Bimal Roy's family as Basu was formerly married to Roy's daughter Rinki Bhattacharya and had one son Aditya Bhattacharya, a noted director, who married Sanjana Kapoor, Shashi Kapoor's daughter). But Sanjana got divorced later.
–> Apart from several known affairs, it was alleged that he had numerous unknown affairs. Either onscreen or off-screen, he was known for his playboy image. Socialite Bina Ramani was one among those names.
–> During the shooting of Brahmachari, he grew close to Mumtaz and proposed to her. However Mumtaz was not willing to give up her career after marriage. Kapoor was a widower then.
–> Before his marriage, he had a crush on actress Madhubala, with whom he worked in the movie, Boy Friend.
–> Shammi put red lipstick in Geeta Bali's maang for their wedding ceremony, breaking Indian stereotypes. They had forgotten to bring vermilion during their hush to the temple for a secret wedding. Geeta was a huge star and Shammi was only a struggling actor then. Geeta gave up her career, and later played a magnificent role in grooming Shammi for what he is known for.
–> Throughout his life, Shammi Kapoor missed Geeta Bali and he felt that actress Urmila Matondkar reminded him of his dead wife, who owns uncanny resemblance with her.
–> Shooting of Barsaat was going on. In the film sets Nargis had promised Shammi Kapoor that she would kiss him if she gets lead role in Raj Kapoor's Awaara. He replied with innocence that he would pray for her. When she got the role, instead of kiss, Shammi demanded a gramophone. He got interested in western music since then, which later became his signature style in movies.
–> Dev Anand was to star in Shammi's first hit film, Tumsa Nahin Dekha (1957). Dev backed from the project as he was not interested in working with the newcomer Ameeta. Initially Hussain too was not keen in casting Shammi Kapoor for the lead role for his debut project. But Kapoor took him to a dinner and convinced him.
–> Shammi Kapoor proved to be lucky to many newcomer Bollywood actresses who went on to become huge stars in the 1960s. Apart from Chand Usmani who marked her screen debut opposite Shammi Kapoor in Jeewan Jyoti and Kalpana in Professor, huge stars like Asha Parekh (Dil Dekhe Dekho), Sharmila Tagore (Kashmir Ki Kali), and Saira Banu (Junglee) marked their Bollywood debut opposite Kapoor.
–> Asha Parekh used to call her first hero Shammi Kapoor as Shammi Chacha and his wife Geeta Bali as Chachi, and also loved to play pranks on her heroes, not just Shammi. Geeta Bali was so fond of her that she used to say, "Let's adopt her". During the shooting of Dil Dekhe Dekho, she also did Asha's makeup when her makeup man didn't arrive.
–> The premiere of one of his early hits, Dil Deke Dekho held at Novelty cinema was attended by his brother Raj Kapoor, Geeta Bali, Nirupa Roy and Usha Khanna. The movie had a theatre release on the 17th birthday of Asha Parekh.
–> Saira Banu marked her screen debut opposite Shammi Kapoor in 1961 movie, Junglee and its success benefited the careers of both. They also worked together in Bluff Master. Years later, Shammi Ji played Saira's father's role in Zameer (1975).
–> His films shared unique film titles quite matching his mannerisms – Junglee, Janwar, Budameez, Pagla Kahin Ka, Rajkumar, Prince etc.
–> Known to be a rockstar, his last film was Rockstar released in 2011. He shared screen space with his grandnephew Ranbir Kapoor for his last film release.
–> He played negative role in the love triangle – Mem Sahib (1956), co-starring Kishore Kumar and Meena Kumari. He also played twin brothers with opposite shades in Chhote Sarkar.
–> Though Nanda remained one of the top and highly paid heroines of 1960s, she was never paired with Shammi Kapoor. Interestingly her pairing with Shammi's younger brother Shashi Kapoor was a huge hit in the 1960s.
–> Mohammed Rafi remained the ghost voice of Shammi Kapoor, right from the moment Kapoor established as the star through Junglee. Though they recorded many songs earlier, it was only after the huge success of Yahoo and other songs of the movie, Rafi's name got permanently linked with Shammi Kapoor giving some of the most popular songs in the 1960s, mostly composed by SJ and penned by Shailendra and Hasrat Jaipuri. I think no other singer's voice has been experimented for Shammi Kapoor after that, during his peak years.
–> Though Kishore Kumar was a contemporary to Kapoor in the 1950s and 1960s, he never did playback singing for Shammi Kapoor in his entire career. By the time Kishore Kumar emerged as the leading playback singer of Bollywood in the early 1970s outshining Rafi, Shammi Kapoor too had passed his glorious days, and he moved to character roles. Even then, not even a single song was recorded in this combination, though both legends wanted so. Yet Kishore Kumar sang the title song of Shammi Kapoor's Jaane Anjaane. The song appears in the opening credit, a scene in between and at climax, but Kapoor doesn't sync lip to it. It looks surprising and pleasant for one scene, where Shammi appears on screen and Kumar's song playing in the background. They shared screen space for Mem Saab, where Kishore played lead hero and Shammi played anti-hero.
–> Apart from Teesri Manzil, R. D. Burman never composed music for Shammi Kapoor films during his glorious years. Songs of Teesri Manzil were immensely popular and established R. D. Burman's name in the industry. However they never worked together in the era of 1960s, when Shammi Kapoor remained a very huge star. However R. D. Burman composed music for a few movies of Shammi Kapoor, where he played supporting roles – Shalimar, Betaab etc. They also worked together in Kapoor's directorial debut, Manoranjan (1974), where the actor played an important role.
–> For Teesri Manzil, Nasir was keen to assign the job of music department to a youngster, and he managed to convince Shammi Kapoor as well. The songs were already recorded, and when Nasir made Shammi listening to the tunes composed by Burman, he started dancing.
–> His directorial venture – Manoranjan was a remake of Irma La Douce, which he watched in the early 1960s. He wanted to do the lead role in Hindi, but didn't get enough time in the 1960s. By the time he got opportunity, he turned older for the role played by Jack Lemmon on screen and hence decided to direct the film.
–> After giving hit music for Shammi Kapoor in Tumsa Nahin Dekha in 1950s, O. P. Nayyar rarely worked in Kapoor movies. They did one movie together in the 1960s – Kashmir Ki Kali, and the songs became huge hits. Nayyar convinced Kapoor and made him listen to his songs, and Kapoor agreed. However they never worked together. Nayyar also composed music for Shammi Kapoor's Basant in year 1960. After Kapoor turned a big star, SJ became the first choice for his films.
–> O. P. Nayyar was initially angry with the suggestion of Shammi Kapoor to repeat the line 'Taarif Karoon Kya Uski' many times at the end of the song Yeh Chand Sa Roshan Chehra from Kashmir Ki Kali. Rafi convinced the composer to record it fully and cut it out if he doesn't like the outcome. When the song was filmed a shikara on Srinagar's Dal lake, where eccentric Shammi Kapoor plunges to water singing the line repeatedly, it became the highlight of the song.
–> Shammi Kapoor was a follower of Haidakhan Baba.
–> During his early days, many of the songs of Shammi Kapoor were recorded in the voice of Manna Dey.
–> Junglee in 1961 was the first colour release of Shammi Kapoor, made in Eastman colour and the song 'Yahoo' became synchronous to the actor's name later.
–> Only a few know that 'Yahoo' phrase of iconic Yahoo song was originally sung by Prayag Raj, but it shot both Shammi Ji and Rafi to instant fame. Most of us still believe it to be the voice of Rafi. Prayag Raj was in the Prithvi theatre, a writer.
–> The movie Junglee shot in colour popularized Kashmir as a tourist destination. Three years after Saira Banu debut Bollywood as 'Kashmir Ki Kali' through Junglee, yet another beauty joined Bollywood as Kashmiri beauty – Sharmila Tagore. The film's title was coined from a hit song of Junglee, and a strange co-incidence, the movie also starred Shammi Kapoor in a lead role. Both these actresses went on to become huge stars later.
–> There are rumours that the term 'Yahoo' was inspired from Yahoo song of Junglee. True or not, he was the first celebrity from film industry to use computers and internet, and know it better. He was a tech-geek way ahead of times. He got interested in computers in 1988, and perhaps he might be first Indian to use Apple computers in this country. His car's name was also Yahoo.
–> Interestingly he has done the musical bit piece 'Yahoo' for the hit Bhangra song 'Sar Par Topi' for the hit movie 'Tumsa Nahin Dekha', followed by 'Yaar Chulbula Hai' song for Dil Dekhe Dekho long before Junglee song. He made it a full-length song in Junglee. Interestingly all these three films with 'Yahoo' song were the biggest hits of Shammi Kapoor till then.
–> He was the Founder and Chairman of Internet Users Community of India, and also maintained a website dedicated to the Kapoor family, which updated news and other information bits about members of Kapoor family. He used to spend hours before his personal computer.
–> His swaying head for movie songs was the big fashion statement those days. It was the signature Shammi style too. He rocked on the dance floor while his contemporaries hesitated to do so.
–> He visited his hometown Peshawar for the last time in 1946 on the occasion of his uncle's wedding. Both his parents were born there, and they later migrated to Mumbai where Shammi Kapoor was born. Yet major part of his childhood days was spent in the ancestral home at Peshawar.
–> Among all actors of present times, Aamir Khan is his biggest fan. He has been largely inspired with Shammi Kapoor and his works. Kapoor and Aamir Khan's uncle Nasir Hussain are good family friends and have done Shammi's first two big hits – 'Tumsa Nahin Dekha' and 'Dil Deke Dekho' and 'Teesri Manzil' together. In fact Nasir gave him the first major break, who was a struggling hero till then.
–> Actress Yogita Bali is the niece of his first wife Geeta Bali. Thus his family branches to Kishore Kumar (Ganguly family) and Mithun Chakraborty, though as distant relations.
–> He acted in a Malayalam movie, Sukham Sukhakaram in 1994. The movie was simultaneously made in Tamil with same star cast, and Bollywood composer Ravindra Jain composed its tunes.
–> He was suffering from serious health issues and chronic kidney failure during his last phase of life and was undergoing dialysis three days a week for more than 6 years. Yet he led a prince's life, full of lights and fun, enjoying social life and partying with others for the rest of days, when he was away from hospital. He also loved driving. Yes, he was a true inspiration to all who gave us lessons to take problems lightly and enjoy the life. That was his never-say-die spirit.
–> In Shammi Kapoor's words – "On Mondays, Wednesdays and Fridays I am at hospital for dialysis. Rest of the days, are all mine". He feels weak after dialysis, and what disturb him most were extremely painful cramps. Yet everything was just OK for him.
–> In 2011 August we lost Shammi Kapoor, and within one year we lost two more legends of Bollywood cinema of the golden era – Dev Anand and Rajesh Khanna and also, Joy Mukherjee. His Professor co-star Kalpana also passed away a few months after his death.
–> In the 1960s, the term 'Super star' was not familiar to Bollywood. The way which Shammi Kapoor enjoyed star status in the 1960s, and also the huge fan following crowd especially the female fans, he would have become the superstar of 1960s if such a term existing in Bollywood then, owing to his popularity, hit songs and successful movies in a row. Yet he definitely owns the title of 'India's first rockstar' who inspired many actors to come.
–> Shammi Kapoor appeared in the ad of Pan Parag, most probably shot in 1988, because he told story that he was scolded by Raj Kapoor for doing a pan ad, but the former said it was his only chance to share screen with Ashok Kumar. Quite interesting, Shammi Kapoor and Ashok Kumar never worked together in Bollywood.
–> From his family his nephew Rishi Kapoor followed the legacy and earned fame as the Rockstar of Hindi cinema in the 1970s and 1980s, when Shammi Kapoor had already moved to character roles. Among the third generation of actors of Kapoor clan, Rishi was one that particular actor who did roles similar to Shammi.
Author's note: It's not my case, many other fans of Bollywood old movies too. Though the movie may not be good, they watch it solely because of the screen presence of Shammi Kapoor. That's the charisma of Shammi Kapoor as a huge star of 1960s. He did competitively less number of movies in 1960s. Yet each and every movie has a unique charm of its own. Even if it's bad script writing, Kapoor could light up the script because of his persona, naughty smile, dance steps as well as immensely popular songs, mostly in Rafi's voice.
I should say, many of Shammi Kapoor songs which I watched on Doordarshan became a part of my childhood memories forever, and no doubt, it was Shammi Kapoor, his style, dancing and songs which attracted me to Bollywood as a child. Since then I have never lost passion to Bollywood movies – new or old, yet songs of Shammi Kapoor in Rafi's voice will always share a special space in my heart. When most of the film heroes are calm and silent, without much body movements, he jumped, danced, made funny mannerisms and made me laugh a lot during my childhood days. Yes, as a kid of 1980s, for me he was an exception comparing with other heroes. Kids always love funny things and so am I. When he teases his heroines, I never felt bad with it, but enjoyed, truly.
It's not just me, many other kids of 1970s, 80s or 90s who got attracted to Bollywood seeing the charm and persona of Shammi Kapoor. I can write countless words about Shammi Ji, my passion and admiration towards him, and how he brought me close to Bollywood but won't get enough words to complete it. Second name would be definitely Rajesh Khanna and his 'Aradhana' magic. I reserve it for another discussion next time. It's my humble tribute to one of the greatest screen gods of Hindi cinema, who I admire a lot. I admit, I am a die-hard fan of Shammi Kapoor since my childhood and will always remain so.
Read a few more topics on Shammi Kapoor, mostly related to his evergreen songs.
(Visited 902 times, 1 visits today)