Aarsha Chandini Baiju – Malayalam film actress of 'Mukundan Unni Associates' fame
Aarsha Chandini Baiju, shortly called Aarsha Chandini Baiju, is a newcomer actress of Malayalam cinema, best known for her lead role in 2022 box office hit, Mukundan Unni Associates. She played the role of Meenakshi, a receptionist of a hospital, and Mukundan Unni's wife in the film, the character portrayed by Vineeth Sreenivasan. Film opened to favourable reviews and was a box office hit. Almost all main characters of the film have been coated with black or grey shades and she also belongs to the same league.
She marked her film debut with 2019 film, Pathinettam Padi in a supporting role and shot to fame with the web series Average Ambili on Karikku Fliq Youtube Channel. Her upcoming movie is Qurbani, co-starring Shane Nigam. She is also working on a film of the debutant director, Steffi Xavier (costume designer), co-staring Ranjisha Vijayan and Sharaf U Dheen. A web series in Tamil is also in pipeline.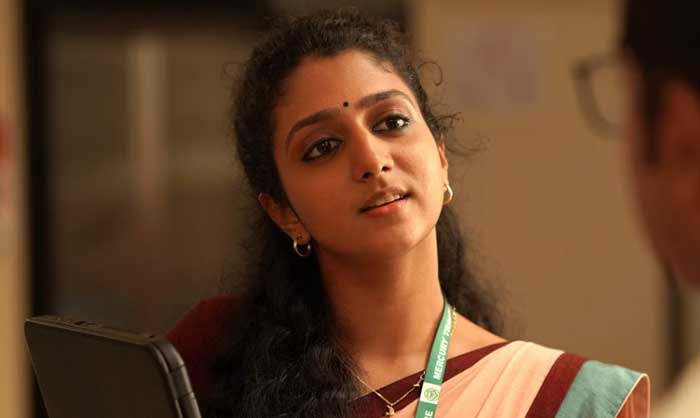 Aarsha started anchoring TV shows at the age of 9
Aarsha Baiju hails from Mannar, Alappuzha, born on 1st January 1993. She is the younger daughter of Chandini and Baiju. Both are into teaching profession. Her grandfather served in Indian army. She has one elder brother. Aarsha completed her schooling from St. Marys Residential Public School Thiruvalla, followed by Sree Bhuwaneshwary Higher Secondary School Mannar. She graduated in English literature from Kristu Jyoti College of Management and Technology Changanacherry. She is doing the final year of MA English literature at Edathua St Aloysius College, at the time of film release.
She started her career as a child anchor for TV shows at the age of 9. Since school days she wanted to concentrate into dancing and started dreaming about movies. She used to send casting calls since 10th standard and that's how she got her first film when she had just finished higher secondary studies.
Pathinettam Padi marked her big screen debut
2019 film, Pathinettam Padi marked her big screen debut in a supporting role. She gained early recognition through the web series Average Ambili. It was through an audition she got the parallel lead role of Mukundan Unni Associates, where she shared screen space with Vineeth Sreenivasan and Tanvi Ram of 'Ambili' fame. Film's director Abhinav Sunder Nayak spotted her in the web series and asked her to attend an audition.
It's her first full length role and through it, she broke all the stereotypes of Malayalam cinema that lead heroine should be a positive shaded character. She was introduced in the film as a warm, harmless, friendly receptionist working in a private hospital. But her true character reveals later only, when she chooses bad guy Mukundan Unni over the good guy Dr. Wilson.
Her and her co-star Vineeth's character go hand in hand, and the climax scene where she has a faceoff with Tanvi Ram earned her appreciation. She is willing to accept meaty and challenging roles, irrespective of the shades offered. Aarsha Chandini Baiju also wishes her character gets a standalone film someday.
Aarsha Chandini Baiju – Some interesting and less-known facts
1. Aarsha is trained in both Carnatic music and classical dance forms like Bharatnatyam, Kuchippudi etc. She started learning at the age of 3.
2. Since first grade at school, she started participating in all cultural events.
3. During her early childhood she wished to become a doctor. As she grew up, she wanted to become a dancer. She started dreaming to become an actress while studying in class 10.
4. Her father used to play drama in radio club while her mother is a singer. Though her parents are inclined towards art, it's not an artistic family. Yet her family watches at least 2 films a month.
5. After Pathinettam Padi, she appeared in a musical album, Meenakshi, and in Mukundan Unni Associates, her character name is the same.
6. Among actresses, Shobana and Urvashi are her favourites. She also likes Irrfan Khan and Tabu among Bollywood actors.
7. She played a selfish and slightly grey shaded character in Mukundan Unni Associates. Once she asked the director, why he chose her for this negative role, for which he replied, 'Her eyes – which holds a certain innocence'. But in contrast he was looking for someone who looked gentle and cordial but is cruelly selfish.
(Visited 58 times, 1 visits today)