A journey to Thalassery Thiruvangad Sree Rama Swamy Temple seeking blessing of Ramayana month
A few more hours to dawn! Twilight which plays Midhuna rain. Temple pond is under deep sleep, inside the blanket of chillness. You are standing in the courtyard of Thalassery Thiruvangad Sree Rama Swamy Temple – One of the ancient Rama temples of Kerala! This temple is different from others, mainly due to its architecture and also its legend. During the holy month of Karkidakom, a divine spirit fills the whole space. It's one among the 5 major temples of Kerala, dedicated to Lord Ram.
On the dawn break, in front of courtyard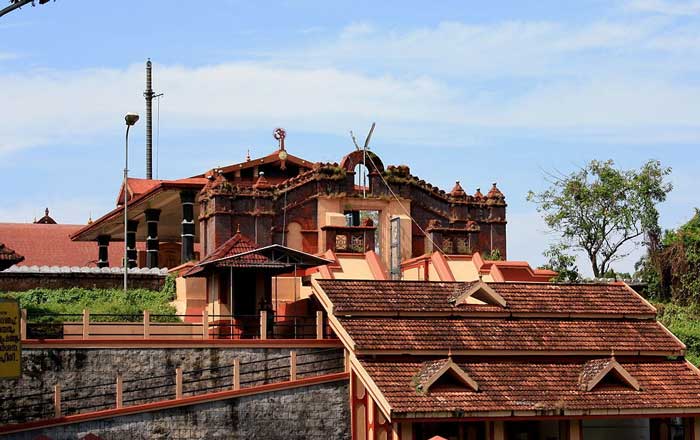 On all the four corners of the temple courtyard, stand four banyan trees. The temple has 2 wall boundaries (mathilakam), and a clean temple pond. When you take a dip from here and climb a few steps, you reach Gajamandapam of the courtyard. This Gajamandapam is so spacious to hold 7 elephants together in a row.
At morning 4 am, temple bells ring, and the temple opens to devotees at 5 am. Later it has Ushapooja and Sheeveli, before it closes. The door opening (vathil madam) is also vast, where begins the story of Rama in sculptures on ceilings, beneath roof. Sculptures of Balakanta (childhood of Rama) are imprinted here. Other story parts are scripted on the ceilings of Namaskara Mandapam. In fact, because of the copper sheeting of its roof, the temple is addressed as Brass Pagoda in William Logan's Malabar Manual. A part of the temple was damaged by Tipu Sultan's troupes in the 18th century, but got saved. The temple also served as an outpost of the Thalassery fort that time.
Anjaneya statue stands near to Sree Rama swamy
Sreekovil is a two-storied building, thatched with brass roofs. There stands a Krishnasila statue of Lord Rama, taken a peace form following the killing of Kharabhooshanas. The statue of Anjaneya, taken bhakti form, built in Panchaloka (5 metals) is situated in Agramandapam, left to Rama Perumal. Conch in one hand, chakra in the other, Gada in the third hand and the fourth in Abhayamudra, giving blessing to devotees. He always stands as devotees' well wisher, yet punishes them for their wrong doings. Aval (rice flakes) is the favourite offerings given to Hanuman Swamy. There is measurement for the rice flakes given as offering. One offering include 101 Naazhi (a measuring pot). It's also done as half and quarter as Ara Noottiyonnu Naazhi and Kaal Noottiyonnu Naazhi respectively.
It's widely believed that, if Anjaneya Swamy is happy, Lord Rama will also be pleased with the devotee. To please Rama, there are many offerings and poojas which include Archana where birth star is recited aloud along with the name, Neyyamruth done using ghee, Kalabham Charthu, Niramala etc. Vattalapayasam given in big urli is the main offering (vazhipaad) given to Rama Swamy. Vattala is a urli type utensil used to prepare payasam, but bigger in size.
Vadakedath Shiva temple stands in the north side of Thiruvangad Sree Rama Swamy. There are still debates on who installed the main idol of Rama Swamy. Arguments are strong for both Parasurama and Shweta Saint, disciple of Saint Agastya. Legend says, as the divinity of Lord Shiva stands in the north side of the temple, no more Shiva idols were installed here. The main deity Sree Ramaswamy is known as Thiruvangad Perumal and devotees usually call Lord Rama with the slogan, "Ente Thiruvangadu Perumale". He is the supreme force of southern 'Thattakam' among the five deities of Kolath nadu which is also known as ' Iemperumalidam'. There are 2 Shiva temples standing face to face with Perumal, which shows the unification of Shiva and Vishnu.
Ramayana of sculptures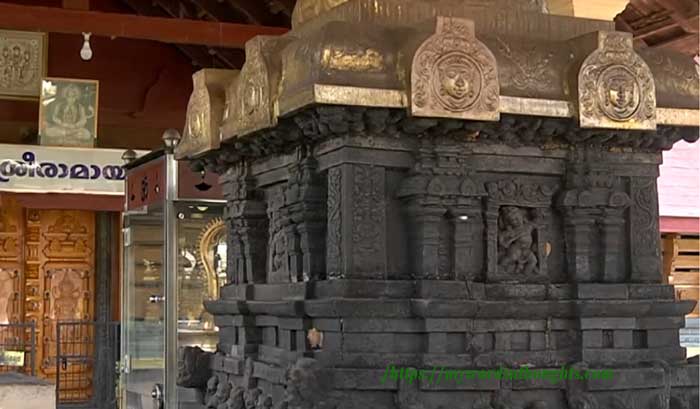 Namaskara Mandapam is another name for ancient temple architecture. It's a huge assimilation of Sahasradaru sculptures. From Balakanta to forest exile and Yudha Kanta, followed by coronation (Pattabhishekam), all these stories take rebirth in this mandapa in the form of sculptures. Other subjects include marriage of Rama & Sita (Sita swayamwara), kidnap of Sita by Ravana (Apaharan), battle between Bali and Sugreeva, and also the big battle between Rama and Ravana. All these sculptures give a tribute to the great artists of yesterdays.
Wall paintings of Kazhakapura are also extra ordinary. Wall paintings are also done in the inner and outer walls of chuttambalam too; some are old, some are new. Many people don't know the history of old paintings. New paintings were drawn by Kalari Guru C. V. Balan Nair.
Balipeetam of Rama was made in Krishna Shila, in the 9th century AD. Vattezhuth, which prevailed in Kerala during this age is imprinted in this stone, which gives the proof. Garuda of Maha Vishnu guards the flag post. Wooden decorated temple body and walls with mural painting are in need of a renovation.
Mothiram Vachuthozhal
What's the significance of a ring, it's well depicted both in Ramayana and Shakuntalam. Many times, it is a symbol of memory or a representation of a person. Its significance is as important as to get back a lost person. That's the reason why 'Mothiram Vachuthozhal' becomes one of the main prayers offered in this Rama temple. It's a rare offering/ritual conducted by devotees, where they place ring before Lord and pray for their wishes. It's done only during festival season, mostly in Vishu month.
Kazhakapura, a special building is situated in the north-east side inside the main wall of the temple, and this offering is done here, when Perumal's statue is processed here during festival season. It's mostly done to fulfil the wishes and the temple is crowded during the occasion. Vishnu Maholsava is celebrated in grand, with parodied elephants and wide range of instruments played.
Other sub-deities in Thiruvangad are Ganapati and Dakshinamurty
The main idol is consecrated in Rama Narayana concept with smiling face as 'Chathur Bhahu'. On the north side of the main temple, subdieties of Ganapati and Dakshinamurty have been installed. Apart from both, there are two more installed Ganapati idols. Inside the balivattom of Thidapally, Subramanya and Vanashastha have also been placed. Near to the pillar inside Namaskara Mandapam, the mirror idol of Sree Porkili Bhagavathy is also placed. It's widely believed that she is Mridanga Saileswari, the family goddess of Kottayam Kovilakam. Also read: Mridanga Saileswari temple. Sree Porkili peedam is placed inside a wooden box, and it's believed that she is held hostage here. she is also known as Vageeswari.
Legend goes like this. Once there was a hot argument between temple priest (Shantikkaaran) and percussionist/musician of the temple (Paanivadakan – one who sings paani song). In between their debate, the musician challenged the priest that he will beat his pani and brings the goddess here. The priest replied that, if so, he will prepare nivedyam (rice/payasam offering) and offer it to her. When the musician using his pani (a type of drum used for beating) played Beejamantra, the anklets of the goddess in fierce form was heard there.
The scared priest took some rice flakes, which was readily available in the temple, soaked it and prepared Nivedyam. As the energy liveliness & spirituality of Goddess was in high form, she found it difficult to resume travel from there. So, they made her sitting arrangements in a stool, inside wooden case and made her sit there. She is still there, as per stories. Soaked rice flakes is still offered by devotees to goddess – the main offering. Locally it's called 'Ari Thlaval'.
Though there are many devata and upadevata idols installed there, there is no separate installation for goddess Sita. When Rama & Sita where in forest for exile, he kept her in a cave for security reasons, also untied his Pakkeenam (a wide scarf over one shoulder drawn down on the opposite waist) and then fought a battle with Khara Dushana brothers. At that time, Sita was not with him.
Cave temple and installation of Sita idol
A little distant away, there is one ancestral home, Pokkinasheri, where there is a cave temple and goddess Sita is installed. As per belief, it's the same cave where Lord Rama kept his Pakkeenam, and also hid Seeta before he set for battle. Based on this belief, Kharavadam aatakatha (killing of Khara Dushana brothers) has never been performed in this temple in Kathakali format.
As per belief, Lord Sree Rama gives food to others before taking his own. For the same reason, Nivedyam & Seeveli are done after that. Till now, food will be served to at least one Brahmin every day before noon pooja. Most times, the keezhshanti (assistant to main priest) is chosen for Prasadam Oott every day.
After Sheeveli, Lord takes rest. Ghee lamps are lighted one after another before evening pooja. The place is crowed most during Deeparadhana every day. Temple closes around 9 pm, after night sheeveli (Athazha Sheeveli).
Aimbarumalidam
As told before, Perumal is the supreme force of southern 'Thattakam' among the five deities of Kolath nadu which is also known as 'Iemperumalidam'. During ancient days when kings ruled, Netravadi temple at north and Korapuzha lake om south formed Kolothnadu boundaries. Pulloor yogasabha, a group of Sivalli Brahmins perform the pooja rituals of the temple. There are big openings on all the four sides of the temple, with opening windows.
The temple has connections with Kerala history and British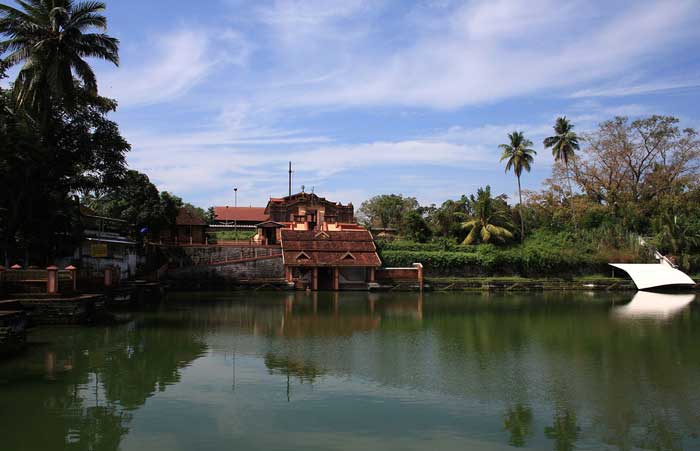 The temple was once the central vein of state administration too; because the Kolathiri rulers and Kottayam Kadathanad rulers used to held their meetings in this temple. East India Company signed many treaties with Kings and local rulers of Kerala here. The temple courtyard also served as camp & resting place for British soldiers.
Thomas Harvey Baber is not a name pleasantly remembered by patriots. It's the same person who served as chief in the killing of legendary leader Pazhassi Raja. But there is a memorial for him inside the temple. Baber built the outer wall of the temple while he was serving as sub-collector of Malabar in 1815. His name is also printed in the stone, near to temple.
This ancient temple needs a renovation, including the thazhikakudam which is in bad shape and the natives have already taken initiative. A committee has been formed for this purpose. The temple comes under the administration of Malabar devaswom board. They are trying to get government funds also, apart from helps offered by devotees. Temple pond has been renovated most recently, and its blue color deeply reflects the temple structures.
Temple bells are ringing. Now it's the time of Athazhapooja (supper & last pooja of the day). After night sheeveli, lamps will be turned off one after another and Perumal & sub deities will go to sleep. Main priest closes the temple. Devotees get out of temple as small gatherings. A peaceful and bhakti mode is still on. Rama's name in lips and Mithuna rain is singing Ramayana.
(Visited 52 times, 1 visits today)