Kadakkaavur Kavadi
Kavadi in Malayalam language means shells used in astrology. But how can it be related to a snack? Kadakkaavur Kavadi is a variety 4 o' clock snack of Kadakkavur of Thiruvananthapuram district, which very much resemble Kavadi. It's very common in locals, a homemade snack, and very rarely seen at restaurants. Its uniqueness is its shape, made using comb. Quite surprising? Yes it is. Kadakkaavur Kavadi gets its unique shape using comb used for hair.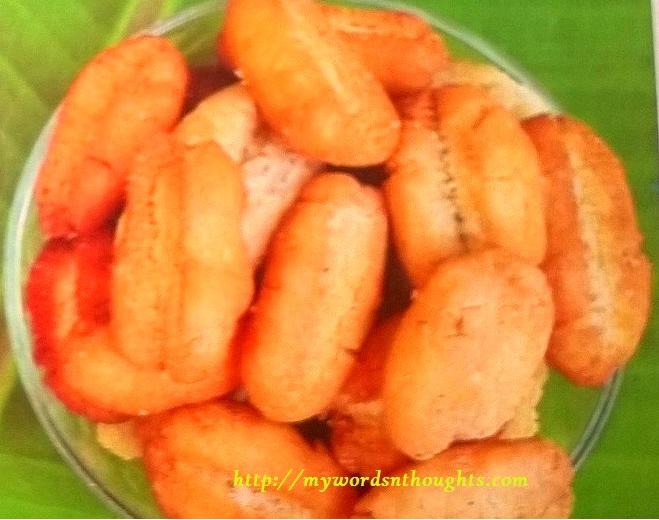 Rice powder used for puttu (not finely grinded) with granules is used for the preparation of Kadakkaavur Kavadi. Cardamom granules and ghee add extra taste to this sweet dish. Artist's skill can make attractive designs on Kavadi using comb. Never make it into two pieces with a single cut. Instead slant a little, and press it gently each time to make it attractive. Comb with distant teeth is best for making marks.
Ingredients for Kadakkaavur Kavadi:
1. Eggs – 3
Sugar – 3 cups
2. Coconut milk – ½ cup
Ghee – 1 small spoon
Cardamom powder – ¼ small spoon
Cumin seeds – ¼ small spoon
Baking soda – 1 pinch
Salt – As required
3. Oil – For deep fry
How to prepare Kadakkaavur Kavadi?
1. Mix ingredients no: 1 and blend well taking a few minutes.
2. Add all ingredients no: 2 except coconut milk. Later add coconut milk little by little and mix well.
3. Make small balls out of this mixture.
4. Take each ball and press it to make an oval shape.
5. Take a new and clean comb and press it on side of the ball lengthwise to make a design.
6. Continue the process with every ball and fry in hot oil till light brown.
Courtesy: Vanitha Magazine, May 1-14, 2017
Also read a few more rice flour snacks. Here is the page link. Click on the images in the gallery to read.
(Visited 689 times, 1 visits today)