Pothum Vaal Curry
This variety non-veg dish was discovered by a plus-two student, Steve Tony from Vaduthala who aspires to become a great chef in distant future. It looks embarrassing, how to prepare a dish using the tail of a bull? How will it taste like? Bull's (Poth in Malayalam) is best for this curry. You can also substitute with buffalo's tail. After all it's not easy to get tail of bull or buffalo.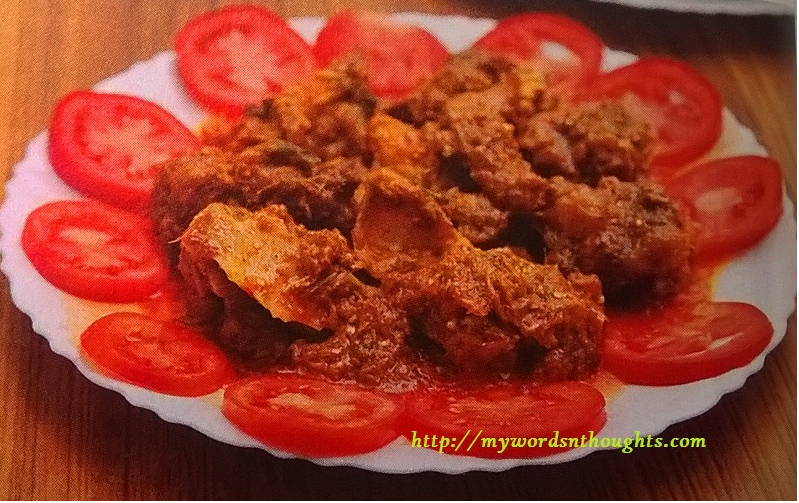 The young chef remarks that not only curry, soup can also be made using bull's tail. Bread is the best combo for this soup. This Pothuvaal curry can also be mixed with cooked tapioca, it's an amazing combo.
Ingredients for Pothuvaal curry (Buffalo/Bull Tail Curry):
1. Tail of a bull – 1, made to pieces
2. Ginger – 1 big piece
Green chillies – 7
Salt – As needed
3. Turmeric powder – ½ small spoon
Chili powder – 2 small spoons
Coriander powder – 1.5 small spoons
Pepper powder – 1.5 small spoons
Garam masala powder – 2 small spoons
4. Coconut oil – As needed
5. Onions – 3 sliced
6. Ginger-garlic paste – ½ small spoon
7. Curry leaves – 2 stalks
8. Coriander leaves – As needed
How to prepare Pothuvaal curry?
1. Using pressure cooker, cook bull's tail adding ingredients no: 2. It may need up to 12 whistles.
2. Prepare masala by blending together ingredients no: 3.
3. Heat oil in a pan and sauté onions till it turns light brown colour. Add ginger-garlic paste and curry leaves and sauté again.
4. When it's fried (the pungent smell changes), transfer the water from pressure cooker (used to cook bull's tail) to the pan and boil till oil separates.
5. Add cooked tail pieces, and bring the flame to low.
6. Cook the curry with lid closed. Occasionally stir the contents.
7. When it becomes a little thick with thick gravy, add coriander leaves and put flame off.
Courtesy: Vanitha Magazine, May 1-14, 2017
A few more beef /bull side dish recipes. Here is the page link. Click on the images in the gallery to read.
(Visited 491 times, 1 visits today)