Unniyappam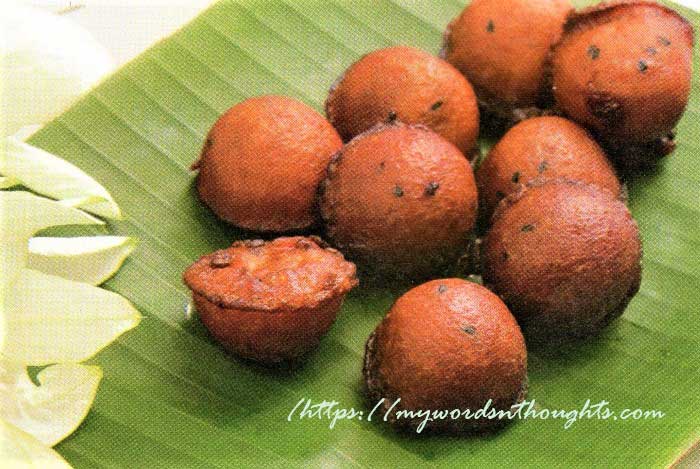 Ingredients for Unniyappam:
1. Jaggery – 100 gm
2. Rice flour – 1 cup
Palayankodan banana (small type) – ½ cup
3. Sugar – 2 small spoons
Baking soda – A pinch
Coconut pieces fried in ghee – ½ cup
4. Oil – For frying
How to prepare Unniyappam?
1. Add 1 cup water to jaggery and place in flame.
2. Boil it well and strain it. Keep it aside.
3. Take rice flour and banana in a bowl and smash well.
4. Add sugar, baking soda and jaggery solution.
5. Also added fried coconut, mix well and prepare thick batter. But batter should be easy to pour also.
6. Use an unniyappam maker to prepare tasty unniyappam. Heat oil and pour batter in the doughs.
7. When one side is fried well, flip once and cook other side too. Use medium flame.
8. If you don't have unniyappam maker at home, take batter in small spoon and directly put in hot oil.
9. Deep fry and strain excess oil using a tissue paper.
Courtesy: Vanitha Magazine, October 29 – November 11, 2022
Author's note: Use raw rice (pachari) for better results. Soak it for a few hours and grind it to a smooth batter. You can also add sesame seeds and cardamom powder too. After preparing batter, allow it to rest for half to 1 hour before preparing unniyappam.
Read a few more rice flour snack recipes. Visit my page.