Adathatti
Adathatti is a traditional dish and a part of Thrissur cuisine. It's also pronounced as Ade Thatti (അടേത്തട്ടി). A dish similar to dosa, it's served across Kerala with different side dishes. Ada thatti can be served with red chillies-tamarind chutney, avial, kondattam chilli with curd or any vegetarian side dish of your choice.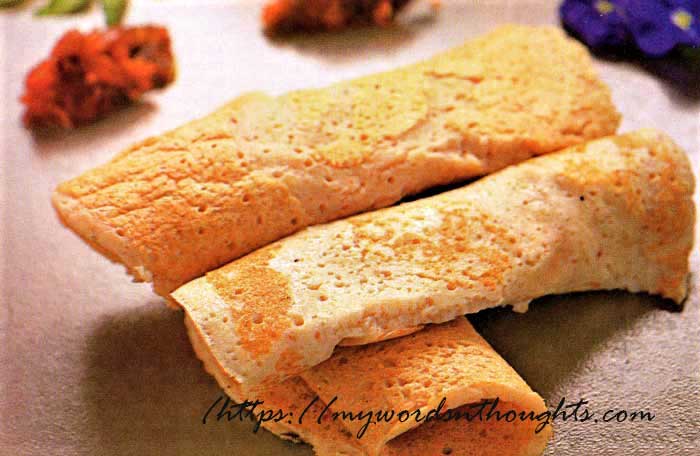 Ingredients for Adathatti:
1. Matta rice – 2 cups
Black gram – 1 cup
Bengal gram – ½ cup
Pigeon pea – ½ cup
2. Red chillies – 4
3. Turmeric powder, Asafoetida powder – ½ small spoon each
How to prepare Adathatti?
1. Wash ingredients no: 1 and soak it for 6 hours, along with red chillies.
2. Later grind it to a smooth paste, and add turmeric powder and asafoetida powder.
3. The batter should have the consistency of dosa's.
4. Prepare Adathatti like normal dosa.
5. Flip both sides and cook well. Use cast iron pan to get better results.
6. Serve Adathatti with chutney made using red chillies, shallots and tamarind.
Courtesy: Vanitha Magazine, October 29 – November 11, 2022
Read a few more rice flour snack recipes. Visit my page.