Pazham Pori (Vaazhaykkaappam)
Pazham Pori, also known as Vaazhaykkaappam in the southern parts of Kerala is the most popular snack of Kerala. Pazham Pori, which can be categorized as a traditional dish of Kerala, is a staple snack/sweet of Malayalis. As it's made by dipping banana in a batter & deep frying in hot oil, can be called as banana fritters in English too. It's made from well ripened plantain, the lengthy Kerala banana (Nenthrapazham/Ethapazham), which is also an integral fruit of every Malayali's diet.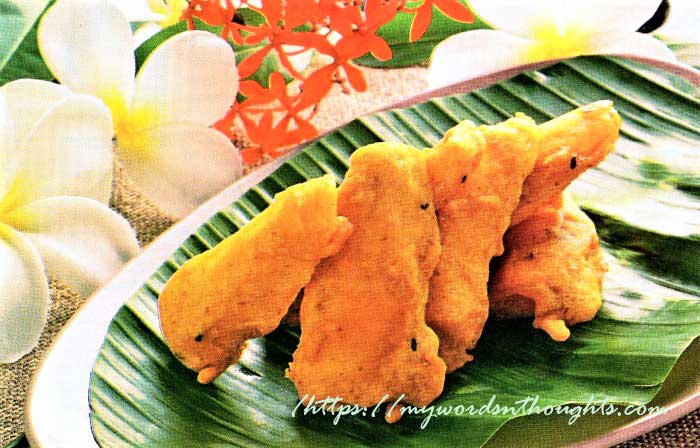 Ingredients for Pazham Pori (Vaazhaykkaappam):
1. Well ripen Kerala banana (Ethapazham) – 4
2. Maida – 1 cup
Rice flour – 1 big spoon
Sugar – 1 big spoon
Salt and turmeric powder – A pinch each
3. Coconut oil – For frying
How to prepare Pazham Pori (Vaazhaykkaappam)?
1. Remove skin of banana and split into two.
2. Then cut into two halves each.
3. Mix ingredients no: 2 together and add a little water.
4. Prepare thick batter without any lumps.
5. Dip each banana piece in maida batter and deep fry in hot oil.
6. Your pazham poris should turn crispy.
Courtesy: Vanitha Magazine, October 29 – November 11, 2022
Note: To get the distinct country side/restaurant taste Pazham Pori, you can use yellow colour instead of turmeric powder. Use palm oil to get the exact taste as well. At home, you can substitute palm oil with coconut oil or sunflower oil or any other oil of your choice. Most important, always choose well ripen banana to get crispy and sweet banana fritters. Add a little sugar to the batter always. But it should never exceed the sweet taste and aroma of banana.
You can cut banana according to your preference. Some people love thick pazhampori, while some prefer thin & lengthy ones. If you want to prepare the second type pazham pori, you can slice your banana lengthwise into three or four pieces.
Read a few more banana snack recipes. Visit my page.
(Visited 22 times, 1 visits today)