Vishu Special Kadala Chundan
Special dishes are made during every festival season. For mid-Kerala and Malabar, they prepare Puzhukk, Vishu Appam, Vishu Kanji, Payasam etc. For Thiruvananthapuram people, Kadala Chundan is auspicious for Vishu celebrations. White chickpeas are well cooked and sauted well adding oil and coconut pieces. Crushed chillies are also added. This easy dish is not served as such during Vishu time. Instead, it's served aside Kadumpayasam prepared using Unakkalari, ghee and jaggery on a banana leaf. Payasam is poured in north-east corner of banana leaf, Kadalachundan is its combo dish. May be because Thiruvananthapuram shares border with Tamil Nadu, this serving has a 'Tamil touch'! Soon after Vishu Kani, this dish is served to house members and those who visit home to see Vishu Kani.
This combo dish can be served at any point of time. Yet it's not so delicious as it's served soon after you see Vishu Kani in the early morning. This dish is also prepared in homes during Saraswati Pooja. Now we have lost many of such old traditions. Very sad, but true! Here I give this very easy recipe with white chickpeas that can be served alone as a break-time snack or evening snack also. A little chilly flavour enhances its taste, and makes it a favourite and healthy snack. Kids will admire it for sure. You can also substitute white chickpeas with brown one also to prepare this dish.
White chickpeas are abundant in fiber and folic acid. Soak a little chickpeas overnight and next day morning serve it with a little honey. It's an instant remedy to paleness. If you add protein rich – white chickpeas to your diet at least once in a week, it refills our body with energy.
Ingredients for Vishu Special Kadala Chundan:
1. White chickpeas (Kabuli Chana) soaked for 6 hours in water – 1 cup
2. Oil – As required
3. Mustard – 1 small spoon
4. Red chillies – 2, cut into two pieces
Coconut pieces sliced thin – 2 big spoons
Curry leaves – A stalk
5. Crushed red chillies – 1 small spoon
6. Water – 1 cup
How to prepare Vishu Special Kadala Chundan?
1. Cook chickpeas adding sufficient salt.
2. Heat a pan and add oil.
3. Sputter mustard seeds, and add red chillies, coconut pieces and curry leaves.
4. Fry the ingredients well.
5. Add cooked chickpeas to it and crushed chillies too.
6. Add a cup of water, mix well and allow the contents to absorb water content completely.
7. Your Kadalachundan should turn almost dry.
Courtesy: Vanitha Magazine, April 1-14, 2018
Kadala Chundan (Recipe 2)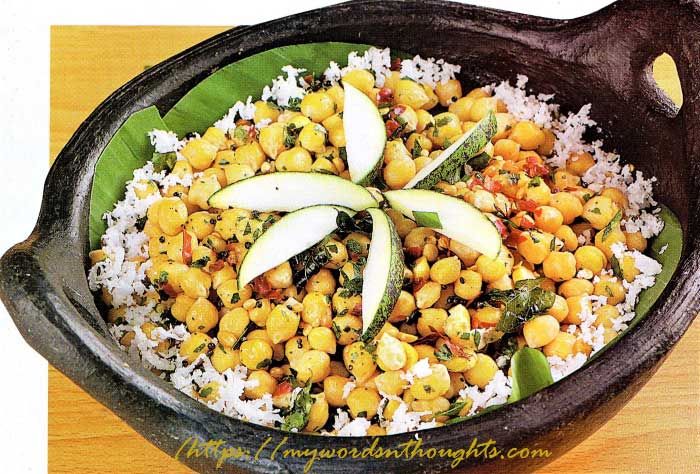 Ingredients for Kadala Chundan (Recipe 2):
1. White chickpeas – 1 cup
2. Coconut oil – 2 big spoons
3. Coconut pieces sliced thin – 3 big spoons
4. Mustard – 1 small spoon
5. Curry leaves – 3 stems
Red chillies – 4, broken into 2
6. Asafoetida powder – 2 pinch
How to prepare Kadala Chundan (Recipe 2)?
1. Wash chickpeas and soak in water for 8 hours or overnight.
2. Cook it adding water and salt.
3. Heat a thick bottomed pan and add coconut oil.
4. Fry coconut pieces in oil till they turn light red colour.
5. In the remaining oil, add mustard seeds, followed by red chillies and curry leaves.
6. Add cooked chickpeas and fried coconut pieces and mix well.
7. Add asafoetida powder and put the flame off.
Note: You can substitute coconut pieces with scrapped coconut also. Fry it light in coconut oil, before adding to chickpeas.
Courtesy: Vanitha Magazine October 1-14, 2022
Get the list of snack recipes published in Vanitha Magazine. Click on the images to select a particular category of snacks
(Visited 524 times, 1 visits today)