Ragi Veg Soup
Monsoon is near. A cup of hot tea is a good choice for a rainy season. You can also choose a cup of hot soup as a healthy option in the chilled climate. For good digestion and improve immunity, what could be a better season than soup, during monsoon climate! As soups include vegetables, it is nutritious and contain enough fiber too. Ragi is good for health, both for kids and adults. You can substitute one meal with ragi soup, if you are on a diet plan. Here is an easy recipe of Ragi-Vegetable soup.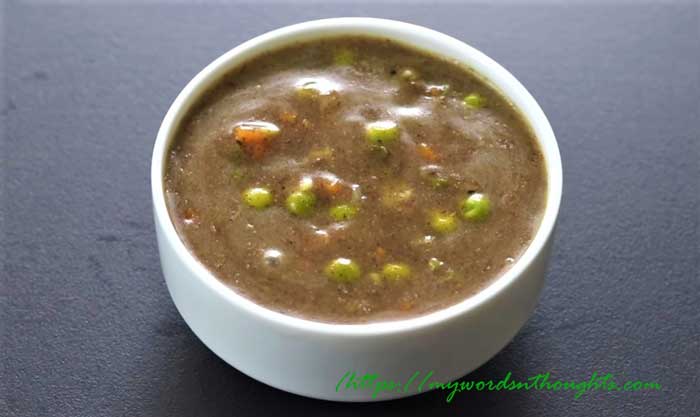 Ingredients for Ragi Veg Soup:
1. Oil – 2 big spoons
2. Cumin seeds – 1 small spoon
3. Shallots – 4, chopped into round slices
Green chilli – 1, chopped round
Garlic – 3 cloves, chopped fine
4. Beans, carrot, broccoli, cabbage – 2 big spoons each, chopped
Green peas – 2 big spoons
Capsicum – 1, chopped fine
5. Turmeric powder – ¼ small spoon
Pepper powder – 1 small spoon
Salt – For taste
6. Ragi powder – 2 big spoons
Water – 1.5 cps + 1 cup
How to prepare Ragi Veg Soup?
1. Heat oil in a pan and fry cumin seeds.
2. Saute ingredients no: 3, followed by chopped vegetables and peas.
3. Add 1.5 cups of water and ingredients no: 5.
4. Boil the contents well.
5. Mix ragi powder with 1 cup of water. Avoid formation of lumps.
6. Add it to the boiling soup and keep stirring till it turns thick.
Note: You can substitute ragi powder with arrow root powder too.
Courtesy: Vanitha Magazine, May 28 -June 10, 2022
Read a few more soup recipes. Visit my page.
(Visited 2 times, 1 visits today)