Sudheer Paravoor – Funs Upon A Time's K7 Maman
Sudheer Paravoor is a mimicry artist and stand-up comedian associated with Malayalam entertainment industry. He also plays supporting roles on big screen and has done more than a dozen of films. His parody of hit film songs apart from comedy songs are instant hits and his appearance as K7 Maman (in a mid-aged man getup) in the popular comedy show, Funs Upon A Time made him a household name among Malayalis.
Sudheer became a sensation with his songs namely 'Thathamma', 'Kakkamma' etc which earned millions of views in Youtube too. For his comic songs, he pens lyrics with less-heard and weird words, which earned him immense popularity too. He is also known for his roles in movies like Jaya Jaya Jaya Jaya Hey (2022), Kakshi: Amminippilla (2019), Oru Yamandan Premakadha (2019), Pathaam Valavu (2022), Mukundan Unni Associates (2022), Mahaveeryar (2022), Kanakam Kamini Kalaham (2021), Ennalum Ente Aliya(2023) etc. Many of these films met with critical acclaim and box office success too.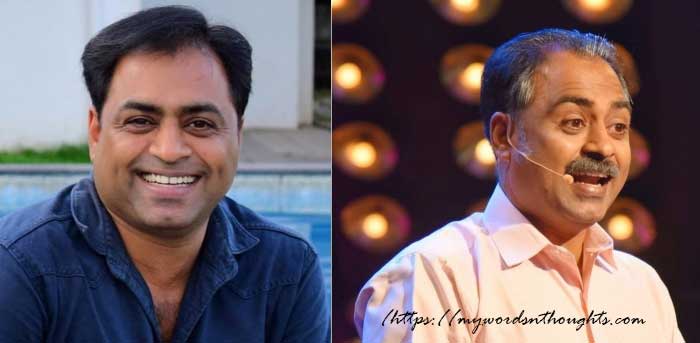 From an introvert to a stand-up comedian
He was born on March 21, 1976 as the son of Skumaran and Shailaja in North Paravur, Ernakulam district. His father is an artist of Villadichan Pattu. He completed his schooling from Kaitharam Government High School of his hometown.
Sudheer Paravoor was an introvert during his school days. He was hesitant to address even small groups. At one occasion, while performing with 3 of his friends, one of the officials told, he is different from other three and has Sabha kambham which means 'Stage fright'. At first he took it as compliment, and later knew its meaning. While studying in class 7, he met a comedian named Sainan Kedaangalam, the head of Balasankham where he was a member. Spending 2 days with him totally changed his life. He copied the artist's skill and imitated for a mimicry contest and won second prize. It was a new beginning, which boosted his confidence.
Since then he has actively participated in many competitions and won prizes too. Over the years he overcame the stage fright, and had some bad experiences too, because of this. He was quite active in local dramas played in his village during his initial years. He got into kids' performance groups because of his singing ability. Screen writer of Kattappanayile Rithwik Roshan, Bipin Goerge gave him the first opportunity through his comedy shows, for which Sudheer Paravoor started writing parody songs.
'Thattamma' song for a popular show became sensation
Badai Colonel was his first noted role on small screen. Later he was invited to Funs Upon A Time by Pisharody. He became a part of Funs Upon A Time show, where he appeared as K7/Kesavan Mama and his fun song 'Thattamma' along with his fun steps made him a sensation overnight. There was no turning back after that, and he went on to write and present 'poems' one after another. He appears as a mid-aged uncle, and his performance has been widely appreciated. His songs are so simple, filled with fun and owns a wide acceptance too.
Apart from his own compositions, his parody songs also became instant hits. It was something like glorious era of V. D. Rajappan's parody songs have returned. 'Krooran Kakka', 'Thunjante Thatte' and 'Klinjo Plinjo Thatha' written & composed by him went viral. Now he is the king of parody songs, something new generation is not much familiar with.
Sudheer Paravoor – Some interesting and less-known facts
1. He is associated with the world of mimicry for more than 25 years.
2. He has done small roles in Bhaskar The Rascal, Puthiya Niyaman, Mohanlal, Mangamkali etc. Kattappanayile Rithwik Roshan was one of his early noted roles.
3. He has penned lyrics for one song for the movie, Kakshi: Amminippilla and did playback singing too. He played a noted supporting role in the film as well.
4. It was Ramesh Pisharody who suggested the name K7 Maman. Later audience started addressing him as Kesavan Mama.
5. He is married to Shimili. They dated for 2 months before getting married against the approval of her family. At that time his iconic 'K7 Maman' character had not happened.
(Visited 5 times, 1 visits today)