Mango Payasam (Maanga payasam)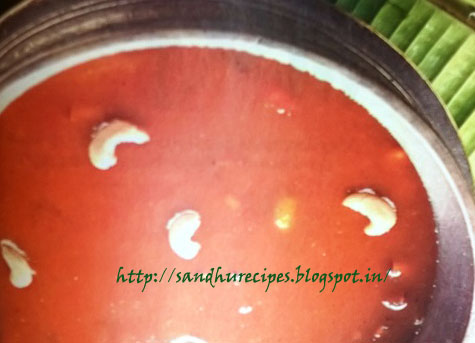 Ingredients for Mango Payasam:
1. Fully ripe mango fruits – 4 cups (after removing skin and chopped into pieces)
4. Coconut – 4 (for taking milk)
5. Cardamom powder, Cumin powder – 1 tsp each
6. Condensed milk – 2 tsp
9. Coconut chopped to fine pieces – 1/4 cup
How to prepare Mango Payasam?
1. Take milk from 4 coconuts – 1st milk 1 cup, 2ndmilk – 2 cup, 3rd milk – 3 cup
2. Add water to mango pieces and cook well. Then grind it well in a mixer.
3. Take a thick bottom Urli and heat 2 tsp of ghee. Add mango pulp to it and sauté till it is done. Keep stirring.
4. When it is almost done, add melted jaggery to it. Then continue stirring for a few more minutes till it is done.
5. When payasam thickens, add third coconut milk and boil well.
6. When it thickens add second milk and continue cooking. Keep stirring.
7. When it starts thickening, add cardamom and cumin powder and also the first milk.
8. Mix the contents well and add condensed milk and honey also. Put the flame off.
9. Heat ghee and fry cashews and coconut pieces, and add to the payasam.
10. Serve once it's cooled.
N.B: If you want to add more sweetness to payasam, add sugar before the payasam completely cools off.
Archive: Vanitha Magazine September 1-14 2011
Also read a few more payasam and pradhaman recipes. Here is the page link. Click on the images in the gallery to read.
(Visited 218 times, 1 visits today)