Pepper Chicken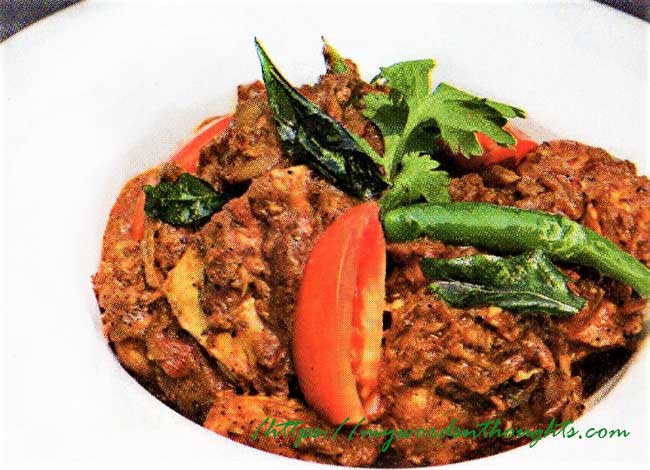 Ingredients for Pepper Chicken:
1. Chicken with bone – 600 gm
2. Oil – 3 big spoons
3. Red chillies – 1
4. Ginger chopped – 1 big spoon
Garlic chopped – 1 big spoon
5. Cinnamon – 1-inch piece
Cloves – 3 or 4
6. Pepper – 1 or 2 small spoons (as per preferences)
7. Cumin – ½ small spoon
8. Shallots – 300 gm, chopped
9. Oil – 1 big spoon
10. Fennel seeds – ¼ small spoon
11. Curry leaves – 10-15
12. Tomato – 17 gm, chopped into big pieces
Salt – For taste
Turmeric powder – ¼ small spoon
13. Coriander leaves chopped – To garnish
How to prepare Pepper Chicken?
1. Cut chicken into medium pieces.
2. Heat oil and sauté the chilli.
3. Add ginger and garlic, and sauté till they turn golden brown.
4. Add cinnamon and cloves and fry for a few seconds.
5. Add pepper and cumin and sauté again. Keep flame in low so that ingredients won't burn.
6. Add shallots and sauté till it turns light golden brown.
7. Put off the flame, and when it cools, make a fine paste adding sufficient water. This is the masala.
8. To prepare chicken, first heat oil and sauté fennel seeds.
9. Add curry leaves and ground masala and sauté for 3 minutes.
10. Add ingredients no: 12 and sauté for 3 more minutes.
11. Add chicken, mix with masala and when it boils, reduce the flame.
12. Close the lid, and cook chicken in medium flame. Don't fully close the lid.
13. Water will come out of chicken and appear as a thin layer. Occasionally stir the contents to avoid sticking to bottom.
14. When tomatoes are fully smashed, chicken is fully cooked and oil forms a thin layer, put off the flame.
15. Decorate your pepper chicken with coriander leaves.
Courtesy: Vanitha Magazine, April 1-14, 2023
Also read: Kozhi Vallikurumulak (Green Pepper Chicken)
Also read: Kozhi Pachakurumulakittath (Chicken with fresh black pepper)
Read a few more chicken recipes. Visit my page.
(Visited 5 times, 1 visits today)