Scotch Quail Eggs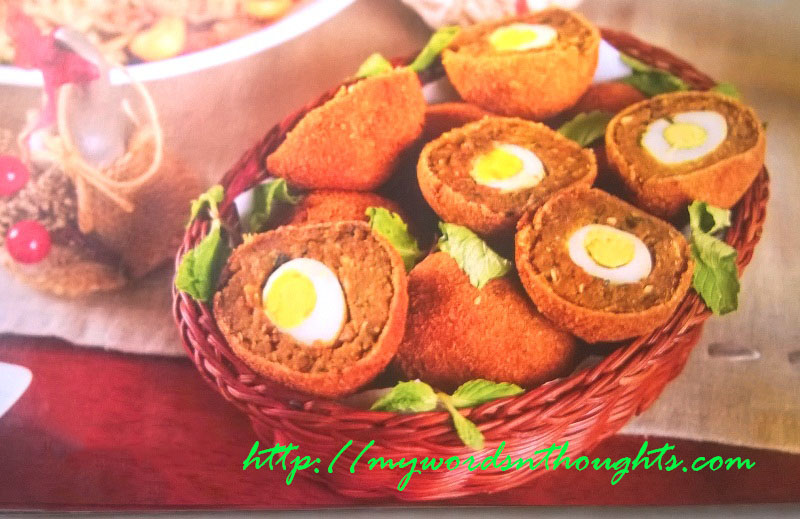 Ingredients for Scotch Quail Eggs:
1. Quail eggs – 12
2. Oil – As required
3. Onions – 3, medium sized
Green chillies – 3
Garlic – A handful
Garlic – ½ inch piece
4. Tomato – 2, chopped fine
5. Turmeric powder – ½ small spoon
Coriander powder – 2 big spoons
Fennel powder – 1 big spoon
6. Beef – ½ kg, minced, after cooking well adding salt and pepper
7. Coriander leaves chopped fine – 1 handful
Masala powder – 1 small spoon
8. Potatoes – 3, boiled and smashed well
9. Salt – For taste
10. Eggs – 2, beaten
11. Bread crumbs – As needed for preparation
How to prepare Scotch Quail Eggs?
1. Boil eggs and remove its outer shell.
2. Chop fine all the ingredients listed as 3.
3. Heat oil and sauté these chopped ingredients.
4. When it's done, add chopped tomatoes and sauté well.
5. Add ingredients no: 5 and stir continuously.
6. When a pleasant aroma comes out, add minced beef (cooked), coriander leaves and masala powder.
7. Mix the contents well and take off the flame.
8. Add smashed potatoes and salt to it, mix well and make small balls out of them.
9. Make a small dough at the centre of each ball, and place an egg each.
10. Now wrap it again and make round shapes.
11. Dip each ball in beaten eggs, wrap in bread crumbs and deep fry till golden brown in hot oil.
12. You can also prepare the same snack using normal eggs.
Courtesy: Vanitha Magazine, January 1-15, 2018
A few more egg side dish recipes for you. Here is the page link. Click on the images in the gallery to read.
(Visited 123 times, 2 visits today)