Yogurt Panna Cotta
Panna cotta is categorized under Italian desserts where sweetened cream is used as one main ingredient. It comes in different aromas or flavour such as coffee, vanilla etc, and often prepared using different fruits. Gelatine is also used as a key ingredient in the preparation of Panna cotta. Though sometimes called a custard, as gelatine is used, it can't be true custard, where egg yolks are used instead of gelatine.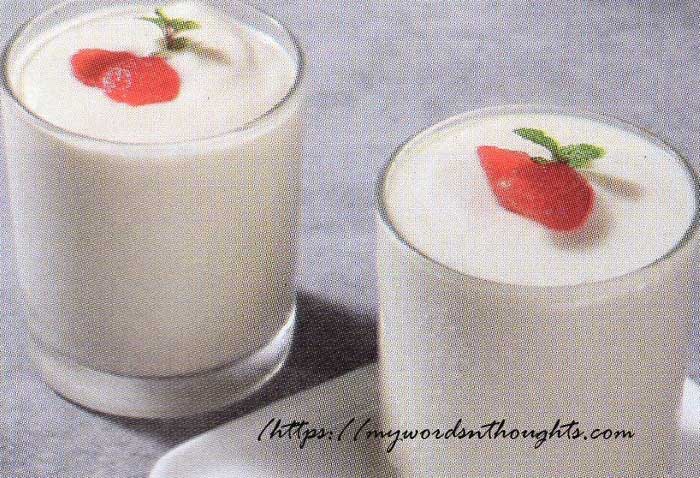 Ingredients for Yogurt Panna Cotta:
1. Gelatine powder – 1 small spoon
Water – 2 big spoons
2. Thick curd – 1 cup
Thick cream – ½ cup
3. Sugar – ¼ cup
Thick cream – ½ cup
4. Vanilla essence – 1 small spoon
How to prepare Yogurt Panna Cotta?
1. Sprinkle gelatine powder in water and keep aside.
2. Take some ramekin bowls or small glasses. Grease them.
3. Mix cream and curd and beat together.
4. Take sugar and cream in a small saucepan and place in low flame.
5. Stir 1-2 times till sugar melts completely.
6. Take the sugar-cream mixture from flame and add gelatine.
7. Beat the contents well. Gelatine should completely melt.
8. Add it to curd mixture and beat till the contents turn soft.
9. Transfer your Yogurt Panna Cotta into ramekin bowls or small glasses and allow to cool completely.
10. Wrap the mouth of bowls using cling film and refrigerate for 4 hours till your Yogurt Panna Cotta fully sets.
11. Serve chilled.
Courtesy: Vanitha Magazine October 1-14, 2022
Read a few more pudding recipes. Visit my page.