Prawn Onion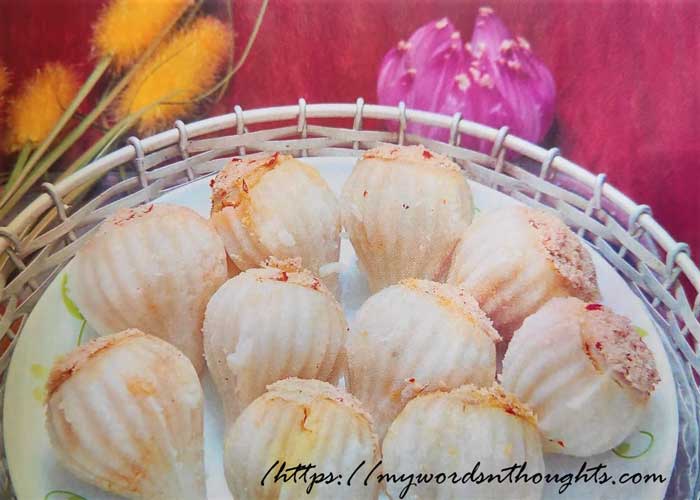 Ingredients for Prawn Onion:
1. Prawns – 20
2. Coconut scrapped – ½
Shallots – 3
Red chillies – 4-5
Salt – As required
3. Oil – As needed
4. Onions chopped – 1
5. Chilli powder – ¼ small spoon
Turmeric powder – 2 pinches
Salt – As needed
6. Water – 2 cups
7. Rice flour – 2 cups
How to prepare Prawn Onion?
1. Clean prawns and keep aside.
2. Blend ingredients no: 2 in a mixer. Don't grind it smooth.
3. Heat oil in a pan, and sauté onions.
4. Add prawns and ingredients no: 5, and sauté well.
5. When water content is absorbed, add 3/4th portion of blended masala to it and put off the flame.
6. Boil water in a vessel, and add rice flour and salt.
7. Reduce the flame and mix well the contents.
8. Put off the flame. Flour mixture should be thick, similar to idiyappam.
9. Place a little flour mixture in an onion-shaped mould, and press it.
10. Place a little masala inside it, and wrap with a little more flour mixture.
11. Close the mould again to get a perfect onion shape.
12. Press a little coconut mixture on its top (like a stalk) to get perfect onion shape.
13. Steam cook the contents.
Courtesy: Vanitha Magazine October 1-14, 2010
Also read a few prawn snack recipes here. Click on the images in the gallery to read.
(Visited 17 times, 1 visits today)