Meera's Thoughts – English Quotes (Part 5)
"It's nothing more difficult or painful than to get into a conversation, when you have an ocean of feelings for someone, yet deeply hurt inside believing, the other person has no feeling at all"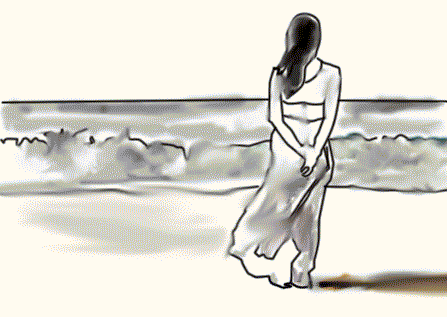 "Water was steep & all girls were scared to cross the water. All boys have already crossed. Hari, standing on a rock, turned back, lent his hand & helped each girl to cross the water. Meera, in confused mind, was standing away from all, thinking hw to avoid situation.🤣 At last she had no other option left, except to give hand to Hari. Trembling Meera couldn't hold his hand properly & she almost fell into water. But Hari strongly pulled her & helped her to cross water. She knew it well, it was her mistake, yet she blamed Hari.😂
"What is this, Hari? You can't even hold a hand properly? I would have fallen into water" 😉
"If you give me ur hand in trust, I shall never let it go"
Meera was left speechless. Abhilasha who was watching everything from behind had a great day ahead to tease Meera."
"While healing process is going on smoothly, if a storm stuck the sailing boat so unexpected, it will totally loss direction & will have no idea, in which direction to sail. It will loss the oar & move with the direction of storm, for another destruction or not, who knows"
"Prasad: Today u did absolutely brilliant. (Thinking)
You really don't believe in anything?
Meera: I have been trying to find its answer for a long time. I fail to accept any truth fully
Prasad: Why is it so, Meera?
Meera: Maybe one among the big chapters time taught me
Prasad (Smiling): So, our friendship is also fake. Am I not right, Meera?
Meera (Smiling back): It's better you find its answer (avoiding the question trickily)
They reached the bus stop, & Prasad crossed the road. Meera got buried in her thoughts again.
We both start from the same point, though we travel in opposite directions, towards two poles. Yet how much our thoughts and ideas match. At a single point, many things merge"
"Why you force me to remember everything now in a moment, when you have created deep wounds in my loving heart with your words without my permission & advised me to forget everything, without even asking what I am carrying in thoughts?"
"Anju: How you learnt to talk too much, Meera? I just can't believe.
Her answer was short with deep meaning, and her friend kept starring at her, as if the answer didn't satisfy her. Meera's mind was wandering in some unpleasant thoughts that time."
"Abhilasha: I have told many times before too. You don't behave like normal girls, you are different.
Meera: Don't treat me like normal girls. That's enough"
You believed you were right
Time proved you were right"
"Where I went wrong?", She asked a sea wave going far away
"Illusion", The wave replied while moving away