She
"I am a very simple person,
Who go crazy for simple things, small happiness,
May be a butterfly, a drop of rain, a small bit of song,
A simple smile, a cloudy sunset, a white flower
May be the reason why I can't meet high expectations
Yet I am happy for what I am
I am not going to change for anyone🦋🦋"
Time to shift from sunsets to sunrises 💕🤗
But both are different✨😉"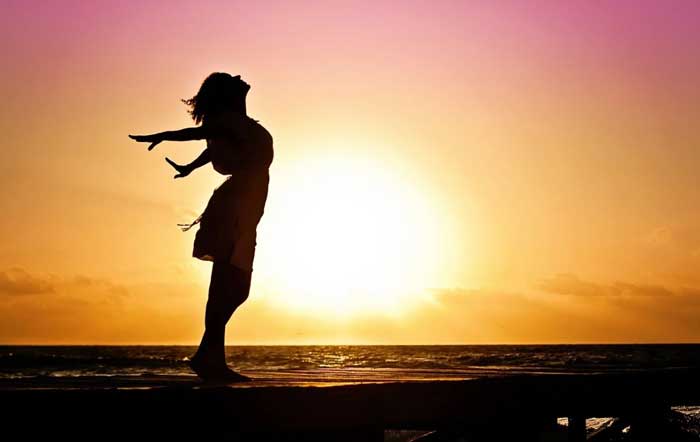 "My words may not speak the truth
Just do what makes me feel happy
If you manage to decode me.
Not every one is not like me
This whole world falls for expressions"
"I am very much into my own world
Only silence and peace💫✨"
"I simply do things which make me happy,
And most times, it's to make someone else happy"
Who may appear extrovert 😉
Into the chaotic world of my own craziness,
Silence and much more beyond definitions.
If I have opened that door for you
"Once born a little flower,
Pure white, full of innocence
Its petals filled with dew drops
She had everyone till she grew up
Everyone love & cared her
But after a point of time
Everybody stopped caring…
Those petals which were once filled with dew drops
Now teardrops became more visible
Slowly she learnt to condense those teardrops,
Then came one stranger, a gentle breeze
He loved her like nobody else can
He understood like nobody else can
He took away all those condensed tears
Brought her dewdrops instead,
To fill her heart with life once again
To fill her heart with innocence once again
And she blossomed once again🌼🌼🌼"
"Whatever you think about me, interpret about me or going to tell others is not going to change what am I or who I will be. It's me, simply!"
"I am Neelakurinji, whose beauty others notice, when fully blossom only!!! Once in a Jupiter year!!"
"I swim because I can't fly
I swim in an ocean without water"
"Wherever I am right now,
I have built myself without any aid.
I built my castle with hard stones,
More stones than flowers always🔥🤗"
"How many times will I wear and tear my mind?"
"I am simply a piece of poetry
"My love rains in different forms
Sometimes I rain as monsoon
Only a single tune, intense or slow
Sometimes I turn October rain
Accompanied by thunder and lightening
Sometimes I appear as white clouds
Sometimes I show my gloomy face
Sometimes I turn summer rain
To pour as consoling friend
I can drench you the way I feel
If I start pouring as rain,
I will drench you completely in my craziness
Come close thinking twice
And even during nightfalls
My craziness has no limitations
"It was just a colourful tale in a single line for all of them.
But it was her everything"
"I am Neelakurinji, whose beauty others notice, when fully blossom only!!! Once in a Jupiter year!!💜💜"
Among the burning embers,
Still I am doing what I can do the best💫💕"
"I often create a virtual friend in my mind,
When I feel the need of someone to talk"
"It takes a little time to be normal
Yes, I am sure I will be OK
"

She loves black colour with tints of blue" #Meera
"My mind is a fully opened book
To those very close to heart
Who keep it safe & sealed,
And remains closed book to others,
Giving access to book cover only😝😛🏃‍♀️"
"I just love trees with broken branches, felled trunks too, though don't know the reason why"
"You kept waiting for me till I turn perfect,
Fitting into you perfectly
And with my broken parts,
Slowly I sailed away from you
To fix myself, all alone🍁💃💃"
"Looking at my own rain drops
To find where am I standing right now
And I can see rainbows and springs
Flowering in those colourless drops"
"Many of your wins are my lost battles, which I intentionally lost for you people, not to hurt anyone. You can boast your success. You can call me a loser. You can call me a idiot or fool. You can disrespect me. But it was always my heart which you lost forever"
"Don't get too comfortable
A day will come when I will change my path,
Because not everyone fit into my story always
Why can't tomorrow be mine?
*Only for all my haters💃💃"
"I am not that kind of person who strictly believe in making rules, being perfectly disciplined and all. Life is not all about living in a forced gravity or circle. Leave the pressure, let a few things be of less order, never mind. Admit a few mistakes too and find fun in them as well"
"Her colourful rainbows and sparking stars✨🌈
Often remind her some of the missing shades –
Which she left far behind
To move towards new horizon
Yes, she will never go back to her old version🙂🦋💥"
"Beneath the stars in the deep valley
She kept something precious sometime back
When she revisits the valley next time
That day mist showered everywhere
Perhaps to make her remember
About the hidden treasure"
I give with whole heart🤗❤️
Not half, not less than one-quarter
Or little bit greater than three-quarter😉😝"
"Sometimes we need to turn stubborn
Just to prove, at least to ourselves,
"Her words hold her beauty❤️"
"I have always healed myself throughout all my problems.
It has only strengthened me to let go things easily,
Forgive, though I never forget
Only problem is I never cared about my happiness."
It's not easy to bring me back😌✨😐"
"Nishagandhi and Neelakurinji are specially reserved for me😉
You can search jasmine, rose or any other flower if you want🤗😂"
And what she expect least now is
"I don't respond doesn't mean
I simply learnt to avoid and neglect🍁"
"

I am among those who take too much time in decision making. But once made, it's not easy for me to step back"
"I have a bad habit to pluck all the flowers of my blue mountain, one day after planting😕💜💜"
A display object of anyone's life anymore
She can't hurt & break herself anymore,
Simply to see others' equilibrium of life not affecting
Because what done is more than enough
Let she live her own life
Without bothering anyone, at least now"
I never choose the same path again🏃‍♀️🏃‍♀️😝😝"
"She has been walking aimless till now
Now her each step, each walk is a decision made.
"Sometimes moon may go dim,
She can shine different in different days
Yet everything will be ok
She has got a few smiling stars around
She has learnt to take care of herself"
"Lost in a chaotic world of birds, butterflies
Finding myself once again,
"I may be bright like a blossomed rose whole day
May turn queen of the night too,
Which withers at day hours
Yet my feelings remain the same, pure as white
If I fade at day,I may bloom at night
Sending you more love than usual
To keep you warm in my safe hugs💕💫🤗"
"Nishagandhi dreams at day
"My scars are same as those of moon
They help me to shine differently like moon💫"
"I don't lose temper so easily
All the very best for you😂😝💃"
"This star will stay in sky
And will smile in moonlight
Only she wants is a supporting hand
If ever she breaks down to fall✨💥🌠"
"I want to make my heaven in clouds,
Far away, hidden from everyone.
Seeing me rebuild myself,
Or build another version of me,
Where I can feel better of myself
And also, take care of everyone around me"
"I miss me at many places"
"The only way you can break me is by hurting yourself😂😉"
"When nobody cares your existence,
"I can't intentionally hurt anyone,
Not even those who destroyed me
Not even those who laugh at my failures
Then how can I hurt people I love,
Those who are important to me?
I simply walk away from lives,
Whose actions I can't tolerate
"I never meant to hurt anyone
If I feel I become burden
To someone's flying wings
This bird has no dreams at all🦋✨💕"
"Sometimes I may turn stubborn
Not try to impress others too
Others may find wrong in it,
But not willing to adjust as they want,
If you test my patience level again & again.
I don't want anyone's goodwill certificate😝😝"
"Why to prove to others, to be one among them,
"Even when tears dipping from her darkest clouds
She shines as brightest rainbow in someone's thoughts🌈😌💫"
Because my shades get mixed multiple times
Along with my changing emotions
Just like the falling nightfall
To get unknown colours, never seen before🌈🦋♾"
"I prefer to became a dark cloud hated by everyone for its black face, rather than a white cloud with less qualities except external beauty. At least I can pour as rain for someone. Maybe I am lonely, maybe I am hated. Yet that's what make me unique. That's 'I am'🤗😊"
Who supports me, who not!!!
I want to follow my heart only♥️😌"
"I asked my eyes to stay awake
But when sleep came in the evening
Which opened new shores of oceans before me"
"I prefer to stand alone with truth
Rather than with thousand lairs and a bunch of lies 🙌"
Maybe many took me for granted
It doesn't mean, I will remain so always.
The moment you people break my threshold,
It will be the end of everything!
Literally everything!!!!"
"How can I say only happy things to someone?🍁🍁
I share both happy and sad moments
Accept me if you can listen both😕"
"You may call me 'I am not flexible'
Only after I fix myself in something
Because I can't stand with wrong to please others
Can't take brainless decisions too🤯😷
But that's what I made of💃💃"
"She found herself in the lost woods,
Where she lost her path once"
"She is a deep ocean in condensed form,
Holding gallons of love like water for many eras
In hope, she will find someone some day
To share her love drops & empty herself"
"My heart may be made of glass, brittle
But my mind is made of iron, strong and well-determined😂😂"
Some days I may drizzle only
Some days I turn white cloud
But always reserve moist drops in my heart
To transfer myself to the raining dark cloud🌪️🌨️"
"One of the biggest corrections I have made in my life in the recent times is to trust my intuitions, if it's strong & repetitive, and fully ignore others' words with negativity. Lately I realized most people will drag you down, as they are more concerned about their satisfaction, not my happiness"
"In what shade do you want me to pour?💕🌈
As a chilling summer drizzle,
Or accompanied by thunder & lightening?⛈️
Sometimes I can go fully silent
Showing myself through lightening only😂
Just tell me, which shade you like most🤗😝💫💥"
"My journey has been not easy so far,
Not an easy road for everyone
"I have always fought alone
If I have win this battle or not,
Which opened new shores of oceans before me
And I don't fear storms anymore"
"There are many invisible shades in my rainbow
Which I never show anyone 🌈🌈
While some others never☺️😂💫💕🌈"
"I accept humiliations of only those, who I believe a part of me, even at the cost of self respect & I may do it repeatedly too, even after knowing I am being taken granted and I may not get the same thing back. "
"Invisible shades in my rainbow are infinite🌈🦋🤗"
"Most times my anger and sadness converge as a single emotion in tears"
"Sunsets add more intense shades to her life
To colourful transformation/transition to a rainbow,
Life has changed a lot✨🌪️"
Have the keys to unlock my words easily
For those who are ignorant
I am still an unknown continent😉💃"
I spread across the skies
And rain as heavy monsoon
Who can bring a small change
To the skies and many lives around me✨🤗🌧️❤️"
"Most of my life changing moments happened in October, both happy and sad🔥
Always accompanied by rain😂😓"
"I prefer to burn myself as pyre
Rather than erupting as a volcano
Simply I can't hurt people who I love
I have seen infinite volcanoes
Erupting silently inside my heart
Without disturbing anyone
Not half, not less than one-quarter
Or little bit greater than three-quarter"
"I have learnt the art to smile
When my waits end in desperation
"

Crowd is not comfortable to everyone"
"Oceans are raining in her tears
She didn't ask anybody its reasons too
And everything that remain
Buried in her deep silence & sweet smiles"
We earn nothing at end, but can loss a lot
Let them go who can't accept you for being real💃💃"
"Someone needn't be absolutely flawless to remain in my friends' list. Anyone with pure intentions, who is genuinely happy for the happiness of others always find way straight into my heart❤️❤️"
"I can stay like mountain before huge storms
But silly things can take away too much from me"
"I go silent for a while doesn't imply
I will silently leave you💫💕
Sometimes I need silence to breath
Sometimes I need silence to recover myself
Sometimes I need silence to think
Sometimes I need silence not to hurt others😊"
"She was not born an orphan
But she lost all carings after a point of time
She chained herself into a shell of solitude
And fully enjoyed freedom inside it.
Her desires, sorrows & dreams,
She flew inside her cage all alone
Seeking happiness & pleasure
One day, all of a sudden,
A window opened with a beam of light
There her eyes met with another soul,
Sharing a story similar to hers
Their hearts met in the infinity
And she found her long lost-
Missing part in that soul….
Today she tries to break her cage,
She touches the sky someday or not!!!"
"Looking at my own rain drops
To find where am I standing right now
And I can see rainbows and springs
Flowering in those colourless drops🌈💥💫"
"Each chapter of my life book itself is filled with 1000 unheard tales and unsaid words, so many twists but colourful and entertaining"
"Never have I tied anyone in my selfishness
Have always given enough freedom to fly away
Have always looked at skies with happiness
Even if they are no longer a part of my skies 🎈🎈"
I don't want to show it to others
And please them that way.
I like smiling faces a lot
At the cost of my failures,
"People with good character, humbleness & loving heart impress me more than high status, money and fame. People with a combo of high IQ & sense of humor catch my attention spontaneously, as it's rare to see both these features together in same person. Philosophy & craziness come in bonus😂"
"Just trying to hold me together, all alone
Sometimes, we need to fight our battles, all alone"
"I always give preference to happiness of my loved ones, more than mine, and always desire to get them best. Still, I think the same. I have only unconditionally loved everyone, and it will remain intact always. Always given less importance to my happiness than others"
"When I love people, I erase all boundaries
To interfere too much, to hurt too much.
I won't prefer to take revenge or anything else
Sometimes fail to respond too.
Simply leave it to god as always
To judge and do the need some"
"Why should you give them an explanation about your personal life and decisions when it's nothing to do with them?"
"Shades are always there…
"Whenever I paused pain for a while to enjoy beauty and happiness, fate returned it with double pain for a prolonged time, and left me with scars unhealed for a lifetime. Now those scars form infinite shining stars in my night skies, whose access I have denied to everyone "
"I want to make my heaven in clouds,
Far away, hidden from everyone.
Seeing me rebuild myself,
Or build another version of me,
Where I can feel better of myself
And also, take care of everyone around me"
"I miss me at many places"
"My dark skies devoid of stars💫✨
And filled with dark clouds
Instead will smolder and diminish forever,
"She was not sure, the extended life of a few years, can it bring some surprise packages to her life, or is it only an extension of 'death sentence'."
"Sometimes you need to isolate yourself from others to prove yourself, not to the outer world which humiliated you in terms of social status, fame and money, but to yourself, so that you can stand with them with your head high. That's called self respect"
(Visited 20 times, 1 visits today)