Aaru Paranju Song from Pulival Kalyanam – Lyrics in English with translation
Song: Aaru Paranju from Pulival Kalyanam (2003)
Lyrics: Kaithapram Damodaran Namboothiri
Music: Berny Ignatius
Playback Singers: Jayachandran and Chithra
Featured: Jayasurya and Kavya Madhavan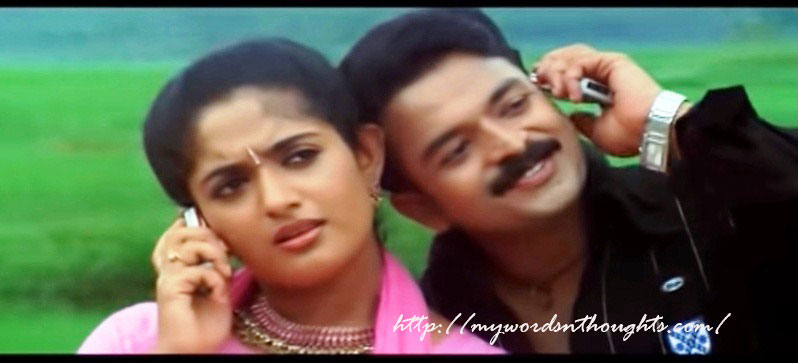 Aaru Paranju song from Pulival Kalyanam – Lyrics in English with translation
Aru paranju aru paranju
Njan kandathu rakkanavanennaru paranju
Who told
Who told
Who told, what I saw was only a night dream?
Ezhu niram kondezhuthiyathellam
Mazhavillu virinjathu polennaru paranju
Whatever I wrote in 7 colours,
Who told, it's only like a rainbow?
Kali chollum kuyilano
Kuzhaloothum kaattano
Aranee kallam cholliyatharanaavo (Aaru Paranju)
Is it the playful cuckoo?
Or the breeze which plays flute?
Who told this lie?
Who is it?
Oru thoomanjin vaidooryam nalkiyappol
Tharakasham pakaram nalki nee
When I gave snow white Gem-beryl
You gave me starry sky in return
Oru moovanthi poonkinnam njan thannappol
Ponnin pularkaalam pakaram thannu nee
When I gave you an evening bowl (moon)
You gave me golden dawn in return
Azhake nee ariyaamarayathu
Alamalakal aadi ulanjoru kadalayi njan arike
Beauty, you in unknown hidden place
I am near, as sea with tides
Annadhyam kettu pranayam
Mridhu pallaviyay (Aaru paranju)
That day, for first time
Love was heard as soft tune
Nee chumbana chembaka poo virichu
Athilanuraga then nirachu
You blossomed Champak kisses
And filled it with love honey
Ninne kaanathe kaanathe njan alanju
Neeyennathmavin ullil mayangi
I wandered searching you
& You were sleeping inside my soul
Poovayi nee karalil poomazhayay
Madhu maduri thedi alanjoru
Vandayi njananunarnnu
You became a flower
You became a flower rain in heart
I woke up as a honeybee
Annadhyam padiya nadham
Swara marmmaramayi (Aaru paranju)
That day, the song sung for first time
Became a murmur of tune
(Visited 1,052 times, 1 visits today)