Kozhi Pidi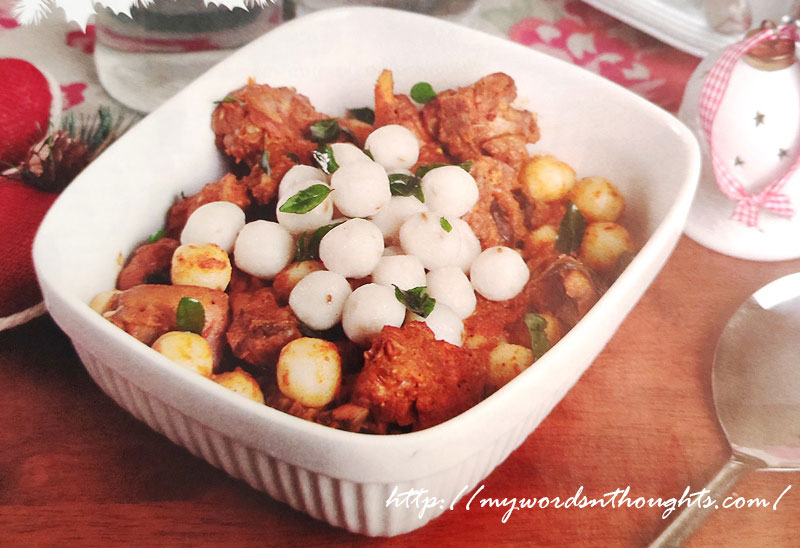 Ingredients for Kozhi Pidi:
For Pidi:
1. Scrapped coconut – ¼ cup
Shallots – 8-10
Cumin seeds – ½ small spoon
2. Rice flour – 1 cup
Salt – For taste
3. Boiled water – 1.25 cups
4. Ghee – As required
For chicken curry:
5. Chicken – 1 kg, cleaned and cut into pieces
6. Chilli powder – 2-3 small spoons
Coriander powder – 2 big spoons
Turmeric powder – ½ small spoon
Garam masala powder – 1.5 small spoons
Salt – For taste
7. Onions – 4, medium sized, chopped
Ginger crushed – 1 big spoon
Garlic crushed – 1 big spoon
Curry leaves – 2 stems
8. Oil – As required
9. Coconut milk – 1 cup
How to prepare Kozhi Pidi?
1. Blend ingredients no: 1 using a mixer.
2. Add salt to rice flour, and then mix it with coconut mixture.
3. Add boiling water to it, stir well and allow it to rest for 10-15 minutes.
4. When flour cools, grease your palms using ghee and make small balls.
5. Steam cook rice balls for 10 minutes. This is Pidi.
6. Marinate chicken using ingredients no: 6 and keep it in refrigerator overnight.
7. Just before preparation, mix it with ingredients no: 7.
8. Heat oil in a pan and sauté the chicken in high flame for a few minutes.
9. Reduce the flame and cook chicken.
10. When it is done, add coconut milk and check salt.
11. When curry starts to thicken, put off the flame.
12. Add Pidi to chicken curry, mix well and serve.
Note: You can also serve Pidi and chicken curry separately. If so heat a little oil, add mustard and curry leaves and temper Pidi using this.
Courtesy: Vanitha Magazine, December 15 – 31, 2019
Read another Kozhi Pidi recipe here. Also read Kozhi pidi curry recipe.
Click to read a few more rice main course recipes here. Here is the page link. Click on the images in the gallery to read.
(Visited 257 times, 1 visits today)