Know Vitamins for Skincare. Apply Vitamins to Protect Beauty
Vitamins are good for health. While including Vitamins in daily diet, you can apply it on body and skin as a daily routine of skin care too. Earlier people used to take vitamin tablets. As per latest trend, they are applied on face and skin as a beauty mantra. Vitamin-E tablets added to hot hair oil can enhance hair growth, if you massage scalp for 10-15 minutes properly.
While following traditional methods for beauty care, if you take an expert's opinion and take Vitamins, it's more effective. Let's know how each vitamin help in skin care and beauty. Though countless beauty products are available in market, it's advisable to choose those ones only, which suits your skin and skin type. Try to know, which skin type you belong to, and seeking a doctor's opinion, you can choose suitable vitamin supplements.
The all-rounder Vitamin C
When it comes to skin care, very less is known about the significance of Vitamin C. A multi-task and all-round Vitamin, it protects and safeguards skin in multiple ways. It's photo-protective property protects skin from damage over exposure to sun. Its anti-oxidant property helps to prevent aging, and reduces melanin too. It provides shining skin tone. Other qualities of Vitamin C include – reduction of pigmentation and wrinkles, and can heal small wounds too.
When and how to apply Vitamin C – It's advisable to apply Vitamin C serum in the mornings. Wash your face first and apply on skin. It takes 3-4 minutes to completely absorb the serum. You can apply moisturizer and sunscreen lotion after that.
Vitamin B3 – For mind and body
Healthy mind is also equally important to get beauty. Stress, depression, mental strain etc never go with beauty. Niacin which includes Vitamin B3 is a good reliever. Apart from keeping skin in good tone, it reduces problems caused from stress and tensions. It improves memory and digestion, and hence Vitamin B3 should be a part of everyone's healthy diet. Niacin and Niacinamide are all Vitamin B3 and both are present in almost all beauty products such as creams & lotions, used to apply on skin.
It reduces aging signs and enhances skin tone. Because of its inflammatory properties, it protects skin from pimples. It also removes pimple marks and close skin pores. Thus Vitamin B3 is a beauty vitamin.
When and how to apply Vitamin B3 – Niacinamide is widely used as a beauty product, which enhances skin beauty. It's also an antioxidant which flushes out skin impurity. If you use it along with Vitamin C or Glutathione, you get better results.
Vitamin A – To get rid of tiredness
Retinoid, used in anti-aging process and reduction of wrinkles is actually Vitamin A. A good product for skin care, it reduces tiredness of cells and provide refreshment. Vitamin A improves collagen production, thus blocking symbols of aging. Application of retinoid reduces small wrinkles, open pores, pigmentation spots etc, thus reversing the aging process. Retinol and Tretinoin are other derivatives.
When and how to apply Vitamin A – They can be used at any age. But when wrinkles and aging spots start appearing on skin, make retinoid a part of daily skin care routine. After you reach age 30, apply retinoid every night before you go to sleep. They are available in cream, gel, lotion and tablet forms. You can break open the tablet and apply serum on your face.
Vitamin E for refreshment
Whether you are staying inside home or going on, UV rays can affect your skin. Vitamin E shields your skin from the exposure of UV rays present in sunlight. Apart from refreshment, Vitamin E gives smoothening effect to skin. It's a good moisturizer too. When you feel your skin cells need a refreshment, apply Vitamin E.
When and how to apply Vitamin E – You can break vitamin tablet and apply its gel on your face. You can also add it to other face packs and apply on face. Though it's not essential to include Vitamin E in daily skin care routine, you can apply vitamin E twice a week.
Vitamin K for skin protection
Vitamin K helps in clotting of blood soon after an injury. It also helps in skin care.
When and how to apply Vitamin K: Vitamin K creams can be applied beneath eyes. It's a quick remedy for dullness. You can also apply it before going to sleep.
Vitamins in beauty treatment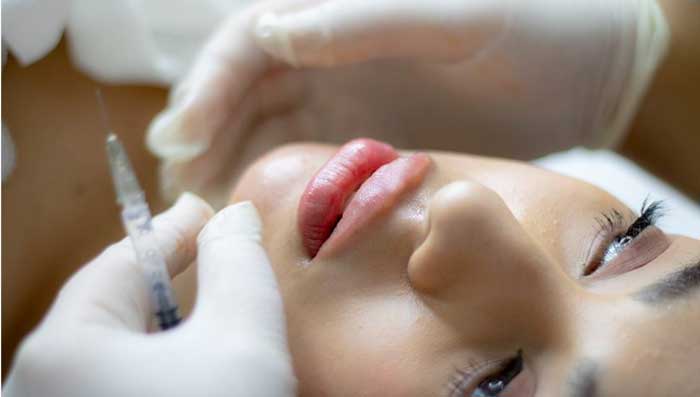 For most cosmetic treatments, 'skin vitamins' are used. All these treatments are done based on skin problems, and it differs from person to person.
Mesotherapy: It's an effective anti-aging therapy. It can retain skin moisture and give youthfulness and refreshment. Based on skin problems, vitamins and their proportions are chosen and mixed to get meso solutions. They are injected to skin under the supervision of expert doctors.
Vitamin A Infusion Facial: To achieve shining and bright skin, this facial is effective. This facial is done by passing factors like retinaldehyde, symwhite, hyaluronic acid and lactic acid into the skin.
Anti-aging Vitamin injections: This treatment is done as an anti-aging process, given as intravenous injections (IV – injected through hand nerves) or Intramuscular Injection (IM – injected into muscles). Collagen – Vitamin C shots and Anti-aging are given in IV form. Collagen – Vitamin Complex Shots are given in IM form.
Vitamins to beautify your inner and outer beauty
Vitamin C – If you include Vitamin C in your daily diet, it enhances the advantages of sunscreen lotion. It improves the production of collagen in your skin, which prevents signs of aging. It can reduce dry skin and thus improve skin beauty. Sour fruits such as orange and lemon, spinach, broccoli, papaya, gooseberry etc all contain Vitamin C in abundance. Try to include any one of them at least once in your daily diet.
Vitamin B3 – Nuts, leafy vegetables, beans, eggs include Vitamin B3. Include these items in your daily diet to provide your body with sufficient Vitamin B Complex. Remember, both Vitamin B3 and Vitamin C are water soluble, and body doesn't store them both for future purposes. It takes only what it's sufficient for body at that time, and the rest will be flushed out through urine. So, always try to include both Vitamin B3 and Vitamin C in your daily diet. Fat soluble Vitamins – E, D, E and K are stored by liver and used for future purposes.
Vitamin A – Cod liver oil, eggs, orange, yellow coloured vegetables and leafy vegetables are abundant in this essential vitamin.
Vitamin E – Vitamin E is labelled as Alpha Tocopherol on food products. Almonds, hazel nuts, sunflower seeds, sunflower oil and leafy vegetables contain this vitamin.
Vitamin K – Green coloured vegetables, kiwi fruit, eggs and fish can be included in the diet to get this vitamin.
How to make Vitamin C Serum at home?
Take a small spoon of L ascorbic acid powder. You can also take a Vitamin-C tablet as substitute. Break it and use. Add 1 small spoon each of rose water and glycerine. You can also take orange extract instead of rose water. Take orange pieces and pour water. Close the lid and boil it in low flame for 10 minutes. Later strain it and use it for Vitamin C Serum. Mix all the above ingredients together and store in a black glass container in refrigerator. Even while taking it out, never expose it to sunlight. You can store it for 1 week.
Take 4-5 drops of serum, apply on your face and massage it. If you are using this Vitamin C Serum during mornings, definitely use sunscreen lotion too. If you have pimples, consult doctor before using this serum. You should be patient and use it continuously for at least 3 months to get good results.
Image source: Pixabay
(Visited 1 times, 1 visits today)