Prabha Atre – Legendary Hindustani classical vocalist from the Kirana gharana
Prabha Atre is a Hindustani classical vocalist from the Kirana gharana. Recipient of Padma Shri in 1990, Padma Bhushan in 2002 and Padma Vibhushan in 2022, Atre is widely regarded as one of the greatest and popular Hindustani vocalists of post-independence era. She is a recipient of countless honours including Sangeet Natak Academy Award, Acharya Atre Award for music and many more. She registered Dr. Prabha Atrre Foundation in year 2000. A former stage actress too, she has been a part of plays – Sanshay-Kallol, Maanaapamaan, Saubhadra and Vidyaharan.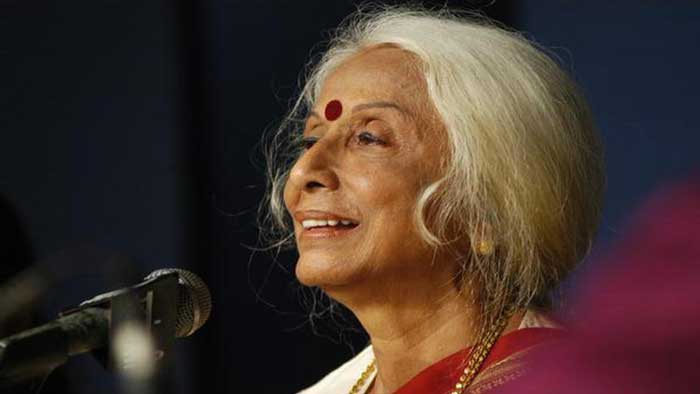 Prabha Atre started learning music seeing her ailing mother taking music lessons
Prabha was born to Abasaheb and Indirabai Atre in Pune, Maharashtra on 13 September 1932. She and her sister Usha were interested in music, but neither of them planned to pursue music as a career. When Prabha was 8 years old, her mother was not keeping good health. Someone suggested that music can give her relief. When her ailing mother started taking music lessons in Hindustani, Prabha Atre got attracted to music. Slowly she also started learning music.
She took formal learning from Sureshbabu Mane and Hirabai Badodekar from the Kirana gharana
In Guru-Shiksha tradition, she received training in Kirana gharana from Sureshbabu Mane and Hirabai Badodekar, two leading names in this school of music. She also took formal training in Kathak dance style. She was deeply influenced by Amir Khan for khyal and Bade Ghulam Ali Khan for thumri on her singing style. Her first LP, with Maru Bihag and Kalavati had strong influences of Amir Khan.
She completed graduation, then LLB and later at Gandharva Mahavidyalaya Mandal and Trinity Laban Conservatoire of Music and Dance, London. She later also earned a PhD in music on her doctoral thesis titled Sargam. She had a short stint as a singing stage-actress during her early phase of career.
Assistant Producer with the All India Radio
She has served AIR as an Assistant Producer and remained an 'A' Grade artist at All India Radio Drama Artist (Marathi and Hindi). She has been a visiting professor at a few institutions in the West, apart from training numerous students. She also served as Professor and Head of the Dept. of Music, S.N.D.T. Woman's University, Mumbai.
Atre published book on compositions and invented a few new Ragas too
Swarangini and Swaranjanee are her published book on compositions. Swaramayee and Suswaraalee are compilation of articles on music. Enlightening the listener and Along the Path of Music are her musical thoughts, published in English.
Apurva Kalyan, Darbari Kauns, Patdeep-Malhar, Shiv Kali, Tilang-bhairav, Ravi Bhairav, and Madhur-kauns are some of the new Ragas she invented. She composed music for dance program, 'Nritya Prabha'. A leading name in Kirana Gharana at present, her presence holds to 7 decades in this field. Now aged 90+, she is the senior artist representing the kharana, started by the legendary Abdul Karim Khan at the turn of the 20th century and the legacy continued by legend Bhimsen Joshi..