Mutton Meat Balls
Mutton, in controlled quantity is good for health, though red meat is not advisable. It provides proteins, zinc, iron, minerals etc, good for children's growth. Making meat balls is one of the easy ways to make kids eat mutton. Using a few ingredients, you can make mutton meat balls easily. Read another meat ball recipe here. You can serve Mutton Meat Balls as an easy snack. If you prepare gravy, you can add balls to it, and make it a curry for rice, chapati etc.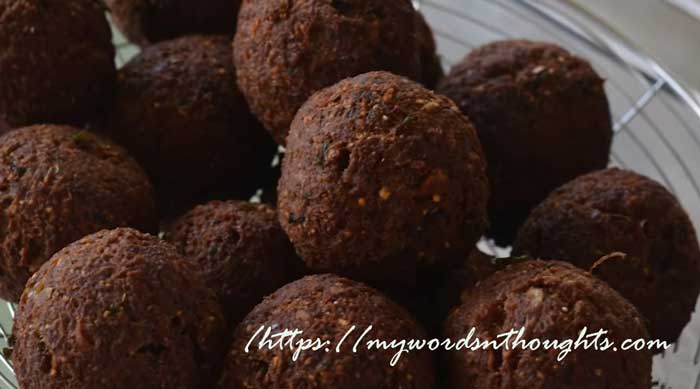 Ingredients for Mutton Meat Balls:
1. Mutton – 500 gm
2. Curd – 50 milli
3. Onions – 2, chopped fine
4. Pepper powder – As needed
5. Egg – 1
6. Coriander leaves – A handful
7. Salt – For taste
8. Oil – 200 milli
How to prepare Mutton Meat Balls?
1. Chop mutton, add curd and allow it to rest for 1 hour.
2. Add onion, pepper, egg, coriander leaves and salt to mutton.
3. Make small balls from this mutton mixture.
4. Deep fry balls in hot oil till they turn golden brown.
Courtesy: Vanitha Magazine, October 29 – November 11, 2022
Read a few more Mutton snack recipes. Visit my page.