A journey to the town of Channapatna toys
60 kms away from Bangalore in the state of Karnataka, there exists a small town, Channapatna. If you enter that village, you will get a dreamy effect of hundreds and thousands of wooden toys everywhere. You can't find even a single toy made of plastic in Channapatna. The visuals give rebirth to the young kid sleeping inside you, and his fantasies of a wonderland.
All the shops in streets and small factories built near to homes, you can see colourful handmade toys everywhere. Most of the toys depict rural culture, glorious past of kings, festivals, livestock etc. Bullock carts, Hindu mythology & avatars, birds, animals – everything born here! Dancing dolls and percussionists are born in artist's chisel here. This traditional craft is protected as a geographical indication (GI) too.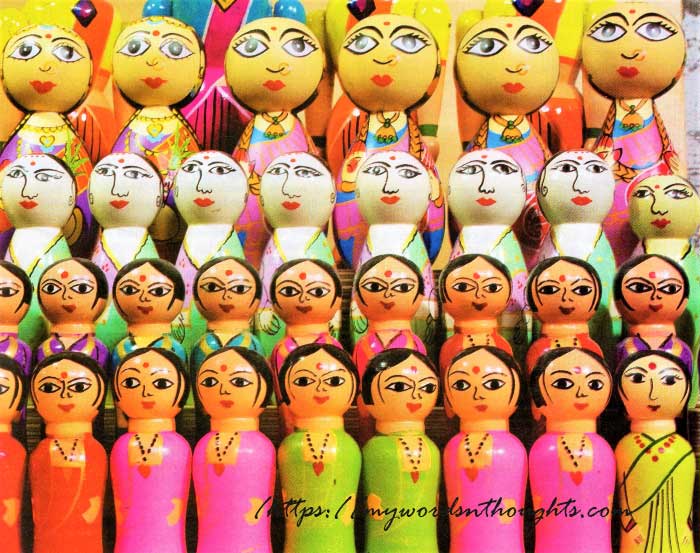 A journey to the dreamworld of a child's mind
When you get down at Channapatna bus stand, on either side of roads, you can see 'Toys emporium' boards everywhere. Wooden horses, elephants, vehicles on 4 wheels – you can find a lot of things to bring out child inside you. Today's kids are more fascinated with super heroes, computer games and animated series which include their favourites like Thor, Batman and much more, mostly with the influence of West. Their most favourite toy is mobile phone. Shooting, running, scoring – kid's brain is more attached to computer games and animated toys. Yet we can't deny the fact that kid's mind get easily attracted to colourful toys.
Tortoise and rabbit race, peacocks, vehicles, human figures which include women with big bindi and eye lashes, king, queen, bride, security, soldiers, policemen, dancers, singers, men with moustache – all in bright and vibrant colours can easily attract anyone's mind. You can find many toys which cleverly use threads for movement. Most of the toys have the height of human fingers only. During Dussehra time, people buy such toys to prepare 'Pattada Bombe'. It's seen wide across south India.
Colours of Channapatna won't fade easily
You can keep Channapatna toys in your almarah, showcase, pooja room etc. Their colours won't fade even after 35 years. If you go to Bharat Art and Crafts of Nizam Chawk, you can see how toys are born from wood. There are numerous artisans working here, in competition with eyes and hands, working like machines! If you make a silly mistake, the toy may get damaged. Toys are to be treated like kids with extra care, while making.
There was a time when toys were made in teak and sandalwood too. Those glorious days have gone. Now 90% toys are made in ivory wood. They use a special leaf for finishing & final polish work of toys. After painting the toy with natural colours and dyes, this magical leaf is used to give a finishing touch. This colour and shine make Channapatna toys distinct from other toys. The leaf resembles the leaf used to make mats.
It takes only a few minutes to prepare a toy from a wooden square piece. It's purely because of the skills of artisans. The machine spins in a belt. The wood is inserted into the machine. When switched on, the machine spins fast. Using chisels, the artist curves the shape in his mind. They carry different types and shapes of chisels to make head of toy, body etc.
Bharat Arts And Café tells stories of 5 generations
Bharat Arts And Café is 5 generation old now. It provides job to 50 people, directly or indirectly. It plays an important role to keep this tradition alive too. Many artists, after completing the course are working here to support 'Channapatna toys' from fading into memory. In the era, they face high threat from addiction towards mobile phones and animated characters. Yet this Arts School plays its part in promoting toys as well. After one or two generations, will this tradition sustain after that, only time has an answer.
It's believed that Tipu Sultan brought artists from Persia. This place had plenty of ivory wood, the most friendly wood for making toys. People got attracted by the skills of Persian artists and they mastered the art. Rest is history! Bavas Miyan introduced Japanese doll making techniques, which improved productively and reduced manual work efforts.
Channapatna toys own the prestigious GI tag. Toys are made for study purposes too. They make customized toys also. If you give designs, they will make it for you. Ivory-wood has been mostly used for more centuries till now. Rosewood and sandalwood were also occasionally used. Over the years craftsmen have diversified their work to rubber and many other materials.
Wood stain and natural colours only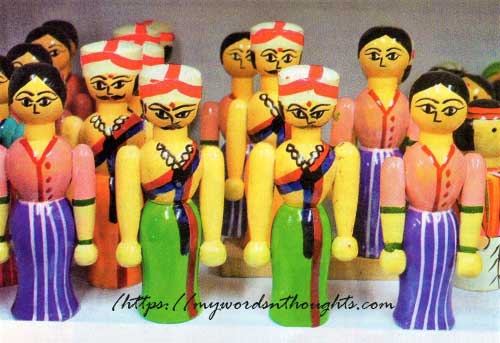 It takes only 30 seconds to make a toy top. But to prepare wood for this purpose, it may take months. After cutting ivory wood, it's dried for 3 months. After water content is fully gone, wood is cut into square pieces, big and small, according to the demand of toys' size and shape. Again it's dried for 1 month and then only used for toy making in Channapatna.
Wood stain is used to make colours for toys. Stain is melted in fire, and dyes made from plants are added. Turmeric is used for yellow and saffron for red. Once dried, they are cut and used. While making toys in machine, a stick is used to paint them. Then a brush is used to draw beautiful eyes, ears and clothes.
Factories in home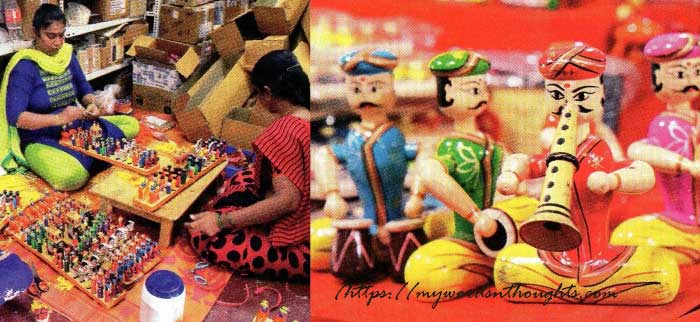 There was a time when toys were made in every home and displayed in streets. As time changed, production as well as demand has reduced significantly. Such stores are also less than 25 now. There was a time when only chisels were used. Now machines are also used for toy making. You can find artists with more than 60 years of experience in this field, mostly those who began toymaking during childhood.
Workers can earn minimum 700 rupees if they go for construction work. Toy making can't afford this sum. That's why mostly senior people associated with this art. New generation people rarely make toys. There is a newly constructed Mysore -Bangalore road, which doesn't connect Channapatna town. It will also affect the toy business. Slowly Channapatna toys will fade from people's memory – many natives fear. Karnataka Handicrafts Development Corporation (KHDC), with their recent efforts have revived this dying art from extinction. Financial assistance to the artisans are also provided.
For Dussehra festival, it's a busy season here. People will be busy in decorating pooja rooms with wooden toys for 10 days. Soldiers, percussionists, elephants, king in a chariot, palace, women – many toys can be placed according to your creativity. What will happen to those toys inside shops, when shops are closed and shopkeepers return to home? Maybe those toys come alive and they live a life of their own.
How to reach Channapatna town?
Channapatna town is situated in Mysore – Bangalore road. It's 80 kms away from Mysore and 60 kms from Bangalore. It's advisable to make an one-day trip to Channapatna town. As it's a small town, only small hotels are there.
(Visited 35 times, 1 visits today)