Happy Journey to Pooyamkutty – The shooting location for Mohanlal's Pulimurugan
Mohanlal's Pulimurugan released in 2016 is the highest grosser Malayalam film, which collected over 150 crore Indian rupees at box office. Apart from its action sequences, the movie also caught the attention of spectators' eyes for the wonderful locations in the movie throughout. The movie is about a fictional village Puliyur, where tiger attacks are most common. The tribal village which acted as the dupe of Puliyur is none other than the forest areas of Pooyamkutty tourist spot. Mamalakandam, Tholnada, Kurunthanmedu, Knacheri and Pindimedu were the main locations of the forest area where the entire forest scenes of the movie were shot. Through this column, I shall take you for a ride to the remote forest areas of Pooyamkutty.
When you reach Pindimedu via forest, it doesn't appeal to be an unknown place. The place filled with streams, rivers, trees and waterfalls was well summarized on screen through Mohanlal's biggest blockbuster, Pulimurugan about 2 years back. Pooyamkutty is a paradise on earth and its beauty is beyond every expression, through words, poems or screen. Since the movie is released, tourists have reached in folk in search of the fictional village, Puliyoor, and no: of visitors have noticed a steep rise in the recent times. It's definitely one of the rare instances where people arrive at a place in search of the shooting location of a hit film, and transform the space to a tourist spot. The movie has influenced the social life of its inhabitants as well.
Kuttampuzha river crossing Thattekadu forest
Thattekadu falls in between Kothamangalam and Pooyamkutty, best known for the world famous bird sanctuary. From Neriyamangalam, Periyar river originates at Thattekadu. In the journey leading to Pindimedu, Thattekadu is a grand attraction. During summer season, Periyar turns thin and hundreds of birds find shelters on river banks and trees nearby. It's good to enjoy the natural bliss of Thattekadu, travelling through Periyar river. But you might reach Pooyamkutty a bit late. If you are late, there is huge risk of elephants.
When you cross Thettekadu, you reach Kuttampuzha. Kuttempuzha panchayat lies in the valley of Pooyamkutty. As per sensus, this panchayat is almost equal to the size of Alapuzha district. Years back, Pooyamkutty project brought many controversies and the environmental hazards and protests related to the project created big headlines in newspapers then. When protests reached its high point, government was forced to abandon the water project. The greenery of Pooyamkutty is still alive, only because the project was abandoned decades back, and the strikes and protests of nature lovers and environmentalists played a magnificent role in the withdrawal of the project. That's the only reason why waterfalls are still alive, and they overflow during rainy seasons.
As a part of Pooyamkutty project many constructions were made in the interiors of forest and they still exist incomplete, as memorials of one of the greatest protests by nature lovers. Many of such constructions are almost in destruction phase. Kuttampuzha river flows through Pooyamkutty forests as a small path. Though its name implies a lake, it's not a lake, but a river. It circumvallates the valleys once, similar to a hair bun in hair lock and then joins with Periyar river.
You get fresh water and fresh air here – the only asset of its inhabitants. There are a few tea shops close to Kuttampuzha. Kuttampuzha river has beautiful river banks, and show varying characteristics at different shores. In certain locations it turns fierce, while it flows silent through a few areas. Only a few know how to enjoy the natural beauty of forests, while a few others fill the space with plastic bottles and covers. So strict laws and regulation have been imposed regarding the use of plastics in this area.
The river where a natural fence has been constructed by forests, and the places surrounding the location have been influenced with the hunter story of Pulimuragan, and people are able to easily relate their lives with film script. It's because kids who born in the Kothamangalam area grow up listening to the stories of hunters and bravery, and their minds are filled with admiration of their hunting stars. Udaya Krishna, who scripted the film too was deeply inspired by the hunter stories he heard since young.
Has any tiger or leopard attacked the place, similar to storylines? There are only colourful stories connecting to tigers, and they are decades only. But the place is known for elephant attacks. When tiger takes a life, elephant shatters the dreams of a family, because they are capable to make huge destructions in the place.
Waterfalls of Pindimedu
Pooyamkutty town is the main junction of the whole forest area. 4 or 5 shops and a few government offices, and a few buses which come and depart the place – that's the sketch of Pooyamkutty main junction. When you pass this junction, you reach Blaavana river bank. The tea shop which was occasionally seen in Pulimurugan movie was set in this place. A film set was made for film's shooting. Crystal water and vast sand shores are its highlights.
There is a bridge shown in the film, which connects Puliyoor with outer world. The bridge repeatedly appears in the movie is indeed a rare one in Kerala. It's known by the name, Manikandan Chaal Chappath, constructed across Pooyamkutty lake. Manikandan Chaal is a residential area in the western side of Pooyamkutty, and bridge in real life too connects the forest area with outer world. Though it's a big bridge, it's known by the name, Chappath.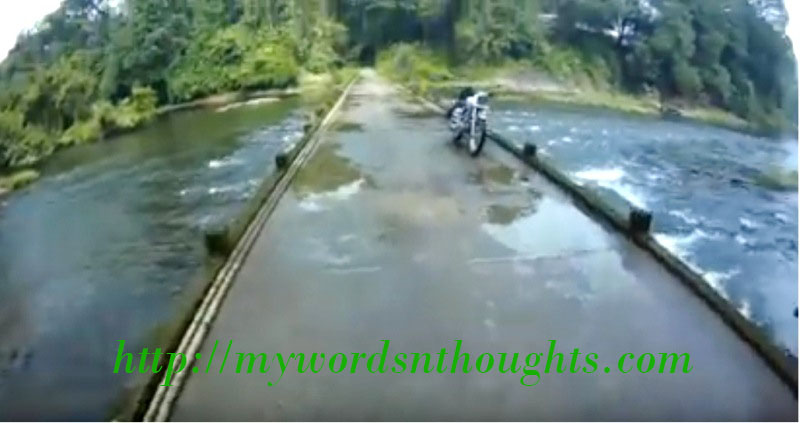 During rainy seasons, the rivers which originate from the forest – Koodalaar and Narakamthodu fall together into Pooyamkutty river. During this time the place will be flooded and Manikandan Chaal Chappath sinks. If you reach the place Pindumedu without the permission of forest department, you can't travel beyond Manikandan Chaal. During rainy seasons, water overflows through this bridge, indeed a very rare sight.
In the electricity office of Pindumedu, metric meter is fixed to know the climatic changes of the location and temperature (hot and cold conditions) and rains are measured and recorded here. The flow of wind and its direction is also recorded. But the place is not free of the threat of wild elephants. For the same reason, nobody stays at night in this place.
On the way to Pindumedu, the first location to rest is Kandampara. There are remains of old Munnar-Kothamangalam road, and bridges built by British are also visible. The road was completely destroyed one century back by a huge flood. From Kandampara, Pooyamkutty river is visible as a thread at distance.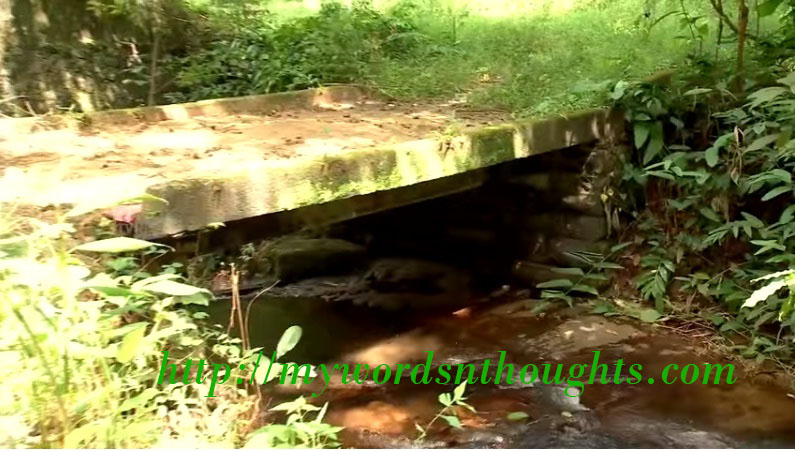 Today, there is no road leading to Pindimedu, but only a structure resembling road. Bamboo forests are clearly visible on either side of the path and the plants are grown up to 12 feet height. That's the reason why it's a favourite spot of elephants, which reach there to eat bamboo. During the film shooting, Mohanlal and film crew used to walk by foot to reach tourist location.
In the forest area of Pooyamkutty, you can still find some manmade caves. During the discussion of Pooyamkutty water project, some of the rocks of the place were pierced to examine the strength and caves were formed as a part of the process. If we look from outside, they resemble tiger caves. Mysteries still fly around the areas and cave faces.
To know the risk taken by Mohanlal for shooting its action sequences, you can just stay for a while above Pindimedu waterfalls. The rocks are not strong. The place is filled with pierced rocks, which look similar to bee hives. Water is deep and steep. You might have noticed the film sequences where Mohanlal washes off the tiger blood from his hands soon after each hunt, and all those shots were taken from these risky areas of rock structure above the waterfall. The noise of fierce water flow beneath the rocks and its strength can be heard everywhere.
Though Pindimedu waterfall holds some mystery, Kurunnummedu waterfall is just opposite. It is vast and beautiful. Similar to human beings, elephants also love this waterfall and nearby places very much. They love to take bath and play at this place. In the film, there is a scene where Daddy Girija's people reach a place in search of drugs, and this particular scene was shot at this place. In the song sequence too, Kurunnummedu's beauty is shown in flashes.
Years back, there was no restriction to cut bamboo from deep forests. There were some man-made paths which lead towards forest area, during bamboo seasons. The areas where bamboo leaves and stem were assembled were known as pockets in local terms, and jeeps used to reach every pocket. From there, bamboo is transported to any main junction of nearby town. From there, big vehicles transport the bamboo to big factories. Today such small scale industries have almost seized and such pockets in the remote forests turned orphans. In one such pocket (Kalladi pocket), Mohanlal proposes to Maina in the film, the character played by Kamalinee Mukherjee onscreen.
Knasseri Durga Bhagavati temple inside the deep forests of Mamalakandam
When you cross forests through Kurunnummedu, you can reach Mamalakandam which include the residential areas such as Urulandhanni and Panthapra. The place is still ruled by Ooru Moopan (local chief of tribes). Rehabilitation colony of Panthapra was shown as the residential area of Ooru Moopan and his troupe. If you take the small path from Panthapra through the forests, you reach Knasseri Durga Bhagavati temple. Vana Durga is the presiding deity, and the temple maidan is vast spread. Huge trees create natural boundary for the temple. Hornbills find shelters in this place and above the trees, and the place echoes their voices. To protect from elephant attack, a fence has been constructed here. You need to wash feet in the forest river before entering the temple.
The temple opens only on the first day of every month as per Malayalam calendar. The temple priest reaches the place from Kalady, and the whole place achieves a celebration mood. People reach the temple in folk on the beginning day of every Malayalam month, and they light colourful lamps around the temple. It's a season of small-time businessmen and shopkeepers too. Bangles, vermilion, and beauty products are sold here, and such scenes were shown in the movie too. Wild elephants may wait for you near the paths in the evenings. Yet such happenings have become a part of their lives. The locals believe that Vanadevata (forest goddess) help them to sort out all accidents and hindrances on their way to reach home. Forests will never betray!
The film set of Mariyamman temple in Pulimurugan movie was made at this place and a few temple festival scenes and Mela scenes were shot here. People who come to visit Panthapra colony and tribal settlements inside the forest also pay a visit to Knasseri. During the season of wild fruits locally known as 'Kaattu Jnaaval', birds reach the place. This fruit is loved by humans too.
A few things hold the breath of every visitor – the mesmerizing beauty of forest, charm of waterfalls and the mystery behind the dew. It's not just the shooting locations of the movie, Pooyamkutty stores a lot more surprises for you. Unfold them when you reach here.
How to reach Pooyamkutty?
You need to reach Kothamangalam, and take the route Thattekadu and Kuttampuzha to reach Pooyamkutty. From Kothamangalam till Manikandanchaal via Pooyamkutty, bus service is available. You need to seek special permission from Malayattoor D. F. O Office if you want to extend your trip till Pindimedu. Kuttampuzha, Mamalakandam, Urulanthanni, Panthapra, Tholnada, Kurunthanmedu, Knacheri and Pindimedu were the main locations of Pulimurugan. From Kothamangalam, Kuttampuzha is 33 kms away. The path takes diversion at this point, and split into two. Till Pooyamkutty it's 12 km. From there you need to travel 15 km to reach Pindimedu.
You can read a few more articles on some of the major tourist spots of Kerala here. Here is the page link. Click on the images in the gallery to read
(Visited 1,960 times, 1 visits today)