Muthira Chaaru of Onattukara
In the name 'Onattukara '(also known as Odanad) itself, an Onam flower blossoms. Yes, it's! Onattukara and Mavelikkara are spring lands of some of tasty dishes. The land is abundant in natural resources and agricultural activities, and the cultivation of the native place was once sufficient to give food to all its inhabitants. The prosperity and blessings of Onam always blossomed in this beautiful village. That's the reason why this village is known as Onattukara. Most recently Onattukara Sesame seeds got GI tag. Also read: Onam flowers blossomed in Malayalam film songs.
Muthira (Horse Gram) is cultivated during the months – Kumbham and Meenam. For the same reasons, dishes using horse gram such as Muthira Puzhukk and Muthira Chaaru are regularly made in homes during these months.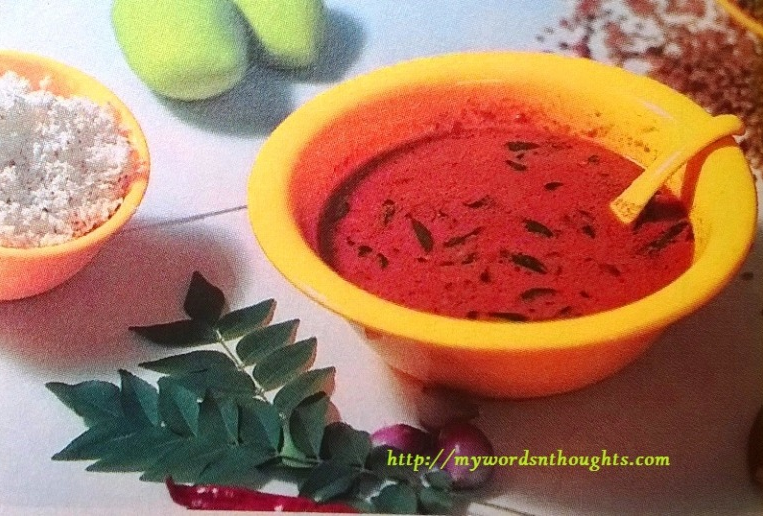 Some horse gram dishes are also prepared as a part of temple festival of Chettikulangara. 'Kuthira Moottil Kanji' is one of the major offerings during festival eve. Sky touching Kuthira Kettal is a tedious job. To serve extra energy, people give horse gram as offerings. Ashtram is yet another trademark dish of this place. As a part of Chettikulangara temple festival, residents of that locality and temple premises make dishes from prawns and green mangoes. In fact prawns and mangoes are prepared at all homes around.
Nowadays horse gram cultivation has very much declined. Yet a few still cultivate this highly nutritious pulse grain. Till now, a few still make dishes from locally available items giving less importance to 'imported' vegetables. The central stalk of jackfruit (chakka madal) can be used to make a curry. Chakka Chavini (thread like extensions covering jackfruit flesh can also be made thoran adding scrapped coconut. Muthira Chaaru looks similar to typical rasam, and has chilli and sour taste as well. Here is its recipe:
Ingredients for Muthira Chaaru:
1. Horse gram (Muthira) – 2 cups
2. Green mango cut into small pieces – 2 cups
3. Scrapped coconut – 1 cup
4. Chilli powder – 1 small spoon
Coriander powder – ½ small spoon
Turmeric powder – ¼ small spoon
5. Cumin seeds – 1 pinch
Shallots – 3
6. Salt – As needed
For tempering:
7. Coconut oil – 2 big spoons
8. Mustard – A little
Red chillies whole – 4
Shallots – 3
How to prepare Muthira Chaaru?
1. Fry well horse gram without oil.
2. Then cook horse gram adding sufficient water in a pressure cooker.
3. Separate 2 cups of water from cooked horse gram.
4. Cook green mangoes separately adding a little water.
5. Fry scrapped coconut till it turns light brown colour.
6. Put the flame off and add ingredients no: 4 and mix well.
7. Make it a fine paste adding cumin seeds and shallots (ingredients no: 5).
8. To the horse gram water, add cooked mangoes and grinded coconut gravy and cook again.
9. Heat oil in a pan and temper ingredients no: 8. Add it to the curry.
Courtesy: Vanitha Magazine, May 1-14, 2017
You can read a few more beans & peas veg curry recipes here. Click on the images in the gallery to read.
(Visited 1,441 times, 1 visits today)