How often have original tunes reused in Bollywood remakes?
"Surmay Akhiyon Mein Nahna Munha Ek Sapna De Jaaye
Nindiya Ke Udte Pakhe Re Akhiyon Mein Aaja Saathi Re
Aari Raaram Aarariro Aari Raaram Aarariro"
This soothing melody belongs to romantic tragedy Sadma and the song was sung in his magic voice by K. J. Yesudas. Apart from the songs of Chitchor, Surmay Akhiyon is the most popular song of Yesudas sung in Hindi. The movie marked Bollywood debut of legendary composer Illayaraja, who composed the music of its original version in Tamil titled – Moondram Pirai. I am not sure if it was for the first time original songs were reused in Bollywood remake of the same film. But it was one of the first successful experiments, though the Bollywood remake flopped at box office.
Sadma which marked Bollywood debut of Illayaraja
Moondram Pirai was released in 1982 and this award winning movie starred Kamal Hassan, Sridevi and Silk Smitha in lead roles. The movie was directed by Balu Mahendra who handled its cinematography as well. When the movie was remade to Hindi one year later, Balu used same leading pair, along with Smitha in the new version. Illayaraja was also retained for its Hindi version, who reused all its songs except "Vaanengum" and "Poongatru".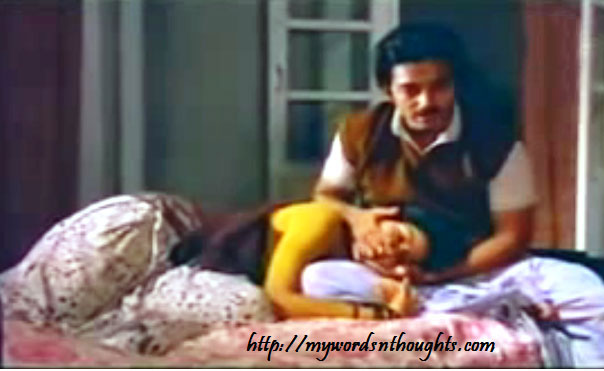 The extremely melodious 'Ee Zindagi Gale Lagale' sung by Suresh Wadkar was a fresh song. The tune was later reused by the composer for Tamil film, Thambikku Entha Ooru and sung by S. P. Balasubramaniam. Among all the songs reused, Surmai Akhiyon (Kannai Kalaimane – Tamil version) still remains one among the best lullabies of Hindi film music. Its Tamil version was also sung by K. J. Yesudas. Illayaraja has later composed music for several Hindi films like Paa, Cheeni Kum etc where he re-used his south Indian compositions. But those movies cannot be categorized under remake versions.
Though Kamal Hassan-Sridevi remained as one of the top pairs in the 1980s down south, Bollywood never got opportunity to see this leading pair together again after Sadma.

Aakhri Sangram is a dubbed version of a Tamil release – Thaayillamal Naan Illai originally released in 1979.
Saathiya – The most successful music album belonging to this genre
When the music of Saathiya was released in 2002, it rocked the whole nation. The original Tamil version was released in the year 2000. The movie Alaipayuthey directed by Mani Ratnam gave Madhavan his big break to Tamil cinema, and its lead heroine Shalini got settled with her family life soon after the film release. Its Hindi version starred Rani Mukerji and Vivek Oberoi in lead roles and most of its songs were reused for the film. In fact its music became more popular than Tamil version, it is regarded as one of the best 5 works of A. R. Rahman.
When "Snehidane" sung by Sadhana Sargam (Chupke se in Hindi version) became the most popular track of Alaipayuthey, Hindi version of Pachai Nirame (Title track – Saathiya) became the top Hindi song of the year 2002. The title track ofAlaipayuthey was originally a devotional Krishna song recreated by Rahman for the film. This track was not used for Hindi version. Instead a new tune – Naina Milaike was composed. Similarly instead of the sad song, 'Evano Oruvan', 'Mere Yaar Mila De' was freshly composed by Rahman for Hindi version.
Harris Jayaraj became popular for Zara Zara
Madhavan established as a romantic hero of Tamil cinema through a series of hits – Alaipayuthey (2000), Minnale (2001) and Run (2002),and all these three movies were remade to Hindi. Madhavan was retained for Hindi remake of Minnale titled Rehna Hai Tere Dil Mein, and its composer Harris Jayaraj too, while the third movie Run starred Abhishek Bachchan in the remake. The songs of both the versions were huge chartbusters and established Harris Jayaraj as a successful music composer.

Harris Jayaraj used a few fresh songs for Hindi remake while he retained its most popular Tamil tracks such as Venmathiye, Vaseegara and Nenjai Poopol. The popular – Verenna Verenna Vendum was not reused in Hindi version. Dil Ko Tumse Pyar Hua and Aayare Aaya Koi were fresh tracks.Aayare Aaya Koi was guest composed by Vishal-Shekhar. The music album also included a few more songs composed by guest composers and they were not included in the film. Dil Ko Tumse Pyar Hua was later reused for Kakka Kakka which became extremely popular.
Among all the songs, Zara Zara became extremely popular, and though the movie was a failure at box office, it received a cult classic status very soon among youngsters. Both Vaseegara and its Hindi version – Zaara Zaara were sung by Bombay Jayshree. Diya Mirza reprised the lead role played by Reemma Sen in the original.
Harris Jayaraj's comeback through Force
Kakka Kakka became a huge hit at box office and the original Tamil version directed by Gautham Menon starred real-life couple Suriya and Jyothika. The star couple was dating when the movie was shot and released, and their screen chemistry was celebrated by fans. All its songs were extremely popular including the romantic songs – Ondra Renda and Uyirin Uyirae.

When the movie was remade to Hindi, the music composer was retained and he re-used the chartbuster hit – Uyirin Uyirae for Hindi version (Khwabon Khwabon). Rest of the tracks was fresh songs. Chahoon Bhi track is inspired from the mukda of a melodious track of Thakshak (1999) composed by Rahman – Ek Chehra.
Muthalvan Vs Nayak
Nayak (2001) was remake of Tamil hit – Muthalvan (1999). Both the versions were directed by Shankar, and music was given by Rahman for both. Anil Kapoor reprised the lead role played by Arjun in the Tamil version. The role was originally written for Rajinikanth which the actor refused to play. Manisha Koirala played female lead in Tamil version while Hindi version went to Rani Mukerji. Though both the versions were meant for Manisha, she had date problems and couldn't accept the Hindi version.

Almost all tracks of Tamil version were reused by A. R. Rahman in the Hindi version, and a new track "Saiyyan" was added. The item song of Sushmita Sen, Shakalaka Baby was also reused for the Hindi movie. Apart from this item song, the duets such as Chalo Chalo Mitwa and Ruki Sukhi Roti became popular.
Anu Malik's copied tunes for The Gentleman
After his debut flick – Roja, 'Gentleman'(1993) was one of his most popular albums during the first phase of A. R. Rahman's career. It was a time when Tamil movie witnessed a major change in music compositions when newcomer Rahman introduced a distinct new style of music into the industry. The dance number 'Chikku Bukku' became a rage across south India, and his romantic compositions – 'Ottagathai' and 'Usalampatti' were also appreciated. The action thriller starred Arjun and Madhoo in lead roles.

When the movie was remade to Hindi by Mahesh Bhatt, Chiranjeevi and Juhi Chawla reprised the lead roles played by Arjun and Madhoo, and Anu Malik composed its music. Though Anu Malik was criticized for directly lifting the tunes of its popular tracks from the original, later Rahman was also given the credits of the compositions. 'Chikku Bukku', 'Ottagathai' and 'Usalampatti' were the songs re-used by Anu Malik as 'Chik Pika Rika Boom', 'Roop Suhana Lagta Hai'and 'Aashiki Mein Had Se' respectively.
Yuva Vs Aaytha Ezhuthu
This bi-lingual film directed by Mani Ratnam met with critical acclaim. Suriya, Madhavan, Siddharth, Meera Jasmine, Trisha Krishnan and Esha Deol appeared in Tamil version, while Ajay Devgan, Abhishek Bachchan, Vivek Oberoi, Rani Mukerji, Kareena Kapoor and Esha Deol acted in Hindi version. Esha Deol acted in both the versions. Songs of both these versions were extremely popular.
Vinnaithaandi Varuvaayaa Vs Ekk Deewana Tha
The Tamil romantic film, Vinnaithaandi Varuvaayaa (2010) was a huge hit while its Hindi version Ekk Deewana Tha heavily flopped at box office. A. R. Rahman composed music for both these versions. Music of Tamil version was immensely popular while its Hindi version failed to create the same magic. However tracks like Hosanna featuring Prateik Babar and Amy Jackson became popular. Original movie starred Silambarasan and Trisha Krishnan in lead roles.

The movie was also shot in Telugu – Ye Maaya Chesave, alongside Tamil and all the compositions of Rahman were reused. The movie starred Naga Chaitanya and Samantha Ruth Prabhu in lead roles.
Raavanan Vs Raavan

Hindi-Tamil bilingual movie starred different actors, and this film was directed by Mani Ratnam. Vikram played lead role in Tamil version and antagonist in Hindi version. Aishwarya Rai played female lead in both the versions.
Love You Hamesha Vs May Madam
Less-heard movie Love You Hamesha starred Akshay Khanna and Sonali Bandre in lead roles. The movie was the remake of Tamil film – May Madam, and all the songs of A. R. Rahman were re-used for the film.
Payali Chunmun – Originally an Illayaraja composition

The National award winning song belongs to the cult classic Virasat (1997) directed by Priyadarshan. The movie was a remake of classic Tamil hit Thevar Magan (1992) directed by Bharathan, and the movie too accumulated National awards. The songs of Thevar Magan were composed by veteran Illayaraja who was inspired by hit Bollywood song, "Yeh Dil Deewana Hai" of Ishq Par Zor Nahin for composing the song "Inji Idupazhagi".
When the movie was remade as Virasat, Anu Malik composed its songs, and he lift the popular song "Inji Idupazhagi" and gave tunes to "Payali Chunmun Chunmun" after giving slight modifications in its antara. All the songs of the movie were extremely popular and fresh tunes also, except this particular song. But the credits of Payali Chunmun Chunmun was not given to the original composer.
There is an amazing fact connecting both these songs. Click the link to know.
When Mukda of Ilaya Nila was reused for Neele Neele Ambar

If someone asks which one is better, I can't compare the beauty of both these songs. Kalakar (1983) starring Kunal Goswami and Sridevi is the remake of Tamil blockbuster Payanangal Mudivathille which ran for 900 days at box office. Tamil movie released in 1982 starred the popular romantic pair of Tamil cinema – Mohan and Poornima Jayaram.
The original music score was done by Illayaraja in the Tamil version, and it was reused for its Hindi remake by Kalyanji-Ananji. The composer duo re-used Mukda only (first stanza) for Hindi version, and this popular romantic song was sung by Kishore Kumar. Original version was sung by S. P. Balasubrahmanyam. And true to say, both the versions stood against the test of time. Both the versions used acoustic guitar with intense, and it proved to be the highlight of both too.
Same year marked the Bollywood debut of Illayaraja through Sadma, which itself is a remake of Moonum Pirai composed by himself.
Ok Kanmani Vs Ok Jaanu
OK Jaanu is the upcoming project of A. R. Rahman where he retained most of his original compositions except three. Original movie was directed by Mani Ratnam and starred Nithya Menon and Dulquer Salman in lead roles, while the Hindi version stars Aditya Roy Kapoor and Shraddha Kapoor of Aashique -2 fame. The movie is directed by Shaad Ali who had earlier directed Mani Ratnam's Alaipayuthe.
Conclusion
Here I come to the end of this column. I could include only Tamil movies in the list and most of the compositions belong to A. R. Rahman. Many Malayalam films have been remade to Hindi. But I couldn't find any song re-used for the new version. If I find some, I would definitely include in the list. I would like to expand this list with other language movies as well. I am not familiar with Bengali, Marathi, Punjabi, Gujarati etc. If you come across any movie belonging to any language that can be included in the list, please let me know.
Read the stories of a few more inspirations and copies of Bollywood. Here is the page link. Click on the images to read.
(Visited 1,885 times, 1 visits today)