What's the difference between Biryani and Fried Rice?
Both biryani and fried rice are delicious dishes – vegetarian and non-vegetarian. It's popular among people all over the world. Both are prepared using basmati rice. But what's the difference between these two? Both these dishes are prepared in a unique way. That's the reason why they differ in tastes though used same rice, vegetables and meat. In Kerala, traditional Biryani in Mais made using Jeerakasala or Kaima rice, which is short and thin. But a few recipes use Basmati rice as usual.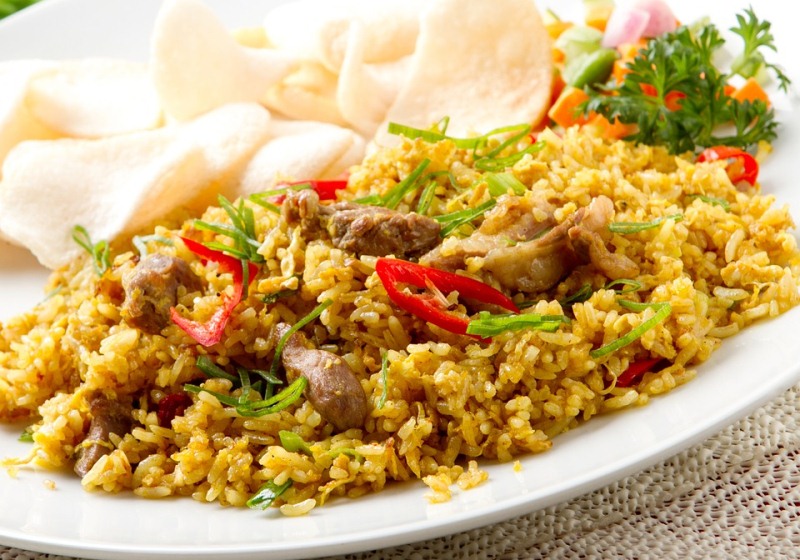 Fried rice has a Chinese flavour while biryani has sweet aroma of Indian spices. Though both uses pepper, green chillies, ginger, garlic and coriander leaves, all other ingredients are entirely different. Chinese add aginomoto to give extra flavours while colours and essences may be added to biryani to make them more attractive.
Difference lies in the preparation of Biryani and Fried Rice
Biryani also uses carrot, beans and green peas if you prefer so. Difference lies in the method how the rice is processed. In both the cases though rice is cooked adding sufficient water, steps differ later. In fried rice, rice is fried well in extra heat while in biryani, half-cooked rice is baked for half or one hour adding all the ingredients. So, biryani takes extra time for preparation. Biryani preparation is tedious too, and a simple mistake can ruin the whole dish. Usually gravy and rice are arranged in alternate layers before baking it. Layering is never a part of Chinese fried rice.
Fried rice never uses Indian spices while biryani gives importance to cinnamon, cloves, cardamom, fennel seeds and poppy seeds. Leeks, sesame, celery and spring onions are the highlights of fried rice while cashews, raisins and onions fried in ghee add extra flavours and decorations to biryani. Though different colours like yellow, red and green used to be added to biryani earlier, now unique colour (white or yellow) similar to fried rice is the latest trend. They are healthy as well.
A brief description of the preparation of Biryani and Fried Rice
Vegetables, leaves and nuts add extra flavour to both these items. In most cases, a combination of vegetable oil & ghee is used for preparing biryani while any vegetable oil is used in fried rice. In fried rice, all vegetables – green peas, carrot, beans, celery, leaks and spring onion are fried in high flame and then fried along with cooked rice and minced meat. You can fry eggs too, to add extra flavour. Serve them garnished with coriander leaves and along with sauces. Typical Chinese dish doesn't add coriander leaves, but include celery. In the case of biryani, baking process is to be conducted so that all masala flavours will be added to cooked rice. The process, I have explained above. When baking process is done, the aroma of spices, meat and mint blend well with rice. Serve them with boiled egg, raita, pickles and pappad.
Biryani differs from place to place according to the spices and vegetables added. If you want to know about a few biryani recipes, just visit my page, Biryani. I have added a few biryani recipes there – both vegetarian and non-vegetarian.
Image source: Pixabay
Read a few more interesting articles related to easy cooking. Here is the page link. Click on the images in the gallery to read
(Visited 2,961 times, 1 visits today)