Mohammed Rafi – The most versatile male playback voice of Hindi cinema
Mohammed Rafi (1924 – 1980) was a legendary playback singer associated with Indian cinema, who predominantly worked in Hindi cinema during 1940s-1980s. He was the top male playback singer during 1950s and 1960s, and also owned countless hit songs in the 1970s and a few hit songs of early 1980s, released posthumously. Mohammed Rafi's voice and songs own an integral space in Indian music and cinema, and also a unique place in the hearts of music fans who love old songs. Without any hesitation, any music fan who take music seriously can easily say, 'No doubt, he is the best and most talented male playback voice of Hindi cinema, and will always remain so'. The only singer who can at least challenge his singing talents among Indian voices is Lata Mangeshkar, and it is not possible to compare their talents and say, who is the best. He was so unique, in his voice and singing style, and also in character; truly a humble person down to earth who owned a big heart. That's why people used to say, "If God had a voice, it's surely Rafi's", and this one-liner is never superficial, that's what I feel.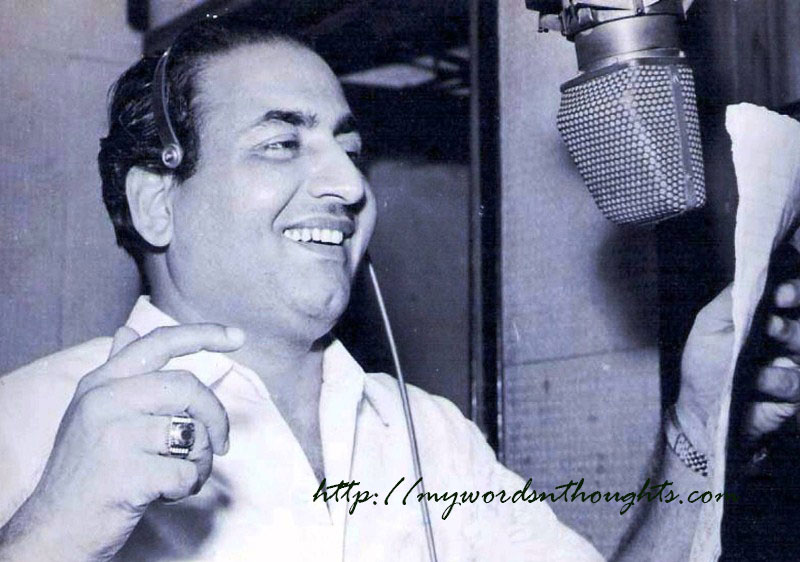 It's impossible to conclude the life and work of this all-time great singer in a few words or pages, we can describe only a few chapters about him (I surrender) and it's only a humble tribute of this die-hard Rafi fan to write a few words about him and his beautiful songs, on the occasion of his 39th death anniversary. Earlier too I made a few attempts, but stopped it in the middle as I failed to find enough words to describe his talent and songs, and couldn't justify my post. I am yet to add his top songs (It's like a deep blue ocean and not easy to pick a few pearls). Yet I have added a few posts about him. Go through Mohammed Rafi page to read. Hopefully I can add more posts about him after doing a little bit research about him. It's only my humble attempt, and I have just begun a journey with my favourite male playback singer of Bollywood.
Mohammed Rafi – Childhood and early years
Mohammed Rafi was born in present-day Amritsar, Punjab, and he belonged to a family of 6 siblings. He was second among them. The family later shifted to Lahore, where it owned saloon business. As a child he used to imitate chants of a fakir in his village. His singing talent was spotted by his elder brother's friend Mohammed Hameed, who encouraged him. He trained in classic music from Ustad Abdul Wahid Khan and some other greats. Hameed also took him to Mumbai in 1944, after convincing his parents, to look for an opportunity in singing and met many music composers. As he lived in a chawl those days, he used to wake up in the early morning at around 3.30 am and go to Marine Drive to practice singing. He gave his first public performance at the age of 13, in front of KL Saigal.
He sang his first film song at Lahore in 1941. It was a Punjabi duet with Zeenat Begum, 'Soniye Nee, Heeriye Nee'. "Aji Dil Ho Kaaboo Mein" for Gaon Ki Gori in 1945 marked his Hindi debut. Since then till year 1980, he recorded more than 7000 songs belonging to different languages. With late 1940s he rose to prominence as the leading male voice of Indian cinema, and 1950s and 1960s exclusively belong to him.
After Partition, he stayed back in India and his family too settled in Mumbai. Initially he mostly sang for Naushad in the 1940s and 1950s, and has also done chorus singing for the composer in the initial phase of his career. His voice got first noticed for the duet, Yahan Badla Wafa Ka with Noor Jahan from Jugnu (1947). It was followed by Suhani Raat Dhal Chuki for 1949 film, Dulari. Naushad's Baiju Bawra in 1953 gave him the biggest break and crowned him as the no: 1 singer of Bollywood. He has also made brief appearances in a few movies in late 1940s, and sang for chorus before he established his career.
Rafi's glorious years of 1950s and 1960s
After Indian Independence, Bollywood industry began its growing phase and it also established Rafi's career. All music composers of 1950s and later, preferred Rafi's voice for their male heroes, and Rafi too gave distinct marks while singing for different actors. Except Raj Kapoor, his voice was regularly used for Dev Anand and Dilip Kumar who were the biggest stars of 1950s and 1960s. He also played a magnificent role in establishing the career of several romantic heroes on Bollywood screen, and also redefined romance in true means. Actors like Shammi Kapoor, Rajendra Kapoor, Dev Anand (partially), Dilip Kumar, Guru Dutt (partially), Dharmendra, Joy Mukherjee, Sunil Dutt and Biswajeet were helped in a magnificent way in their professional career by Rafi songs, and most of those songs belong to romance genre.
He also rendered his voice for popular comedians – Johny Walker and Mehmood at numerous occasions, giving a unique twist in rendition. Needless to say, he could easily mould his voice and singing style into different characters on screen, and he has tried with every genre of music – Romance, Lok Geet/Folk, Pure Classical, Semi Classical, Western & Rock, Sad, Philosophical, Happy, Comedy and many more which he reinvented in Bollywood.
Among all music composers, his most popular songs were composed by Shankar Jaikishen, followed by Naushad, Roshan, Madan Mohan, S. D. Burman, O. P. Nayyar, Laxmikant-Pyarelal, Ravi and R. D. Burman. SJ-Shammi-Rafi trio gave some wonderful songs in the 1960s. They also remained the celebrated music cluster of the same period, till their glory started fading with the emergence of R. D. Burman – Kishore Kumar – Rajesh Khanna – Anand Bakshi post Aradhana release towards the end of the decade.
Downfall of Rafi's career in 1969 post Aradhana release
S. D. Burman wanted to record all songs of Khanna for Aradhana with Rafi, and he recorded two before he fall ill. He gave the responsibility to his son R. D. Burman, who experimented with Kishore Kumar's voice for already three assigned songs. It proved to be a major turning point of many artists of Hindi film industry, and virtually brought down the golden phase of Rafi. Among all the artists affected by Aradhana's success, Rafi was hit most, so were other romantic heroes of 1960s like Shammi Kapoor, Rajendra Kumar, Joy Mukherjee etc who had already passed their golden ages. Rafi was on a Hajj and started rejecting new projects (because someone told him singing is forbidden for their religion and it scared him) when Aradhana was released, and when he returned after 8 months everything was almost over. Initially he got less singing opportunities, but slowly started receiving more. (Alternate sources say, someone told those words when he was on a Hajj. Anyways he was on a tour, that's the truth).
Though he gave some wonderful songs in the 1970s as well, he couldn't bring back those glorious years. With the downfalls/deaths of some of the big composers such as SJ, S. D. Burman, Madan Mohan, Salil Chowdhury and O. P. Nayyar, Rafi's career also witnessed a major setback and entered a new phase. Yet in the 1970s, he gave some wonderful renditions for tunes composed by R. D. Burman and Laxmikant-Pyarelal, with whom he owns many hit songs in the 1960s as well. He was on a comeback path with the hit songs of Karz, Hum Kise Se Kum Nahi etc. It was so unexpected that he passed away due to heart attack in 1980, aged only 55. His funeral procession was attended by more than 10000 people, who cried out loud and were in a great shock with his sudden demise. 'Dard E Dil' was released only a few months before his demise, and many of his recorded songs were released posthumously. He recorded his last song for the film Aas Paas, and died soon after its recording.
He has wonderfully graced each and every emotion of human beings through his countless songs, and that's why he is so close to our hearts. His soulful music is enough to melt every soul. I just imagine how it would look like, if Rafi sang a few songs of 1980s and 1990s. Definitely we lost a golden opportunity to hear his songs for next two decades. Yes, we lost two great decades of Rafi, not only his, but also Mukesh and Kishore Kumar, who also witnessed the same fate to give up their lives so unexpectedly in their mid-50s due to massive heart attacks. Looks weird, but true!
Mohammed Rafi – Awards and nominations
He won 6 Filmfare awards from 21 nominations of which three songs were composed by Shankar-Jaikishen – "Teri Pyari Pyari Surat Ko", "Baharon Phool Barsao" and "Dil Ke Jharokhe Mein". He won his first Filmfare award for "Chaudhvin Ka Chand Ho" composed by Ravi. "Chahunga Main Tujhe" and "Kya Hua Tera Wada" are the rest two. 5 of these songs belong to 1960s. He won his single National award for "Kya Hua Tera Wada" (1977) composed by Pancham da. He was not nominated at Filmfare awards for the year 1967 – only once in the 1960s, and later for the years – 1971, 1972, 1975 and 1976.
Mohammed Rafi – 30+ Interesting and less-known facts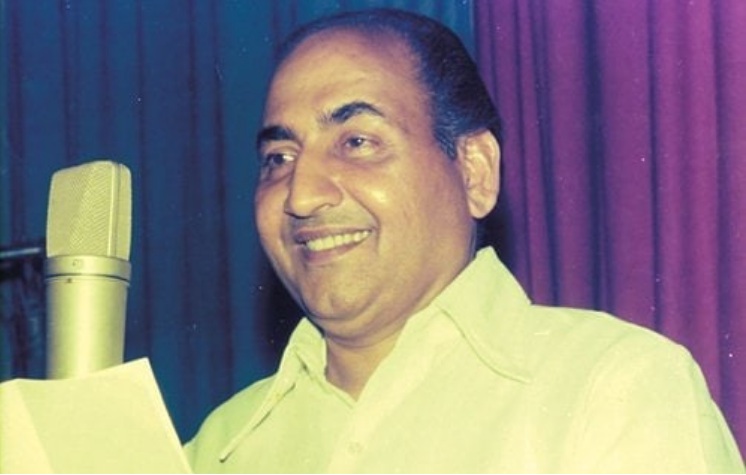 1. His nickname was Pheeko/Fico. He was called Fico in his house.
2. He received formal training in music from Ustad Abdul Wahid Khan and Ustad Bade Ghulam Ali Khan. As his father was against his career choice of singing, he kept his musical training as a secret.
3. He has sung as a chorus singer for Hindi films and appeared in brief roles for a few movies in the 1940s, when he was a newcomer to Bollywood cinema. He played a college boy in Jugnu (1947), the movie which gave him the first major break as a singer.
4. He owns 7,405 songs to his credit which includes 4,334 Hindi songs. Nearly 70 songs have no official LP records. Apart from Hindi, he has also done playback singing for a few Indian regional languages as well as foreign languages, which counts to around 162 songs.
5. Many believe Rafi owns more than 26000 songs to his credit, and that among all singers, he recorded maximum number of songs during his professional period. In an interview given to BBC in 1977, he claimed to have recorded 26K-27K songs till then. But this fact is yet to be proved.
6. There was a rift between Rafi and Lata always regarding total number of songs recorded, and he even wrote a letter to Guinness expressing his disappointment for giving the credits to Lata, a few months before his death. In 1984, Guinness officially gave the credit to Lata as "Most Recordings", citing Rafi's name along with it. However, both the entries were deleted in 1991. But two decades later, Asha Bhosle was given the title.
7. He had a child marriage at the age of 13 to his uncle's daughter. They got separated as his wife was not willing to accompany him in Mumbai following Partition and Rafi remarried later.
8. His second wife Bilquis was not interested in music, and never listened to his songs.
9. Rafi was voted for the Greatest Voice in Hindi Cinema in the CNN-IBN's poll in 2013. He was also honoured with "Best Singer of the Millennium" title in 2001.
10. Initially he was influenced by the singing styles of K. L. Saighal, whom he considers as his idol and also G. M. Durrani. But later he developed a style of his own.
11. A true humble person, he hated publicity and fame and avoided partying most. He always tried to avoid fans surrounding him, either it's a marriage function or anywhere else. His trademark smile owns something near to spirituality and it is still loved by millions.
12. After recording songs, he used to fly kites, which was his favourite hobby. He also loved carrom and badminton.
13. He recorded a total of 341 tracks for Shankar-Jaikishen which includes 216 solos.
14. Mohammed Rafi and singer Lata Mangeshkar had a difference in opinion related to royalty issues of songs. They never talked to each other for six years or recorded any duets together during this period. Asha Bhosle along with Suman Kalyanpur got benefited by this, and both went on to record maximum duets with Rafi in the mid & second half of 1960s. Asha holds the record of maximum duets with Rafi and Kishore Kumar, while her sister Lata recorded maximum songs with Mukesh.
15. Rafi believed that a singer should never ask for royalty once he is paid, which created a drift with his colleague, Lata Mangeshkar. When the singers vowed never to sing together, apart from Asha Bhosle, Suman Kalyapur also recorded a few duets with Rafi. It was Kalyanji-Anandji duo who broke the ice between the two.
16. Among male singers, he recorded maximum duets with Manna Dey.
17. O. P. Nayyar told at various occasions that he would have never achieved this much success without Rafi.
18. Naushad has once told a press reporter that a playback singer needs 7 essential qualities, while Rafi possessed an eighth one which is too rare. 'He is a good person without any ego' – that's what Naushad added as his 8th quality. In fact Rafi's early hits are credited to Naushad as well, who played an important role in grooming his career.
19. He was honoured with Padma Shri by the Government of India in 1967. He was honoured with a silver medal by then Prime Minister Jawaharlal Nehru after Rafi gave a tribute to Mahatma Gandhi in the form of rendition, "Suno Suno Ae Duniyawalon" soon after his assassination. He was personally invited by Nehru to present this song at his residence.
20. The iconic song, Babul Ki Duaein Leti Jaa of Neel Kamal was recorded two days after the marriage of his daughter. Though he didn't cry during the parting time of wedding, he cried a lot while recording the song.
21. He exactly knew how Shammi Kapoor would act in that song and prepared accordingly for its recordings. Needless to say, his songs with Shammi Kapoor gained immense popularity among the others. More than 90% of hit Shammi Kapoor songs exclusively belongs to Rafi.
22. Since early days, he insisted to see the actor for whom he is to do playback, studied his body language as well as dialogue delivery style, which attributed a lot to his perfectness in synchronizing his voice with the actor. He modulated his voice accordingly. During initial days, he rejected all singing hero offers which was a trend then, and concentrated on singing only, though he made a very few screen appearances.
23. His career witnessed a sudden fall soon after R. D. Burman re-introduced Kishore Kumar to Hindi cinema. Just like the end of golden decade of Hindi cinema (1960s), Rafi's glorious years came to a halt.
24. Ever since Kishore Kumar emerged as the most celebrated male singer of Bollywood, music fans always divided in opinions about who is the best, Rafi or Kishore? Truth is that as a singer and a true professional, Kishore has always admired Rafi and himself admitted that Rafi was most talented, especially in singing classical based songs.
25. Rafi has rendered his voice for Kishore Kumar in Shararat, Baagi Shehzaada, Pyar Deewana and Ragini in the 1950s, when Kishore Kumar played lead roles on screen. Years later, Tum Bin Jao Kaha from Pyar Ka Mausam was recorded in the voices of both these singers for two different screen characters.
26. Most of us relate songs of Aradhana with Kishore Kumar. But there is one Telugu super hit film with the same title released in 1976. It was a remake of Rajendra Kumar's 1970 super hit film, Geet with wonderful songs composed by Kalyanji-Anandji. Interestingly out of the 7 tracks of the album, Rafi sang 5 of them. Even the original tunes of 'Mere Mitwa' (sung by Rafi and Lata) and 'Tere Naina Kyon Bhar Aaye' (with modifications) were retained, and Rafi sang its Telugu versions – 'Naa Madi Ninnu Pilachindi' and 'Neekaela Intha Niraasa' respectively. Male version of Tere Naina Kyon Bhar Aaye was originally sung by Mahendra Kapoor.
27. He used to play badminton with Naushad, Yusufsaab and Anand Bakshi at Bandra Gymkhana during his last years.
28. None of his family members joined film industry, and his kids never accompanied him for recordings. He gave full freedom for their career choices, and also felt that if they join films, they should perform better than him.
29. Following heart attack, as insisted by Rafi, he was taken to National Hospital in Mahim in his car instead of calling an ambulance. The hospital didn't have pacemaker and on the way to Bombay hospital, he had three more heart attacks. Though a pacemaker was installed after being rushed to the hospital, he died within 5 minutes.
30. It was a rainy day in Mumbai at the time of his funeral procession. Yet more than 10,000 people attended it. The recording of the procession was later used in a movie. Two-day public mourning was announced by Indian government in his honour due to his popularity.
31. Bollywood music lost all the three great legends among male voices within a time period of around a decade. Mukesh was the first to go in 1976, followed by Rafi in 1980 and Kishore Kumar in 1987. The strangest thing is that all the three were fully engaged in professional life and died in their mid-50s, and most weird is that all the three died of heart attack. All the three were witnessing a rough phase of their respective careers when they left the world, and were marking a comeback through a few hit songs released a few months before decease.
32. In 2010, tombs of Mohammed Rafi, Madhubala and a few more celebrities at Juhi Muslim cemetery were demolished to provide space for new bodies. It invited a lot of controversies, as Rafi fans used to visit his tomb twice a year on his birth and death anniversary to pay homage, and the process was carried out without informing relatives. Tombs of Naushad and Sahir Ludhianvi too were disposed. Now Rafi fans locate the coconut tree closest to Rafi's grave to pay their homage.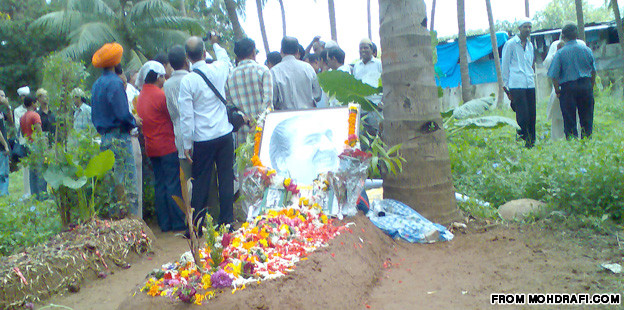 33. Shammi Kapoor had told several times that as an artist, he would have been incomplete without Rafi.
34. Rafi has rendered his voice for one Malayalam movie, Thaliritta Kinakkal (1980) just before his death. But it was not for a Malayalam song, but for a Hindi song, with lyrics 'Shabab Leke Woh'. Interestingly the song was not filmed on a mainstream hero, but on comedy actor Pappu alongside Adoor Bhavani as a dream sequence with comic touch. A Malayalam song in Rafi voice didn't materialize because of his premature death and also because the singer was not willing to sing a Malayalam song without fully learning its meaning. He needed a few weeks. By that time, he shocked the cine world with his sudden death, just one month after the release of this particular Hindi song.
35. Bengali cinema's biggest star Uttam Kumar died just 1 week before the death of Rafi. Matinee idol passed away on 24 July 1980, Thursday at a hospital at the age of 53 following a massive stroke while shooting for a movie. Exactly on the next Thursday, 31st July Rafi passed away following a heart attack, shocking his fans across the world.
36. And last, but not the least – Only a few know that 'Yahoo' phrase of iconic Yahoo song from Junglee was originally sung by Prayag Raj, but it shot both Shammi Ji and Rafi to instant fame. Most of us still believe it to be the voice of Rafi. Prayag Raj was in the Prithvi theatre, a writer.
Meri Awaaz Suno! Some of the best Bollywood songs of Mohammed Rafi
Since early childhood I grew up listening to Rafi songs. Though he rendered his voice for almost all lead heroes of 1950s and 1960s, his voice, style and modulation for Shammi Kapoor attracted me most. It's hard to imagine Bollywood songs without Shammi Kapoor-Rafi songs, isn't it? So, my vote for best hero-male voice combo goes to them. I have listed a few, and read it here. I also loved Rafi singing for Rajendra Kumar right from childhood (read it here).
Though Biswajit and Joy Mukherjee are not considered great actors, both were lucky enough to lip-sync a few of his amazing romantic songs. I have listed best Biswajit songs here. Then comes some of the evergreen songs filmed on Dilip Kumar, Dev Anand, Dharmendra, Manoj Kumar, Pradeep Kumar, Shashi Kapoor and Sunil Dutt. They all form my list of favourite Rafi songs. What to say more, he was the first choice of legendary composers like Shankar-Jaikishen, Madan Mohan, Laxmikant-Pyarelal, O. P. Nayyar, Naushad, Roshan, Salil Choudhary etc. Here I list some of my most favourite Rafi songs (Actually I can list more than 200 or 300 here, especially from 1960s with 80% Shammi tracks included) and I may miss a few. As I am addicted to Shammi Kapoor songs, I may exclude many good songs. Also my song choices are predominantly from 1960s. Excuses!
1. Sau Baar Janam from Ustadon Ke Ustad
2. Tumne Mujhe Dekha from Teesri Manzil
3. Aaja Aaja from Teesri Manzil
4. Deewana Mujhsa Nahin from Teesri Manzil
5. O Haseena from Teesri Manzil
6. O Mere Sona Re from Teesri Manzil
7. Pukarta Chala Hoon Mein from Mere Sanam
8. Aaja Re Aa Zara from Love in Tokyo
9. Oh Mere Shahe-Khuban from Love in Tokyo
10. Zameen Se Hamen Aasmaan Par from Adalat
11. Chahe Mujhe Koi from Junglee
12. Ehsaan Tera Hoga from Junglee
13. Din Saara Guzara from Junglee
14. Deewana Hua Badal from Kashmir Ki Kali
15. Hai Duniya Use Ki from Kashmir Ki Kali
16. Yeh Chand Sa Roshan Chehra from Kashmir Ki Kali
17. Ni Sultana Re from Pyar Ka Mausam
18. Tum Bin Jaon Kaha from Pyar Ka Mausam
19. O Duniya Ke Rakhwale from Baiju Bawra
20. Man Tarpat Hari Darshan from Baiju Bawra
21. Tu Ganga Ki Mauj from Baiju Bawra
22. Aanchal Mein Saja Lena Kaliyan from Phir Wohi Dil Laaya Hoon
23. Yeh Parbaton Ke from Vaasna
24. Woh Hai Zara Hafa from Shagird
25. Badan Pe Sitare from Prince
26. Gunguna Rahi Hai from Aradhana
27. Baagon Mein Bahar from Aradhana
28. Aaj Mausam Bada Beimaan Hai from Loafer
29. Hui Sham Unka Khayal Aa Gaya from Mere Hamdam Mere Dost
30. Na Jaa Kahi Ab from Mere Hamdam Mere Dost
31. Abhi Na Jao Chodkar from Hum Dono
32. Dil Ka Bhawar from Tere Ghar Ke Samne
33. Tum Jo Mil Gaye Ho from Hanste Zakhm
34. Tumse Acha Kaun Hai from Janwar
35. Meri Mohabbat from Janwar
36. Bekhudi Mein Sanam from Haseena Maan Jaayegi
37. Baharon Phool Barsao from Suraj
38. Ye Mera Prem Patra Padhkar from Sangham
39. Aap Ke Haseen Rukh Pe from Baharein Phir Phi Aayegi
40. Chura Liya Hai from Yaadon Ke Barat
41. Yaadon Ke Barat from Yaadon Ke Barat
42. Gulabi Aankhein from The Train
43. Tujhe Pyar Karte Hain from April Fool
44. Aa Gale Lag Jaa from April Fool
45. Bahut Sukriya from Ek Musafir Ek Haseena
46. Aap Yuhi Agar from Ek Musafir Ek Haseena
47. Mein Pyar Ka Rahi from Ek Musafir Ek Haseena
48. Uthar Tum Haseen Ho from Mr and Mrs. 55
49. Tere Paas Aa Ke Mera Waqt from Neela Akash
50. Phir Milogi Kabhi from Yeh Raat Phir Na Aayegi
51. Yeh Reshmi Zulfein from Do Raaste
52. Chup Jaye Saare Nazare from Do Raaste
53.Ye Duniya Agar Mil Bhi Jaye from Pyaasa
54. Yeh Ladka Hai Allah Kaisa Hai from Hum Kisise Kum Naheen
55. Kya Hua Tera Wada from Hum Kisise Kum Nahin
56. Hai Agar Dushman from Hum Kisise Kum Nahin
57. Kya Se Kya Ho Gaya from Guide
58. Din Dhal Jaaye from Guide
59. Tere Mere Sapne from Guide
60. Title track from Aap Aye Bahaar Ayee
61. Patta Patta Boota Boota from Ek Nazar
62. Ab Kya Misaal Doon from Aarti
63. Aap Ne Yaad Kiya from Aarti
64. Raat Suhani Jaag Rahi Hai from Jigri Dost
65. Dil Mein Kya Hai from Jigri Dost
66. Oh My Love from Night In London
67. Baa Hosh from Night in London
68. Jaane Bahaar Husn Tera Bemisaal Hai from Pyaar Kiya To Darna Kya
69. Mere Mehboob Tujhe from Mere Mehboob
70. E Husn Zara Jaag from Mere Mehboob
71. Main Nigahen Tere from Aap Ki Parchhaiyan
72. Yuhi Tum Mujhse Baat Karte Ho from Saccha Jhoota
73. Tum Mujhe Yu Bhula Na Paoge from Pagla Kahin Ka
74. Kabhi Humne Nahi from Tumse Acha Kaun Hai
75. Aise To Na Dekho from Teen Deviyaan
76. Tere Ghar Ke Samne from Tere Ghar Ke Samne
77. Tumne Kise Ke Jaan Ko from Rajkumar
78. Tumne Pukara Aur from Rajkumar
79. Is Rang Badalti Duniya Mein from Rajkumar
80. Aye Gulbadan from Professor
81. Khuli Palak from Professor
82. Main Chali Main Chali from Professor
83. Aawaz Deke Humein Tum Bulao from Professor
84. Meri Zindagi Me Aate To Kuch Aur Baat Hoti from Kanyadan
85. Dil Pukare from Jewel Thief
86. Tere Bin Soone Nain Hamare from Meri Surat Teri Ankhen
87. Teri Bindiya Re from Abhimaan
88. Title track of Chaudhvin Ka Chand
89. Gar Tum Bhula from Yakein
90. Jaane Chaman Shola Badan from Gumnaam
91. Yeh Dil Tum Bin from Izzat
92. E Phoolon Ki Rani from Arzoo
93. Ajee Humse Bachkar from Arzoo
94. Chahunga Main Tujhe from Dosti
95. Zindagi Bhar Nahi from Barsaat Ki Raat
96. Jhilmil Sitaron Ka from Jeevan Mrithyu
97. Mera Mann Tera Pyasa from Gambler
98. Teree Galiyon Mein Na Rakhenge Qadam from Hawas
99. Pardah Hai Pardah from Amar Akbar Anthony
100. Janu Meri Jaan from Shaan
101. Akele Akele from An Evening In Paris
102. Raat Ke Hamsafar from An Evening In Paris
103. Ude Jab Jab Zulfe from Naya Daur
104. Madhupan Mein Radhika from Kohinoor
105. Saaz Ho Tum from Saaz Aur Awaaz
106. Babul Ki Duwayein from Neel Kamal
107. Tujhko Pukare from Neel Kamal
108. Woh Jab Yaad Aaye from Parasmani
109. Salamat Raho from Parasmani
110. Dil Kahe Rukh Jaa from Man Ki Ankhein
111. Dard-E-Dil from Karz
112. Rang Aur Noor Ki Baraat Kise Pesh Karoon from Ghazal
113. Yun Rootho Na Haseena Meri from Neend Hamari Khwab Tumhare
114. Hum Aur Tum Aur Yeh Sama from Dil Deke Dekho
115. Na Rooto Na from Jawa Mohabbat
116. Nazar Bachakar from Dil Tera Deewana
117. Mujhe Kitna Pyar Hai Tumse from Dil Tera Deewana
118. Ai Dil Hai Mushkil from CID
119. Yaad Na Jaye Beete Dinon Ki from Dil Ek Mandir
120. Waada Karle Saajna from Haat Ki Safai
121. Dil Ki Aawaaz Bhi Sun Mere Fasaane Pe Na Jaa Do from Humsaya
122. Waadiyan Mere Daman from Abhilasha
123. Thehriye Hosh Mein Aa Loon from Mohabbat Isko Kahete Hain
124. Likhe Jo Hath Tujhe from Kanyadaan
125. Ek Haseen Shyam Ko from Dulhan Ek Raat Ki
126. Zara Samne To Aao from Janam Janam Ke Phere
127. Dheere Dheere Chal from Love Marriage
128. Laagi Chute Na from Kali Topi Lal Rumaal
129. Dheere Chal from Boyfriend
130. Chalo Dildar Chalo from Pakeezah
131. Jo Wada Kiya Woh from Taj Mahal
132. Paon Choolene Do from Taj Mahal
133. Choo Le Ne Do from Kaajal
134. Sau Saal Pehle from Jab Pyar Kise Se Hota Hai
135. Teri Zulfon Se Judai to Nahi of Jab Kisise Pyar Hota Hai
136. Chale The Saat Milkar from Haseena Maan Jayegi
137. Kitna Pyara Wada from Caravan
138. Khoya Khoya Chand from Kaala Baazar
139. Uparwale Jaankar Anjaan Hai from Kaala Baazar
140. Hum Bekhudi Mein Tumko from Kaala Baazar
141. Aap Ke Pahloo Mein from Mera Saaya
142. Mere Dushman from Aaye Din Bahar Ke
143. Dil Jo Na Keh Saka from Bheegi Raat
144. Hai Re Hai from Humjoli
145. Dhal Gaya Din Ho Gayi Sham from Hamjoli
146. Acha Jee Mein Haari from Kalapani
147. Aajkal Tere Mere from Brahmachari
148. Dil Ke Jharoke Mein from Brahmachari
149. Pal Do Pal Ka from The Burning Train
150. Tasveer Teri Dil Mein from Maya
151. Chhadi Re Chhadi from Mausam
152. Tum To Pyar Ho from Sehra
153. Nain Ladte Hain from Ganga Jamuna
154. Aaj Ki Raat Mere Dil Ki Salaami from Ram Aur Shyam
155. Mila Na Phool To Kaanton Se from Anokhi Raat
156. Muskurati Hui Ek Husn Ki Tasveer from Daman Aur Aag
157. Aur Kuch Der Takar from Aakri Khat
158. Dafliwale Dafli from Sargam
159. Phir Aane Lagaa Yaad from Yeh Dil Kisko Doon
My filter for 10 of my most favourite songs of Rafi
It depends on personal choices only. Every Rafi fan has his own set of song collections, which may never match with the choices of others. Great news is, for every mood and human emotions, Rafi owns a huge collection of songs, and we can't predict which mood and songs influence a particular fan most.
1. Aa Ja Re Aa Zara Aa from Love in Tokyo
2. Sau Baar Janam from Ustadon Ke Ustad
3. Tumne Mujhe Dekha & Deewana Mujhsa Nahin from Teesri Manzil
4. Aye Gulbadan from Professor
5. Pukarta Chala Hoon Mein from Mere Sanam
6. Ehsaan Tera Hoga from Junglee
7. Aap Ke Haseen Rukh Pe from Baharein Phir Phi Aayegi
8. Yeh Parbaton Ke from Vaasna
9. Tum Jo Mil Gaye Ho from Hanste Zakhm
10. Abhi Na Jao Chodkar from Hum Dono
Woh Hai Zara Hafa from Shagird, Bahut Sukriya from Ek Musafir Ek Haseena, Ni Sultana Re from Pyar Ka Mausam, Aa Gale Lag Jaa from April Fool, Badan Pe Sitare from Prince, Dil Ke Jaroke from Brahmachari, Gunguna Rahi Hai from Aradhana, Chura Liya Hai from Yaadon Ke Baarat, Ajee Humse Bachkar from Arzoo etc always belong to my playlist. The list is never ending. He was a master, who moulds his voice and singing style perfectly with the actor for whom he renders his voice, and we can easily distinguish the difference, and decode, for whomever he is singing. Just close your eyes and listen carefully. Big Salutes!
Also go through the gallery to read a few more articles about Rafi
(Visited 801 times, 1 visits today)