Bollywood's 75+ Amazing Facts – Surprising but true!
In terms of output, Indian cinema produces maximum number of films every year, comparing with other film industries, and it includes numerous language films and a huge bunch of actors and technicians. It's the biggest film industry in the world with approximately 2.7 billion tickets bought every year, highest in the world. Indian film industry produces almost double number of films, if compared with Hollywood in 24 languages or more. Among all Indian language films, Bollywood is the most expensive and popular one. Definitely it owns many amazing facts and records also.

Do you know Bollywood is a few years older than Hollywood? Through this post, I would like to collect some of the interesting facts of Hindi cinema, with decades old History. Hope you will enjoy. I shall add more facts as I come across more. Perhaps I may add as a new post. I have divided the facts into different sections for easy reference. Hope you will like and give reviews. Read the second part of this topic here.
Bollywood interesting facts related to Bollywood actors
1. Only in rare occasions have actors appeared in remakes, where both versions are made in Hindi. Dharmendra played lead role in hit film, Mera Gaon Mera Desh (1971), which was remade as Sholay (1975). He reprised his lead role while Amitabh Bachchan was also introduced. Vinod Khanna's Jabbar Singh role was reprised by Amjad Khan in the remake. Both the films were box office hits. Read in detail.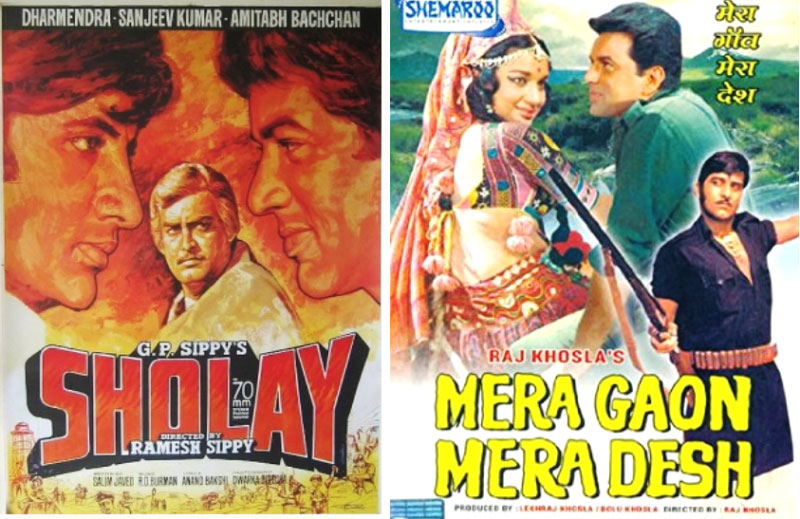 2. Shah Rukh Khan is one of the rare breed of actors, who established his career through a series of grey/negative shaded roles like Baazigar, Darr and Anjaam. Actors like Shatrughan Sinha and Vinod Khanna started off as villains before establishing themselves as the successful heroes of Bollywood. Same is the case of Rajinikanth in Tamil cinema and Mohanlal in Malayalam cinema, who started off as villains in a series of movies.
3. Marked his screen debut with Jeevan Naiya in 1936, Ashok Kumar has the highest Bollywood career in lead role. He has acted for long 63 years.
4. Rajesh Khanna played a cancer patient in two of his most memorable films – Anand and Safar. Years later he died of the same disease aged 69. Strange, but true.
5. A few actors like Shahid Kapoor, Diya Mirza, Kajal Aggarwal, Sadhana Shivdasani and Sushant Rajput Singh have started their professional career as background dancer, while Akshay Kumar has worked as an extra. In fact Deepika Padukone has appeared as a background model during her modelling days, same is the case of Anushka Sharma who has featured in ads in less significant roles. Read more.
Bollywood interesting facts related to Bollywood actresses
1. Lalita Pawar had 7 decades of acting experience in Bollywood with more than 700 films to her credit, highest among all actresses. Action hero Paidi Jairaj of yesterdays also owns 7 decades of acting history in Bollywood.
2. Katrina Kaif's first three blockbuster hits after a series of flops – Namaste London, Singh is Kingg and Ajab Prem Ki Gazab Kahani share the same story thread. All the three movies have a second lead actor as boyfriend while our hero loves her dearly and loves to sacrifice everything, and gets her on the wedding day so unexpectedly. Two of those films share same actor – Akshay Kumar. Read more: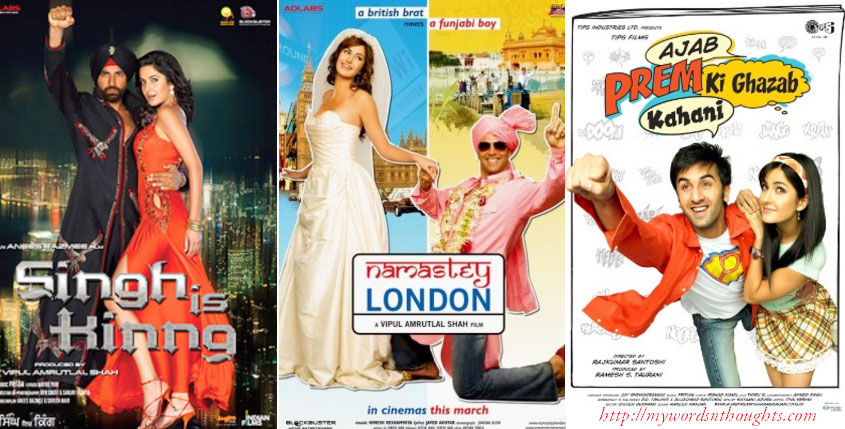 3. Teenager Dimple Kapadia married superstar Rajesh Khanna at the age of 16 before the release of her debut flick, Bobby and took a break from acting. But the movie became a huge hit and she became a sex symbol. She returned to screen after a hiatus of 12 years and had a successful innings.
4. Nargis Dutt passed away 4 days before the release of her son Sanjay Dutt's debut flick Rocky. Sridevi passed away a few months before the screen debut of her daughter Jhanvi Kapoor through Dhadak, and both these films were box office hits.
5. Vidya Balan is the only actor/actress from Bollywood to receive national award for best actor/actress for portraying a real-life actor/actress onscreen. She portrayed Silk Smitha on screen and won the award for Dirty Picture, released in 2011. Keerthy Suresh is the only actor/actress to receive the same for a second time in 2019, though she doesn't belong to Bollywood. Keerthy essayed top south Indian actress Savithri on screen through 2018 Tamil/Telugu bilingual, Mahanadi. Interestingly no other male actor has won the same for portraying a film actor.
6. 'Yeh Hai Reshmi Zulfein' from 1965 film 'Mere Sanam' was the first noticed song of mainstream Bollywood cinema for actress Mumtaz, who was only a B-grade actress then. A few years later, Do Raaste in 1969 established her as a leading mainstream heroine, and the movie also included a song with almost the same lyrics featuring Mumtaz, Yeh Reshmi Zulfein.
7. Actress Asha Parekh was born on October 2, and hence she shares her birthday with another Gujaratian, Mahatma Gandhi and also Lal Bahadur Shastri.
8. Popular actress Rakhee Gulzar was born exactly on the Independence Day in 1947.
9. Kareena Kapoor was initially casted opposite Hrithik Roshan in 'Kaho Na Pyar Hai', which was meant to be her screen debut too. After shooting a few sequences, she opted out. But she appears in one of the brief shots of the movie, which was not edited out.
Interesting facts related to Bollywood Music – Old Era
1. Mohammed Rafi has worked as a chorus singer during his initial days in Hindi cinema in the 1940s.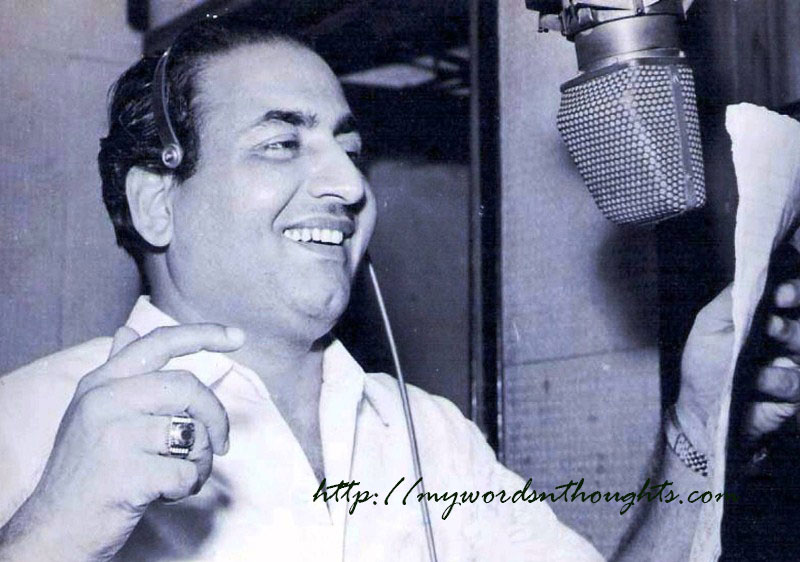 2. The big three legends among male playback voices of Bollywood – Mohammed Rafi, Kishore Kumar and Mukesh lost their lives in their mid 50s, when they were going through a down phase in their respective careers, and waiting for a major comeback. Interestingly all of them died of heart attack, within a time period of 11 years (from 1976 to 1987). Mukesh died in 1976 at the age of 53, followed by Rafi in 1980 aged 55 and Kishore Kumar in 1987 aged 58. Just before their deaths, Mukesh got a major break through Kabhi Kabhi, Rafi through Karz and Kishore Kumar through Mr. India, which could have propelled their respective careers.
3. 1932 Hindi movie, Indra Sabha holds the record of maximum number of songs. The total count of songs is 70, an unbroken record even after decades. Among present-generation movies, Hum Aapke Hain Kaun (1994) and Rockstar (2011) both with 14 hit songs is the highest.
4. Though R. D. Burman's music and his combination songs with Kishore Kumar virtually brought down the career of Mohammed Rafi, the legendary singer earned his single National award for best playback singer for a composition of Pancham da – Kya Hua Tera Wada. Interestingly Kishore Kumar has never won a National award.
5. Lata Mangeshkar's iconic romantic song, 'Pyar Kiya To Darna Kya' was recorded in the studio bathroom to provide the reverberation of sound.
6. The hit song, 'Kaaton Se Kheench Ke' from Guide opens with Antara instead of Mukda, which is indeed unique. Waheeda Rehman is seen wearing her sandals along with anklets (Ghungroo) which is not commonly seen in films or real dance performances.
7. Before Aradhana, Kishore Kumar predominantly sang for himself, except a few songs for Dev Anand and others. His supporting role in Padosan became a precursor to his full-fledged career as a playback singer. Just like the success of the film, his resurgence as a playback singer too was a huge hit.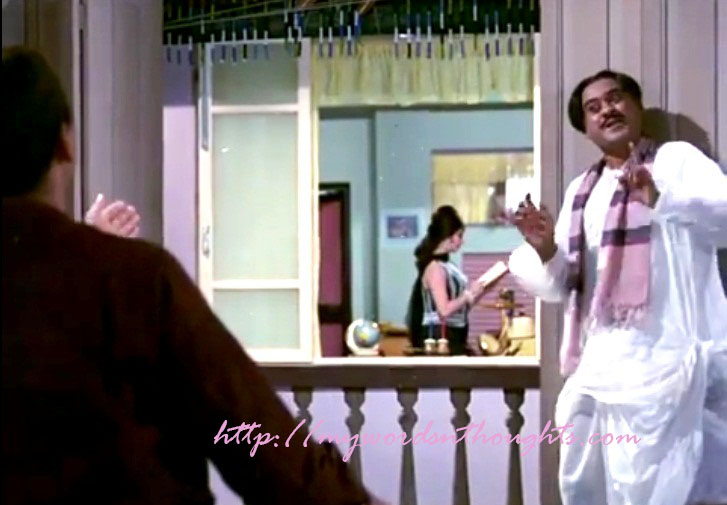 8. Five hit songs of Karz (1980) later inspired movie makers to coin film title for their movies. Dard-e-Dil song was used to coin the flop movies – Dard-e-Dil and Aashiq Banaya Aapne. Om Shanti Om and Ek Haseena Thi got noticed while Paisa Ye Paisa and Main Solah Baras Ki flopped.
9. There is one film Phir Kab Milogi (1974) starring Biswajit and Mala Sinha, music composed by Pancham da. It included a sad solo of Lata Mangeshkar – Tum Mujhe Roothe Ho filmed on the lead pair. Biswajit is seen playing a violin, and the intro tune is exactly the same – Kya Hua Tera Wada, which was later used the composer for Hum Kisise Kum Nahin. The song gave the single National award to Rafi and also the last Filmfare award.
10. Poornima (Sushma Shreshta) holds the rare record at Filmfare awards for being nominated as a child artist twice in singing category, and is the youngest nominee too (shares the record with Master Vignesh from male category) at the age of 11. Though she was fully active in the 1990s she has never been nominated as an adult singer and has never won a Filmfare award.
11. Though O. P. Nayyar remained a celebrated music composer of 1960s giving numerous hit songs to Rafi and Asha, he was never nominated at Filmfare nominations in the decade. He has been nominated thrice in the late 1950s, and won it once for 'Naya Daur' only, throughout his career.
12. The movie Junglee (1961) included a popular track, Kashmir Ki Kali pictured on Shammi Kapoor and Saira Banu. Three years later when Bengali actress Sharmila Tagore was launched to Hindi cinema, this particular song was used to coin the title – Kashmir Ki Kali. Interestingly Shammi Kapoor played male lead this time too, and both the films with debutante actresses were commercial hits.
13. Meena Kumari, Pradeep Kumar & Ashok Kumar worked in a string of love triangles with same plot in the 1960s – Aarti, Bheegi Raat, Begu Begam & Chitralekha. Strange but true! More surprising is Roshan composed music for all these 4 films for different production houses.
14. The iconic and immensely popular romantic song – Kabhi Kabhi composed by Khayyam was a simplified version of Sahir Ludhianvi's Urdu poem taken from his collection Talkhiyan. In fact Khayyam has originally composed this poem for a 1950 movie directed by Chetan Anand, and recorded the song in the voices of Geeta Dutt and Sudha Malhotra. But the song was never released.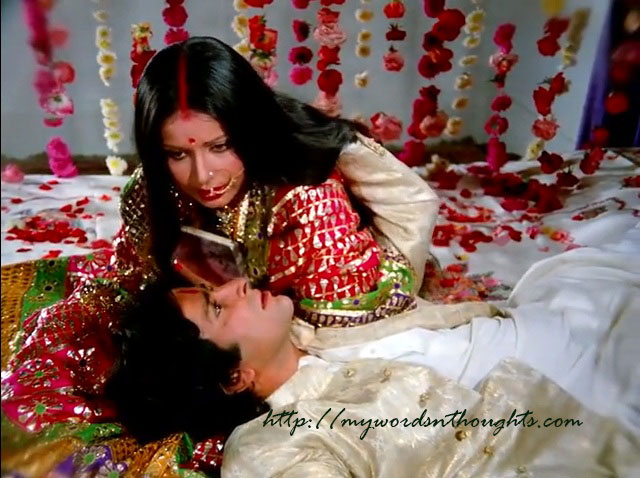 Interesting facts related to Bollywood Music – New Era
1. The title track of Ab Tumhare Hawale Watan Saathiyo with 15 minutes duration is the lengthiest Bollywood song.
2. In 1993 Kumar Sanu recorded 18 songs in a single day, a record still to be broken.
3. In 2011 Asha Bhosle's name was entered into Guinness Book of World Records as the most recorded artist in music history.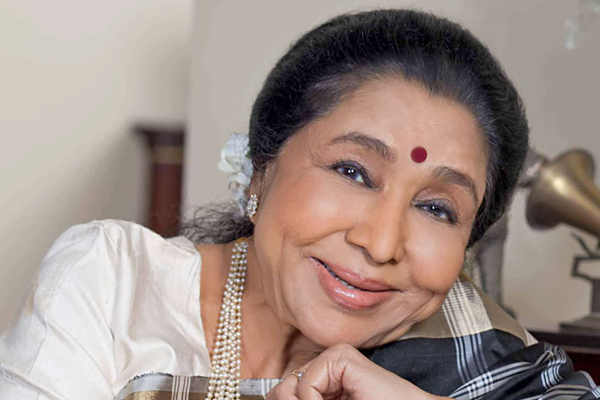 4. "Tamma Tamma" from Thanedar (1990) and "Jhumma Chumma" from Hum (1991) have the same tunes and were released almost at the same time. Same is the case of "Nazarein Mili" of Raja and "Dhola Dhola" of Baazi, both released in 1995.
5. Similarly the popular track of Nusrat Fateh Ali Khan, Mein Yaar Yaar has been used multiple times in Bollywood cinema. The song was used in Bal Brahmachari as "Nazrein Ladgaiya" (Mein yar yar Kehna) and "Ankhein Yu Ladti Hai ("Yeh Pyar Pyar Kya Hai"), interestingly both in 1996 as dance sequences, and also the female voice is same – Kavita Krishnamurty. Two decades later the song was reused in Shah Rukh Khan starrer Zero in 2018 as 'Tanha Hua' (Mein Baar Baar Tanha), recorded in the voice of Rahat Fateh Ali Khan.
6. Final selection of film titles of critically acclaimed and commercially successful films, Omkara and Jab We Met were done by movie fans.
7. Sameer Anjaan has been officially recognized as the most prolific Bollywood lyricist with maximum number of written songs by Guinness World Records. He has penned more than 3500 Bollywood songs.
Some of the first landmark films and ideas introduced to Bollywood
1. Kismet (1943) with Ashok Kumar in a double role was the first blockbuster of Indian/Hindi cinema. it was the first movie to get 1 crore collection at box office, which was a huge amount in the pre-independent era. It was also for the first time a lead actor played anti-hero too, which was only a new idea then. Not ending here, it was the first mainstream Bollywood film, which introduced 'Lost & Found' family theme.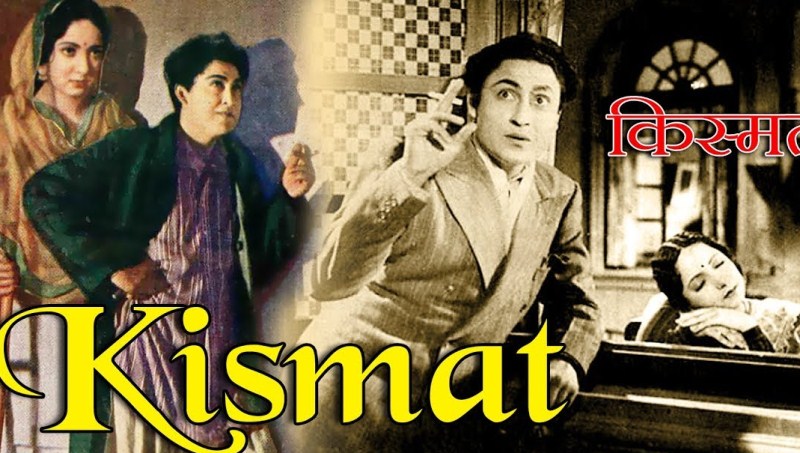 2. Mahal (1949) directed by Kamal Amrohi starring Madhubala and Ashok Kumar was the first suspense thriller made in India.
3. The idea of playback system came into prominence only in 1949 with the emergence of playback singers (Lata Mangeshkar through Mahal and Mohd. Rafi through Dulari. Till then singing actors ruled the screen. Yet Rai Chand Boral's 'Dhoop Chaon' in 1935 was the first film which experimented with playback singing.
4. Do Bigha Zamin (1953) was the first film to win the Filmfare Best Movie Award and the first Indian film to win the International Prize at the Cannes Film Festival. Debaki Bose's Seeta (1934) was the first film to receive an international award.
5. Neecha Nagar (1946) was the first Indian film to gain recognition at the Cannes Film Festival, and the only Indian film to be ever awarded a Palme d'Or.
6. Awara Shehzada (1933) was the first Indian film to introduce double roles on silver screen.
7. The first dream sequence was filmed in the movie, Awara (1951), with the triplet – Ghar aya mera pardesi, Yeh nahin hai and Naiyya meri majdhar. Raj Kapoor and Nargis became the first Indian international stars after the film release in Soviet Union, China and many other countries.
8. Mother India (1957) was the first Indian film to be nominated at Oscars in Foreign Film Category, and it lost the trophy by just 1 vote. Till now from 4 nominations, India is yet to receive an award.
9. Sangam was the first Bollywood film to have two intervals, and the second and last one was Mera Naam Joker, and both the movies belong to Raj Kapoor. Original version of Sangam had a duration of 3 hours 58 minutes, while Mera Naam Joker was 4 hours 15 minutes long.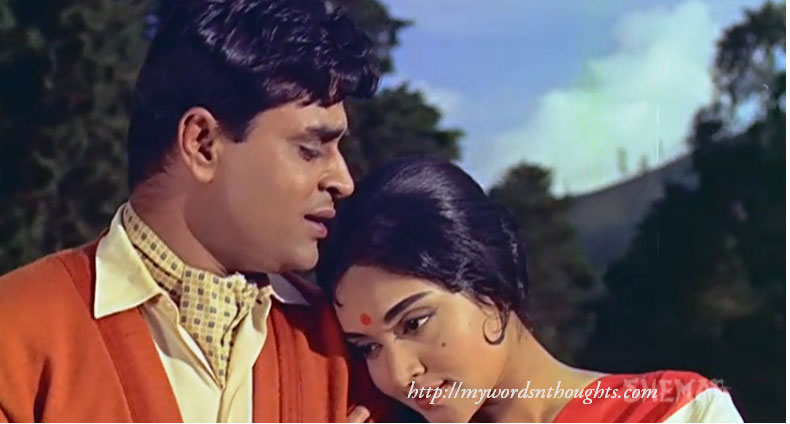 10. Kaagaz Ka Phool (1959) was the first Indian cinemascope film. But against Guru Dutt's expectations, the film was a big flop which completely disheartened him. Totally broken Guru Dutt couldn't get out of it. However the film achieved cult classic status years after his suicide.
11. Around The World (1967) starring Raj Kapoor and Rajshree was India's first film to be released in 70 mm. Rajshree met her future husband during the film shooting at US.
12. The sizzling, "Roop tera mastana…" of Aradhana featuring Sharmila Tagore and Rajesh Khanna was the first Bollywood song to be filmed in a single take without any cut. The song lasted more than three minutes and 30 seconds. The lead actress believes that it was because of time constraints, the song was shot in a single sequence. The song was shot thrice, from which one version was selected. Read 50+ interesting facts from Aradhana movie and its songs.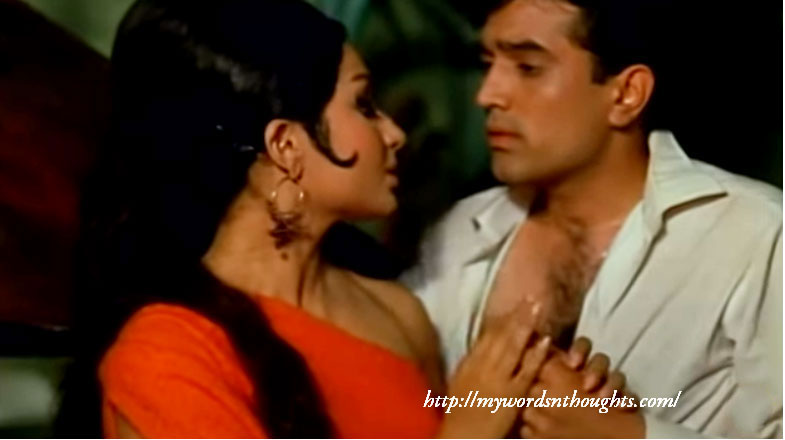 13. "Pehla Nasha" from Jo Jeeta Wohi Sikander was the first Bollywood film song to be completely shot in slow motion. The actors had to sync-lip accordingly to match with the slow lyrics. It was the debut work of Farah Khan as a choreographer.
14. Yash Chopra's Daag: A Poem of Love is one of the rarest love triangles with an unusual ending, with hero accepting both wives. Years later Govinda starrer Sajan Chalo Sasural (remake of Rajinikanth starrer Veera) and Sandwich also had similar climax.
15. Yaadein (1964) holds the record of first experiment in world cinema, with a single actor throughout the film. However his wife Nargis Dutt appears in a silhouette in the movie climax. The film was 113 minutes long.
16. Synchronous to its lengthy title, Dilwale Dulhania Le Jayenge is the longest running Indian film. Released in 1995, it broke Sholay's record in 2001, and it's the first and only Indian film to complete 1000 weeks of successive run. The film ran for more than 19 years in Maratha Theatre of Mumbai without any break, and was later reinstated due to public support after a short break. Read more facts about DDLJ.
17. Kaho Na Pyar Hai is the first and only Bollywood film to receive more than a 100 film awards.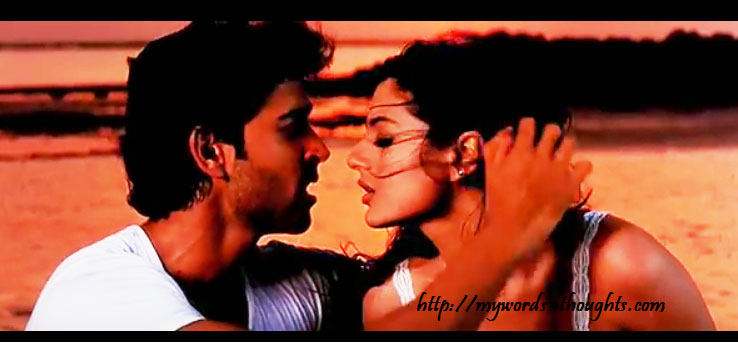 18. Swades starring SRK was the first Indian film to be shot inside the NASA research center and it was shot at Florida.
19. Aamir Khan starrer Ghajini was the first Indian film to cross 100 crore collection at box office. Very soon 100-crore club became a fashion in Bollywood. Later 3 Idiots became the first Indian film to cross 200-crore in domestic market and PK – the first Indian film to cross 300-crore, followed by highest Indian grossing film, Dangal. Interestingly Aamir Khan starred in all these flicks.
20. Taal (1999) was the first Indian film to be insured.
21. Bollywood heist film Aankhen (2002) was one of the first to have two climaxes to be shown in Indian theatres and overseas. Earlier in 1998, Malayalam love triangle, Harikrishnans starring Mohanlal, Mammootty and Juhi Chawla had two climaxes to be shown at different theatres, based on fan support. Interestingly a third climax starring Shah Rukh Khan (similar to Deewana Mastana) was also planned which never happened.
22. Paa (2009) is perhaps the first movie in world cinema, where real-life father and son reversed their roles to portray on screen. Abhishek Bachchan played Amitabh Bachchan's father in this movie.
23. Apradhi in 1931 was the first Indian film to be shot in artificial lights.
24. P. C. Barua's, Roop Lekha in 1934 used the idea of flashback in Indian films for the first time.
25. Haste Aanzoo released in 1950 starring Madhubala and Motilal became the first Indian film to receive 'only for adults' certification.
Bollywood interesting facts – Old era
1. R. D. Burman played the harmonica for 1964 movie, Dosti. He, who initially wanted to become an actor has also played brief comic roles for Bollywood movies such as Bhoot Bangla and Pyar Ka Mausam, for which he composed music. Read more: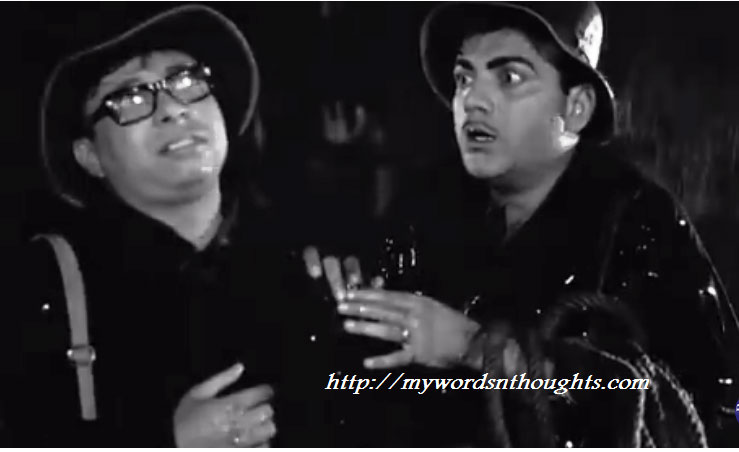 2. Bollywood is always known for some commercial formulae on which it exists, and one such hit formula is love triangle with a leading romantic pair and obsessive lover with grey shades, who falls for lead actor or actress. Meena Kumari – Pradeep Kumar – Ashok Kumar trio has been repeatedly casted in 4 love triangles in the early 1960s almost with the same storyline, with Meena Kumari and Pradeep Kumar playing the lead pair while Ashok Kumar with a few grey shades, which is a rare phenomenon in Bollywood. After the success of Aarthi, the trio was featured in Chitralekha, Bheegi Raat and Bahu Begum and none of these movies could replicate the success of the predecessor. Quite co-incidence Roshan composed music for all these four films.
3. Kishore Kumar made Chalti Ka Naam Gaadi to avoid tax payment issues, believing that the film will be a flop. He also made one Bengali film titled, Lukochuri as he wanted to show losses in the account. However both the films became box office hits. Chalti Ka Naam Gaadi is still remembered for the screen appearance of three Ganguly brothers together.
4. Love and God took 23 years in making, thus becoming longest production Indian film. Production work started in 1963 with Guru Dutt, and was finally released incomplete in 1986. Most of the artists associated with it, including lead actor Sanjeev Kumar and director K. Asif passed away before movie release.
5. It took 14 long years for the release of Mughal-e-Azam (from 1946 to 1960), but shattered all production costs as well as box office records. Same is the case of Meena Kumari classic, Pakeezah (1958 to 1972). Both the movies have been re-shot multiple times with changing cast and crew. Hum Tumhare Hain Sanam (2002) took 6 years for release. There are many other Bollywood films which had a delayed release – Yeh Lamhe Hai Judai Ke, Love in Bombay etc to name a few.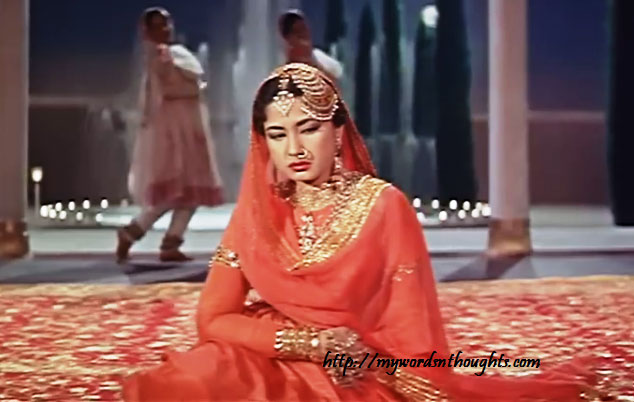 6. Director K. Asif directed a total of 4 movies of which Mughal-e-Azam and Love and God took a long time to release, costing around 15 years and more, while the third film was also incomplete.
7. Shammi Kapoor was the first screen hero of Saira Banu (Junglee). Years later he played her screen father in Zameer. Jaya Bachchan and Sanjeev Kumar have worked as lead pair in a series of movies like Koshish, Nauker etc. Yet they appeared as daughter and father in Nischay and Sholay.
8. Similarly Waheeda Rehman played Amitabh Bachchan's love interest in Adalat and wife in Kabhi Kabhi, both released in 1976, and two years later his mother in Trishul, though they never share screen space even for a single shot. We have seen many such roles where mother character dies when the child is young. Needless to say, for hero or heroine playing a double role, actors have to take such roles. For instance, Sharmila Tagore played wife and mother of Rajesh Khanna in Aradhana.
9. Babita Kapoor, wife of Randhir Kapoor has worked as Shashi Kapoor's (Randhir's uncle) heroine in Haseena Maan Jaayegi and Ek Shriman Shrimati. Years later Babita's daughter Karishma Kapor acted in a hit movie with the same title.
Bollywood interesting facts – New era
1. Urmila Matondkar played elder step-sister to Jugal Hasraj in Masoom (1983). A few years later they played lead pair in Aa Gale Lag Ja (1994).
2. Dina Pathak and her daughters, Ratna and Supriya Pathak acted together for a single movie – Mirch Masala (1987).
3. Madhuri Dixit played Vinod Khanna's heroine in Dayavan and Maha Sangram, and his son Akshay Khanna's heroine in Mohabbatein. Rani Mukerji played female lead opposite Abhishek Bachchan in a series of movies in the 2000s when they were rumoured to be dating, and also worked opposite Amitabh Bachchan in Black, for which they shared an onscreen kiss.
4. Many heroines of 1980s and early 1990s have worked opposite Dharmendra and his son Sunny Deol, and in most cases they worked with Sunny Deol first. Sridevi played Dharmendra's heroine in Naka Bandi, and Sunny Deol's heroine in Chaalbaaz and Ram-Avtar. Dimple Kapadia played Dharmendra's heroine in Mast Kalandar and Dushman Devta and Sunny Deol's heroine in Manzil Manzil. Amrita Singh marked her screen debut opposite Sunny Deol in Betaab and later worked opposite Dharmendra in Sachai Ki Taqat.
5. Lagaan holds the record of featuring maximum British actors.
Bollywood interesting facts – Miscellaneous
1. Record of giving maximum number of hits in a row is currently held by Rajesh Khanna 17 consecutive hit films of Rajesh Khanna between 1969 and 1971, a record which is unbroken for past three decades till now. It includes 15 solo hits.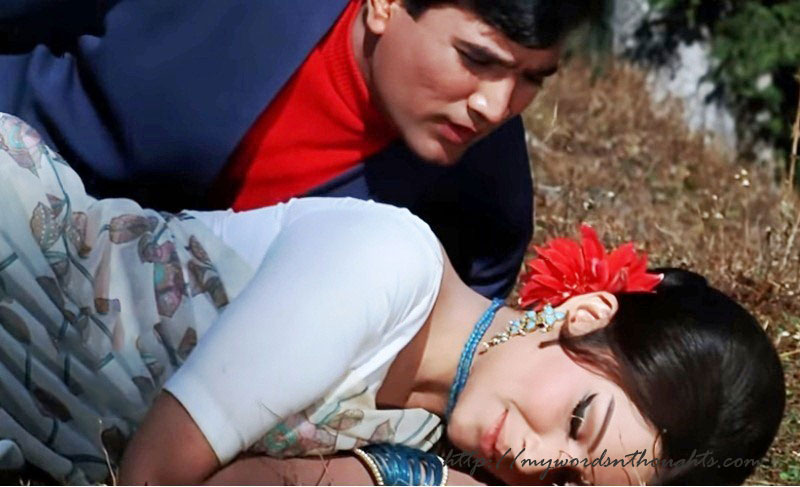 2. Record of giving maximum number of consecutive hits right from the debut movie goes to Varun Dhawan. Marked his screen debut with 'The Student of the Year' in 2012, his unbeaten record of consecutive hits was broken only in 2019 when Kalank failed to meet expectations and huge production cost. Till then Varun delivered 11 hits in a row, which include both commercial and critically acclaimed films.
3. Published fictional novel (except Hindu mythology and epics), the book that has been adapted maximum number of times to silver screen is Saratchandra's Devdas.
4. LOC- Kargil (2003) directed by J. P. Dutta is the lengthiest Indian film with 4 hours 25 minutes. It broke the decades-old record of Mera Naam Joker, with duration of 4 hours 15 minutes.
5. Mehboob Khan's masterpiece Mother India (1957) was the colour remake of his own venture, Aurat (1940). It's one of the very rare occasions where remake outshined original. Another exception is the landmark movie 'Sholay', an unofficial remake of 'Mera Gaon Mera Desh' which broke all box office collections.
6. Film title 'Anari' has been used by three actors from Kapoor family – Raj Kapoor in 1959, Shashi Kapoor in 1975 and Karishma Kapoor in 1993. Shashi Kapoor and Karishma Kapoor owns the hit films titled, 'Haseena Maan Jayegi' belonging to two different generations.
7. When Shashi Kapoor's Jab Jab Phool Khile was remade as Raja Hindustani in 1997, his niece Karishma Kapoor played the female lead. Interestingly both the movies proved to be the turning points of their respective careers.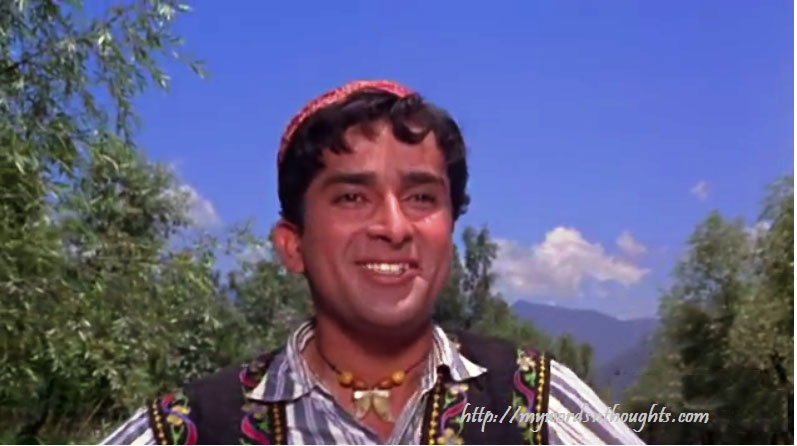 8. Shashi Kapoor is the only actor from Kapoor family to won National award for best actor, though he was less popular comparing his two elder siblings. Karishma Kapoor is a recipient of National award, but in the supporting actress category.
9. B. R. Chopra initially planned to cast Prithviraj Kapoor and his three sons for the landmark movie, Waqt, which re-introduced the lost and reunite formula to Bollywood screen after a long time. Later only Shashi Kapoor became a part of the movie, who played the youngest son. The film's huge success paved way to a series of commercial films with the same formula, and Yaadon Ki Baraat and Amar Akbar Antony were the major hits of 1970s.
10. Jagdish Raj is the most typecast actor in the history of world cinema. He played a cop in 144 films.
11. When 1917 Lanka Dahan movie was screened in Mumbai, people used to take off their shoes when Lord Ram appeared on screen. Anna Salunke played both Ram and Sita on screen, and it was for the first time, an actor portrays two characters onscreen for the same movie.
12. The popular 'Omlet scene' of Kaalia where Amitabh Bachchan introduces Parveen Babi to his sister-in-law Asha Parekh was inspired from a scene of Anari movie starring Raj Kapoor, Nutan and Lalita Pawar.
Bollywood interesting facts related to dual/double roles in Bollywood
1. Bollywood's biggest super stars – Rajesh Khanna and Hrithik Roshan achieved stardom playing dual roles in Aradhana and Kaho Na Pyar Hai respectively. After a series of flops, Hrithik re-established his career portraying two contrasting characters in Koi Mil Gaya. Hema Malini, Rakhee Gulzar, Shahid Kapoor, Shatrughan Sinha, Sadhana Shivdasani and Govinda are a few more actors who got a major break through dual roles.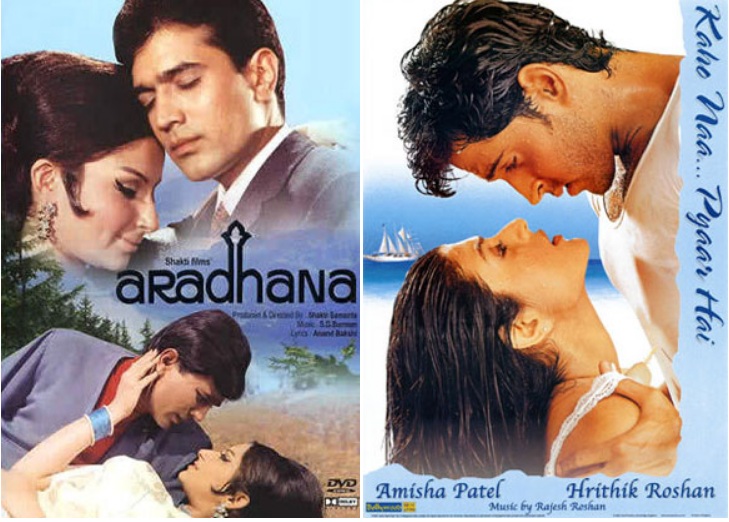 2. Amitabh Bachchan played maximum dual roles in Bollywood.
3. Priyanka Chopra essayed 12 characters representing zodiac signs in 'What's Your Rashee?'. Among male actors, Sanjay Kumar played 9 roles in Naya Din Nayi Raat.
4. Both the Filmfare trophies earned by Sridevi for best actress are for playing dual roles.
5. Dharmendra in Yakeen and Amitabh Bachchan in Bande Haat (there may be more films too) have a rare distinction of giving distinct voices to the double characters, while almost all Indian films have dual roles with shared voice. A few parts of Kajol's voice for Dushman were dubbed as the actress was unavailable.
6. Kangana Ranaut is the only actress to receive Filmfare critics' choice award for a dual role, and she got it for 'Tanu Weds Manu Returns'.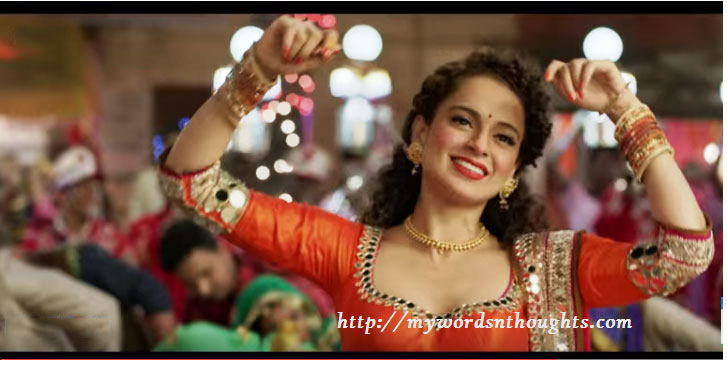 7. Only two Bollywood actresses have won National award for best actress for a double role – Sharmila Tagore for Mausam and Kangana Ranaut for Tanu Weds Manu Returns, and none from male actors. However Kamal Hassan won the same for Indian, which was dubbed to Hindi as Hindustani.
8. Most of the incarnation movies have double roles, where actors play their next births too. Karz is one such experimental effort, where two actors were chosen by director Subhash Ghai and it proved successful too. Yes, two faces were definitely needed in its screenplay, to carry the story forward.
9. Dilip Kumar and Vyjayanthimala were the first actors to be nominated at Filmfare awards for best actor in the respective categories, for playing multiple roles. Dilip Kumar played double role and Vyjayanthimala played triple role in Bollywood classic, Madhumati in 1958, for which they were nominated.
10. Nutan for Milan (1967) is the first actress to win Filmfare award for best actress for playing a dual role. Waheeda Rehman won it the following year for 1968 movie, Neel Kamal. This award was first won by a male actor in 1971. While Rajesh Khanna received his first nomination for his dual role in Aradhana (1969 film) alongside Ittefaq, he won it for his double role in 1970 movie, Sachaa Jhutha, thus becoming the first male actor to receive this honour. The second actor to win this award was Amitabh Bachchan for 1978 movie, Don.