S. D. Burman & Lata Mangeshkar – Top 30 Bollywood songs
S. D. Burman & Lata Mangeshkar – two great legends who gave some evergreen songs to the classic era of Bollywood cinema. Without accounting their contributions as a duo, the discussion of golden era of music is never complete. Needless to say, among all female playback singers, Lata Mangeshkar remained the top choice of female songs of Burman da, especially when it comes to melody and he never compromised with it. Except for around 5 years when they stopped working together, the duo gave some amazing work to Bollywood throughout 1950s to mid-1970s, till the composer passed away.
Who knew then, they are to become a family very soon, with the marriage of R. D. Burman and Asha Bhosle. In real life S. D. Burman became the uncle of Lata Mangeshkar, a few years after his death. Yet their professional life always remained a close bonding between guru and shikshya, where the guru was fully engaged in creating one after another extra ordinary classical tunes to fit into his favourite's disciple's voice. Yes it was known to everyone, like Madan Mohan, S. D. Burman also created some special tunes for Lata Mangeshkar especially in the 1960s.
Yes, we all know, S. D. Burman & Lata Mangeshkar combination gave some of the golden melodies of 1950s, 1960s and 1970s. Here I pick 30 of my favourites. I have sorted them based on the year of release. Most of the songs were filmed on Nutan, Waheeda Rehman, Sharmila Tagore, Rakhee Gulzar, Vyjayanthimala, Asha Parekh etc.
1. Thandi Hawayein from Nav Jawan, (Solo) Year – 1951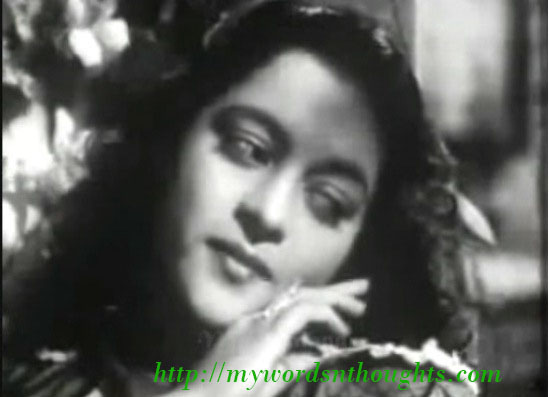 The tune of S. D. Burman became a mother tune of more than 10 popular songs belonging to Hindi and other languages. Burman was inspired from a piano player from some hotel of Juhu to create this tune, but it definitely looks original. Read more interesting facts about this song. Premnath – the 1970s villain was featured in this song aside Nalini Jaswant, and Sahir Ludhianvi wrote the lyrics.
2. Phaili Hui Hai Sapnon Ke from House No: 44, (Solo) Year – 1955
The song was filmed on Kalpana Kartik with lyrics by Sahir Ludhianvi. The song was one of the noted works of Burman-Lata duo till mid-1950s.
3. Chand Phir Nikala from Paying Guest, (Solo) Year – 1957
This sad romantic song penned by Majrooh Sultanpuri was pictured on beautiful Nutan, and one of the best songs of Lata Mangeshkar of 1950s. The song is based on Hindustani Raga Shudh Kalyan and definitely one of the master tunes of S. D. Burman ever.
4. Ik Ghar Banauga from Tere Ghar Ke Samne, (Co-singer: Mohammed Rafi) Year – 1963
The title track is loved for its tune, rendition and lyrics as well as filming. Nutan appears in the beer glass as an illusion for drunken Dev Anand and also sings along with him in this song. It's one of the best duets of Mohammed Rafi and Lata Mangeshkar composed by S. D. Burman ever. Hasrat Jaipuri authored its lyrics.
5. Mora Gora Ang Laile from Bandini, (Solo) Year – 1963
One of the early noticed works of Gulzar as a lyricist, the song was filmed on Nutan, who played a girl of dark complexion in this movie. She asks fair complexion through the song.
6. Yeh Meri Zindagi from Ziddi, (Solo) – Year: 1964
In this particular song Asha Parekh pretends to be a drunkard on the occasion of her engagement with Joy Mukherjee, giving embarrassment to everyone present there. In an era of tear jerking social dramas, the heroine breaks all stereotypes and expresses herself to be a free girl who loves to do what she wants. Hasrat Jaipuri's lyrics provide best support to this thought, which quite matches the film situation.
7. Raat Ka Sama from Ziddi, (Solo) – Year: 1964
Asha Parekh is seen as a dance performer in this song, which was the most popular track of the album at the time of release. Joy Mukherjee also appears among the audiences. Ziddi is one of the very rare works of Hasrat Jaipuri for S. D. Burman, who is best known for his association with Shankar – Jaikishen, the top composer of 1950s and 1960s.
8. Gata Rahe Mera Dil from Guide, (Co-singer: Kishore Kumar) Year – 1965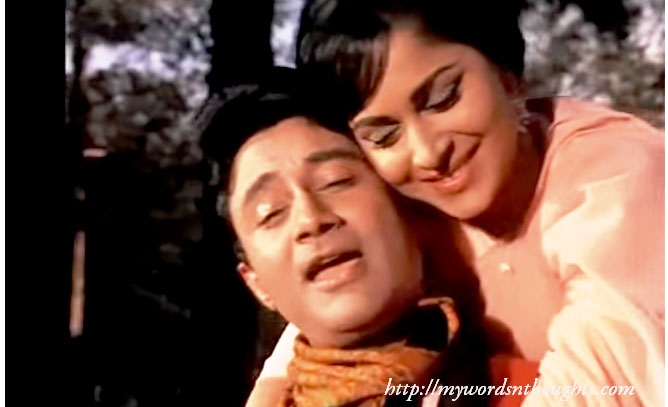 Among all S. D. Burman songs, Guide has a special space in every music lover's heart and all songs are just extra ordinary. While S. D. Burman used Kishore Kumar's voice to record the single duet of the film, all the solos (except "Wahan Kaun Hai Tera" sung by composer himself) for Dev Anand were recorded in Rafi's voice. All the songs for Waheeda Rehman were recorded in Lata's voice and all are just extraordinary. All the songs were written by Shailendra.
9. Aaj Phir Jeene Ki from Guide, (Solo) Year – 1965
Waheeda Rehman exhibited her dancing skills in this song, which was filmed in a fun and relaxed mode. Dev Anand also featured in this song.
10. Mose Chal from Guide, (Solo) Year – 1965
Definitely Guide is the career best role of Waheeda Rahman, where she got the chance to exhibit her acting and dancing skills through a single character. Shailendra's lyrics give a romantic touch to the song.
11. Piya Toh Se from Guide, (Solo) Year – 1965
Waheeda Rehman exhibited her dancing skills in this song as well, with almost about 8-minute length, it was one of the lengthy songs when it was released in the 1960s. The song depicting both Holi and Diwali also featured numerous Indian classical instruments like North Eastern Drums, Harmonium, Sarangi, Tabla and the very special Ghungroos. Tabla was played by Pandit Shivkumar Sharma, who used to be a tabla artist those days. This song is based on Raga Khamaj, and he used Roopak Taal (7 Beats) which has always remained his favourite. Guide will always remain as one of the special works of the composer, who definitely deserved Filmfare awards.
As the song was lengthy Waheeda Rahman felt that the song might miss some her dance sequences in the final cut. So she took promise from Dev Anand that her dance sequence would not be edited, and he kept the promise.
12. Rulake Gaya Sapna from Jewel Thief, (Solo) Year – 1967
The movie was a huge hit, and so are the songs composed by Burman. This particular track was filmed on Vyjayanthimala. Shailendra penned lyrics for only this song for the entire album, while the rest songs were authored by Majrooh Sultanpuri.
13. Dil Pukare from Jewel Thief, (Co-singer: Mohammed Rafi) Year – 1967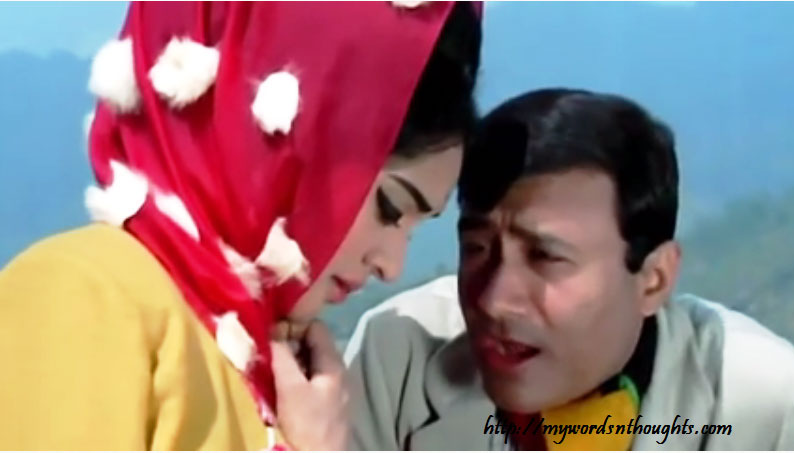 This extremely romantic duet was filmed on Dev Anand and Vyjayanthimala. S. D. Burman used the voices of both Kishore Kumar and Mohammed Rafi to record the songs of Dev Anand, right from 1950s, and hence Dev Anand was one among the rare successful actors then, whose voice was not permanently linked with a particular singer, since his screen debut. It's the single Rafi track of the entire album, but the sweetest romantic one too. The movie included one more duet of Lata, but with Kishore Kumar – Aasman Ke Neeche.
14. Hothon Mein Aisi Baat from Jewel Thief, (Solo) Year – 1967
The song was widely regarded as a trendsetter when it comes to choreography and number of singers. Mohammed Rafi's voice was also used for this song, which is best known as a solo of Lata Mangeshkar. The song was filmed on Vyjayanthimala, Dev Anand and Ashok Kumar.
15. Chanda Hai Tu from Aradhana, (Solo) – Year: 1969
When I watched the movie for the first time while at school, it was not the romantic tracks, but this particular song which touched my heart most. After that the songs of Aradhana and also the movie and its lead stars created great craze inside me. I went crazy over them all, and it was nothing less than a celebration when I rarely get opportunity to hear its songs those days. Only Doordarshan and Vivid Bharati were the accessible sources for me those days in the mid-1990s, and as a teen used to note them in my personal diary if I get a chance to listen its songs from anywhere. That was the hysteria and magic created by the movie and its songs in my soul! Needless to say, Aradhana is most favourite film ever and the most favourite musical album ever.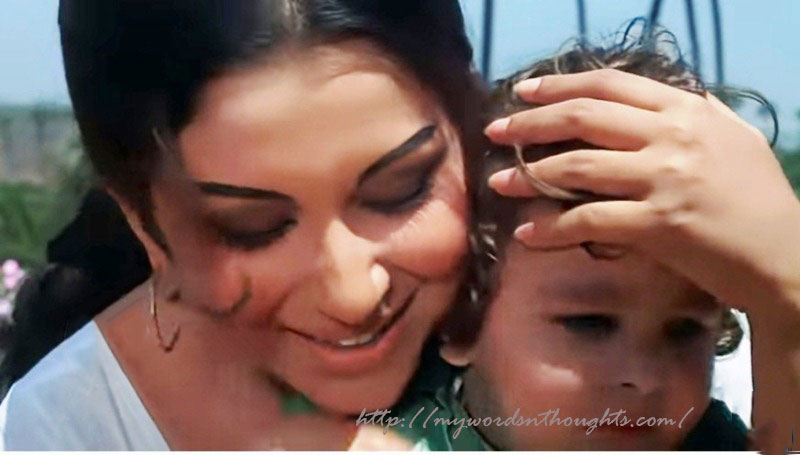 A few months after I watched the movie on Doordarshan on Prime time Friday show (it was for the first time I heard this song and went gaga over it), I got opportunity to hear this song for the second time a few months later on Rangoli and for the third time in a special episode of Chitrahar (It seems! Or Rangoli? A bit confused) hosted by Saif Ali Khan, where he presented this song and also said that it's one of his very special songs right from early childhood, his mother used to sing for him. Let me add, Saif Ali Khan was born a few months after film's release and its huge success.
16. Bagon Mein Bahaar from Aradhana, (Co-singer: Mohammed Rafi) – Year: 1969
Whenever the topic of Aradhana's music comes into discussion Rafi's name definitely comes up. It is because the songs of Aradhana virtually ended the supremacy of Rafi in Bollywood, and made Kishore Kumar an overnight sensation with two solos, which were originally meant for Rafi. So, indirectly Burman's compositions paved way for it, though unintentionally. We can't change the destiny, and leave the discussion here to focus on the beauty of this very rare romantic song filmed on Rajesh Khanna and Farida Jalal. Almost all artists associated with the film were benefitted by its success except Farida, who mostly played second fiddle in all her releases later. These songs were recorded by S. D. Burman before he became ill and gave the responsibility to R. D. Burman to complete the work.
17. Koraa Kaagaz from Aradhana, (Co-singer: Kishore Kumar) – Year: 1969
There are a very few songs which can be recognized by their intro music, and it's one such. It's also rumoured that R. D. Burman who worked as associate music composer of the movie ghost-composed this evergreen romantic song. True or not, the tune is credited to S. D. Burman.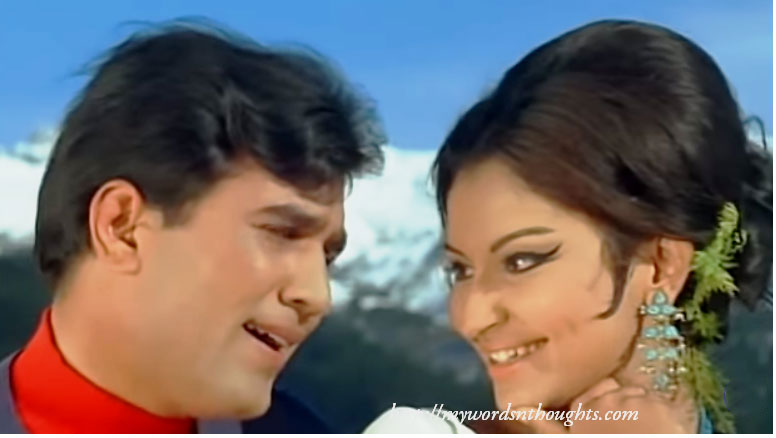 This duet was originally meant for Rafi, but sung by Kishore Kumar, and he sang it with ease aside Lata Mangeshkar. But the songs which changed the destiny were the solos – Roop Tera Mastana and Mere Sapnon Ki Rani, originally meant for Mohd. Rafi. Kora Kaagaz featuring Rajesh Khanna and Sharmila Tagore too was extremely popular, and played a significant role in establishing them as one of the leading screen pairs of Bollywood. All the songs of the movie were penned by Anand Bakshi, who established his career in Bollywood with Aradhana, and also frequently worked with its associate director R. D. Burman for many movies later.
18. Kitni Akeli Kitna Tanha from Talaash, (Solo) Year – 1969
The movie included two top Lata Mangeshkar tracks filmed on Sharmila Tagore and Rajendra Kumar – Kitni Akeli and Palkon Ke Chilman Mein. As the intense romantic track Kitni Akeli is my favourite, I preferred to keep this one. Majrooh Sultanpuri penned its soulful lyrics.
19. Rangeela Re from Prem Pujari (Solo) – Year: 1970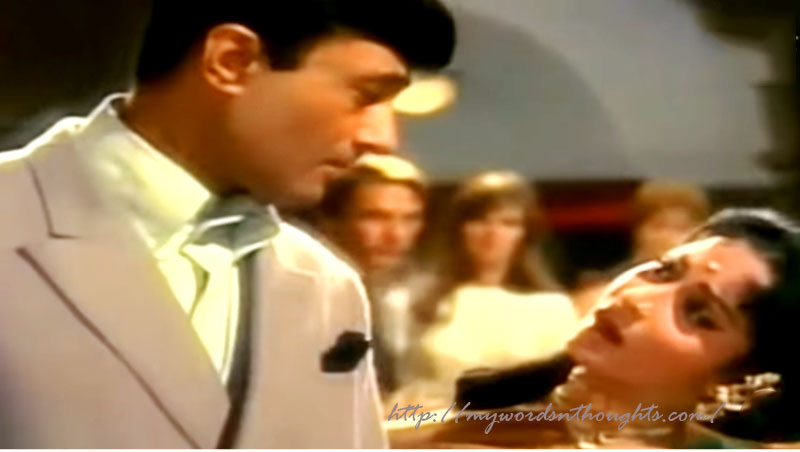 Waheeda Rehman got opportunity to feature in many chartbuster hits composed by S. D. Burman, and Rangeela Re is one such wonderful solos. In this particular song she dances in a drunken condition to this heart-breaking song in a social party in front of Dev Anand, due to some misunderstandings. Neeraj frequently worked with S. D. Burman in the 1970s, and Prem Pujari is one such. Neeraj penned the lovely poem, Shokhiyon Mein Dola Jaaye for the same movie.
20. Khilte Hain Gul Yahan from Sharmeelee, (Solo) Year – 1971
Both the solo versions in Kishore Kumar and Lata Mangeshkar's voices respectively are extra-ordinary, and I love both. Both the versions were filmed on Shashi Kapoor and Rakhee Gulzar, and lyrics penned by Neeraj. Neeraj and S. D. Burman combination gave a few evergreen tracks since early 1970s, Prem Pujari being the next popular track.
21. Megha Chhaye Aadhi Raat from Sharmeelee, (Solo) Year – 1971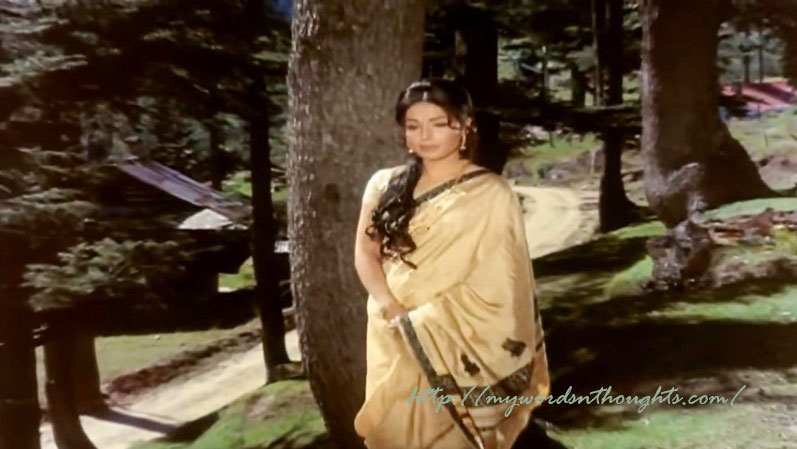 I would like to include one more Lata solo in this list, and it's a sad song featuring Rakhee Gulzar. The lyrics were penned by Neeraj. The movie also included the very popular duet of Kishore Kumar and Lata Mangeshkar – Aaj Madosh Hua. I excluded this song only to make space to a few more songs of this combo from other movies.
22. Choodi Nahin Ye Mera Dil from Gambler, (Co-singer: Kishore Kumar) – Year: 1971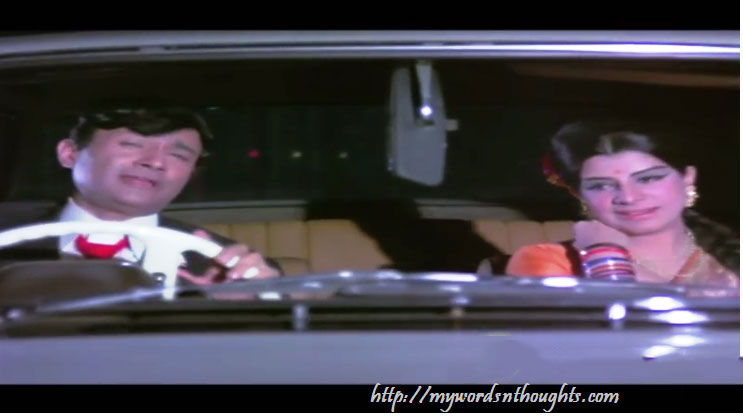 It's one of the finest songs ever filmed on bangles. Neeraj wrote beautiful words about the bangles too, which played a magnificent role in making this song such a huge hit. The song was filmed on Dev Anand and Zaheeda.
23. Jeevan Ki Bagiya/ Haan Meine Kasam Li from Tere Mere Sapne, (Co-singer: Kishore Kumar) Year – 1971
Both the songs were equally popular and I am confused to choose one. Both these duets were filmed on Dev Anand and Mumtaz, and the lyrics were penned by Gopaldas Neeraj. Lata's solo track, "Jaisa Radha Ne Mala Japi" with some dream sequences was also popular.
24. Ab To Hai Tumse Har Khushi Apni & Piya Bina from Abhimaan, (Solo) Year – 1973
If I am asked which the best music Bollywood album of 1970s is, I can reply without hesitation, "Abhimaan" – absolutely flawless! (I have already chosen S. D's Aradhana as my most favourite ever; one of the top selling albums of 1960s). So let me take a privilege to take two Lata solos together once again – I can't exclude any of them at any cost.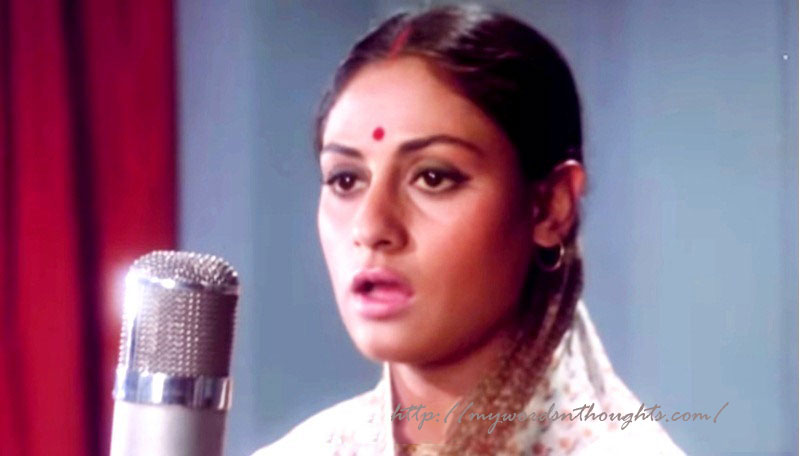 The music of Abhimaan earned S. D. Burman his second final Filmfare award for best music composer. The movie included 7 finest tracks, and Lata Mangeshkar's voice was used for 6 of them, except for a Kishore Kumar solo. Three of them are awesome solos recorded in Lata's voice, not easy to say which one is best. Nadiya Kinare is the third Lata solo in the album. Rest three were Lata duets recorded with three different popular singers and all songs became instant hits. All lyrics are written by Majrooh Sultanpuri. These songs were filmed on Jaya Bhaduri, who appears as a radio artist & performer in both.
25. Teri Bindiya Re from Abhimaan, (Co-singer: Mohammad Rafi) Year – 1973
The movie was released soon after the marriage of Jaya & Amitabh Bachchan. This particular song was filmed as a wedding reception song and thus best fits their real life too, when it got released.
26. Tere Mere Milan Ki Yeh from Abhimaan, (Co-singer: Kishore Kumar) Year – 1973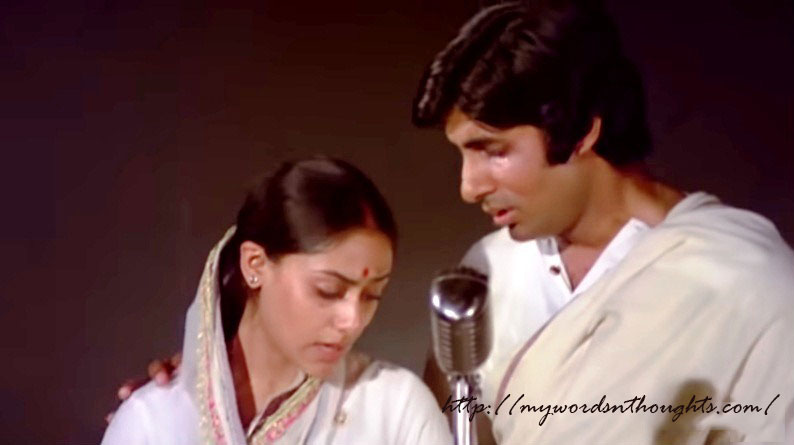 This highly emotional song appears in the movie's climax, when the couple reconcile. This duet was one of the top chartbusters of the year.
27. Chupke Chupke from Chupke Chupke, (Solo) Year – 1975
The song appears in the opening credits of the movie. One version was filmed on Jaya Bhaduri. The comedy film was based on a Bengali short story, Chhadobeshi written by Upendranath Ganguly. Anand Bakshi penned its soft lyrics. Sadly the legendary composer passed away the same year.
If he had lived a little more he would have created great wonders in the coming years. While most of the glorious music composers of 1950s and 1960s like SJ, Naushad, O. P. Nayyar, Ravi and Madan Mohan started fading with the beginning of new decade of 1970s, with the very few works Burman did in the next 5 years he stands top among all. His last among works – Chupke Chupke, Sharmilee, Abhimaan, Prem Pujari, Tyaag, Mili etc all released in the 1970s were too good. He fell in with late 1960s and did only a few works in the 1970s before he slipped to coma. Pancham da had to work on all his unfinished projects.
28. Ab Ke Sajan from Chupke Chupke, (Solo) Year – 1975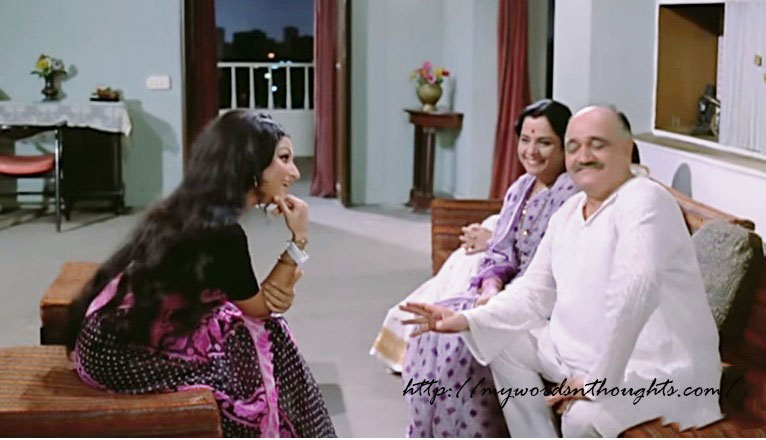 This particular song sung by Lata Mangeshkar was noticed for its humour elements. The song also featured Dharmendra and Om Prakash, and the supporting star cast. Lyrics were written by Anand Bakshi.
29. Dil Kaanto Mein Uljahaya Hai from Barood, (Solo) – Year: 1976
This Lata solo was filmed on Rishi Kapoor and Shoma Anand. Anand Bakshi penned its lyrics. As a lead actress Shoma couldn't make it big in Bollywood. However she later established as a character artist in Bollywood (of 'Hungama' fame) and TV soaps. Samundar Samundar Yaha Se Waha Tak – is yet another Lata solo filmed on lead pair.
30. Hum Tum Tum Hum Hum Tum from Tyaag, (Co-singer: Kishore Kumar) – Year: 1977
The song was filmed on Sharmila Tagore and Rajesh Khanna, and one among the last registered hits of S. D. Burman as a composer. The movie was posthumously released, and Anand Bakshi penned its lyrics.
A few more Bollywood songs of S. D. Burman – Lata Mangeshkar combination
31. Tum Na Jaane Kis Jahaan from Sazaa, (Solo)
32. Chandani Raatein Pyar Ki from Jaal, (Co-singer: Hemant Kumar)
33. Tere Bin Soone Nain from Meri Surat Teri Aankhen, (Co-singer: Mohammed Rafi)
34. Tere Khayalon Mein from Meri Surat Teri Aankhen, (Solo)
35. Likha Hai Teri Aankhon Mein from Teen Deviyan (Co-singer: Kishore Kumar)
36. Palkon Ke Peeche Se from Talaash, (Co-singer: Mohammed Rafi)
37. Shokhiyon Mein from Prem Pujari, (Co-singer: Kishore Kumar)
38. Aaj Madhosh Hua Jaye Re from Sharmeelee, (Co-singer: Kishore Kumar)
40. Nadiya Kinare from Abhimaan, (Solo)
41. Loote Koi Man Ka Nagar from Abhimaan, (Co-singer: Manhar Udhas)
42. Jaise Raadhaa Ne Mala from Tere Mere Sapne, (Solo)
43. Sun Ri Pawan from Anurag, (Solo)
44. Meine Kaha Phoolon Se from Mili, (Solo)
Go through the gallery links to read some of the posts of country's beloved and the celebrated female voice of Hindi cinema – Lata Mangeshkar. Here is the page link. Click on the images to read.
(Visited 1,910 times, 1 visits today)