Jali work – To give Royal look to your interior in less cost
It's nice to see the pictures drawn by the sunlight which passes through jali in home interior. It's one of the best alternatives to provide boundaries and walls, yet fully not. Mostly done with brick walls which separates living room, recreation spaces and prayer halls, it's cost effective also.
In many designs and sizes, materials and colours, Jali work can done to beautify your interior. You need only to choose which one is best for you. It also allows free circulation of air and light. Homes constructed in contemporary style, which stay close to tropical style of work, jali suits best. Let's see some of the magical tricks of jali through this post.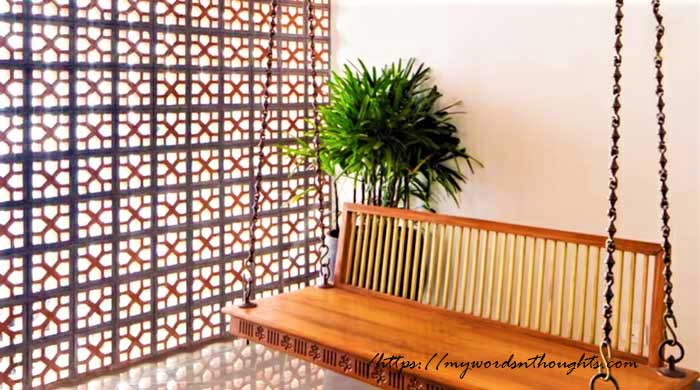 Where can we use Jali? What's its purpose?
It blocks sunlight and heat from entering to interiors to some extent, but also act as a medium of transport for sunlight and free air. It uses the same technique of building walls using bricks, wood, cement and concrete. You can make jali in wood, cement or bricks. Readymade jali like terracotta, concrete and steel are also available. Only you need to fix it.
In semi-open spaces, if you choose jali, it gives privacy and such spaces won't turn dark. You can use thin jali works for inner partition walls. Due to the wide range of jali designs available, it's a good alternative for walls in dining halls, living rooms etc, which beautify interior also. By providing jali in semi-open spaces, the exterior look of home also changes.
For a single storied home, you can do tress work in the upper space and fit jali in the front end. In front view, the home gives the appeal of a two storied building. It also reduces heat in the home interior, as tress work protects home from sunlight.
Using GI pipes and jali work, you can make very cheap windows. If you fix glass boxes of different colours in jalis, your interior will appear multi-colour, when sunlight passes through the glass. Indirect lighting gives a new look to jali. When light passes through the designs and holes in jali, it creates various designs on floor and opposite walls. It improves the ambience of the room.
You can't use jali everywhere you want. You can't use them in private spaces like bedrooms or bathrooms. Fix them only in suitable spaces and choose good designs too. While fixing jali, take into consideration the available sunlight inside the room, air circulation etc. Jali should suit the design of home interior too.
Though jali work beautify your interior, it can get dust easily due to direct exposure from outside. Vacuum cleaner is best to remove dust from jali. The real beauty of a home is neatness and how you maintain it.
You can construct jali all these ways
One of the easiest and cost effective jali work is using normal bricks. Leave uniform spaces in between bricks, while constructing wall, thus providing a design. This technique has been used since many decades. Bricks, stones, steel, sheet, MDF – you can choose any material of your choice. If you choose wood, steel or MDF, you can design jalis using Computer Numerical Control (MDF). This technique can design any complex design easily.
Jalis made using GFRC (Glass Fiber Reinforced Concrete) are also available. It can be customized as per user request. Readymade jalis in terracotta is high in demand and currently trending. There are countless attractive designs available, and can also be customized, making it everyone's favourite.
Readymade concrete jalis are also available, but in less designs. They have less finish and perfection, comparing with terracotta, which becomes its major drawback. Jalis with the same size and shape of bricks are also available. You can use them to construct brick walls as usual.
(Visited 24 times, 1 visits today)