Microwave oven for simple cooking. 10+ easy microwave cooking tips
Nowadays microwave oven has become a part of modern kitchen. To make cakes or to heat refrigerated items, microwave oven is very useful. If you know how to use it, it provides some shortcuts to cooking. Food cooked in oven tastes better too. Here I provide a few easy microwave cooking tips, which can help you a lot.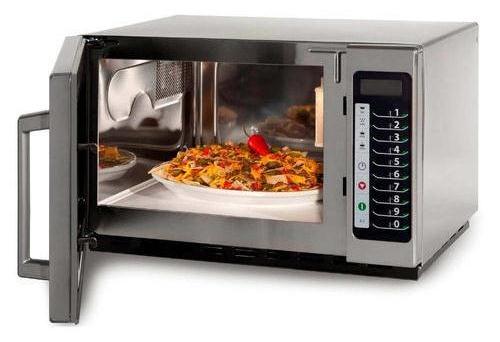 10+ easy microwave cooking tips
1. All vegetables should be cut in uniform size. Otherwise when you cook them in microwave oven, they won't be cooked evenly.
2. Prick carrots and potatoes here and there using fork before microwave. They cook easily. To cook two potatoes, 5 minutes high is sufficient.
3. Before you squeeze oranges to prepare juice, microwave for 1 minute. You get more juice.
4. To separate coconut from its shell easily, microwave it high for 2 minutes. Then you can easily remove the shell.
5. It is easy to cook spinach and similar leafy vegetables in oven. Spread 2 cups of spinach in the safe plate and sprinkle one big spoon of water on its top. Microwave high for just 2 minutes.
6. To cook vegetables, cut them into 1-inch uniform pieces and place on safe plate. Sprinkle a big spoon of water on its top. Microwave high for 3 minutes.
7. Never place vegetables or other ingredients as heap inside oven for cooking. Spread them as a uniform layer to get better results.
8. While preparing curries and stews in microwave oven, use 2/3rd of water used for normal cooking. Microwave cooking consumes less quantity of water. If needed, add water later.
9. Like water, less salt is needed for microwave cooking.
10. Never cover microwave cookware with aluminium foil. Sparks may form while cooking.
11. After every use, clean the inner surface of oven. Otherwise when you prepare food next time, it gets damaged easily.
12. Prefer circular shape cookware for microwave cooking. Food will be cooked uniformly. When you use square and rectangular shaped utensils, the food at corners may overcook.
13. While reheating cooked rice in oven, place an ice cube too. Rice won't turn dry.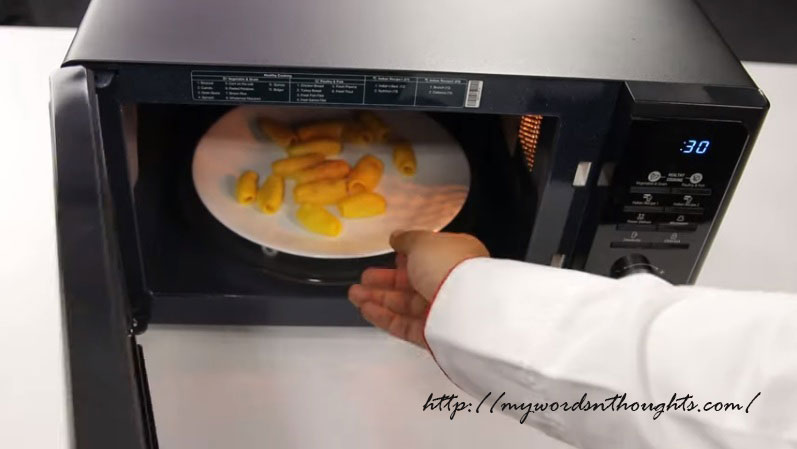 Easy method to fry scrapped coconut in microwave oven
You can easily fry scrapped coconut in microwave oven. It takes less time comparing with normal frying method. You can fry in large quantities and keep in air-tight containers. Grease the non-stick safe plate and spread scrapped coconut as a layer. Pour a little oil too, and add a few curry leaves and finely chopped onions. Microwave high for 5-7 minutes and stir it once using a non-stick spatula to avoid sticking to bottom. Mix the contents well and microwave high for 4-5 minutes. If it is not done yet, mix the ingredients and microwave medium for a few minutes and adjust temperature and time if needed. Shallots and coconut should turn golden brown. Occasionally check the ingredients to avoid over burn.
Take it out and add sufficient curry powders (turmeric powder, chilli powder, coriander powder and pepper powder). Mix all ingredients together and microwave for 1-2 minutes in medium flame till it's done. Once the contents are cooled, store in air tight containers. If you want to preserve for long days, keep in refrigerator. It's easy to prepare egg curries, potato curry, theeyal etc.
Read a few more interesting articles related to easy cooking. Here is the page link. Click on the images in the gallery to read
(Visited 329 times, 1 visits today)