Know more about Thechikottukavu Ramachandran – The tallest captive elephant in India
Thechikottukavu Ramachandran also addressed as 'Thechikotte Ramachandran' – the name needs no introduction. He is popular for his massive size and alluring appearance. He is one of the celebrated temple elephants of Kerala, which owns a fan club and has thousands of fans too. He has 'elephant beauty' with perfection, 10 out of 10 points, as per Gajalakshana Shastram, or a theory to measure the beauty of elephant. Though he is famous for its physical appearance, beauty and height, Thechikottukavu Ramachandran mostly finds space in newspaper columns for his mischiefs and murders. I watched it so close long back in 2013 in a local temple festival, when I stayed near to Thechikottukavu temple for more than a year. Now also Peramangalam and Thechikottukavu are not far away from my present residence. I published one brief article about this jumbo and its attacks that time. Here is the link. In this column, I would like to add more interesting facts about him.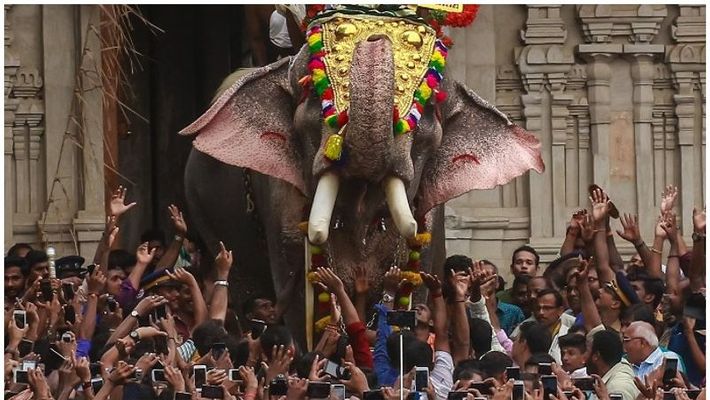 In 2019 when he killed two innocent men and wounded many
In 2019 he came to spotlight once again after he attacked and killed two persons assembled at a house warming ceremony at Thrissur. He was silent till Chendamelam was played, and in the congested space a lot of people were gathered for the ceremony. He turned panic and ran out, and two senior persons (friends working in some gulf country) were trampled near the new house while 9 others suffered minor injuries. Following this incident, the elephant was declared unfit and banned from participating in public functions.
As the elephant is traditionally allowed to do 'Vilambaram' ritual for Thrissur Pooram, there was wide protest from his fans, and later the ban was revoked after conducting a fitness test by a team of three members. Wide campaign was done in Facebook to support the jumbo. As of now he has killed 13 people till now, most of these incidents occurred during temple processions when he is paraded. False stories of Raman have also spread many times. Many times, the temple received anonymous phone calls about violent jumbo, which may not be true always. There are also many unknown forces who want to prove the point that this elephant is violent. Yet it can't be denied that he has created bloodsheds many times. Stories of Ramachandran are not ending here.
Many often, people are also responsible who assemble in congested temple maidans without following protocols – there are many Ramachandran fans who defend his attacks stating this reason. Once crackers were busted and fireworks were done in enjoyment to welcome him for a temple function. The elephant turned violent when an unburned cracker fell at his footstep. He started running and changed the whole festival mood to panic.
Once he turned violent when the thidamb placed on his head was transferred to another elephant's head, as it was not possible for him to enter the Chuttambalam through main door, owing to his height. He attacked the elephant and killed many people too. There has been one instance when he killed an elephant. He wounded many jumbos at different points of time at different places, not just humans. It is said that the person who he killed first was none other than his mahout, who severely punished Raman for his mischiefs. He is often compared to Mangalassery Neelakandan – the lead character of Malayalam film, Devasuram, best known for his arrogance.
Raman Effect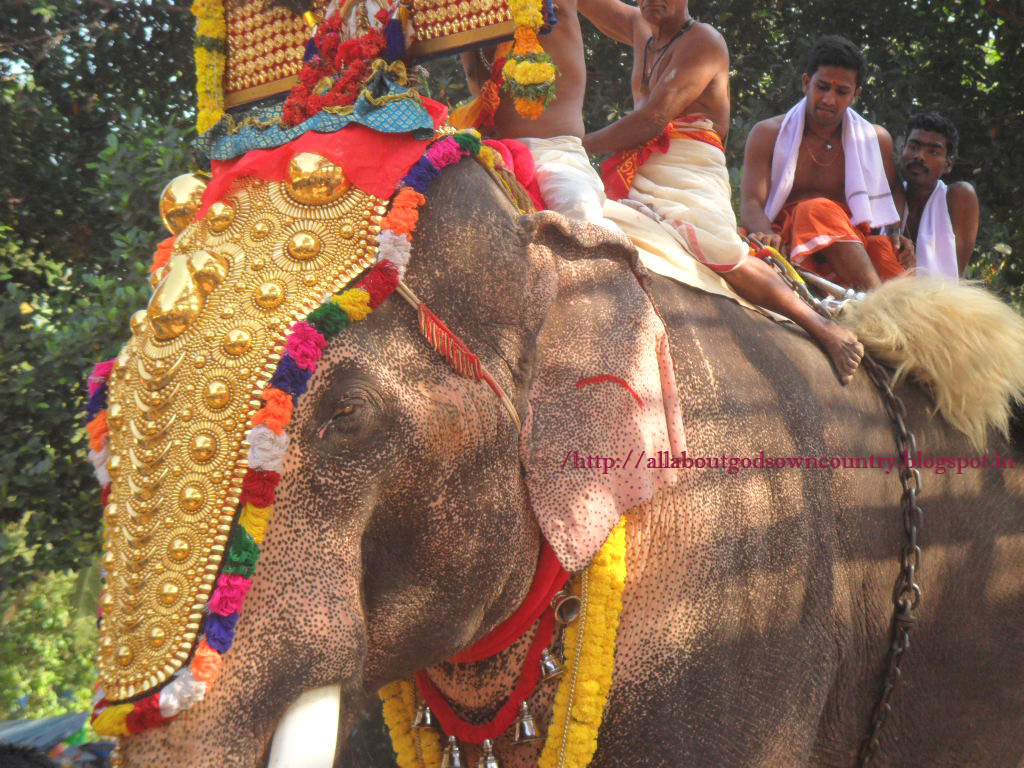 Though he has enemies, he owns equal number of fans too. Even his enemies secretly love him – that's the 'Raman effect'. While he is notorious, he also ponders his love on his fans. While he is on an outing, his fans gather around him. While a few prefer to watch him from distance, some others try to touch him and his tusk, trunk etc. His right eye is partially blind. It's rumoured that because of his arrogance mahouts have given him severe punishments to teach him obedience, which finally took away the sight of his right eye. If second mahout is not present and someone trespasses him through right side, he feels scared and shakes his head.
Thechikottukavu Ramachandran is strict about temple rituals and procession rules
He is different from other elephants in many matters. He is half-blind and mischievous too. Yet no one needs to teach him how to behave when a thidamb (idol of the deity) is placed on his head for temple procession. He pays due respect to the lord during this ceremony just like any other devotee. Normally when temple elephants bow their heads so as to place Thidamb on their heads, they fix their tusks on ground. But Ramachandran is not so. He fixes his trunk on ground and his tusks upwards as if he is saluting the Lord. Also when he carries the idol, he keeps the space around him neat and tidy. He listens to the tunes carefully and often dances to the tunes of musical instruments – A birth fully dedicated to temple festivals and traditional Kerala music with percussion.
He is one of the highly priced elephants for temple festivals. Each minute costs thousands of rupees. Long back in 2015 his rate was above 4.5 lakhs for an auction though for a few hours at a temple festival. Why not, he is the superstar among elephants, who owns the special honour to open south entrance gate of the Vadakkunnathan Temple to mark the beginning of Thrissur Pooram every year!
He also owns tales of mischiefs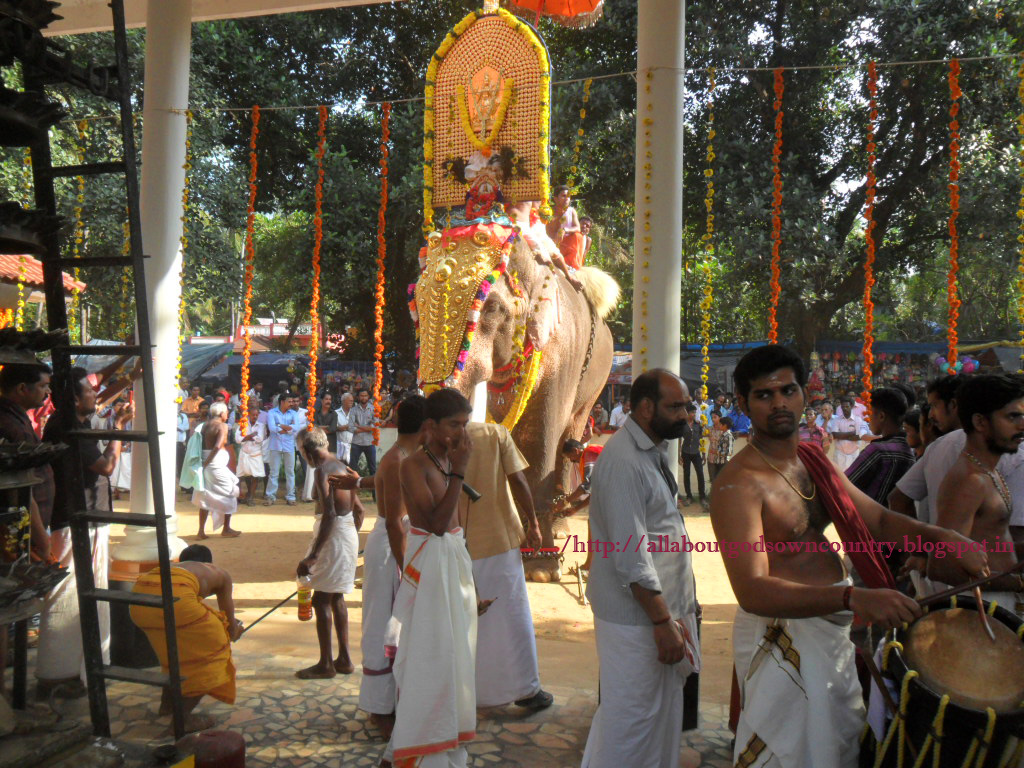 Apart from his violent tales, there are many stories related to his mischiefs. There is one interesting incident, when Ramachandran drank liquor and ran away with the dhoti of mahout (just like Dileep's character in Thilakkam movie). At another occasion, he climbed to the second storey of a building. It happened when Raman found out that his mahout has committed a mistake, and started running after him. The mahout in panic ran into a building, climbed staircase and reached next floor. But Ramachandran was not in a mood to leave him. When he climbed the steps and reached upstairs, building's contractor came to spotlight for a while, as the building was not damaged, and it could carry Raman. There have been incidents when violent Raman stopped running hearing the words, "Stop Rama please". At rare occasions he repented over his acts too.
He always stands with his head high. Why not he is the tallest elephant of India with a height of 314 centimeters, and second tallest of Asia among captive elephants. It takes 5 long hours for his royal bath before temple processions, and it's the duty of his mahouts.
A bet at a local restaurant paved way to Ramachandran's entry in Thechikottukavu temple
Yes, you heard it right. When locals gathered at a restaurant, they humiliated a person who was not willing to give donations for annual temple festival. When they asked, why you can't buy an elephant for temple, he felt insulted and angry also. He replied that if you donate money for that, we can start collecting funds to buy an elephant. The person in response placed a 500-rupee note in front of the main deity. Very soon more people started contributing money for this noble reason. Youth also came forward to collect the funds. From 5 paise kept to buy balloons to 5000 rupees for repayment of loan went into elephant fund.
They came to know about an elephant in the custody of a person named Venkadadhari in Thrissur town. On the way they came to know about the mischiefs and arrogance of this elephant. Yet they decided to approach Venkadadhari. Ramachandran's original name was Ganesan. Venkadadhari too decided to sell this elephant because of his mischiefs. He took only 10,000 rupees as advance and sent the elephant along with its buyers. Full money was paid after 6 months, and the Bhagavati temple & the village of Peramangalam owned him.
It was decided that his Naming and Nadaykkal Iruthal ceremony should be done at Perathrikovu Srirama Temple. The main priest prayed to Lord and suggested the name 'Rama' – the deity of Perathrikovu temple, and thus Ganeshan was rechristened as Ramachandran. He was only a mischievous cub then. Since then people frequently visit Raman, and over the years he became one of the popular jumbos too. Idli, jaggery, coconut leaves, banana, sugarcane – people offer him with different things in love. Originally from Bihar (born in 1964), he reached Kerala as a gift from some British man.
He carries a badge, "Ekachathraapathi Thechikottukavu Ramachandran". If he sees something unpleasant, he changes his facial expressions. He often controls himself. Gopalakrishnan is his main mahout, and both are of same age. Ramachandran doesn't allow any person to touch his right tusk, except his mahout. There is an interesting tale telling the bonding between the two. Once the mahout had taken liquor and leaned on Raman's leg for some time. As Ramachandran felt that the mahout is not in a mood to leave his leg, he took him using his trunk and placed him somewhere else.
As Gopalakrishnan is a bachelor, he accompanies Ramachandran for most of his trips. Once Raman had a wound in his trunk; yet his mahout took care of him without hesitation till the wound heeled completely. Though many people warned him not to approach the elephant 'famous' for his short temper, he cleaned the wound for many weeks and applied medicine. He had full belief in the elephant that he won't harm him.
When he reaches the front door of the temple, he raises his trunk like arms and prays before the goddess and then leave. No doubt, elephants are divine in nature and for Malayalis they form an integral part of our social life and culture. There have been huge protests for allowing Ramachandran in temple processions. Yet every time, he wins over such protests and carries Thidamb on his forehead. Who else know it better than Raman himself, that he is destined for that temple ritual and that only! A whole life dedicated to god!
Read a few more articles on elephants and elephant festivals of Kerala. Here is the page link. Click on the images to read.
(Visited 1,580 times, 1 visits today)