Kalamkari fashion never fades. Know more about this craftsmanship of Srikalahasti
Her name is Swarnamukhi. In Krishna Devarayar's court, she married and possessed one among the 18 arts. Like a clear face, she flows and sweeps the feet of Kalahasteeswar to offer him 'Feet Pooja'. Without completing her story, Kalamkari remains an unfinished piece of work.
A few years back, Kalamkari became trendy in Kerala within a short interval of time. As her name suggests, she carries art with her, and became a close friend to young women. In cotton, chanderi and silk, she branched and blossomed as flowers, seeds and leaves. During early days, Kalamkari appeared only in dark maroon, blue and black only. As time passed by, 7 colours as rainbows sprinkled new shades on her body. Now ladies own at least one dupatta with Kalamkari work, that's the influence of Kalamkari in present day fashion. Though traditional, it adds many new flavours.
Srikalahasti town in the birthplace of Swarnamukhi Kalamkari
Kalahasti, near to Tirupati in Andhra Pradesh is the hometown of Kalamkari. There resides men and women in folks, who blossom Kalamkari flowers and pictures on clothes using their hands and manual efforts. They own an artistic skill to do this truly traditional work in clothes. Let's have a short journey to the hometown of Kalamkari, and know her a little more.
If you come by train, you need to alight at Renigunta, the station next to Tirupati. The place is not so crowded as Tirupati. In the 45-minute journey to Srikalahasti, you see many isolated places throughout without dwellings. You feel a spiritual atmosphere everywhere, with pilgrims here and there. Devotees apply turmeric on scalp after removing hair and carry kavady with bells, and they move towards Srikalahasti temple, which is famous for Grahadosha Pooja.
Where is Kalamkari work done?
Kalamkari printing and drawing are primarily concentrated in Kalahasti and Machilipatnam of Andhra Pradesh, and through this column I shall take you for a colourful drive to Kalahasti. When you hear about agraharam – dwellings of Brahmin, beautiful kolams flash into mind. Beautiful women and tidy atmosphere are a few more things associated with it. But it's not the same case of agraharam streets where Kalamkari is born. Open drainage filled with dirt, playing children with soiled cloths in the streets and many unpleasant sights – that's what you see there. Front sides of most houses are shops with cheap sweets and they also accumulate goods in the courtyard. The streets are untidy filled with houseflies and women chat in the courtyards.
Now let's talk about different phases of Kalamkari work. Clothes dipped in buffalo milk give a pungent smell. People sit on floors to draw grey shaded sketches on clothes before final work is carried out. They draw beautiful stories like Ramayana, Mahabharata and mythological characters like Sita and Rama on clothes with craftsmanship. Clothes of finished work are folded and stored before they are exported different parts of the world.
Here is the story of Kalamkari. There is a common belief in Kalahasti that Kalamkari is originally a Persian art form 3000 years old. But how it reached India? No one has a clear cut answer. But 400 years back, when Krishnadevaraya ruled Vijayanagar empire, he brought to his court 18 art forms from different parts of his kingdom in the aim to teach his subjects. A patron of arts he wanted to promote some of the traditional art forms from rural areas of his state, and one among them was Kalamkari work.
During early days, Ramayana, Mahabharata, Krishna Leela and Jambavati Parinayam were drawn as kalamkari work forms, but not on clothes. They were prepared as paintings and decorations to be hung in temples, chariots etc. After Indian independence, in 1956, Andhra Government brought Kalamkari art to Srikalahasti of Chittoor district for the first time. There are many artists and families here, who traditionally follow Kalamkari work. A single mistake while drawing or dyeing can ruin the whole art piece, and there is no alternative except to change the cloth.
Kalamkari work owns its own distinct laws
While drawing mythological stories, the artist should visualize the whole story in mind. Then only his works turns perfect. To draw each and every figure, Kalamkari holds certain laws. Left foot or leg is not drawn alone. 'Kalam' means pen (similar to Hindi or Urdu language), and 'Kaari' means an artist. In Persian language, Sanskrit and Hindi, the words hold same meaning. Bamboo sticks are sharpened and used as pens. In the neck region of pen of 2 feet length, cotton cloth is wrapped as a thin layer, followed by thread in slanting position. Till the neck region, the pen is dyed using the desired colour and excess dye is squeezed off. Now the artist gently presses the cotton bundle and draws on cloth beautiful designs. If he presses hard, the dye will spread, and it requires practice and artistic skills.
18 steps to complete a single work which may take 25 days
Kalamkari work on a piece of cloth can't be completed in a single day. For a single dupatta, it takes 25 days, which includes 18 distinct steps to be carried out. It may be extended to 23 steps, if a few more steps such as decision of choosing material or colours too are added. It requires precision and an eye for detailing for carry out each and every step. First desired fabric is chosen for work. Cotton and silk are best stuff to work on. As synthetic clothes can't be dyed, they are not used. Now Kalamkari work is available in Tussar, jute, chanderi, Kerala cotton etc.
As told before Kalamkari was introduced to Kalahasti soon after the formation of Andhra state and training started for the first time in 1957. While Kamalabhai Chattopadhyaya, the chairperson of All India Crafts Board introduced Kalamkari to Kalahasti, he kept in mind a few geographical features of the place – the river with clear water which flows 365 days a year and forests to find raw materials for dyes. An ad was given in newspaper, and 16 students approached the board for training in this art. After that, once in two years, a new batch was started. It means it took 2 years to complete the course. Now at Kalahasti, there reside more than 800 Kalamkari artists. There are many training centres run by government and private organizations, and courses with duration of 2 years, crash courses of 3 months and in between too.
Kalamkari – Magic with 5 colours
Black, green, red, blue and yellow – these 5 colours are sufficient to create magic in Kalamkari. Raw materials which include flowers, seeds, skin of trees and shells of fruits are collected from nearby forests. The cloth used for the purpose is first washed well in river and dried under direct sun. Then the fabric is treated with a solution of cow dung and bleach. The fabric is kept in cow dung for hours so that it gets a uniform off-white color. The next step is to immerse the fabric in a mixture of buffalo milk and Myrobalans (locally called Kaaraykka podi – a powder used for the purpose). 100gm myrobalans in half litre buffalo milk – that's the proportion. As told earlier only natural dyes are used for the purpose, and to avoid smudging of natural dyes in the fabric this step is carried out. Butter in buffalo milk should fully 'dye' the fabric, then only natural colours can do their real magic later. For proper dyeing of clothes with natural colours, this process is a must, and dye stays in fabric forever. Yes, the secret why original Kalamkari costume never loss colour while washing is – 'buffalo milk'.
The cloth is immersed in milk for half day. While doing this process, the cloth gets unpleasant smell of buffalo milk. To get rid of the odor of buffalo milk, the fabric is washed under running water. Then it is dried under shade in the afternoon, to get rid of the heat of fabric. The fabric may be washed up twenty times and dried under the sun to get rid of bad odour and hence a tedious process. Now the fabric is ready for painting and artists sketch motifs and designs on the fabric. Twigs of tamarind tree are burned, and what's left is carbon pencils used to draw sketches on the fabric. In half litre water, 200 gm soda powder (Padika Kaaram in local terms), and it's used as ink for charcoal pencil to draw sketches on fabrics.
Fabric is then dried well under direct sun and washed well in water. Roots of Suruduchakka and Sevalkodi plants seen in the forests near to Kalahasti are powdered, and then boiled in an iron pot adding sufficient water. In the boiling water, fabric is fully immersed and boiled for next half hour. Then the cloth is washed well and dried and it attains red colour. Dyes will be prepared side by side, and the final procedure is to fill colors within the drawings, and for this purpose only natural dyes are used. That's the main reason why Kalamkari is so popular nowadays, while harmful dyes of synthetic and normal clothes can harm human skin.
To get black colour, jaggery and palm jaggery are powdered separately and mixed well with water, and kept in 15 days in iron pots. To get yellow colour, pollen grains of Karaykka flower and Padika Kaaram powder are mixed together in water. Leaves or roots of Neela Amari (Indigofera tinctoria) are boiled in water to get indigo blue. A thin coat of blue colour above yellow layer gives green. Mixing two colours, or taking a particular dye in smaller quantity, more colours are formed.
Social life without artificial colours or flavours
Two types of Kalamkari artists reside in Kalahasti – creative artists who draw new designs using ideas and those who copy/print designs. Experts easily draw mythological characters and stories taking less time and they are paid most. Most artists earn money as per piece work. While old generation artists prefer to draw Hindu epics and mythological characters associated with Ramayana and other stories, new generation prefers designs, flowers, dancing mudras etc. You can see Kalamkari clothes telling Jesus' story or those exploring traditional Indian musical instruments such as Maddalam, Veena etc.
Normal artists if work for 55 years, he gets 1000 rupees old age pension, and awardees earn 2000 rupees pension. In most cases, after 2 years or so, due to tedious process, artists need spectacles. It also invites health issues such as back pain and body pain. Now only a few people work till old age.
In the small narrow streets, small houses are arranged in regular patterns which look similar to match boxes. Most of the people live in congested dwellings, where they carry out their art work as well. Some of them work as group, and ladies are also associated with the profession. To buy fabric and dyes, 20% of the purchasing cost is given as grant by state government, and now raw materials are brought from Chennai too. Water charges, power charges, artist wages, milk – such costs are also added to the total cost. In short, a saree gives 500 rupees profit to the owner, and some artists even complain that the work costs only loss. Some artists arrange exhibitions in different parts of the country.
How is Kalamkari of Kalahasti different from that of Machilipattanam?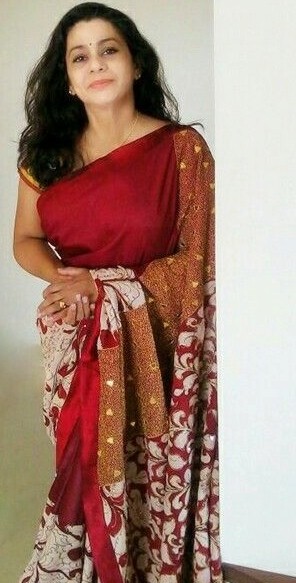 Machine printed Kalamkari is the real threat of hand print Kalamkari, and machine print work is cheaper too. An artist who do hand print work has to do tedious work to finish an art piece, and definitely it costs more. When handmade piece has 700 rupees/metre, it costs only 150 rupees for machine print. While Kalamkari work of Machilipattanam is block print, the same work in Kalahasti is done through hand work with artistic skills. Machilipattanam, which is famous for block print is 400 km away from Kalahasti. Blocks are curved out of woods and then dipped in vegetable dyes and printed on fabric in Machilipattanam.
Colours in Swarnamukhi….
Swarnamukhi river originates from Chandragiri hills of Agasthya mountain ranges and it flows till Nelloor and finally meets deep seas. During summer season, water scarcity is fierce. Two years back, due to monsoon rains, a few of bridges built across it were fully immersed in water. But after that, things have changed a lot. During summer seasons, water is visible here and there in small pits. Plastic wastes and the digging of sand belts have pushed Swarnamukhi to old age much earlier. Social and cultural lives of Kalahasti are deeply linked to the flow of Swarnamukhi river, and during drought seasons, it adversely affects Kalamkari profession too.
When fabric is washed in Swarnamukhi, it attains a unique red colour, and no other river water can give that unique red while washing. What's the magic of Swarnamukhi? Only god knows.
Image source: Wikipedia and online shopping sites
Read a few more articles on saree care and fashion. Here is the page link. Click on the images in the gallery to read
(Visited 1,138 times, 1 visits today)