Listing 80+ striking co-incidences of the cases of Sushant Singh Rajput & Balabhaskar
I got the connection between SSR puzzle and ongoing investigation in Kerala in the last week of October. Till then, I was linking SSR case with similar incidents occurred in Bollywood, and focused on recreation of events taking elements from Drishyam movie. A newspaper clip published in Mathrubhumi Malayalam daily on October 30 helped to me decode so many puzzles. Within a couple of days, I easily connected events happened in Sush's case with accidental death of Balabhaskar, south Indian musician and got surprised with more than 80 co-incidences. To read the full length article, click this link. In this post I shall list 80+ striking points together for your easy reading. Give your feedback. Also read this post to get hints to connect ongoing incidents with Kerala.
1. Both Sush & Bala are gifted artists belonging to non-filmy background, yet established themselves through their talent, dedication, hard work & non-compromise attitude
2. Both cases didn't have a murder angle at 1st. Single son in both cases, and old parent(s) still fighting for justice!!! Father's pain to lose the single son highlighted in both cases!!!! Both are youngest kids of the respective families too.
3. When Bala left world on Oct 2, 2018, the emotional trauma faced by Malayalis, no one can ever imagine! We never faced such a void with the death of any Malayali celebrity before. Doesn't we feel the same for Sush? How much we got emotionally bonded with him after June 14!!! Still can't come out.
4. Why same juice theory for Sush & Bala? Last food taken by both was juice. In Bala's case, just half hour before accident the car stopped near a juice shop & Bala had juice. A few hours before death also, he took juice as liquid food. Different narrations on what juice taken in both cases!
5. Bala eloped with his college friend Lakshmi in 2000 & till his death, she had a strained relationship with Bala's family. She has talked to his father, but never visited home. Bala has taken his kid to his parents, but never with his wife. Rhea's relation with Sush's family, as we know, is very strained.
6. In both cases, the partner was accused by the family for murder, & financial angle was investigated first. There was an open war with artist's family & his partner's in both cases, where wife/live-in partner was accused to support the murderers.
7. In both cases, close friends betrayed him,& they are prime suspects. Also financial fraud in both.
8. Bala has told in interviews about his depression days, and he has consulted doctors too. Same depression story in Sush's case, where a few claimed he met doctors too.
9. Once Bala broke down before family asking for a divorce & in Sush's case, his relation with Rhea was also strained.
10. During his last birthday in July 2018, Bala was going through depression, and he didn't even attend birthday wishes. He fully went off in social media. Same is the case of Sush too.
11. After a gap Bala suddenly came crying in FB live saying he is leaving the profession. His post got deleted within a few minutes of posting.
When it comes to Sush, he was to leave acting & take farming. In fact his last post in twitter which hinted depression (fake) got deleted! Don't you feel, the same scenes were recreated for Sush, just like Drishyam film?
12. Bala & his 1.5 year old daughter died in the accident. When it comes to Sush's, there are speculations, there is a minor girl too, and bodies of both were taken together to Cooper & crematorium. Bala & daughter means Man & a minor girl, who became victims. Same scenes depicted.

When Sush's 'body' was taken to Cooper, its length was bit longer. During cremation, many people felt a minor was also cremated. In my logic, it's nothing but recreation of deaths of both Bala & his 1.5 year old daughter, yes, a minor girl. An illusion of double bodies create

d.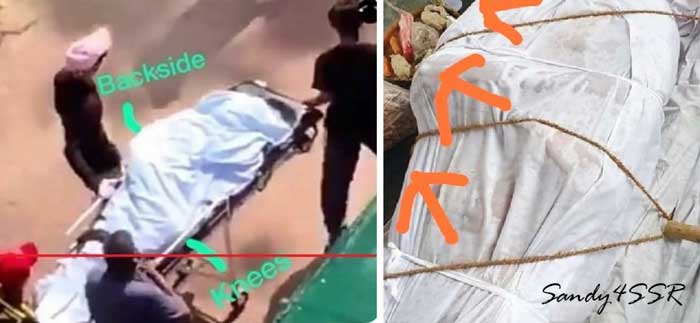 13. Bala's official FB handle is still active & so are Sush's social media a/c s. Who is handling both? Posts have appeared in Sush's official FB page after June 14 too. If you check Bala's following list in twitter, you will be surprised to see the dominated list of Bollywood actors in the list of less than 60 people, which gives a space of doubt.
14. Soon after Bala got admitted, his gadgets including mobile, laptop and even car keys were handed over to Prakash Thampi who later became accused in murder & gold smuggling. In Sush case also, who is using his gadgets? Why his following numbers in social media accounts altered?
15. One day after Bala's accident, several people declared him dead & offered him condolences through social media. Same was rumoured in Sush's case too. Also his Wikipedia page was tampered.
16. How can Thampi & Aaditya Thackeray celebrate their birthdays 1 day before the incident? If you don't believe, see d last FB post of Bala, just before his accident on Sep 24, where he greets Thampi. Fatal accident took place in the wee hours of Sep 25, as rumoured in Sush case too.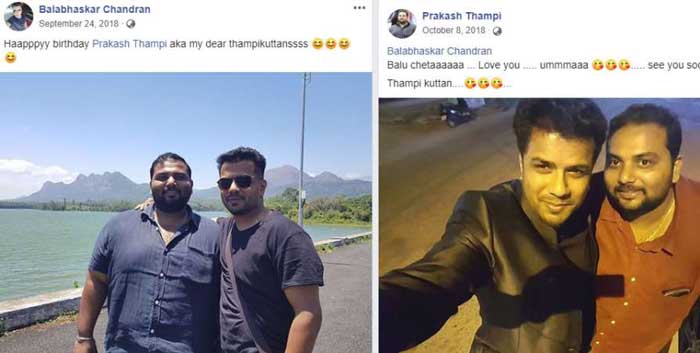 17. Rumours of gold smuggling during foreign shows of Bala. Same recreated in Sush's case. His meeting with drug peddler & videos where he was seen as a drug addict! I strongly believe those scenes were recreated as short videos to show Bala's episode. Sush will never take drugs
18. Eyewitness told, a white swift car followed Bala's car. When ambulance carrying Sush's 'body' departed the apartment, a white car followed it. Yes, the same scene recreated and shown before our eyes. Think logically, why should murderers follow ambulance in front of media & public?
19. Bala had serious injuries in neck, apart from spine injuries & fractures on legs, and his wife also had leg fractures. Remember Sushant's leaked pics? It took nearly two years for Lakshmi to completely recover from leg injury. Also driver Arjun had leg injuries & he survived.
20. After accident, Bala was first taken to Medical College and then to Ananthapuri hospital before his family arrived. Similar to Cooper, this hospital is mostly associated with celebrities of Malayalam film industry & most expensive hospital of the city. When Bala could have got best treatment in Medical College, why he was shifted to Ananthapuri, bypass a few kms away?
Why was his treatment delayed purposefully? Doesn't it happen in Sush's case too, where he was taken to Cooper instead of nearby Leelavati?

Rumors he was 1st ta

ken to Baba!
21. For PM, Bala's body was shifted to MC. Same was shown in Sush's case too through night shooting, though timing is different. Why 2 videos shot at night? Will any murderer do it & for what purpose? Logically they should avoid media maximum.
22. Most important. Thampi was only a program co-ordinator of Bala. Bt how he reached the spot before family reached, & took control of everything, including hospital, till Bala died? Sandeep also did the same thing, right? As per his statement, only Mittu was present. In Bala's, injured Lakshmi! In both cases, family raised fingers against Sandeep/Thampi too, even kept distance.
23. Yet another important point. Aditya Thackarey, son of Uddhav who is under radar now. Doesn't he resemble Bineesh Kodiyeri, son of influential politician Kodiyeri Balakrishnan who has been taken into custody by ED for interrogation related to ongoing gold smuggling/drug case in Kerala? If you have read about the claim of a woman from Bihar that Bineesh raped her & fathered her child, you can connect with Aditya-Disha Salian episode, right?
24. Why all central agencies together in Kerala now? Why everything started as a chain in the first week of July, 2 weeks after June 14? Did it happen ever before? See the front page of Diwali edition of a Malayalam daily. Is 'organic farming' now going on in Kerala & Karnataka?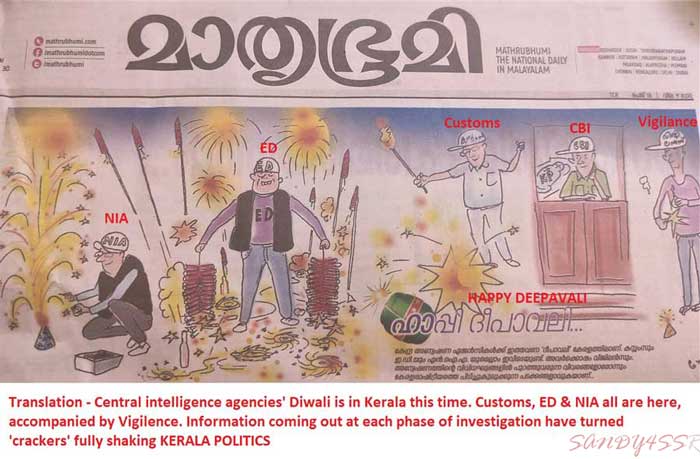 25. 4 pics appeared in FB page of Akshay is nothing related to Sush, but purely Bala.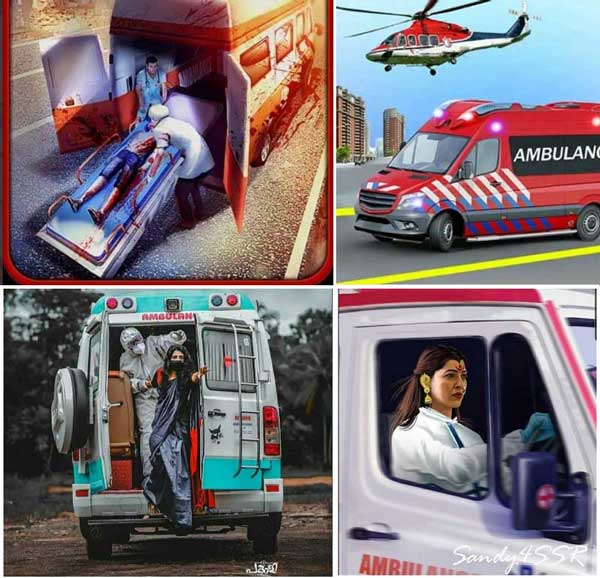 A. Injured Bala taken from accident spot ….
B. Whole events observed by some people, may b Dubai or other country links…..
C. Lakshmi who witnesses whole events….
D. Swapna wearing gold, with steering of vehicle in hand. Malayalam alphabets in 1 pic, written as Pankali (companion) & coconut trees in background clearly show links with Kerala.
Why should driver Akshay upload these pics? Also his pic with gold ornaments!!! It clearly indicates Sush's case's connection with Kerala gold smuggling case and Bala. Akshay updated this pic on July 22, 2019, which indicates he was into project much more, though the pics got noticed in 2020 only.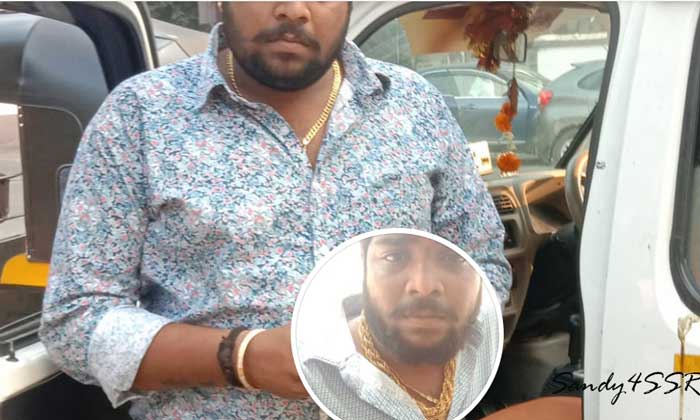 26. Confusing witness statements common in both cases. Who was in driving seat? Who bought juice for Bala? Whose gold ornaments? And where was Bala seated? Same in Sush's case too. Who saw body first? Who brought him down? Did he really hang? What material was used? Did sister see his hanging body?
27. Person in driving seat of Bala's car was wearing shorts & T-shirt, & the color of T-shirt is green like Dupatta.
28. One mysterious woman in Bala's case, who alerted him not to stay at Thrissur at night. That's why he started late night. It makes me remember Disha's night calls to Sushant, alerting him about something.
29. Sush spent nights in car due to threats. Bala was saving himself in car that fatal night, instead of staying in the hotel room, which he booked 1-2 months back.
30. It was rumoured that Bala was to expose something related to gold smuggling & he also resisted them, for which he was eliminated. Same is heard about Sush too. Many people believe he was to expose something related to minors & child trafficking.
31. When DRI seized 3 mobiles of Thampi,1 belonged to Bala. Sandeep was accused of using Sush's phone & social media accounts after June 14.
32. The day of ash immersing ceremony of Bala, there were issues between relatives. Later his parents were taken by a relative. When relatives came at his home, the door was closed. In Sush's case too, his father left Patna soon after final rituals and went to his daughter's home.
33. When Bala stopped at juice shop in early morning, CCTV camera captured his visuals. Shop owner 1st gave statement that Thampi collected CCTV footage & hard disk was returned without footage. Later he denied this statement. We heard the same thing about Sushant too. Recreated??
34. Sush case taken over by CBI soon after Bala's case & now clueless
35. 6 months before death, Balu took an insurance policy worth 82 lakhs. Later his relatives accused that his signature was forged for documents. In Sush's case Rhea forged his signature for cheques & moved funds.
36. One of the shareholders of Ananthapuri hospital is among the accused of ongoing gold smuggling case of Kerala, which connects with Bala's mysterious death. Thackeray family's association with Cooper Hospital is not a secret.
37. A lot is talked about Dubai links in both cases. Bala's associates Thampi & Vishnu made several trips to Dubai related to gold smuggling, after Bala's death. Sandeep renewed passport & applied for visa. He visited Dubai in October after 2nd death anniversary of Bala.
38. After Bala's accident, there was an open battle between his family & his wife's family, projected as a family court issue. Balu's relatives pointed fingers against Lakshmi & family regarding his mysterious death, money transactions & her closeness to culprits. Same recreated in Sush
39. Singer Chithra told, whoever close to Bala could identify changes appeared in him last few days. Same was heard about Sush too, that he totally changed and Rhea & her family was accused to give him drugs and high dose medicines for depression.
40. Many unfinished works went missing. A close friends stole Bala's hard disc from studio, while he was battling for his life at hospital. A lot is heard about Sush's hard disc, stolen projects & deleted data! Remember projects released by Aaditya Thackeray & Akshay Kumar?
41. No forensic report for both cases!
42. For Bala, 27 injuries mentioned in PM – all of them not caused due to accident. Then how? Was he tortured to death in ICU, exactly the same night when he showed signs of recovery & started taking liquid food? Same night story & torture for Sush? AIIMS is mentioned in both these cases.
43. Kalabhavan Soby claimed that 5-6-member team reached in car attacked Bala's car at Mangalore-Pallipuram road, followed by another group who came in another car. A few changed cars & all 3 cars moved towards city. Suspicious people near parked cars looks like events recreated for Sush. Also there were rumours, glass of one car was broken …. same as Bala's car.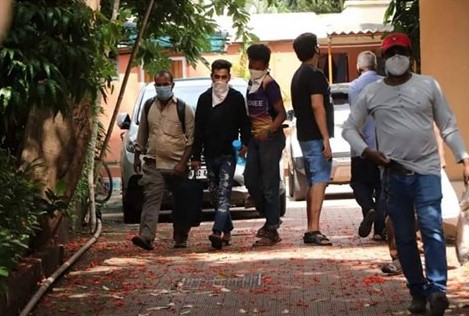 44. Emotional bonding between Bala & his daughter. Was it recreated through Sush & Fudge? Rumors of Fudge's presence at crime scene & later his death! Bala used to play hide & seek with daughter when he comes home. She used to hide behind door. A hide-n-seek video of Sush & Fudge was also released.
45. Bala's accident recreated by crime branch on June 15, 2019 to collect evidence and remember, whole events of Sush unfolded on June 14 & 15 the following year. Right?
46. Giving a few more statements on changed narrations in Bala's case. The same we witnessed in Sush's case too. Check the images given below.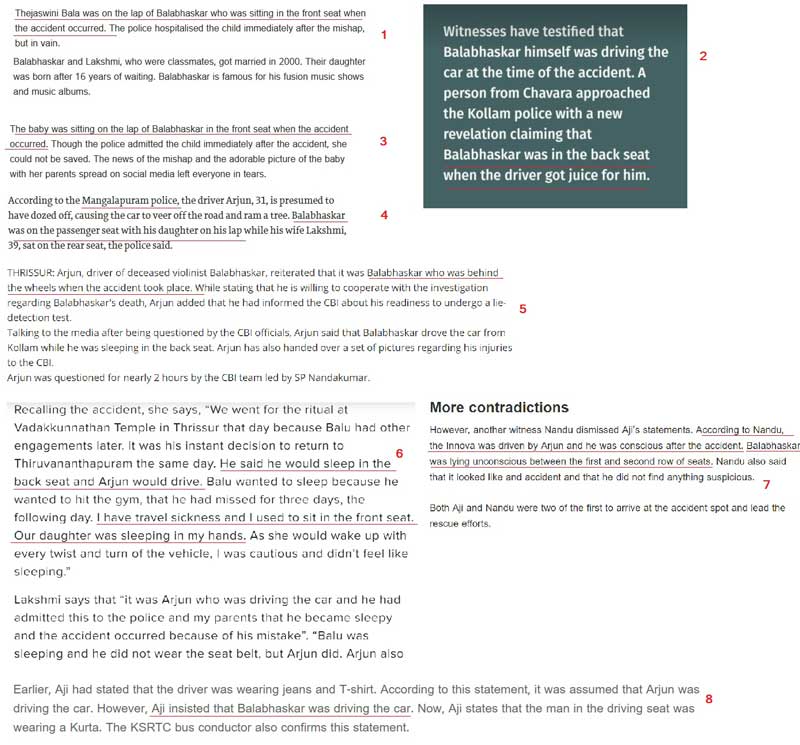 47. A lot of mystery is surrounding the farm house in Sush's case. In Bala's case too, there is one Ayurveda Resort in Palakkad coming into talks always. Bala's father alleged that his late son had made investments in resort. But the friend doctor has claimed that he returned the amount.
48. Bala helped the doctor's son for his higher studies abroad, while Sush gave tuition fees to doctor's son.
49. Juice theory of Bala has different narrations same as Sush….
A. Arjun got out of car at Kollam, bought juice & shared with Bala……
B. Bala got out of car, drank coconut juice. When shopkeeper asked if wife wants it, he replied, she is sleeping….
C. Both Bala & Arjun got out of car to drink coffee
50. Bala was giving final touches to a huge Fusion show in NZ with a fantastic line up of upcoming Indian musicians. He was planning to celebrate his 25 years in a grand way. His biggest dream was to promote budding talents. Now Sush's family is chasing all his unfinished dreams. As per rumours Sush was to start a production company to promote talented people from Bihar.
51. Bala's relatives say is that he & his wife encouraged or entertained a lot of unwelcome elements into their home. That included the likes of Thampi. Rhea & family were accused of drugging Sush & party at his house, when he would sleep. Also many people stayed at Mount Blanc.
52. Who is this Bala mentioned here in the whatsapp chat (check pics below)? I felt like they are mentioning Balabhaskar. Bala's B'day was on 10th July. This chat on 11th July, Sat & it falls on 2020. I mapped Smita with Bala's cousin & Rhea with Bala's wife in my theory. Shall add character mapping before I end this discussion.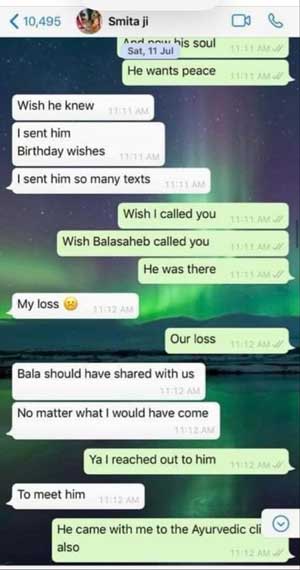 If we assume it as a fictional chat, 1 day after Bala's birth anniversary they are chatting like this, expressing their sadness about his loss. Bala was going thru depression during his last b'day & didn't attend any calls.His cousin might have called him,which he didn't respond. Cousin wishes if he had shared his sorrows & personal agonies with him. Wife responds, both visited Ayurveda resort run by doctor couple. Coming back to chat, Phrases like 'Our loss' & 'He wants peace' clearly suggest this person is no more & his soul wants justice.
53. A lot of people entered ICU of Ananthapuri, where Balabhaskar was undergoing treatment for 7 days, while Thampi kept Bala's family away. We have seen a lot of people coming out of crime scene in Sushant's case too. I believe, same scenes recreated to show to public as clues.
54. Why both governments opposed CBI investigation at first? Bala's case was taken over by CBI in July and Sush's case in August, as a chain of events.
55. In 2019, 2 men of Bala's team arrested for gold smuggling. Sunil was caught at TVM airport as he was rushing out with a bagful of gold. In Bala's car gold & money found & many believe, it caused his death. Hope you remember Dipesh was seen running away from crime scene with a bag.
56. 20 lakh was transferred 2 Vishnu's ac aftr Bala's death in Oct/Nov frm a Bangalore-based company a/c. 22 lakh was found with Dipesh – a close friend of Sush's family said in June. Money transactions before & after the incident, common in both cases, & considered as motive too.
57. Driver Arjun claimed that he had to bear an expense of over Rs. 1.21 crore for treatment & filed a petition, demanding 1 crore as compensation. Dipesh Sawant filed petition against NCB, demanding Rs 10 lakh as compensation.
58.

Lakshmi's silence last 2 years

. In 2019 she released an audio clip & her words were non-emotional as claimed by public & Bala's family. Rhea too is silent, right? Later came with a social media post,claiming to be Sush's GF & released a video for which she was bashed severely.
59. Ayurveda doctor gifted him a diamond ring to Bala & Sush wanted to steal Ekta Kapoor's diamond ring, as told in an interview.
60. Pooja & black magic have been mentioned in Sush's case. Bala's family had a ritual at Vadakkumnatha Siva temple – a Koothu offering, for which they reached Thrissur. Bala's accident happened in return journey.Though I couldn't find any black magic link, Pooja for Shiva held at farm house by Rhea's family is similar.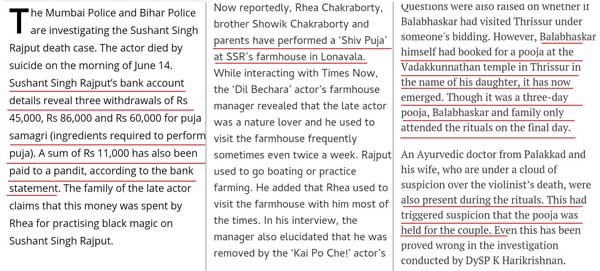 61. After Bala's death, CCTV camera was fixed in Lakshmi's home. She gave CCTV control to Thampi's mobile. While Bala was admitted in hospital, she gave his car key, mobile, laptop everything to his friends. Was she threatened? In Sush's case, who got control of CCTV footage & others?
62. Bala's relatives accused that culprits used his income as capital to start gold smuggling business. As per rumours, Sush invested whole capital for recent started companies.
63. Police never recorded family's statement initially in both cases. Kerala CM intervened & transferred case to crime branch. Patna police filed FIR on Bihar CM's insistence.
64. Alappuzha SB Anil Kumar got promotional transfer as DySP of Attingal and he later carried out investigation. Sush's brother-in-law appointed as Faridabad Police commissioner this July.
65. Stephen Devassy visited Bala in ICU on 2nd Oct 2018, & spent 43 minutes. He claimed to talk to him & kiss forehead. In the late evening Bala died. Later he called Bala's father to tell not to drag Bala's name in gold smuggling. Rhea & Surjeet visited PM centre & spent 45 min. Why 45 min again?
66. Though it's said to be a heart attack, Bala's family who saw body first said that his body turned pale like asphyxia. They accused Thampi to switch off oxygen cylinder, while pretending to kiss him. Same as the case of Sush – pale body and asphyxia.
67. After discharging from hospital, Lakshmi shifted to new home built by Bala. CCTV cameras were newly installed & access given to main accused Thampi's mobile. In Sush case, there was controversy over EMI payment of combined flat, which Sush left in 2016 & Anki gave her EMI details.
68. When Bala was fighting 4 his life in ICU, some posted dirty jokes in social media. Double meaning jokes like, he can have kids when he comes out of hospital. Many jokes, I cant say in public.I went fully upset reading a few. Same, Sperm theory of Sush, how some people made it a joke!
69. Thampi took control of everything not allowing family to involve & took injured Bala from MC to Ananthapuri. As I mapped Thampi with Sandeep, Sandeep showing Thumbs Up shows Thampi's closeness with hosp & staff. Also a lady staff touching him was shown. Everything shown to us as a movie.
70. When Bala completed 25 years, he organized an event at TVM Engg college; 100 orphans were invited & 1 kid given opportunity to sing. Promoting budding talents remained only a dream for Bala. Sush also wanted to promote artists from Bihar. They have similarities when it comes to humanity. Two men with golden hearts.
71. Bala's elder sister is suffering from prolonged illness for 20 years. After Bala's sudden marriage they broke & met just few days before his death. Sush had his last meeting with Rani & O. P. Singh. His cousin's wife suffering from prolonged illness died soon after listening to Sushant's tragic news.
72. One year after Bala's death, 1 celebrity claimed that just 2 days before his journey to Thrissur, Bala visited him, sat quiet for a long time silent & depressed. Bala also asked, if he was wrong. In Sushant's case Mahesh Bhatt cooked similar depression stories soon after June 14.
73. One day after Bala's accident, several people declared him dead & offered him condolences through social media. An online portal was one among those. Looks similar to several suspicious condolence messages posted before Sush's tragedy declared & mischief with his Wikipedia pages.
74. Door of car fully jammed following collision. As they couldn't open the door, they used a metal rod to break open & take Bala out from rear seat. Lakshmi & child were seated in front seat & Bala sleeping at back. Connect to locked door of Sush & their efforts to open it.
75. After Bala's demise Lakshmi didn't attend his father's phone calls or console the parents. In 18 yrs of marriage, she never visited Bala's parents. In Sush's case too, father accused Rhea of not attending his calls, before the tragedy. After that too, they never contacted each other.
76. Bala's father stated, he was not satisfied with any one of 2 investigations done prior. Kerala police concluded it as accident. Same was heard in Sush's case too, where family stated they were not satisfied with investigation of Mumbai police & they brought Bihar police. Right?
77. Just before accident, Bala received several calls asking for his location, his father alleged. Threatening calls & changing 14 sims in Sush's case. How can 2 cases be so similar? Balu spent that night in car. In Sush's case, there is a narration he spent nights in car fearing threats.
78. Why both these families took a lot of time to demand for investigation? 51 days of silence in the case of Bala and 40 days of silence for Sush. Why so much drama after this huge gap of silence in Sush's case?
79. Thampi brought ambulance for Bala & Sandeep for Sush, & both these friends are currently the main suspects for both these cases. Bala was taken to 2 hospitals, not sure if 1 or 2 ambulances used. But both times, it was Thampi who brought it (he reached crime scene before everyone). Statement of a doctor at MC – While we were filling forms of admission of Bala, Thampi came with an ambulance & took him & his wife to Ananthapuri hospital. Bala was brought to MC hospital also by Thampi in an ambulance. Not sure both ambulances are same. We know 2 ambulances for Sush. Still to decode ambulance puzzle of Bala. But we know, 2 ambulances were brought for Sush.
80. When Bala passed away, many celebrities came with crocodile tears in social media posts. But when it came for his fight for justice, no one showed up. In Sush case also, events recreated. I believe we are now fighting for the justice of Bala & his daughter (Like Sush & Disha), which they truly deserve.
81. I missed an important point. Bala holds the record of the youngest composer of Malayalam film industry. After a few works, he left film industry forever because of bad experiences & embarked on a journey in fusion music, as he was not willing to compromise. Hope you can connect it easily with Sush. We started discussions with nepotism, right?
82. After a friend's death, who will post weird messages like 'I see you again' & 'See you soon'. Main accused Thampi's post says, "Balu brother…. Love U… Kisses….. See You Soon… Thampi Kuttan". Kuttan -> Someone we call fondly.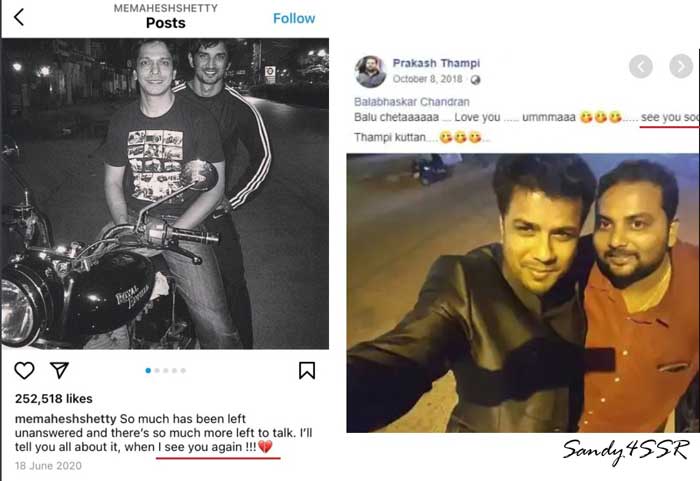 83. It was alleged that Lakshmi was involved in arranging gold smuggling and Bala tried to bring restrictions. Exactly the same was heard about Rhea. It was alleged that she arranged drugs for Sush and others & a few drug chats were also released.
84. Lakshmi belonged to a poor family, while Bala's father retired as postal master in the city. Bala's family accused that she was greedy & Bala had to afford extra expenses. Bala bought a Benz car & paid 25K rent for his apartment in the city 12 years back. Same was told about Rhea also.
85. Do you remember a painting mentioned by Rhea, a man eating his own children, after which SSR developed mental illness as claimed by Rhea? Does this painting indicates Lakshmi? Destroy her own family? We already know, Bala's family accuses Lakshmi for the crime, killing her child.
86. On an interview, Rhea said she was struggling to pay EMI of ₹17k for her flat! Always she has been compared with the superstardom & lifestyle of Sush, as if dating a rich man is wrong. Lakshmi was born into poor family. She is accused for her over expenses, as if being Bala's wife, she can't do so, because she came from a middle/lower class background.
87. Musician Devassy delivered an emotional speech in a public function, one day after Bala's death. 3 months later, he gave a musical tribute, in presence of Bala's father in the capital city & also performed Bala's signature tune which he tuned for Soorya Musical Festival. It was the first public function attended by Bala's father. Adhyayan Suman paid a musical tribute to Sush thru the cover version of 'Jab Tak' song. Interestingly, both chose the most popular song of the artist.
88. As told before, Bala was to perform at his biggest international event a few months later in New Zealand & was planning for his international debut. Winning a Grammy was Balabhaskar's ultimate dream. It connects with Sush's Hollywood dream debut in 2021, as noted in his diary.
Character Mapping
Lakshmi – Ankita (Good)/Rhea (Evil).
Prakash Thampi – Sandeep Singh
Stephan Devassy – Sooraj Singh
Bala's father – K. K. Singh
Priya Venugopal – Smita Parikh
Bineesh Kodiyeri – Aditya Thackerey
Kodiyeri Balakrishnan – Uddhav Thackerey
Mysterious lady & rape victim – Disha Salian
A few scenes of Lakshmi can be mapped with Mittu. Driver Arjun's role – a few scenes by Akshay. Still no idea about ambulances in Bala's case, also driver's.
Bala was taken from accident spot to Medical College, Thiruvananthapuram first in an ambulance & then taken to Ananthapuri hospital. Still need to find if 1 or 2 ambulances used. In Sush's case, we know, two ambulances were brought there. Interestingly Thampi brought ambulance for Bala & Sandeep for Sush.
Concluding here, though there are many more points.
End note: Culprits always hide & never leave behind hints. But we saw a lot of people in crime scene of Sush, facing camera lens. I repeat, Death of Balabhaskar & his daughter were taken as inspirations to write the main script, taking elements from the death of Jiah Khan & Kunal Singh, to recreate fake death scenes of Sushant. Otherwise how can so many co-incidences happen together in two cases, happened at different places, at different points of time? I believe, it's for a good mission and praying for Sush's safe return. Please give your feedback.
Note: I shall simplify more points and add to this post….. Already, many more points to add…. May be 30 or 40 more
Disclaimer: I have prepared this post based on my research work and theories. I just put my facts and made a few theories, which are subjected to change once investigation completes. It's my personal opinion only. It's up to you to decide, to believe or not. Just try to connect the dots and reach your own conclusions please.