Jackfruit Biryani (Chakka Biryani)
Recently for Nayanthara – Vignesh Sivan wedding in 2022, many Kerala menu items were served. Jackfruit Biryani was one among the dishes, which received wide acceptance. It was served as Kathal Biryani for guests. Jackfruit is also called 'Kathal' in Hindi. Kathal – as we know is 'romantic love' in Tamil language. Here is the secret recipe of Kathal Biryani.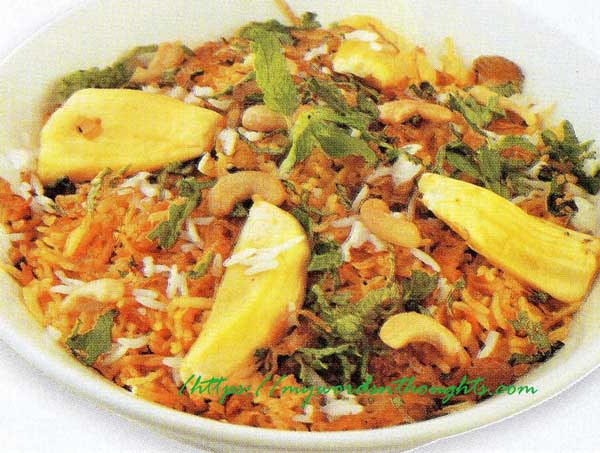 Ingredients for Jackfruit Biryani (Chakka Biryani):
1. Oil – 6 big spoons
2. Raw jackfruit – 300 gm, cut into 1-inch pieces
3. Basmati rice – 2 cups
4. Ghee – 2 big spoons
5. Cardamom, cloves, pepper seeds – 4 each
Cinnamon – 1-inch piece
Shia Jeera (Caraway seeds) – 1 small spoon
6. Onions – 2, sliced thin
7. Ginger – 1-inch piece
Garlic – 3 or 4 cloves
8. Coriander powder – 1 small spoon
Chilli powder, cumin powder, garam masala powder – ½ small spoon each
Salt – For taste
9. Tomato – 2, chopped
10. Curd – ¼ cup
11. Onion – 1, sliced thin
Cashews – To decorate
12. Coriander leaves, mint leaves – To decorate
How to prepare Jackfruit Biryani (Chakka Biryani)?
1. Heat oil and add jackfruit pieces.
2. Cook in medium flame till it turns golden brown. Jack fruit should be half-cooked only.
3. Cook rice adding sufficient salt and water.
4. Heat ghee in another pan and add ingredients no: 5.
5. Add onions and sauté for 2-3 minutes.
6. Add ginger-garlic paste along with masala powders made a paste adding water.
7. Sauté the ingredients followed by tomato pieces.
8. When a thin layer of oil appears on the surface, add curd followed by half-cooked jackfruit.
9. Cook jackfruit until it's done. This is the jackfruit masala used for preparation of jackfruit biryani.
10. Grease a thick bottomed urli using ghee and spread jackfruit masala as first layer.
11. Spread cooked rice on top as layer 2.
12. Fry ingredients no: 11 in a little ghee and spread over rice.
13. Sprinkle mint and coriander leaves on top and close the lid tightly.
14. Place this container on a hot tawa and cook in low flame for 20 minutes. Your Dum Jackfruit Biryani is ready.
Courtesy: Vanitha Magazine, June 25 – July 8, 2022
Also read a few jackfruit snack and sweet recipes. Visit my page.
(Visited 28 times, 1 visits today)