Fish Stuffed Cutlet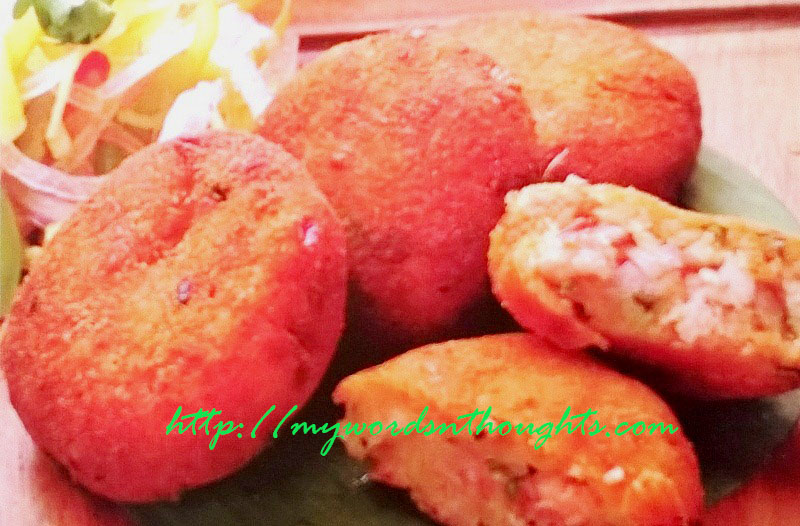 Ingredients for Fish Stuffed Cutlet:
1. Fish – 250 gm
2. Oil – As required
3. Onions chopped fine – ½ cup
Ginger – ½ inch piece, finely chopped
Garlic crushed – 1 big spoon
Curry leaves finely chopped – 1 big spoon
4. Potatoes cooked and smashed – ½ cup
Salt – As required
5. Onions finely chopped – ¼ cup
Tomato finely chopped – ¼ cup
Green chillies finely chopped – 2 nos
Vinegar – ½ small spoon
Salt – As required
6. Egg – 1
7. Bread crumbs – 1 cup
How to prepare Fish Stuffed Cutlet?
1. Cook fish, remove its spine and smash well using hands.
2. Pour one big spoon of oil in a heated pan and sauté ingredients no: 3.
3. Add fish, salt and smashed potatoes to it, mix well and put off the flame.
4. Prepare the stuffing by mixing together ingredients no: 5.
5. Make lemon sized balls out of fish mixture.
6. Make a small pit at the centre of the ball and place a little filling inside.
7. Cover the filling well and make the cutlet shape.
8. Continue the process with remaining balls as well.
9. Blend well the egg mixture, dip each cutlet in this solution and cover them with bread crumbs.
10. Deep fry the cutlets in hot oil.
Archive: Vanitha Magazine, September 15-30, 2017
Read a few more delicious cutlet, tikki and patties recipes. Here is the page link. Click on the images in the gallery to read.
(Visited 96 times, 1 visits today)