Button Cheeda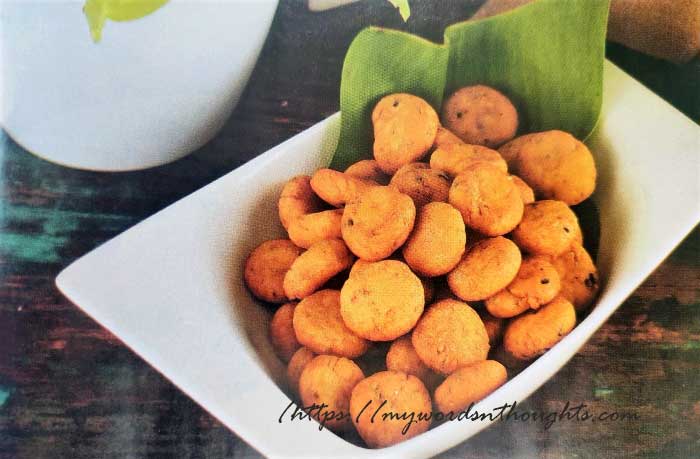 Ingredients for Button Cheeda:
1. Maida steamed – 4 cups
Bengal gram dal powdered – 2 cups
Black gram dal roasted and powdered – 1 cup
2. Vanaspati – 2 big spoons
3. Salt – As needed
Cumin seeds -1 small spoon
Sesame seeds -1 small spoon
Asafoetida powder -1 small spoon
4. Oil – For frying
How to prepare Button Cheeda?
1. Mix ingredients no: 1, along with Vanaspati using hands.
2. Add ingredients no: 3 along with sufficient salt and prepare dough similar to chapati.
3. Make small balls from this dough and gently press using a finger to get a button shape.
4. Heat oil in a pan and fry these balls till they turn golden brown.
Note: You can use same dough to prepare Murukk also. In the sevanazhi (Idiyappam maker), put the mould of Murukk, followed by batter and press it into hot oil.
Courtesy: Vanitha Magazine May 14-27, 2022
Also read a few more all-purpose flour snack recipes. Click on the images in the gallery to read.
(Visited 11 times, 1 visits today)