Rocky Nuts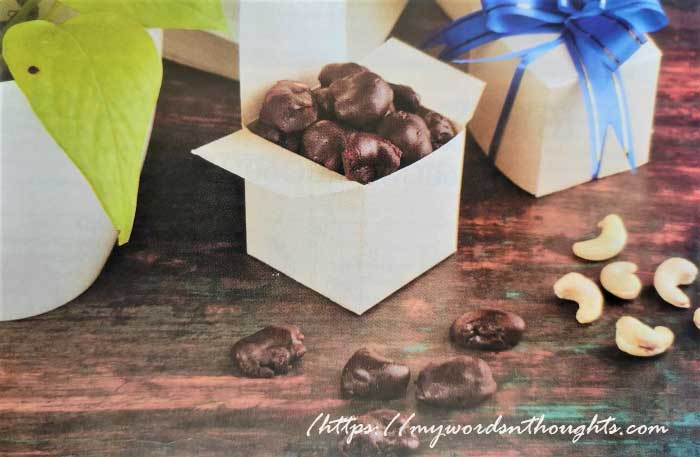 Ingredients for Rocky Nuts:
1. Sugar – ½ cup
Water – 1 cup
2. Icing sugar – 300 gm
Coco powder – 8 small spoons
3. Condensed milk – ¼ tin
4. Butter – 6 small spoons
5. Milk powder – 1 cup
Vanilla essence – ½ small spoon
6. Baking powder – 2 pinch
7. Walnut/cashews roasted – 1 cup
How to prepare Rocky Nuts?
1. In a thick bottomed pan, melt sugar in water. Use low flame.
2. Blend ingredients no: 2 in a bowl and add to sugar solution in flame.
3. Add condensed milk too, and keep stirring.
4. When the mixture turns sticky, take it from flame.
5. Add butter to it, beat well, followed by milk powder and essence.
6. Beat the ingredients well and finally add baking powder. The batter should start foaming.
7. Boil water and immerse the coco mixture bowl in it. Use double boiling method.
8. Grease a tray first.
9. Dip a walnut/cashewnut in this coco mixture till it gets a good coat.
10. Spread it in the greased tray and continue the process for remaining nuts.
11. When the chocolate is fully set and completely cools off, store it in air-tight container.
Courtesy: Vanitha Magazine May 14-27, 2022
Also read a few more chocolate recipes. Click on the images in the gallery to read.
(Visited 11 times, 1 visits today)