Bollywood Choreographer Saroj Khan – The Mother of Choreography in India
Saroj Khan (1948 – 2020) was an iconic choreographer associated with Bollywood film industry. Often addressed as 'The Mother of Dance/Choreography in India', in a career spanning to nearly 5 decades, she choreographed more than 2000 songs. She remained the top Bollywood choreographer since late 1980s, throughout 1990s and also did several memorable works in the 2000s, and is best known as the mentor of dancing diva, Madhuri Dixit. She played a magnificent role in establishing Madhuri's career in Bollywood, and she also choreographed some of the finest songs of Sridevi and Aishwarya Rai's career. Both her former husband B. Sohanlal and her son Raju Khan from second marriage have choreographed Bollywood songs.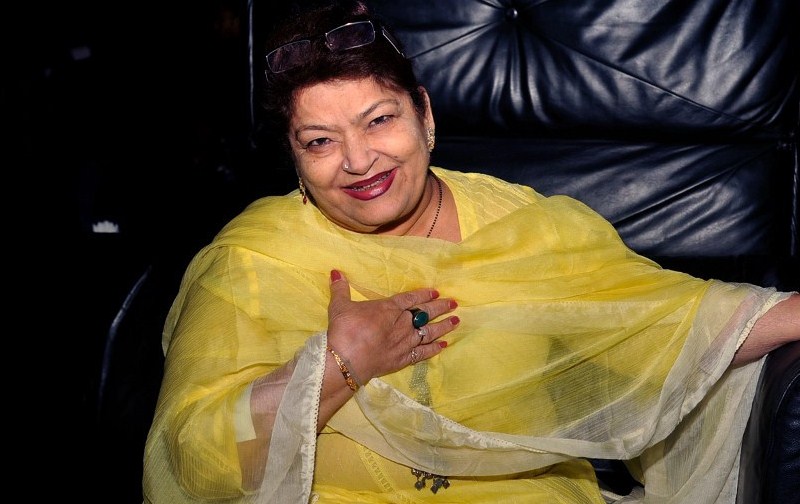 Choreographer with maximum wins in both National film awards and Filmfare awards
This iconic choreographer holds the record in both National film awards and Filmfare awards, for winning maximum awards in best choreographer category. She is a recipient of three National awards for the songs – Dola Re Dola of Devdas (2002) and Yeh Ishq Hai of Jab We Met (2007) for Hindi and all songs for Tamil movie, Sringaram (2006).
For her spectacular work she won a total of 8 Filmfare awards which is still a record. She won the honour for the first time in 1989 when the category was newly introduced, and she won it for the song – "Ek Do Teen Char" of Tezaab, which made Madhuri Dixit an overnight sensation. She completed the hat-trick in the following years with the songs – "Na Jaane Kahan Se" filmed on Sridevi and "Humko Aaj Kal Hai Intezaar" filmed on Madhuri Dixit.
It was followed by "Dhak Dhak Karne Laga" and "Choli Ke Peeche Kya Hai" in a row both filmed on Madhuri Dixit, and she lost just one year in between. Later she received twice for films of Sanjay Leela Bhansali – Nimbooda of Hum Dil De Chuke Sanam and Dola Re of Devdas both filmed on Aishwarya Rai (second one with Madhuri Dixit too). She received her last award in this category for the iconic rain song – Barso Re Megha filmed on Aishwarya Rai. She has also bagged many other honours from different award functions, apart from Filmfare and National Film Awards.
She was born into a Khatri Sikh family in Mumbai
She was born to Kishanchand Sadhu Singh and Noni Singh in 1948, who migrated from NWFP to Mumbai following Partition. Her parents had a good flourishing business, which they had to leave before migrating to India. Her birth name is Nirmala Nagpal. She started her film journey as a child artist at the age of 3. She played child Shyama in the movie, Nazrana. Her family was a victim of bad effects of Partition, and she started working to financially support the family. In the late 1950s she turned a background dancer for Hindi cinema. She worked as a background dancer in the late 1950s and also 1960s during her struggling days.
She had a strained marriage life with choreographer B. Sohanlal
Along with her career as a background dancer, she started assisting ace choreographer B. Sohanlal, whom she married later. She was just 13 when she married 43-year old choreographer with three kids, and she was not aware of his first marriage then. First son Raju Khan was born to them when Saroj was just 14. Second child was born in 1965, which died 8 months later. Same year they separated as Sohanlal refused to give children his name. In the late 1960s he approached him and wanted her to work under him. She started working as his assistant for next few years, though she was not much interested in it.
They got reconciled when Sohanlal had a heart attack, as she wanted to meet him once. She stayed with him for one night and got conceived. A daughter named Cuckoo was born to them. However the marriage didn't sustain and Sohanlal moved back to Chennai. Saroj singly raised two kids and later married Sardar Roshan Khan, a businessman in 1975. He was also a married man with two kids, who fell in love with her, and was willing to give her children his name. They have one daughter who runs a dance institute in Dubai. She kept good relationship with almost all lead heroines, which helped her to earn first break and to singly raise her children when Sohanlal left her.
Actress Sadhana gave her the first break as independent choreographer
After assisting Sohanlal for a few years, she turned an independent choreographer with Geeta Mera Naam (1974), directed by Sadhana. Yet she struggled so many years to gain recognition in Bollywood, and she finally received it through Subhash Ghai's Hero. After that she started receiving more offers from Bollywood.
Mr. India in 1987 became a turning point of her career. Her dance steps, mostly filmed on Sridevi became iconic, and she never turned back after that. Soon after giving dance steps to Madhuri Dixit in Ek Do Teen for Tezaab, she went on to become the top choreographer of Hindi cinema. When the dancing talents of both these divas matched with the creative dance steps of Saroj Khan, they created history! Her dance steps and choreographed songs became the new benchmark of Bollywood cinema, and inspired almost every choreographer later.
Reigning choreographer of Bollywood for more than a decade who completely transformed Bollywood dance sequences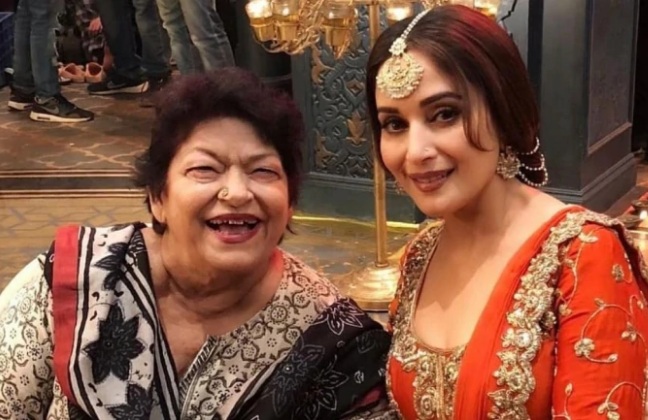 Since late 1980s, she remained the top choreographer of Bollywood for more than a decade. She completely dominated Bollywood's dance floors for many years, and best known as the last link of classical dance numbers in Bollywood. She gave several sensuous steps to heroines, which can never be tagged as 'vulgar'. Known for giving maximum hits to Madhuri Dixit's career, she also choreographed some of the finest songs of Sridevi and Aishwarya Rai. Madhuri Dixit considers Saroj Khan as her guru and mentor, and needless to say, Saroj Khan's dance steps played a magnificent role in establishing Madhuri as the dancing queen of Bollywood.
She also choreographed Sridevi in Mr. India, followed by Chandni and Nagina. Some of her finest works with Madhuri Dixit include – Tezaab, Tanedaar, Khalnayak, Beta, Yaraana, Anjaam, Gulabi Gang and her last work, Kalank. It also includes the controversial song, Choli Ke Peeche. Through her dance moves, Saroj Khan placed her as Bollywood's greatest dancing sensation.
She worked with Aishwarya Rai right from her debut flick – Iruvar, followed by Aur Pyaar Ho Gaya, Hum Dil De Chuke Sanam, Devdas, Guru etc. Her work with other artists includes – Hero, Baazigar, Jab We Met, Fiza, Darr, Aina, Saathiya, Kuch Na Kaho, Fanaa, Saawariya, Lagaan, Don, Guru, Pardes, Khamoshi, Veer Zaara, Swades, Love Aaj Kal, Delhi-6, ABCD, Rowdy Rathod, Agent Vinod, Manikarnika, Tanu Weds Manu returns etc. She also choreographed Shah Rukh Khan in many movies.
She concentrated on her dance school during her last days
With mid-2000s, her career witnessed a downfall. However she remained a seasonal artist in Bollywood, and continued with her dance school till she passed away in 2020. Bollywood faced a huge blow during Corona epidemic, when a huge list of finest artists left the world, leaving behind commendable work. Saroj Khan became the latest artist to join the long list, when she passed away on 3 July 2020 in Mumbai, following a cardiac arrest aged 71. She was admitted in hospital for the last few days.
Saroj Khan – Some interesting and less-known facts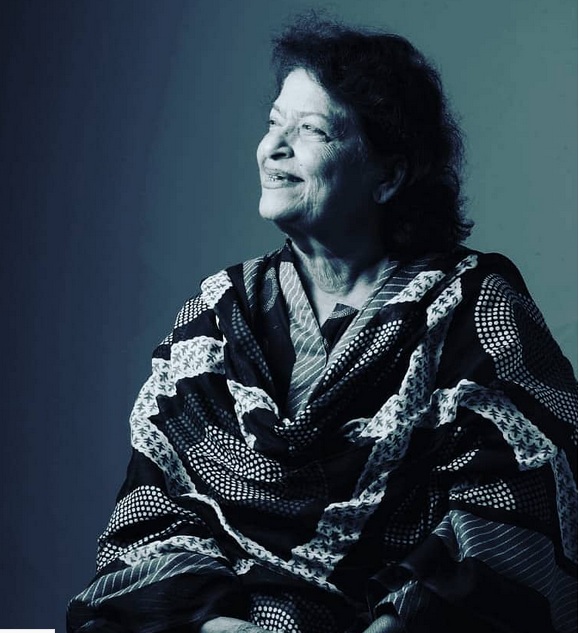 1. She was fondly called Master Ji by her fans and admirers.
2. She never took formal lessons in dance. Everything she learnt was from B. Sohanlal, under whom she worked as an assistant and also married at the age of 13, when she didn't know even the spelling of 'marriage'. She learnt the basics of Kathak, Manipuri, Kathakali, Bharatnatyam, Manipuri etc from him.
3. The famed choreographer of Bollywood earned hat-trick soon after choreography was introduced to Filmfare awards in 1989. Winner of first ever award in this category, she completed hat-trick as well, and till now no other choreographer has managed to reach this feat.
4. She has earned Filmfare awards in three different decades – a unique feat.
5. Her first screen appearance was for the movie, Nazrana, at the age of three where she was seen sitting on moon and singing a song.
6. Her name was changed to Saroj by her father when she started working in films to earn a living. Her orthodox family didn't want to let others know the truth and hence changed her name.
7. Her former brother-in-law B. Hiralal has choreographed a few film songs in Hindi and south Indian languages.
8. She married Sardar Roshan Khan, married man with two kids in 1975. She lived with him and his first wife, and they accepted her into their family.
9. Ace choreographer Farah Khan got the first break to Bollywood when Saroj Khan couldn't do the project, Jo Jeeta Wohi Sikander due to changed schedules, changed heroine and date issues. Farah choreographed the first Bollywood song in a slow motion, Pehla Nasha, and went on to become the top contender of top choreographer position, alongside Saroj Khan in this profession.
10. She appeared as a celebrity judge for several dance reality shows on Hindi television. Nach Baliye in 2005, Nachle Ve with Saroj Khan in 2008, Ustaadon Ka Ustaad, Boogie Woogie in 2008, Jhalak Dikhhla Jaa in 2009 etc are among those shows.
11. Bollywood divas – Madhuri Dixit and Aishwarya Rai shared screen space for the first and last time for the movie, Devdas, and the iconic song Dola Re filmed on both gave the first National award for Saroj Khan. Later she went on to win two more awards in the category, winning maximum awards.
12. Her son Raju Khan also owns a successful career in Bollywood, best known for his association with Aamir Khan. He choreographed songs for Lagaan, Krishh, Koi Mil Gaya, Saathi, Dil Hai Ki Manta Nahin, Sadak, Hum Hain Rahi Pyar Ke etc.
13. Raju Khan National award for best choreographer, one year prior to his mother winning for the first time for Devdas. He won the award for the song, Ghanan Ghanan of Lagaan.
14. Best known as a dance teacher, she has also co-scripted a few movies in the 1990s and early 2000s like Daava, Khiladi, Dil Tera Deewana, Bhai Bhai, Hote Hote Pyar Ho Gaya, Hum Hain Bemisaal, Chhote Sarkar etc.
15. In 1998 she won Nandi awards for best choreography for her Telugu work, Choodalani Vundi.
16. She choreographed a few Tamil film songs in the 1980s. Years later she choreographed Aishwarya Rai in her film debut, Iruvar (1997) – a Tamil biopic.
17. She shared her face on screen on a rare occasion for the dance movie, ABCD, directed by Remo D'Souza. Later they collaborated together for Saroj Khan's last work, Tabah Ho Gaye, filmed on Madhuri Dixit. It was the last work of Madhuri and Saroj together.
18. Her daughter Cuckoo Khan worked as costume designer for Rishi Kapoor – Madhuri Dixit starrer, Prem Granth. She passed away at a comparatively young age of 42 following liver complications.
19. During #MeToo Movement in India, her statements supporting casting couch became controversial.
20. In 2019 we lost many Bollywood artists in a row, who were very active in their profession. In June we lost popular actor Sushant Singh Rajput and around three weeks later in July, we lost Saroj Khan. Interestingly both started their Bollywood journeys as background dancers (if few acting roles of Khan as a child artist are overlooked), before establishing their own successful careers. Have a look at 20+ background artists who later turned successful in Bollywood.
Top Bollywood songs choreographed by Saroj Khan
Ek Do Teen in Tezaab

Tamma Tamma Loge in Thanedaar

Hawa Hawaii in Mr. India

Kaate Nahi Kat Te in Mr. India

Mere Hathon Me Nau Nau Chudiyan in Chandni

Dhak Dhak Karne Laga in Beta

Choli Ke Peeche Kya Hai in Khalnayak

Mein Tera Dushman in Naagin

Yeh ishq Hai in Jab We Met

Yeh Kaali Kaali Aankhen in Baazigar

Mera Piya Ghar Aaya in Yaraana

Barso Re Megha in Guru

Maar Daala from Devdas

Dola Re from Devdas

Nimbooda in Hum Dil De Chuke Sanam

Na Jaane Kahan Se in Chaalbaaz

Humko Aaj Kal Hai Intezaar in Sailaab

Chane Ke Khet Mein in Anjaam

Bol Baby Rock N' Roll in Meri Jung

Tabah Ho Gaye in Kalank
(Visited 250 times, 1 visits today)