Khayyam – Bollywood music composer who tuned the iconic songs of 'Kabhi Kabhi' and 'Umrao Jaan'
Mohammed Zahur "Khayyam" Hashmi (1927 -2019) better known as 'Khayyam' to music fans, was a music composer and background scorer of Bollywood films in the classic era and later. He did only less work in Bollywood films, and was most associated with independent work, mostly in association with legendary poet and lyricist Sahir Ludhianvi. Yet among those few works in Hindi cinema, he tuned some of the iconic songs, the most memorable being 'Kabhi Kabhi Mere Dil Mein', which is counted among one of the topmost Bollywood romantic songs ever. Noorie, Umrao Jaan, Razia Sultan and Bazaar are among other memorable works. He has been honoured with Padma Bhushan, Sangeet Natak Akademi Award, one National award for best music as well as three Filmfare awards, including Lifetime Achievement Award.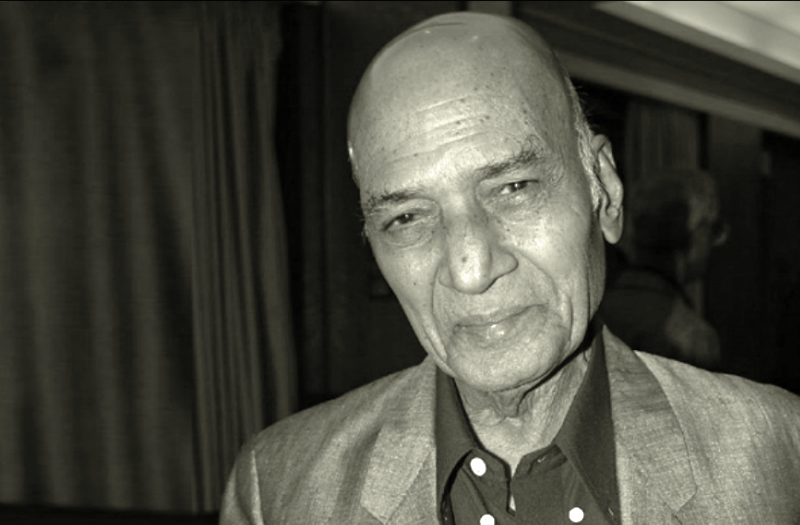 Khayyam's father didn't encourage his musical journey
Khayyam was born into a well-educated and reputed family in Rahon, Nawanshahr District, Punjab, then in British India. As a child he was drawn towards music, and to study music he ran away from home at the age of 11 and reached his uncle's home in Delhi. He was never interested in studies, secretly loved watching movies from theatre at cities and even dreamt to become an actor. His uncle even enrolled him at school, and after seeing his passion in films, allowed him to study music. He received training from Pandit Amar Nath, Pandit Husnlal and Pandit Bhagat Ramunder for 5 years. However he was brought back and forced to complete his studies. Later he moved to Lahore in search of acting roles and got opportunity to study music from Baba Chishti, a Punjabi music composer, and later started off his musical journey as his assistant.
He started his career as a duo composer with Rahman using the pseudonym – Sharmaji-Varmaji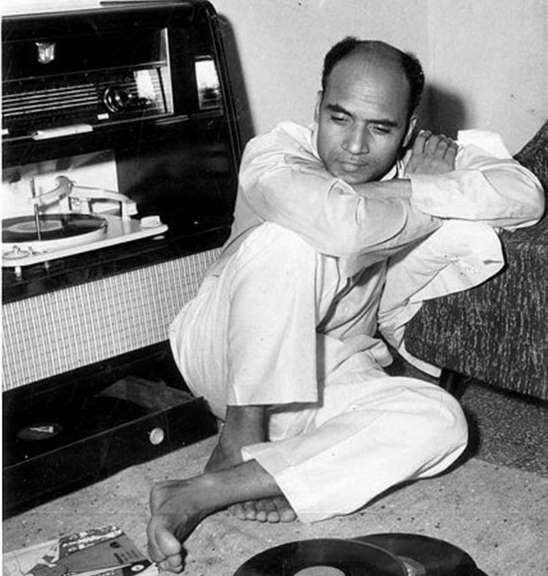 He came to Ludhiana in 1943 at the age of 17. After Partition, when his whole family moved to Pakistan, Khayyam preferred to stay in India, where he pursued a career in the field of music. Later he moved to Mumbai, and collaborated with another composer Varmaji, and took the pseudonym Sharmaji-Varmaji. He took the name 'Sharmaji'. Both took Hindu names to avoid Partition tensions, and this idea was suggested by Pt Husnlal-Bhagatram. Heer Ranjha in 1948 was their debut work. However after Partition, Rahman Varma moved to Pakistan, and 'Sharmaji' stayed here and worked with solo compositions. Some of his early noticed songs include – Rafi's "Akele mein wo ghabrate to Honge" from Biwi (1950) and Talat Mehmood's "Shaam-e-Gham ki Kasam" from Footpath (1953).
Phir Subah Hogi in 1958 gave him the major break
As a music composer, his first big break came in 1958 with Raj Kapoor starrer 'Phir Subah Hogi', with songs like "Aasman Pe Hai Khuda Aur Zameen Pe Hum" became huge hits. Since then he frequently worked with lyricist Sahil Ludhianvi, and together gave some of the finest works. Shola Aur Shabnam, with Kaifi Azmi's songs like "Jeet Hi Lenge Baazi" and "Jane Kya Dhoondti Rahti" established his career in Bollywood. However he composed only a few songs in the 1960s, with most memorable ones being the songs like "Parbaton Ke Pedon Par Shaam" and "Tum apna ranj-o-gham" from Shagoon and "Baharon Mera Jeevan Bhi Sawaron" by Lata and "Aur Kuch Der Theher" by Rafi from Aakhri Khat being the biggest hits. Thehreiye Hosh Mein from Mohabbat Isko Kehte Hain is yet another popular song in the 1960s. Though he composed some memorable tracks in the 1960s, quite different from his contemporaries, during a larger part of 1960s Khayyam saab couldn't compete with Bollywood greats like SJ, S. D. Burman, Madan Mohan etc. Some egoistic issues with Rafi and his decision to replace Rafi with Mahendra Kapoor also damaged his career a lot. Yet in those days he was busy with his own private albums.
He contributed many iconic songs to Bollywood between 1975 and 1985 with 6 Filmfare nominations
After Aakhiri Khat happened in 1966, though he composed a few songs for next decade, most of them went unnoticed. The turning point of his career happened in 1976 when Yash Chopra gave him the offer to compose the songs of Kabhi Kabhi. All the songs penned by Sahir Ludhianvi, especially Kabhi Kabhi & Mein Pal Do Pal Ka Shayar Hoon turned to be biggest compositions of Khayyam's career. He along with singer Mukesh and lyricist Sahir Ludhianvi earned Filmfare awards for the song, Kabhi Kabhi. After that he was quite busy with his compositions in Bollywood for more than a decade.
Post Kabhi Kabhi's immense popularity and big success of Umrao Jaan
After Kabhi Kabhi's success and popularity, Khayyam turned busy in Bollywood, and he started accepting more projects. He gave preference to give a ghazal touch to his compositions and most of them were melodious. His wife Jagjit Kaur frequently associated with him, right for 1960s, and most of her memorable songs were tuned by Khayyam. Post Kabhi Kabhi's success, he composed songs of Shankar Hussain, Noorie, Baazar, Dard, Thodisi Bewafai, Trishul and his masterpiece, Umrao Jaan for which he earned his second Filmfare award and the single national award for best composer. After 1985, he was not regular in Bollywood and most of his works went unnoticed.
His career in Bollywood spanned to 4 decades, and Khayyam has always preferred to work with the full-fledged poets in Hindi film industry. A great human being, he, along with his singer wife Jagjeet Kaur formed a charitable trust in 2016, and named it as Khayyam Jagjeet Kaur KPG Charitable Trust to support budding artists and technicians in India. The couple took inspiration from their only son who died of heart attack in 2012. Khayyam also donated his whole wealth (around 10 crore) for this trust. During his professional years too, he was very much known for supporting budding artists.
Khayyam – Less-known and interesting facts
1. He composed music for a total of 57 films in a career of more than 4 decades (Some sites say between 30 and 40, or below 50 as listed in Wikipedia page). He was pretty clear that he would never compromise with quality, and that's the reason why most of his compositions are regarded as timeless classics. He also paid close attention to details, before starting his work.
2. He composed music for ten television serials and more than 200 musical albums belonging to ghazals, bhajans, geet, and shabd genres. Many of such compositions have been copied and used by other music composers, without giving Khayyam the credit.
3. Since young he used to hear the songs of singer-actor K.L. Saigal, and was a great fan of him. He wanted to become an actor-singer like him.
4. Initially he wanted to become an actor, but became a music composer and arranger.
5. At the age of 18, during the Second World War, he joined British army in 1943, as he couldn't earn much as an assistant in film music industry. He was disheartened when his elder brother slapped him for asking financial aid, and he humiliated himself for not studying properly like his brothers. In those days in military, he became a part of the cultural troupe headed by Faiz Ahmed Faiz.
6. Later he joined Chisti Baba once again as an assistant and this time he was paid enough. It was director BR Chopra who suggested Chisti Baba to pay Khayyam like other artists, and he started getting Rs. 125 as a monthly salary. It was for the first time Khayyam realized that music can earn both money and respect.
7. Though Khayyam is best known for giving Ghazal touch to compositions, he has composed two jazzy numbers in the 1960s – Rut Jawan Jawan and O My Darling for Aakhri Khat (1966), Rajesh Khanna's first released film.
8. Even after parting with Rahman, who opted to move to Pakistan following Partition, he continued using the pseudonym 'Sharmaji-Varmaji' for a few more years. Later his friends – Majrooh Sultanpuri, Sardar Jafri and Chandulal Shah suggested that he should use his real name, soon after he bagged Footpath in 1952. The song – Shaam-e-gham Ki Qasam became an instant hit.
9. He gave music for Meena Kumari's album, I Write, I Recite (1971), which included the actress' poems and recitals.
10. He was a master of Sarangi, and also musical instruments like Sarod and Sitar. To make his music authentic, he also used regional folk musical bits, many times playback done by his wife.
11. Best known for his association with Sahil Ludhianvi, he has also collaborated with several Urdu poets and lyricist for films and albums. He always created music which never overshadowed the soulful lyrics of great lyricists and poets.
12. He is known for giving intricate tunes interspersed with perfect pauses of silence. Yet he has also faced criticisms for slow paced songs.
13. Raj Kapoor offered Phir Subah Hogi to Khayyam, much to the dislike of Shankar-Jaikishen. Post film's success, Kapoor arranged a dinner at his home and both Khayyam and SJ were invited. When Raj Kapoor paid more attention to Khayyam who was new to the industry, Jaikishan felt uneasy. When Khayyam's wife, Jagjit Kaur told this, Khayyam was deeply distressed and left the party without informing anybody. Raj Kapoor never offered him a film later.
14. After Naushad, Khayyam remains the most talented Bollywood composer to give ghazals touch to Hindi film songs.
15. Khayyam once admitted that while composing songs for Umrao Jaan, he was a bit scared because comparisons would be made with Ghulam Mohammad's Pakeezah (1972). The films shared a common backdrop, and women-centric ones with lead actress playing courtesan. He also felt it challenging to create something new, as Naushad was already a master of this genre of music. He did a lot of research works about the music of Umrao Jaan's life time, and also read the original book before composing the music.
16. Asha Bhosle received national award for best playback singer for 'In Aankhon Ki Masti' (Umrao Jaan) in 1981. She sang 5 ghazals for the album, based on ragas – Bihag, Bhoopali, Maand etc. It was for the first time Asha attempted ghazals genre, and she postponed the recordings for 8 days to give perfection. The composer also received National award for the same album, along with Filmfare awards.
17. He researched for 8 long months before he composed the song, 'Ae-dil-e-nadan' sung by Lata Mangeshkar for Razia Sultan.
18. Till Kabhi Kabhi happened, though his songs got noticed, the films rarely worked at box office or become huge hits. So many filmmakers considered him unlucky and hesitated to give offers. It was Yash Chopra who broke the myth, and later worked with him in hit movies like Trishul (as director), Noorie & Nakhuda (as a producer) etc. In fact Chopra told him that he was signing him for Kabhi Kabhi despite getting stiff opposition for being 'unlucky'. Khayyam prayed at the shrines of Imam Hussain and Hazrat Abbas and Kabhi Kabhi became a huge hit, after which he started getting numerous film offers.
19. Yash Chopra initially planned to give 'Kabhi Kabhi' to Laxmikant Pyarelal, who was very popular and busy those days. When LP couldn't accept the project due to busy schedule and the director couldn't wait too long, it was Sahil Ludhianvi who suggested Khayyam's name and convinced him also.
20. It is said that Sahil Ludhianvi made Yash Chopra listen to Lata Mangeskar's 'E Dil-E Nadan' – the ghazal piece of Razia Sultan (delayed for 8 years in production) and the director gave 'Yes' nod after listening it once. (I read it in a Malayalam magazine. Please note: Kabhi Kabhi was released in 1976 and Razia Sultan in 1983, and I am not sure if this particular Lata song was recorded before 'Kabhi Kabhi', though a raw version). Previous year Sulakshana Pandit received Filmfare award for the rendition of Khayyam song, Tu Hi Sagar Tu Hi Kinara from Sankalp. So, it could be the song which Chopra listened once.
21. When Mukesh was awarded Filmfare award for best playback singer for Khayyam's famed composition Kabhi Kabhi, he was no more. Mukesh recorded the song a few months before his death.
22. In his opinion, he was not composing the song Kabhi Kabhi. Instead he freed its ideas and let it to fly freely. The song later found shelter in the hearts of many people, which made the composer very happy. He also gives the full credit to its lyricist, who penned its romantic words.
23. Khayyam's musical piece penned by Sahir Ludianvi, 'Kabhi Kabhi' is ranked among the most popular romantic songs of Bollywood, and loved by people belonging to different generations. It's one of the rare Bollywood songs loved by music lovers, though not familiar to Hindi or Bollywood. The movie, Kabhi Kabhi, its sublime poetry and music, is remembered even after 40 years. It also redefined Bachchan as a romantic hero, who had an 'angry young man image' till then.
24. The iconic and immensely popular romantic song – Kabhi Kabhi was a simplified version of Sahir Ludhianvi's Urdu poem taken from his collection Talkhiyan. In fact Khayyam has originally composed this poem for a 1950 movie directed by Chetan Anand, and recorded the song in the voices of Geeta Dutt and Sudha Malhotra. But the song was never released.
25. Known to be a perfectionist in composing and recording songs, he made Rafi to give 21 takes to perfect the song, 'Jaane Kya Dhoondti Rehti' for 'Shola Aur Shabnam'. For 1977 film, Shankar Hussain, he was unhappy that Rafi didn't give full justification to Kahin Ek Masoom Nazuk Si Ladki song, and sang it in a different mood. Later the singer reluctantly recorded it once more.
26. Thodi Si Bewafai (1980) is the only film where Khayyam and Gulzar worked together.
27. Khayyam has been nominated at Filmfare awards for best composer six times for the movies – Kabhi Kabhi, Noorie, Umrao Jaan, Thodi Si Bewafai, Baazar and Razia Sultan, and won it twice. All these films were released between 1975 and 1985. As a music composer, he remained one of the top artists during this period.
28. He owns the credit of bringing three singing legends together for a single song – Mohabbat Bade Kaam Ki Cheez Hai for Trishul, and those artists were Lata Mangeshkar, Kishore Kumar and Yesudas, which never happened in Bollywood before or later.
29. He was the last surviving musician of the golden era of the Hindi film music, till he passed away on 2019, aged 92. He marked his Bollywood debut in 1948, and retired in 1990, though associated with independent work later.
30. He married Jagjit Kaur in 1954, and it was one of the first inter-communal marriages in the Indian film industry. Since then Kaur frequently worked in almost every Bollywood project of Khayyam.
Khayyam – Top Bollywood songs
1. Kabhi Kabhi Mere Dil Mein from Kabhi Kabhi
2. Mein Pal Do Pal Ka Shayar from Kabhi Kabhi
3. Tere Chehre Se Nazar from Kabhi Kabhi
4. Mere Ghar Aaye Ek Nanhi Pari from Kabhi Kabhi
5. Dikhai Diye Yoon from Baazar
6. Phir Chiddi Raat from Baazar
7. Karoge Yaad To Har Baat from Baazar
8. Dekh Lo Aaj Humko Jee Bharke from Baazar
9. In Aankhon Ki Masti from Umrao Jaan
10. Zindagi Jab Bhi Teri Bazm Mein from Umrao Jaan
11. Dil Cheez Kya Hai from Umrao Jaan
12. Justuju Jiski Thi from Umrao Jaan
13. Yeh Kya Jagah Hai Doston from Umrao Jaan
14. Baharon Mera Jeevan Bhi Sawaron from Aakhri Khat
15. Aur Kuch Der Theher from Aakhri Khat
16. Parbaton Ke Pedon Par Shaam from Shagoon
17. Tum apna ranj-o-gham from Shagoon
18. Aasman Pe Hai Khuda Aur from Phir Subah Hogi
19. E Dil-e-Nadaan from Razia Sultan
20. Jalta Hai Badan from Razia Sultan
21. Aayee Zanjeer Ki Jhaankar from Razia Sultan
22. Aaja Re O Mere Dilbar Aaja from Noorie
23. Chori Chori Koi Aaye from Noorie
24. Jeet Hi Lenge Baazi from Shola Aur Shabnam
25. Jane Kya Dhoondti Rahti from Shola Aur Shabnam
26. Thehreiye Hosh Mein from Mohabbat Isko Kehte Hain
27. Pyar Ka Dard Hai from Dard
28. Na Jaane Kya Hua, Jo Tune Choo Liya from Dard
29. Aap Yoon Faaslon Se from Shankar Hussain
30. Kahin Ek Masoom Nazuk Si Ladki from Shankar Hussain
31. Chandni Raat Mein from Dil-e-Nadaan
32. Hazaar Rahein Mud Ke Dekhi from Thodisi Bewafaii
33. Aaj Bichhde Hai from Thodisi Bewafaii
34. Mohabbat Bade Kaam Ki from Trishul
35. Gapoochi Gapoochi from Trishul
36. Jaaneman Tum Kamal Karti Ho from Trishul
37. Mohabbat Rang Laati Hai from Ahista Ahista
38. Kabhi Kisi Ko Muqammal from Ahista Ahista
39. Tu Hi Sagar Tu Hi Kinara from Sankalp
40. Mulaqat Ek Bahana Hai from Khandan/Ahista Ahista
41. Mana Teri Nazar Mein from Khandan
End note: Remembering Khayyam, I put on the song Thehreiye Hosh Mein from Mohabbat Isko Kehte Hain sung by Rafi and Suman Kalyanpur. I have listened this song many times before. But for the first time I felt that many of its notes resembled the popular song – Yeh Mulaqat Ek Bahana Hai from Khandan. I searched for its composer, and surprisingly found it – it's Khayyam once again. Hence added this song later. Hope you will agree with it. Please listen to the opening to the Mukda of bothThehreiye Hosh Mein and Yeh Mulaqat Ek Bahana Hai, also the beginning lines of second Anthara of Yeh Mulaqat Ek Bahana Hai . Please leave your comments below.
This is my humble tribute to one of the greatest music legends who passed away on 19 August 2019. Thanks a lot Khayyam Saab, to give some of the wonderful ghazals and soft melodies to Bollywood fans, including one of the most romantic songs of Bollywood, which still hangs on the lips of different generation music lovers.
(Visited 424 times, 1 visits today)