What are the important points to be noted while setting Puja room or room for worship?
Puja room or worship room is a silent place for meditation, an isolated place away from the noise of children's room, living room or kitchen. But it doesn't imply that we should keep the worship place away from all these rooms. Many prefer to have a small almarah like Puja room, and a few also set it below staircase (but not advisable as per Vasthu principles). With modern construction techniques and big houses, a separate space is being exclusively reserved for this purpose. While preparing home plan, you can find the suitable space for it.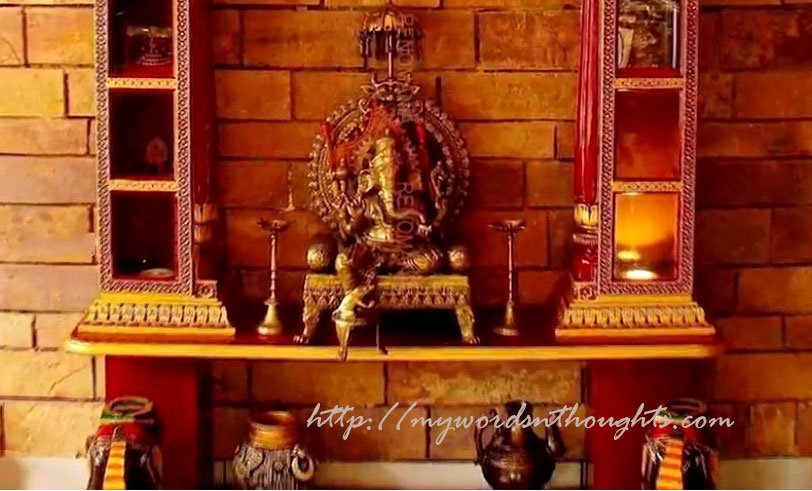 A worship room can be small or big. It depends on personal choices. Most important it, the space should be peaceful and enough to give you a positive mood. You can also reserve special spaces for meditation, if you are an atheist or not following any particular religious belief. Most important is, the space is for getting mental peace. It may be related to religious beliefs or not, as your preference. Most of us have a clear idea of how and where to construct worship room. To improve it and make it more effective, you can follow a few simple tips as well. Through this column, I shall provide a few such ideas to make your worship room perfect.
Direction is the most important factor while constructing pooja room
Irrespective of religious beliefs, in Kerala style construction plans, east-west direction is normally preferred to set Pooja room. During designing phase itself you should fix your worship space. Christians offer prayers in east direction, and Muslims towards west, as per their religious beliefs. Worship rooms are also constructed taking this factor into consideration. Hindus may add an extra factor – Vasthu Shastra. But if you are not strictly following any religious beliefs, and solely aim for a space for meditation and peace, you need not take 'direction' factor into consideration.
When you construct worship room according to Vasthu principles
It's determined based on the Kanni Moola of the home – south-west corner. North-east corner can also be considered. If it's a traditional old home with corridors and secret worship spaces (Ara and Nira) that space can be chosen. As per Vasthu, you can choose any one of the 7 described shapes for construction, and it includes rectangle, square, circle, hexagon and octagon. Orange and saffron shades can be chosen for traditional puja rooms. It should never face a bathroom directly or should never come in direct contact. But if worship space and bathroom share a common wall, use double wall method or wooden panel to separate both.
The worship room should suit your home interior
You can determine the size of worship room according to the total size of your home as well as other rooms, and make its proportion accordingly. It should well suit the home interior, and should appear as a part of it. A pooja room should be able to accommodate all house members together at the same time, if you have intensions to pray together. Yet you need not make it too big. Keep interior decoration work minimal. When you give so much importance to decoratives of the workship room, your concentration may slip, while you are there. It's always a good choice to keep puja room away from loud noises, yet keep it a part of your interior.
Which colours can be chosen for worship rooms?
Dark shades of brown are best for puja rooms. For meditation rooms, choose light shades for walls and floors. If you have planned to arrange many pictures in the room, choose white or cream shade as the base. Whatever it may be, chose your favourite shades and colours only. Personal choices are more important. You can ask your family members and consult architect to choose the suitable colours for worship room.
Natural finish
When you give different material for walls and floor of worship room, it may look odd in the interior. It's always a wise choice to construct worship room, which makes it feel a part of interior. But if you want to keep your worship room special and give a different look, you can experiment with its walls and floor. You can give a natural finish to floors using materials like wood stone. You can use the same for walls also.
If you use vitrified tiles, you can choose rare designs and colour shades, and also try mix-and-match technique, where more than one type of tile is used. You can also try wooden panelling and try some highly economic designs. Instead of fixing tiles at corners, you can try with pebbles and place small plants to give a natural look. Construct wooden panelling on walls to fix statues and photos for worship.
Choose variety doors
You can choose wooden doors with bells to give your Hindu style worship room, a 'temple' look. When you open the door, the jingling bells give you peace of mind and a positive feel. For Christian prayer halls, glass doors are best. Glass trelly works on either side of doors and wooden trelly works, or providing steps before the door can add a new touch to your pooja room.
Windows are not needed
You should provide ventilators. But windows opening outside can be avoided. You can give shift slit openings in walls for proper air circulation. Open trelly works also provides a way for air circulation. If windows are already constructed, use wooden tiltable blends in windows to control the light and air circulation. Choose tower fans instead of ceiling fans, because you may light lamp or candles inside.
Light should fill the room softly
If intensity of light is high in your worship space, it will affect your concentration. Indirect sunlight can be allowed into the room using slit opening. Trelly works with LED light can be experimented. It gives sufficient light and adds a special charm also. You can try fold ceiling method to reduce the temperature inside the worship space as well as to improve the beauty of lighting. Ceiling lights which don't cast shadows are best to choose.
Storage space is also necessary
You can keep a simple storage space, where you can keep candles, lamps and other pooja accessories. Trelly work or trelly work with light can be used as doors of storage spaces. Otherwise use wooden doors, which well suit the interior.
Workship spaces in modern flats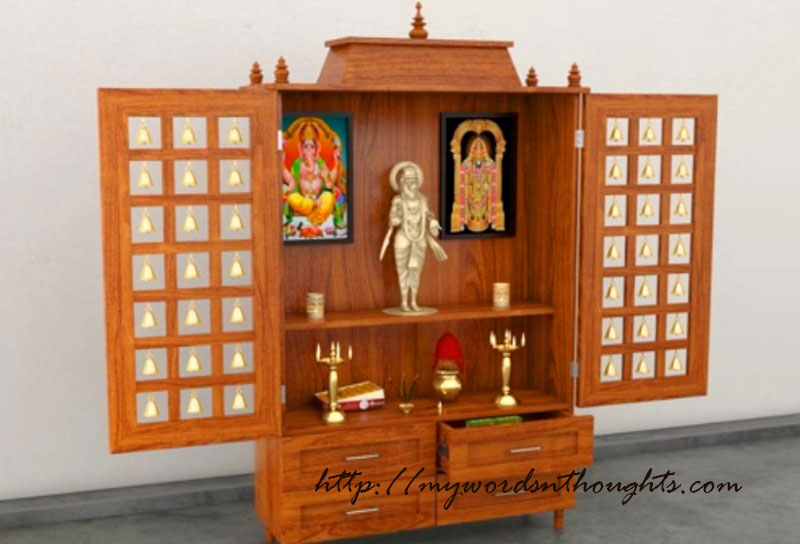 You need not exclude worship spaces in flats, assuming that there is no sufficient space. While doing flat interior, reserve a small space for worship. Place a shelf or readymade pooja room later. Doors with two halves that can be open wide are best for pooja rooms in flats. They are beautiful and convenient to use. You can hang bells to make them attractive. If pooja room is near to dining space you can use closed doors.
(Visited 968 times, 1 visits today)